On Sept. 20, ACC Commissioner Jim Phillips announced the conference headquarters would move to Charlotte. The following is the history of the formation of the ACC.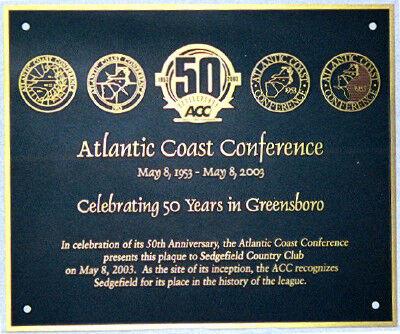 The Atlantic Coast Conference is leaving the place where it was born. Although the headquarters are currently off Grandover Parkway, the ACC was founded at the stately Sedgefield Inn, now the clubhouse, less than 1.5 miles away as the crow flies.
In the early 1950s, the old Southern Conference athletic association was in turmoil. Rumors were rampant that a split was imminent.
The annual conference meeting was held at the Inn May 7, 1953, attended by presidents or representatives of the 17 member universities.
According to newspaper reports at the time, the bloated group was already a divided conference. One group of seven had strong nationally-ranked football programs. However, the SoCon had banned participation in football bowl games. This was one of the major reasons for the split.
After years of talk, in room 230 of the Sedgefield Inn, in the early morning hours of May 8, UNC, Duke, N.C. State, Wake Forest, Clemson, South Carolina and Maryland pulled out and formed the ACC. The unofficial first meeting was on reclining chairs off the 9th green of the golf course. 
The SoCon, which organized in 1921, had experienced an earlier division in 1931 when 13 of the then-23 members left to form the Southeastern Conference.
SoCon President Max Farrington made the official announcement: "Seven members of the Southern Conference have signified their intent to recommend to their respective institutions and the governing authorities of these institutions that they desire to withdraw from the Southern Conference. The seven institutions in their recommendations to these institutions and the governing authorities of these institutions propose to form a new intercollegiate athletic conference."
Dr. J.T. Penney of South Carolina was elected president of the new conference, choosing Greensboro as the headquarters, with offices in the old King Cotton Hotel.
Eddie Cameron, athletic director at Duke, suggested the new name. Other suggestions were Dixie, MidSouth, MidAtlantic, East Coast, Seaboard, Colonial, Tobacco, Blue-Gray, Piedmont, Southern Seven, and the Shoreline.
The new conference expanded quickly, with Virginia joining in December 1953, again at the Sedgefield Inn. The rest, as they say, is history.
Over the years, conference membership has changed somewhat but UNC, Duke, N.C. State, Wake Forest and Clemson remained throughout. These days, however, there is talk that some of those schools and others are being wooed to larger conferences.
And all this happened at the Sedgefield Inn in room 230.