Charlie Trippodo is six years old, extremely intelligent, and trapped in a body that won't let her walk, talk or even get out of her chair without help. Her mother Josie Clark-Trippodo is raising money to change that.
This year, Josie is not seeking help for the cost of taking care of her daughter. "Even though Charlie's medical expenses are, and always will be, huge," Josie told me on the porch of her house on North Mendenhall Street in Greensboro, "all the money we raise is going to research. I need her to be an old lady with me. I need them to find a cure for her. The research funding took a big hit with Covid, and I absolutely understand why. Curing Covid is hugely important, whereas what Charlie has is something only a few kids will ever get. So, the pandemic put the research that may cure her on the backburner."
Charlie has Rett Syndrome, a rare genetic neurological disorder that occurs primarily in girls. "Girls with Rett syndrome typically develop normally for the first 18-24 months of life," said Josie. "So a lot of them do walk and talk and use their hands, and then there's a regression, where they rapidly lose all those skills."
She said that Charlie never got to the point of walking. "She was always behind on her motor skills, but she did have 66 words that she said; I know because I wrote them all down. And she used to be able to eat Cheerios, and play a little bit more. With the regression, she lost those skills, but she works really hard, and now that we're on the other side of that regression, she's hopefully starting to gain some back. Those pathways remain in her brain."
Different symptoms manifest as a child with Rett ages. "There's that regression, typically between the ages of three and four, and then, when they're around five, about 70% of them start having seizures. The week of Charlie's fifth birthday, I was thinking, maybe we're going to be one of the lucky ones that don't have seizures because she hadn't shown any signs of it. But on her birthday, she had her first."
Josie said that the seizures were initially what are called absence seizures. According to John Hopkins Medicine, these, also known as petit mal seizures, are common in young children, and create a momentary break in the stream of thought and activity. While a symptom of epilepsy, they are not in themselves an indication that a child is epileptic, and most children who have them age out of them without long-term effects.
But in Charlie, they got worse, becoming what are called tonic or grand mal seizures with loss of consciousness and violent muscle contractions.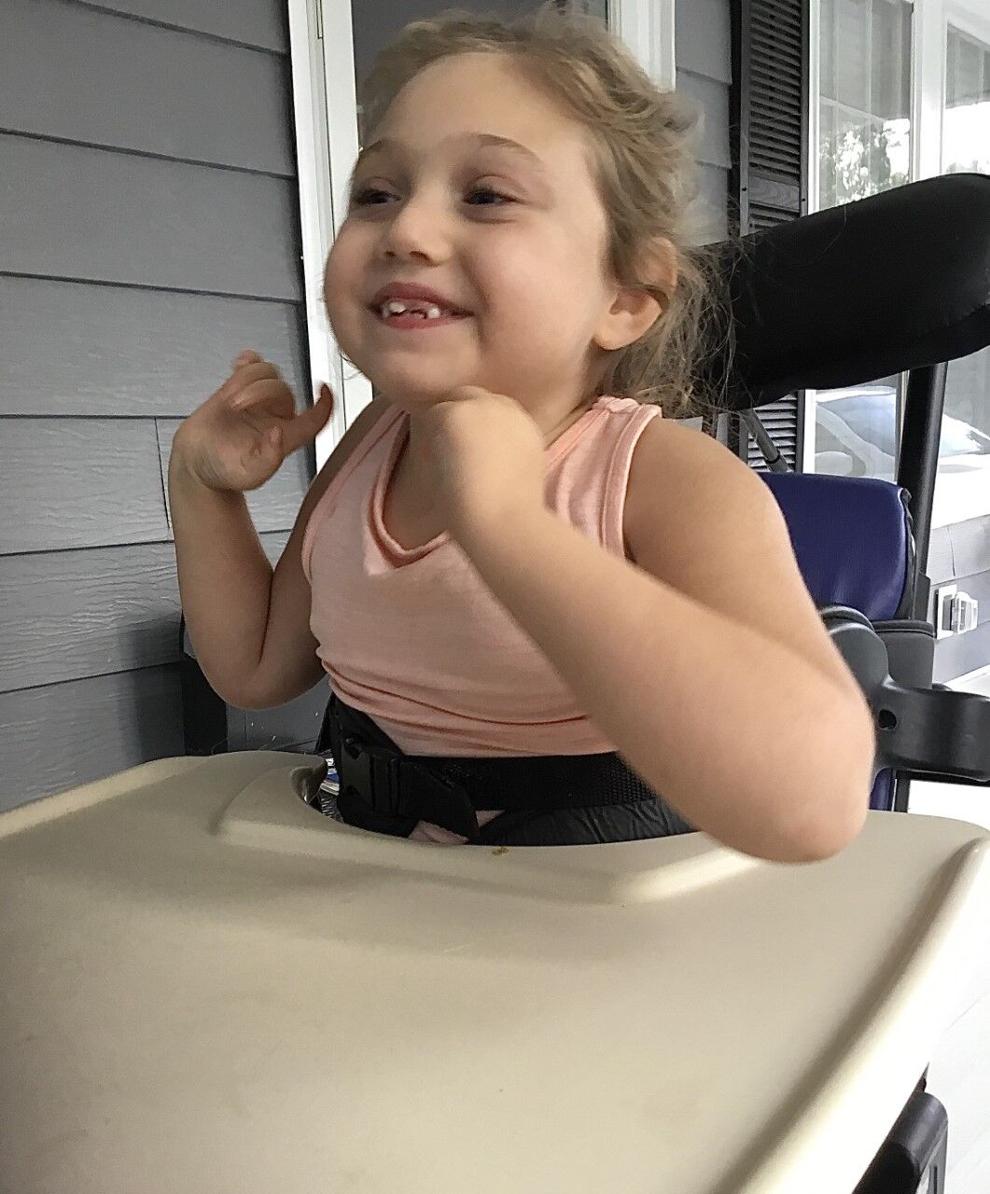 "Now she has pretty significant ones, and she was hospitalized for chronic seizures earlier this year. She can have as many as 22 of those a day, and even one is really exhausting, like running the Boston marathon."
There's also scoliosis.
"She's got a 12% curve in her spine, which is pretty manageable. She had a huge growth spurt, and she does stretches and things. I think we may not have to worry about scoliosis again until she's around puberty."
Josie stressed that, although Rett is a rare syndrome, a cure has potential applications beyond those children who suffer from it. "Because it's only one gene, the Mecp2 gene on the X-chromosome, that is impacted, researchers are flocking to it to solve it. If they can fix one gene, they can apply that science to fix others genes and other disorders and syndromes. Curing Rett syndrome will lead to cures in other gene issues."
Josie said that Charlie has actually demonstrated amazing stamina.
"She'll need a nap after a seizure, but sometimes, she'll be, 'no, I want to get back to my work.' She does a minimum of thirteen therapies a week. Because, if there's going to be a cure, she needs to be ready for it, as those neuropathways are being made while we're doing those things. So, if they do come up with a cure, it's going to be like she was practicing for the Olympics, and much further along than if she was just stagnant. And she is making progress. It's slow, but she can sit and stand now with my help, and her language has exploded. She'll tell me that she loves me, she'll tell me what she wants, she'll tell the teacher to shut up and start class. She's very assertive, in a kind way. The most important thing to know about Rett syndrome is that she is very cognitively aware of everything. She is very smart and fully intact in terms of those abilities."
As Josie was telling me this, Charlie shifted her head to stare at the screen of her computer, which said "I need to go potty" in a voice that sounded like it could have emerged from her mouth.
"The Tobii Dynavox has been amazing," said Josie. "It's a very robust language system, using eye-based technology. This is the same thing that Stephen Hawking was using."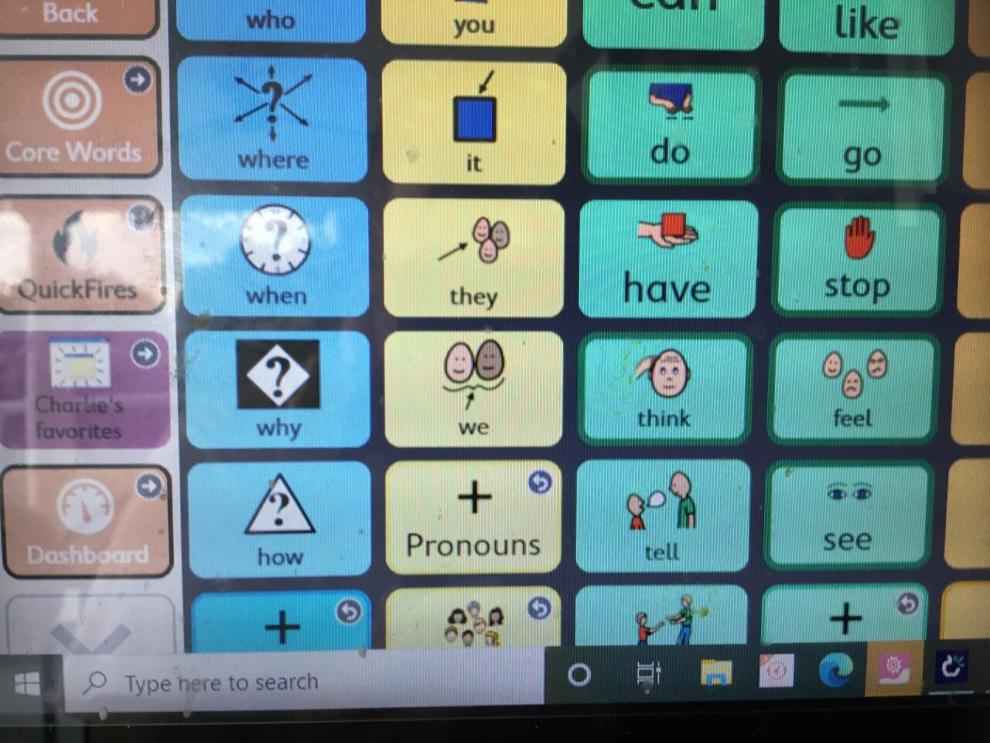 Josie showed me how to calibrate the monitor to my eyes, and how to choose words and phrases from a menu by staring at them. It was difficult, and this was the beginner's level screen. Charlie uses a much more complex grid with much smaller icons. By choosing them with her eyes, she can activate commands like GO TO ALEXA or I WANT TO WATCH TV. "She's in control. She's like, this is what I want to do, and now I'm making this happen. Imagine being a very intelligent six-year-old, but with your body failing you, so you don't have that control. Being able to do this is huge."
I have known Josie since she wasn't much older than Charlie, as her father was the late and much-missed Jim Clark, the former director of the UNCG Creative Writing Program, whom I memorialized in the YES! Weekly article "Remembering UNCG's Jim Clark and his glorious lies" (both Josie and her mother Danielle took great pleasure in how the man we all miss could convince even the most skeptical student of the most outrageous nonsense, such as the cannibals in the steam tunnels under UNCG).
Jim died ten days after his granddaughter was diagnosed with Rett Syndrome.
"Even though he'd been in and out of the hospital and not working much in the last few months of his life, when we cleaned out his office, we found tons of stuff about Rett, and he'd done an amazing amount of research on it in just ten days. Before the diagnosis, Dad would have her over at his house, would call her Princess Spaghetti Face and they'd cook together. Charlie's diagnosis came on October 19, and ten days later, my dad passed. That same day I found out I was pregnant with Lucy, my second daughter. So, it was a very hard day and year."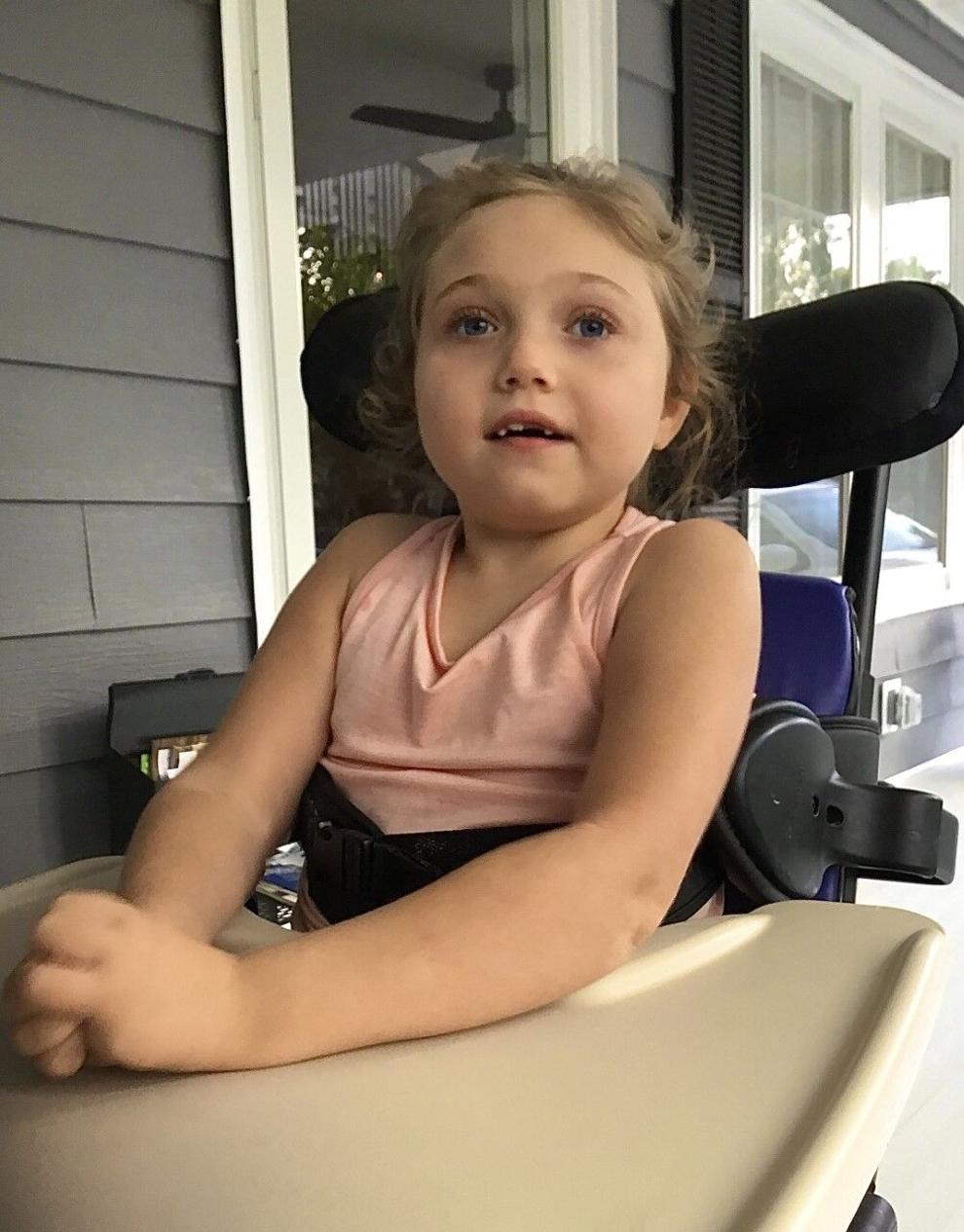 She said that she'll always remember something Jim told her. "He said 'you're not good at letting go of control, but you're going to have to because you can't fix this, all you can do is advocate for her, which you'll be great at. I want you to fight for her and we'll figure this out.'"
And that's why Josie is holding a fundraiser for Rett Syndrome research Oct. 10 from 4 to 7 p.m. at Double Oaks Bed & Breakfast, located at 204 North Mendenhall St. Pastries will be provided by Black Magnolia Southern Patisserie, owned and operated by Josie's longtime friend Veneé Pawlowski (profiled in the YES! Weekly article The Taste of Sweet Southern Success), and The Grand Old Uproar will perform.
"There will also be Fairy Hair, a stilt walker, and real-live llamas wearing top hats," said Josie, "so it's all-ages and kid-friendly. I'm really excited about the llamas."
Admission is $20, and raffle tickets are $10, with the winner getting half of what's raised in the raffle, and the other half going to Rett research. There's also a silent auction.
"That will be online so that people won't be crowded together scribbling their bids. I have over seventy items. White and Wood gave a $300 gift card, as they do every year, and Machete also gave us one. I have a llama gram, so you can book a llama to come and say Happy Birthday to a friend."
For Donations, go to https://rettgive.org/campaigns/a-cure-for-charlie/. For the Silent Auction, go to https://m.charityauctionstoday.com/m/auctions/charlie-s-angels-charity-auction-26640/items.