Historic West End 2022 Holiday Homes Tour December 4th, 2022 from 1-5PM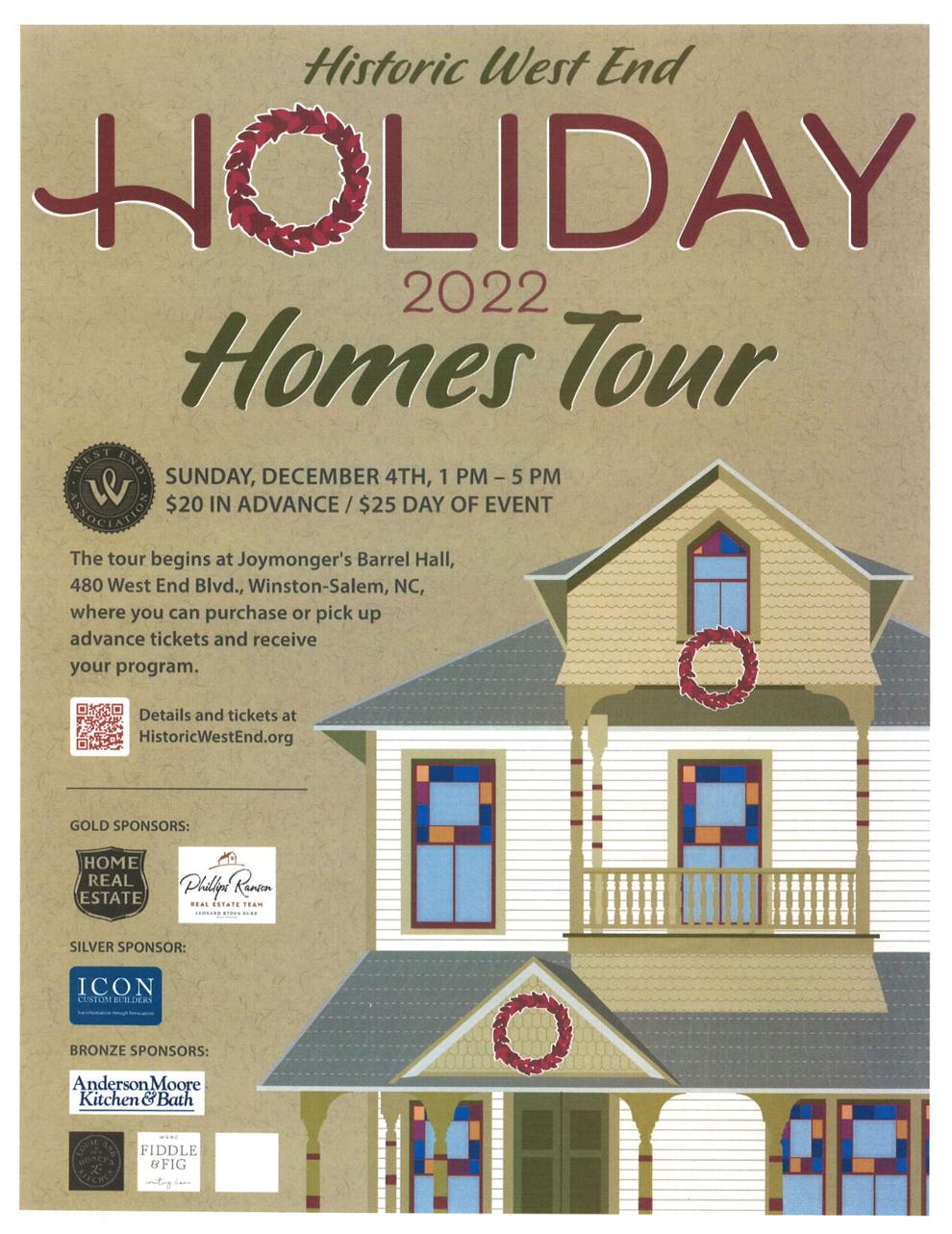 The 22nd Historic West End 2022 Holiday Homes Tour will feature nine historic homes, recently restored St. Paul's Episcopal Church and Joyner's Grocery, the oldest commercial building in the West End district.  The Jacob Lott Ludlow house (built in 1887) and the B J Sheppard House (1893), both wonderful examples of Queen Anne influenced architecture, have undergone extensive restoration during the past two years and will both be on the Homes Tour this year.  Jacob Lott Ludlow was Winston's first engineer and visionary who designed the West End neighborhood in 1890 as a picturesque residential neighborhood which emphasizes the natural qualities of its landscape through the use of curving streets and several parks. The Holiday Homes Tour provides the public with the unique opportunity to visit the inside of beautifully preserved historic homes and buildings that maintain architectural styles original to Winston-Salem and date as far back as the 1880s.
The Historic Homes Tour is walkable for most.  Shuttles are also available between tour stops.
Advance tickets are available through December 2nd for $20 at http://historicwestend.org/2022-homes-tour or for $25 on December 4th. Pick up tickets and a tour brochure on December 4th, beginning at noon at Joymongers Barrel Hall, 480 West End Boulevard, Winston-Salem NC 27101. 
Thanks to our sponsors: Home Real Estate, Phillips Ranson Real Estate Team LRB (Gold Sponsors), ICON Custom Builders (Silver Sponsor) and AndersonMoore Kitchen & Bath, Louie and Honey's Kitchen, Fiddle & Fig (Bronze Sponsors).  Proceeds from ticket sales and sponsors go to the West End Neighborhood Association, a non-profit organization dedicated to preserving the health and well-being of the West End neighborhood.