The most recent exhibit at Theatre Art Galleries, located in High Point Theatre, tackles the happenings of 2020 while making them think of their own time in confinement. 
"Everyone has different feelings about what they experienced during that time and I think by looking at someone's expression of what they experienced, it causes you to reflect on your own experience," said Jeff Horney, executive director of Theatre Art Galleries (TAG). "You may have similar feelings. You may have different feelings. But it has been a very challenging time for all of us. Hopefully, we are seeing more normal times ahead. I think by looking at someone else's reflection it causes you to pause and reflect on yourself."
Both the "20/20" and "Light Captured" exhibits are the first full round of exhibits to grace the gallery since the last one closed in the spring of 2020 and they were both delayed due to COVID. 
Located in the downstairs Main Gallery, the Greig Leach's "20/20" exhibit is composed of ten large pieces and some smaller pieces that focused on what was going on in the world in 2020 and people adapted to the changing landscape. The pieces begin at the beginning of COVID and continue in chronological order through 2020.
"It's a very figurative show. The first piece is a bar scene where someone's coughing and the person next to them is covering their mouth. That's the very first inkling and the others are reflections of what went on during that time. There's one that reflects on people face timing, there's one showing his time spent gardening, there's some that reflect the protests of Black Lives Matters and some of people dying," Horney said. "In addition to those large-scale picture pieces, there are four stained-glass pieces where he elevates some subjects to iconic status. One is a nurse in hospital gear, with the mask and everything, that really puts her in a positive state as a front-line worker. So you get a bit of everything. The good, the bad, the turmoil, and those who rose to the challenge."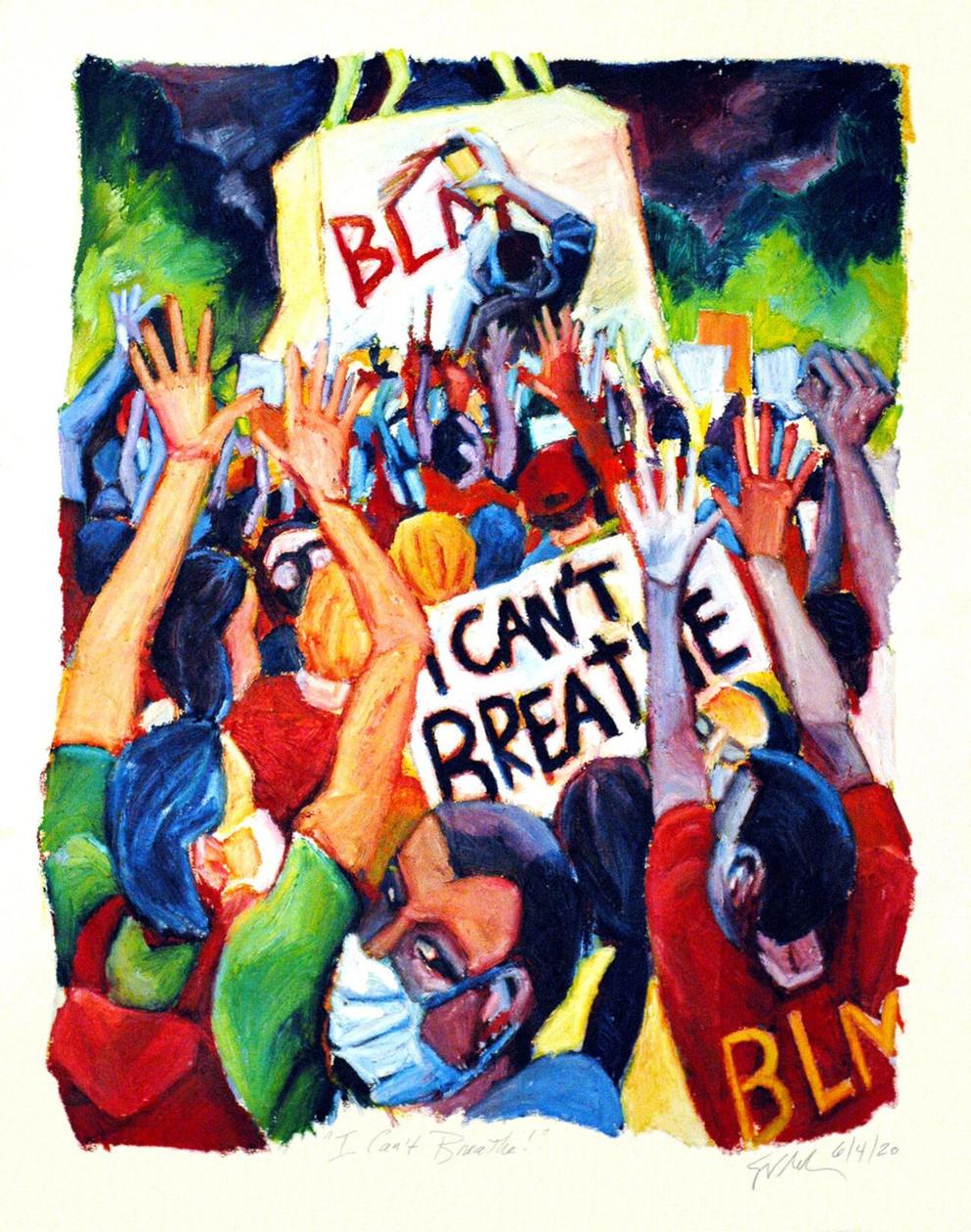 According to Horney, the exhibit was originally going to focus on people in bars and people dancing before everything shut down in 2020. 
"Greig had all this time to reflect on what was going on in the world around him and his whole body of work changed. The exhibit really evolved from what we set out to initially do to what was really a reflection of what happened during his, and everyone's, confinement during the year of 2020," Horney said.  
In an artist statement online, Leach explains just how and why he creates the "20/20" exhibit and what he hopes viewers glean from his artwork. 
The beginning of his statement is below: "Each of us has had to discover ways to process the previous year and how it has affected each of our lives. This exhibition presents how as an artist I was left to work through the emotions, turmoil, and isolation of 2020. All of my artwork addresses the world around me as I see it, experience, and hold it in my mind's eye. By presenting the truth of my experiences, I hope to find the commonality in all of our realities. I am left to show what I see, with that seeing presenting questions we need to ask of ourselves. 2020 brought those questions and differing personal experiences to a sometimes violent head. For others, it left us feeling alone, isolated, or confused."
Horney said that he feels that visual images allow the artists and those viewing the art an opportunity to share emotions and thoughts that they may not be able to put into words. 
"It leaves it open to your own interpretation. I think these issues are important. So many things came to the surface over the last couple of years," he said. "We need to do some soul searching, we need to re-educate ourselves, and we need to try and find common ground so that we can move forward together. We have one planet that we exist on, and we have to look after each other. I think that by viewing this artwork, someone's reflection and their views, it causes us to do the same." 
In the upstairs galleries, works from Joe Lahita and Lyudmila Tomova are featured in the "Light Captured" exhibit.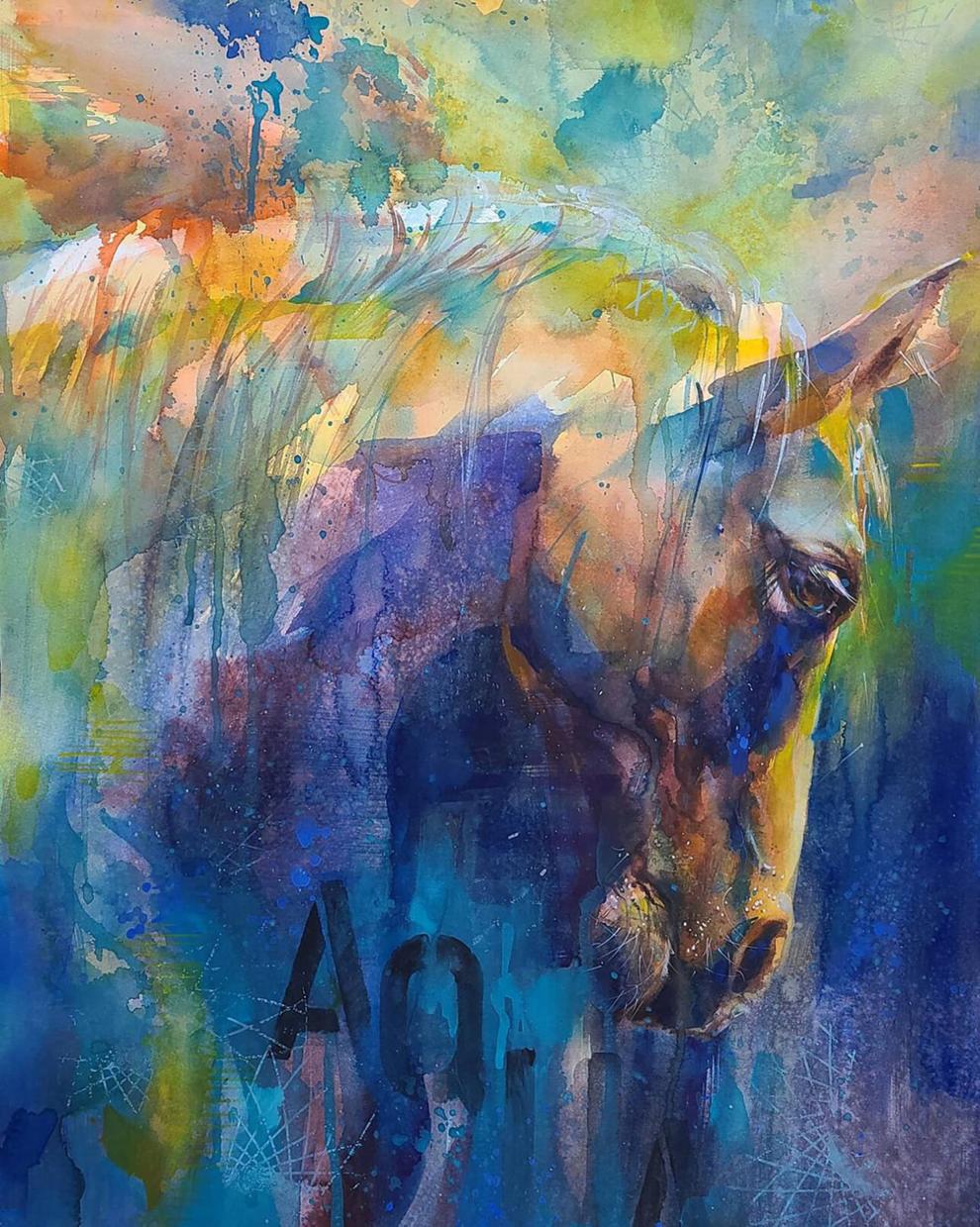 Born in Bulgaria, Tomova is an award-winning artist, well-recognized nationally and internationally for her unique impressionist style. Currently, she paints figures, portraits, murals, and landscapes in oil, watercolor, and acrylic. She immigrated to the U.S. in 1990 and currently resides in Cary, teaching watercolor, oil, acrylic, and drawing workshops in various locations throughout the state. She studied Classical realism at Sofia's Academy of Fine Arts and later earned a BFA in Illustration from FIT in New York.
Lahita was born in Hungary but raised in Australia before immigrating to the U.S. in the early 70s. His style is described as a loose interpretation of different subject matter that depicts rural scenes with animals, people, and the changing seasons, and he's inspired by his travels and the artistic masters of the Impressionist period. He currently lives with his family in Clayton.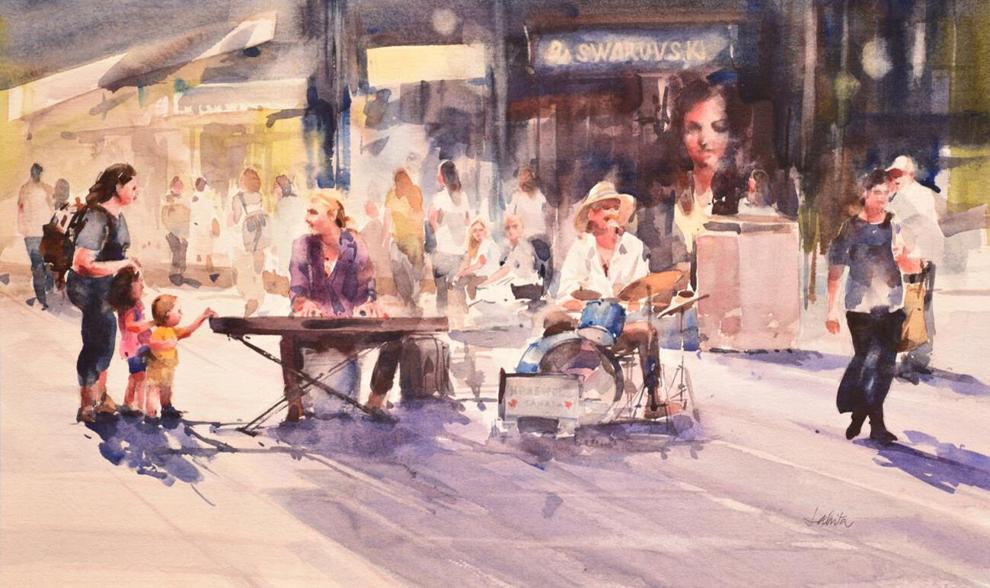 "The artists are both outstanding watercolorists and artists," Horney declared. "Both artists bring fantastic artistry, creativity, and tremendous skill set to the works in the gallery upstairs.