GREENSBORO, NC (January 8, 2021) – The Downtown Greenway seeks community input for Greensboro's newest public artwork, the Freedom Cornerstone, to be located in the southeast corner of the Downtown Greenway's four-mile loop - at the northeast corner of the intersection of Murrow Blvd and East Gate City Boulevard, Greensboro, NC 27401. This highly visible location was created with the realignment of the intersection in coordination with Downtown Greenway construction. 
The Freedom Cornerstone will celebrate the concept of Freedom, and will recognize the role that the City played in the non-violent protests of the pivotal 1960 Greensboro lunch-counter sit-ins that served as a catalyst to the larger movement.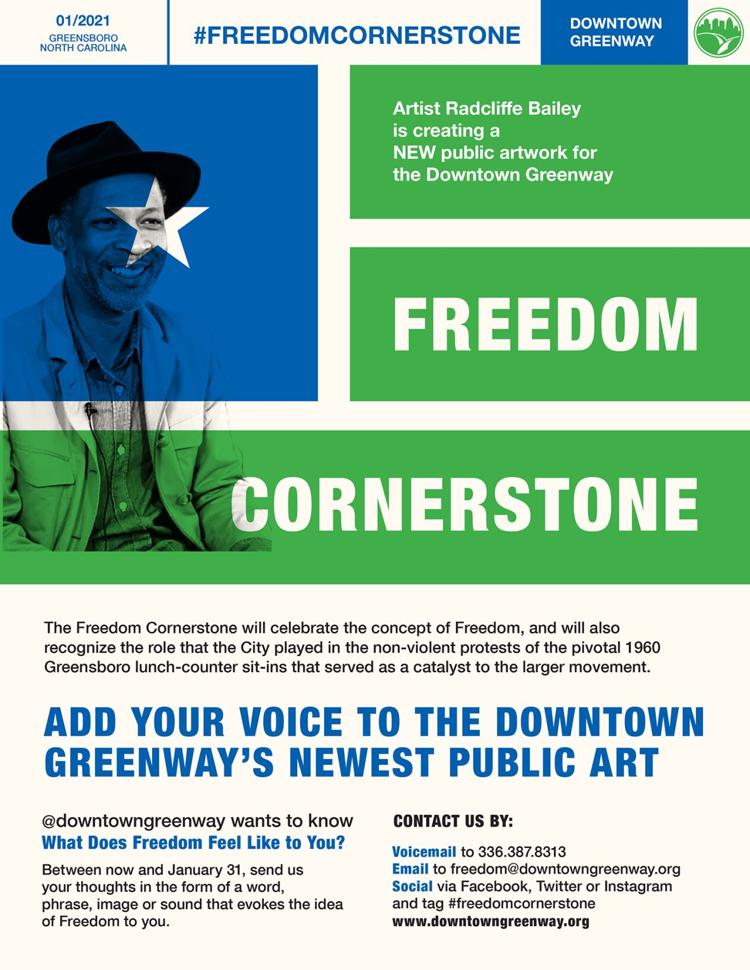 Community members are asked to let us know "What Does Freedom Feel Like to You?" Send your thoughts in the form of a word, phrase, image, or sound that evokes the idea of Freedom to you. Responses can be communicated in these ways and will be shared with artist, Radcliffe Bailey who is creating the work: 
Voicemail to 336.387.8313 
Email to freedom@downtowngreenway.org
Social via Facebook, Twitter or Instagram and tag #freedomcornerstone 
Radcliffe Bailey from Atlanta, Georgia, brings an international reputation to the project and a history of telling stories of African American history and culture. 
His work is in the collections of many institutions including the Art Institute of Chicago, Chicago; Corcoran Gallery of Art, Washington DC; Metropolitan Museum of Art, New York City; Dallas Museum of Art, Dallas; Ford Foundation, New York City; Pennsylvania Academy of Fine Art, Philadelphia; Nelson-Adkins Museum of Art, Kansas City; High Museum of Art, Atlanta; Denver Art Museum, Denver Norton Museum of Art, West Palm Beach; Mint Museum, Charlotte; Nasher Museum at Duke University, Durham; and the Weatherspooon Art Museum at UNCG, Greensboro. Radcliffe's most recent work has been installed at the newly expanded Auburn Avenue Research Library on African American Culture and is titled From the Cabinet. 
Radcliffe comments "It is my honor to celebrate the victory of freedom for this commission". Radcliffe envisions using Core ten steel and concrete for the work and plans to incorporate lighting and music. He notes that "we all will bring our own history the project, but that history will be seen through the lens through which we each perceive our own experiences."