"I'm normally leery of awards," said hip-hop legend Darryl Matthews McDaniels when interviewed by YES! Weekly at the Greensboro Public Library on Saturday morning.
But the rhyme-spinning and Grammy-winning co-founder of the pioneering rap group Run-DMC said he was humbled by and proud of the one he would receive that night at the third annual Men Making Positive Changes Awards ceremony at Greensboro's Grandover Resort.
"Almost everything about show business and entertainment is crap," said McDaniels. "What's important is the people you meet."
He put his arm around the man sitting beside him, who was wearing a Run-DMC "King of Rock" t-shirt and a hat similar to the one sworn by DMC and Joseph "Run" Simmons in their classic videos and album covers. This was James Abdul-malik Rosa Jr., who would be presenting McDaniels with the award that night and would hold the children's book Darryl's Dream open for the audience to see while McDaniel's spoke about it to a room full of kids and their parents.
Rosa co-created the Rosa Foundation with his wife, T'ebony Camisha Rosa, in 2018. He is executive director of the Greensboro nonprofit, which he described as "a grassroots organization putting boots on the ground to give back to the community through food drives, coat drives, award ceremonies, and scholarships." He said that Saturday's Men Making Positive Changes Awards ceremony at the Grandover was also a fundraiser for the scholarship banquet his organization is planning for next year, which will focus on raising college money for students in Title 1 schools and low-income communities.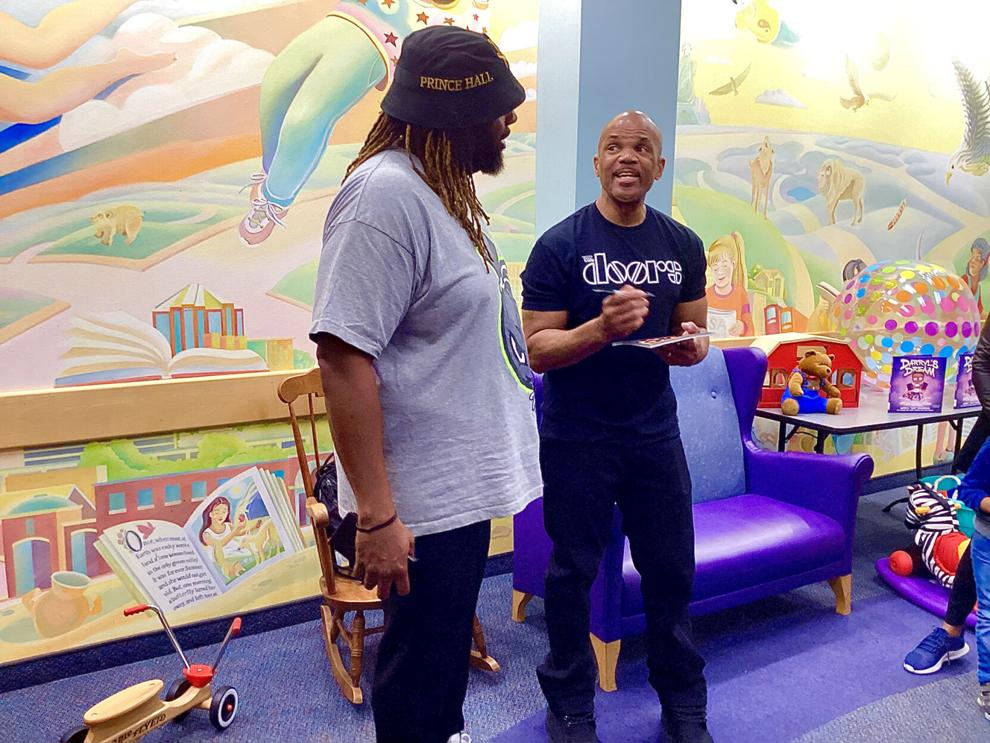 Rosa and McDaniels were put in touch with each other by their mutual friend DJ Keith Watkins, a Brooklyn hip-hop pioneer who also works for the New York Department of Public Education.  
"I've known DJ Keith since I was 12 years old," said Rosa. "He won an award from us two years ago, and I've seen him and D doing a lot of stuff for their community in Brooklyn. When Keith said he'd like to nominate DMC for our award, I said, sure! He gave me D's number. When D called me back, I could hardly believe it was really him. This man is one of my idols. I grew up listening to his music, and as you can see [points to his t-shirt and hat], this is how I've been since I was a kid."
The Queens-raised McDaniels and Brooklyn-born Rosa bonded over their New York backgrounds, work in their respective communities, and personal challenges long before they met face-to-face. "I took a lot from my community," said Rosa, "and it's time to replenish the stuff I took away. As of today, I have 28 years clean and in recovery. If it wasn't for that process, and me changing my life, I wouldn't be sitting here today giving it back." 
"For me, it's 18 years in recovery," said McDaniels.
"Well, there we go!" said Rosa. "Thank you for being here and making one of my dreams come true. I'm giving you this award because of what you're doing in the community."
McDaniels said that he became even more leery of awards, especially the ones the entertainment industry bestows on performers, while giving talks about his 2009 book Ten Ways Not to Commit Suicide — a Memoir, which he wrote after listening to the Sarah McLachlan song "Angel" which convinced him not to take his own life during a fit of depression. 
"Recently, I was at a conference on mental health and sobriety in Salt Lake City and one of the ladies there, a doctor and university professor, said shows like the Grammy Awards contribute to people's mental health issues by selecting certain individuals and excluding others. Award shows should be a celebration of all people's talents. My new record is called "Enough of this Shit," and one of the rhymes is "Don't hold me a celebrity/this is something I could never be," so I'm trying to remove that perception. Even though I'm DMC, I'll be standing backstage, and people will say stuff like Beyonce's coming through, get out of the hallway. Me and my crew, we ain't moving. And y'all shouldn't either. A famous person ain't nothing without the people who pay to see and hear them." 
He spoke about the book he was getting ready to introduce to a roomful of kids on the floor above us.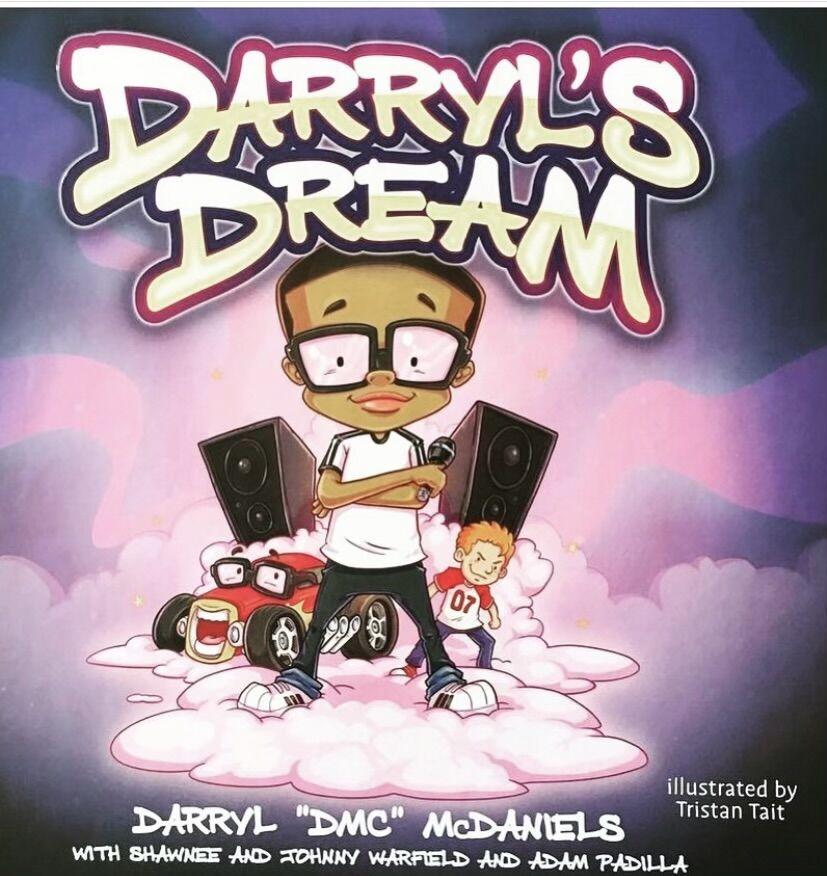 "Darryl's Dream is DMC in the third grade. I wrote it so that every kid could know that they're perfect just the way they are, and that everything that makes them who they are, right now at this little age, will be utilized for them to be successful when they get older. So, don't be ashamed about your hair, your freckles, your height, not any of that, because everything the people tease you about is actually the thing they're noticing about you that's going to help you later. I got teased for my glasses and look what happened. Once you're enthusiastic about who you are, people who don't even need glasses will want to wear them because you made them cool."
McDaniels then rapped from "Hollis Crew (Krush-Groove 2)", the fourth track on Run-DMC's eponymous 1984 debut album:
The D's for doin' it all of the time
The M's for the rhymes that are all mine
The C's for cool, cool as can be
(And why you wear those glasses?) So I can see!
"The book is very autobiographical. I was a kid, I got teased, bullied, and picked on. I was a comic book reading kid who wore glasses and never cut classes, and those classes were at St. John's University in Queens, a Catholic school, which was another bad thing in my hood because the public school kids thought it meant my family was rich and I had lots of quarters in my pockets. So, glasses, Catholic School, and comic books, and I'm not stealing water guns, I'm doing my homework. I thought I had everything going wrong for me."
And now he wants to help kids like the one he used to be realize that there's nothing wrong with him then or them now.
"Kids need to realize that when they're enthusiastic about who they are, it has an effect on other people around them going through the same thing. I didn't do Darryl's Dream so that kids could see the man their mothers, fathers, and grandfathers think is so magnificent. I wanted to show them that doesn't happen overnight, and that this guy all these adults were going crazy over was once in the third grade like them, and going through the same things. The book helps kids realize about themselves, 'oh, what I'm going through is not abnormal, and if I'm who I am, that should be a special thing to be celebrated! I shouldn't have to change who I am to be accepted.' If a kid doesn't like playing basketball and wants to take piano lessons, he should take piano lessons. Or read books or draw pictures or whatever." 
McDaniels said that the one fictional thing he and his co-authors added to the book is the talent show that Darryl competes in.
"We did that to show kids it's cool to participate and even fail. That it's okay to try new things and not get it right. The two teachers I wrote the book with, Shawnee and Johnny Warfield, they're actually now principals in their respective districts, and they brought me to Brooklyn to speak at the elementary schools three times in a row. Every time I came and spoke, they said there was an attitude change in the kids, just from hearing the old school rapper guy saying that education is cool, working together is cool, not fighting is cool."
He said this is something adults need to learn, and not just in hip-hop.
"Look at the politicians, entertainment, social media, and so, if adults are behaving like that, imagine what's going on in the classrooms. When hip-hop came along for us in the 70s, the Bronx was burning and we didn't have nothing. Or so the world thought. We faced death, darkness, and destruction and we had to look inside, and out of that came music, poetry, dance, fashion, style, and educators. It was a Bronx Renaissance, a period that should be in history books."
McDaniels wants people to remember 80's hip-hop as inspirational and aspirational.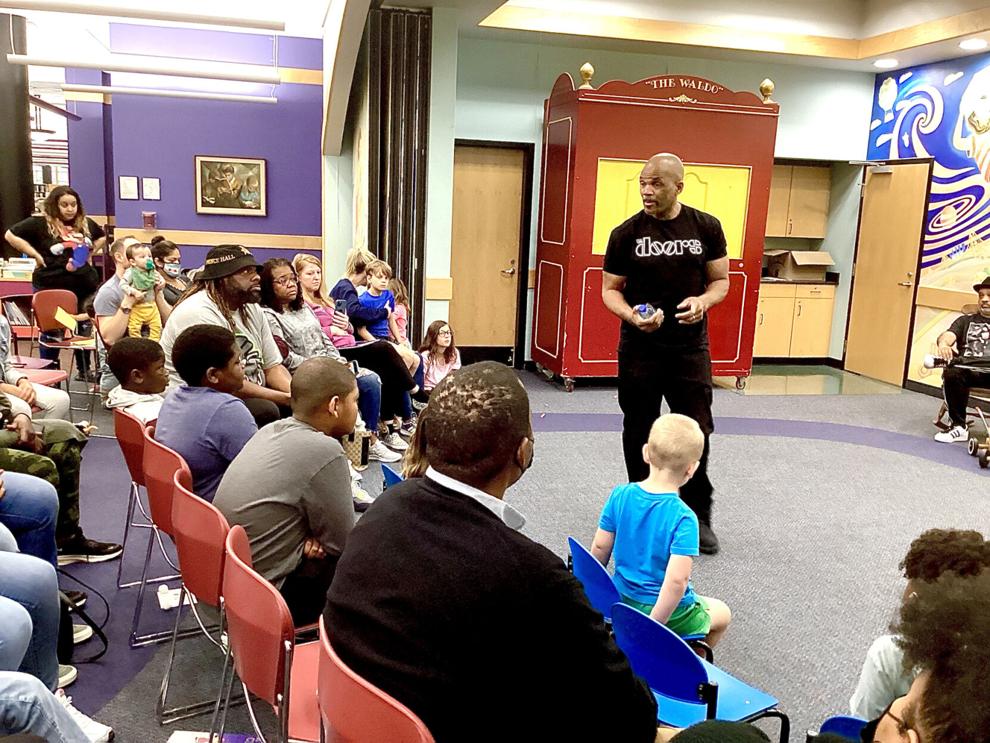 "The media perceived it as Black ghetto music. But in the beginning, the dominant records were all message records. We weren't all just complaining about how fucked up things were. Rolling Stone got one thing right. Grandmaster Flash and the Furious Five's "The Message" is the greatest hip-hop song ever made, because it wasn't the young people speaking just for the young people, it was them speaking for families and communities."
McDaniels said he's proud Run-DMC followed in that tradition. 
"I came to the game with a rapper's swagger and attitude, but instead of rapping about bitches and hoes, I'm talking about mothers, fathers, and learning stuff. We were watching our elders go through Hell, and nobody was making music for them at that time. So, when we said 'okay, it's all messed up,' we were also saying, what are we gonna do, how are we gonna change that? 
When I came into Hip-Hop, the perception was, you need to be talking about the ghetto and drugs and how broken everything is. But I was a kid in that same environment, with gangbangers and drug dealers, but also Double Dutch jump rope and hopscotch and kids reading comic books. People may look at me and just see Run-DMC and the videos and Adidas, but the things that make me who I am include the Brady Bunch and the Addams Family, the Munsters, the Flintstones, the Jetsons, Spider-Man, and Godzilla movies. We are all products of pop culture, just like we're all products of our parents and their parents."
McDaniels said that speaking to kids now has reminded him of the kid he was, and how much that kid shaped both who DMC was at the height of hip-hop fame, and who he is now almost 40 years later. 
"I didn't fully realize some of the good things I was doing back then until all that time was past and gone, when I started speaking at these elementary schools. Going back and speaking to these kids now, as well as speaking to the teachers who helped me write this book, I knew had to look back and give back."
He said that his co-authors, who have worked in public education for decades, also talked about how it bothered them that so many of their students only seem to want to be rappers or athletes.
"But that's all they know because it can seem like those are the only adults being celebrated. They're not being exposed to the young Black woman who works at Pixar for Disney, and we need to talk about her, too. And the teachers I wrote this book with, what they told me was that I can inspire, educate and motivate. I'm the guy who's been around so long, grandmothers and grandfathers know who I am. And now kids can put two and two together and go 'this guy was just like me,' and that takes a little bit of the pressure off them." 
Ian McDowell is the author of two published novels, numerous anthologized short stories, and a whole lot of nonfiction and journalism, some of which he's proud of and none of which he's ashamed of.