"I know where the money goes and where it doesn't," said Steve Matthews at a sidewalk podium in downtown Greensboro on July 13. "Two months ago, the city was awarded $59 million, yet we gotta come here and talk about why Mothers Standing Against Gun Violence has to beg for funding."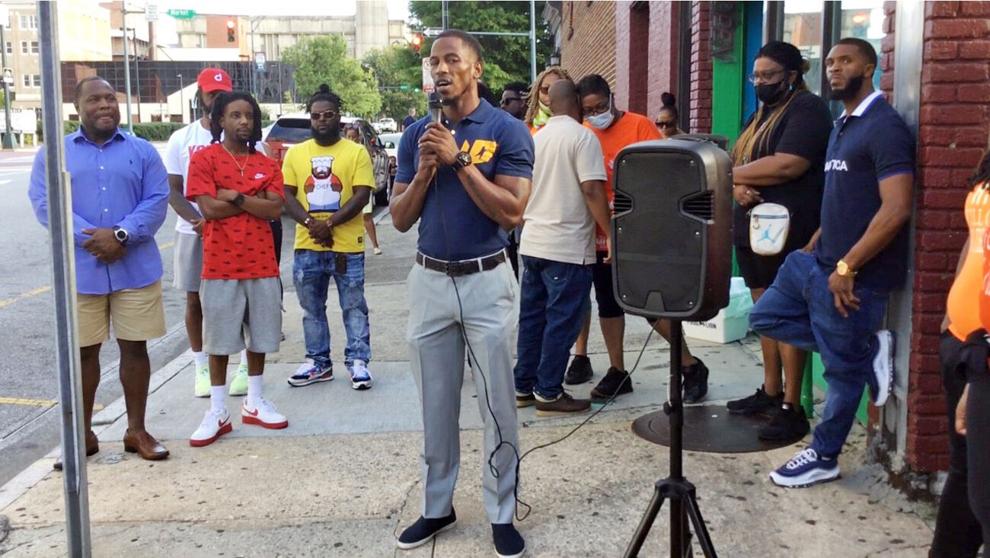 Matthews, who founded Punch 4 Pounds Kids to teach life skills and boxing to at-risk youth, spoke at a rally and press conference organized by Arthur Durham of Cure Violence and Gene Blackmon of Prestige Barber College in response to recent shootings. Five people were wounded on July 11, two at One 17 Sofa Bar on N. Greene Street and three at Lucky's Skate Shop and Lounge on Patterson Street.
"There was an unfortunate event that happened here the other day," said Durham in his opening remarks. "We're here to speak against it, but we also want to shed light on these programs that are here and the people on the front line who are combating gun violence." He referred to his fellow speakers as "grassroots individuals who are on the ground 365 and 24/7, trying to interrupt and stop any type of violence, particularly that which manifests in guns."
Along with Durham, Blackmon, and Matthews, these included Rev. Wesley Morris of Faith Community Church and the Pulpit Program of Greensboro; Rev. C J. Brinson of Genesis Baptist Church and NC Black Alliance; Tevin Whiteside of Urban Renaissance Culture; and Shaun Jackson of Cure Violence.
The most emotional speech came from Denise Crawford of Mothers Standing Against Gun Violence. Crawford, whose son Brandon was murdered last November, spoke movingly of how that loss has devastated her family, and of her fears for her grandchildren.
"We just need for the city to reach out and help us as much as they possibly can like they're supposed to because I don't want to see my 17-year-old grandson in the system. He's not in the street, but I don't want to see him have to turn to the streets because the city and its programs failed him after his dad was murdered," she said.
"Many folks would have you believe that what is happening is pathological in our community, or that it is a Black internal issue," said Brinson, who called the problem "the results of a community that has been economically depressed and oppressed by a system - a system that is inherently violent, that handles every situation with violence."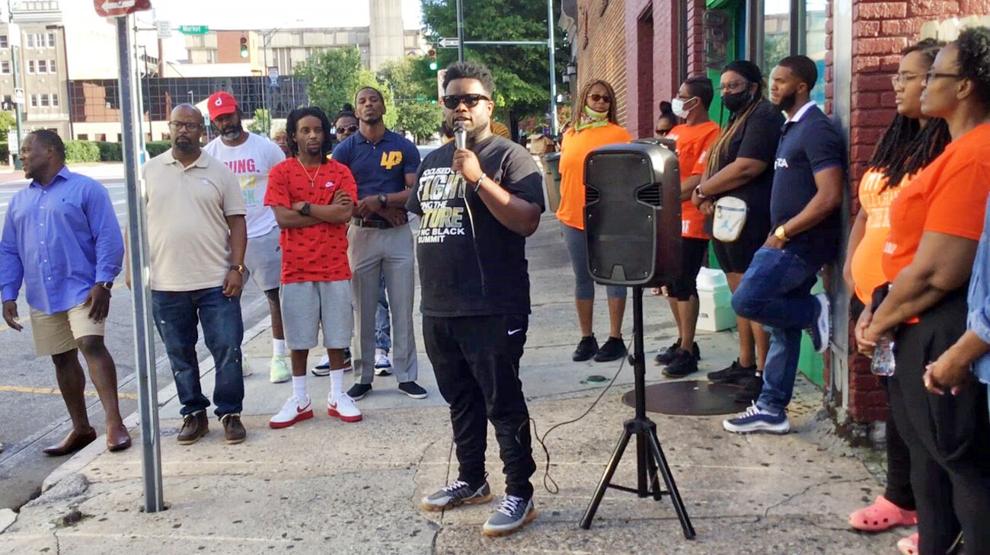 The last speaker was Greensboro's NAACP President Rev. Bradley Hunt, who urged his listeners to vote in Greensboro's mayoral and city council elections next Spring, and the Guilford County Sheriff and District Attorney elections in November of 2022. "All of these folks will be seeking our support next year, and its time that we let them know that no longer will we give them our support if they do not support our community."
Some in the Greensboro political establishment have responded to shootings in downtown clubs by suggesting the establishments be penalized, or even shut down. These suggestions have been denounced by some Black community leaders and activists as performative "band-aid" solutions that address the symptoms rather than the cause, an approach opposite to what Cure Violence and other community organizations recommend.
Thirty-one miles away, Winston-Salem officials canceled a rap festival over concerns that violence might occur. The stated objections were not to the venue, which the city owns, but the criminal associations of some contracted performers. While blaming venues for past violence is common in local political discourse, blaming performers for potential violence is new, and has prompted a lawsuit from the Kernersville-based agency the city contracted to host the festival.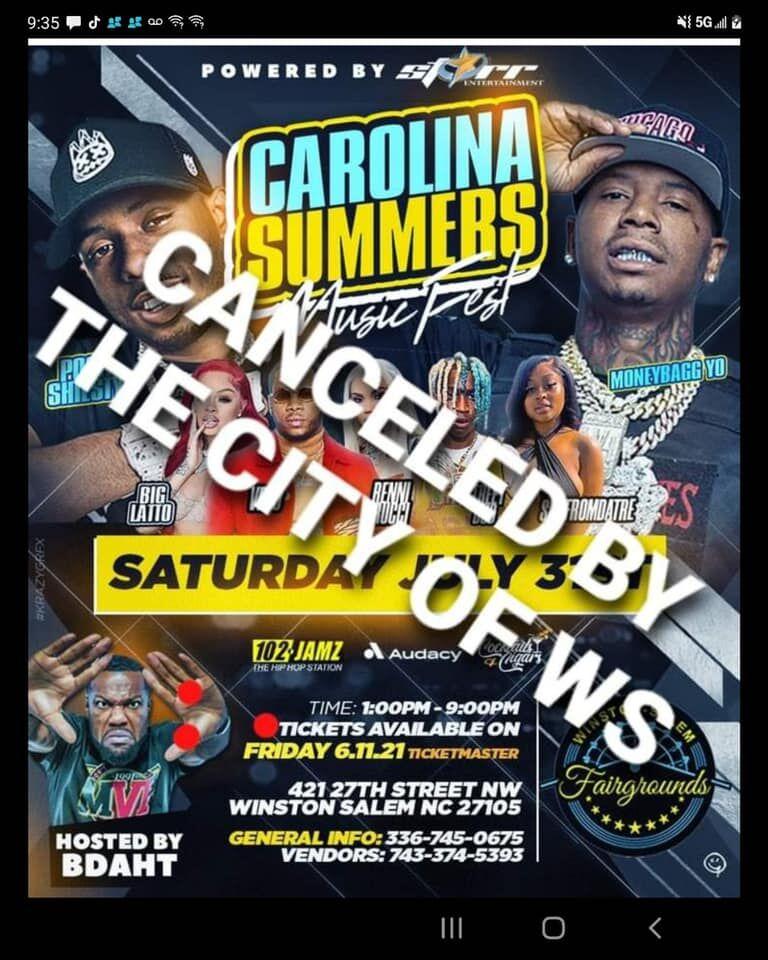 On June 21, the city sent a letter to Starr Entertainment LLC, stating that the Carolina Summers Fest scheduled for July 31 at the Winston-Salem Fairgrounds was canceled. According to a July 12 article by Winston-Salem Journal reporter Wes Young, assistant city attorney John Lawson informed Starr's attorney Jessie Fontenot that the Winston-Salem Police Department investigated scheduled performers Moneybagg Yo, Big Latto, and Pooh Schiesty, among others. According to Lawson's letter, the city is concerned that "there exists a chance of violence and gang activity" at the concert. Lawson's letter also stated that the city would not host the event, and would not let a private group host it, "if there is a risk of violence to attendees or to members of the general public."
Starr Entertainment's breach-of-contract suit against the City of Winston-Salem requests a restraining order to keep the city from canceling the event. The lawsuit alleges that a Starr representative met with city fairgrounds manager Roger Mulhearn on June 9 and that Mulhearn indicated familiarity with the headline artists and expressed no concerns.
A July 14 press release from the organization Hate Out of Winston accused the city of the "stereotype of associating hip-hop with concert violence" and a double standard by not putting the upcoming Winston-Salem Gun Show to the same scrutiny to see if its vendors had any militia or insurrectionist associations. "This decision was not about public safety but was mired in bias and stereotype. This is not how to address the uptick in violence and shootings."
When queried on the controversy, Winston-Salem City Manager Lee Garrity stated that city staff had been instructed to make no comment on the lawsuit to the media.