The City of Art and Innovation has a new hotel designed to capture the eye and stimulate the mind along with giving rest, although you'll find its usual tenets may not be who, or what, you think.
Located at the corner of Albert and Green Streets, The West Salem Art Hotel is a living art gallery, and Airbnb wrapped discreetly into the 1931 two-story building found in West Salem and is run by Haydee Thompson.
"West Salem Art Hotel is a continuation of what was the Wherehouse Art Hotel but at a different location. Art checks in and Art checks out. When people stay, they are there to look at the art, to be around it, to contemplate it, and hopefully buy it. It's like a gallery would work except there are very heavily curated spaces. Our main priority is creating opportunities for artists to sell their work," Thompson said. "We also are planning to continue to have performances, events, and workshops. I would love to do artist residencies in the future."
Thompson said that the core goal for the gallery is for people to see the artist's work.
"It's an opportunity for the artist to be viewed by people who don't live locally. We have people from all over the world coming to Winston to stay. Either the art hotel is the reason they're coming, for the destination and the experience, or they're here for a wedding or conference, or, you know, just looked at the picture of the room and thought 'oh, that has some great amenities.' Which we do happen to have this very different and beautiful experience that you wouldn't get in maybe a regular hotel," explained Thompson. "But the mission is for those eyes from outside of Winston-Salem to get the opportunity to see our local artists. And I say local broadly because we also do regional artists. So they have a chance to be seen by people from all over. And we do get people from all over the globe staying here."
This is a fact that is not lost on other key arts organizations in the city.
"The West Salem Art Hotel is a perfect example of how the arts come alive in our city. We commend Haydee Thompson's creativity and ability to bring artists together to make something very special. Organizations such as the West Salem Art Hotel help to showcase the arts in an innovative way to visitors and locals alike," said Katie Hall, chief advancement officer for the Arts Council of Winston-Salem and Forsyth County.
The building doesn't seem to have been left without being reimagined as the hallways and bedrooms have been reimagined by a local artist or living spaces transformed by statues or art from a sculpture or painter. If you ask Thompson she'll tell you it's all part of the plan that she has for the newly acquired 'blank canvas.'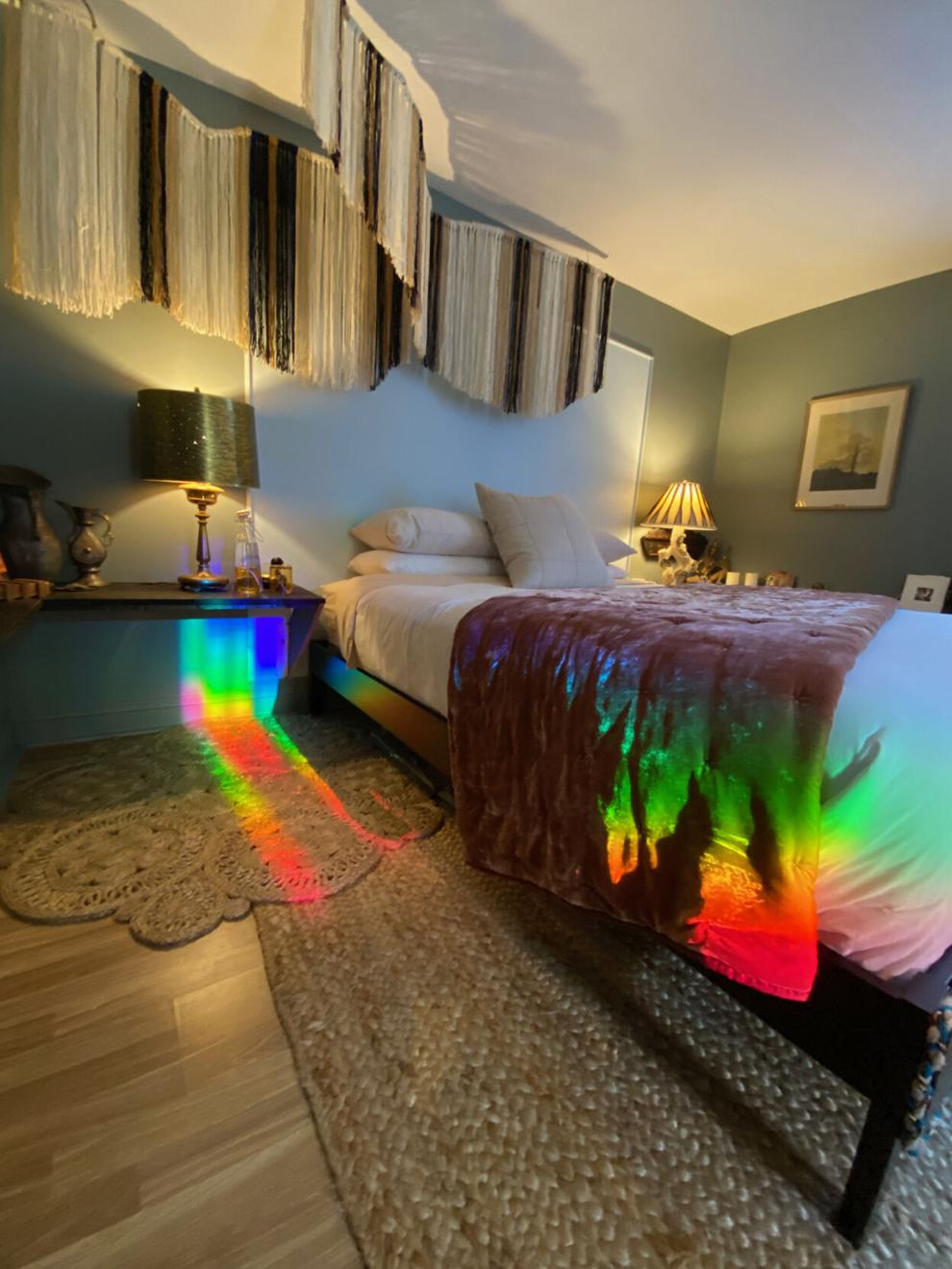 She and her team of designers, artists, and independent contractors have finished two spaces in the Art hotel, the Art/partment and the Rose Room, along with a completed foyer painted by Laura Lashley. The upstairs of the building are currently under renovation but will house a large open floor plan art gallery, community kitchen, and four more art rooms.
"The rooms themselves are works of art, so you have art in the design of the room. Here I was working with a whole new set of parameters," she said of designing the Art/partment. "You kind of anticipate the guest's needs and what they want as well as try to make space for the art. You have the art in mind and art form, and you let the art inspire the space and vice versa."
The Rose Room is covered from floor to ceiling with a flower mural painted by artist and muralist Gina Franco. The apartment boasts a full micro kitchen and dining room that doubles as an art salon that hosts rotating art exhibitions and currently displaying Liz Simmon's Vulture paintings.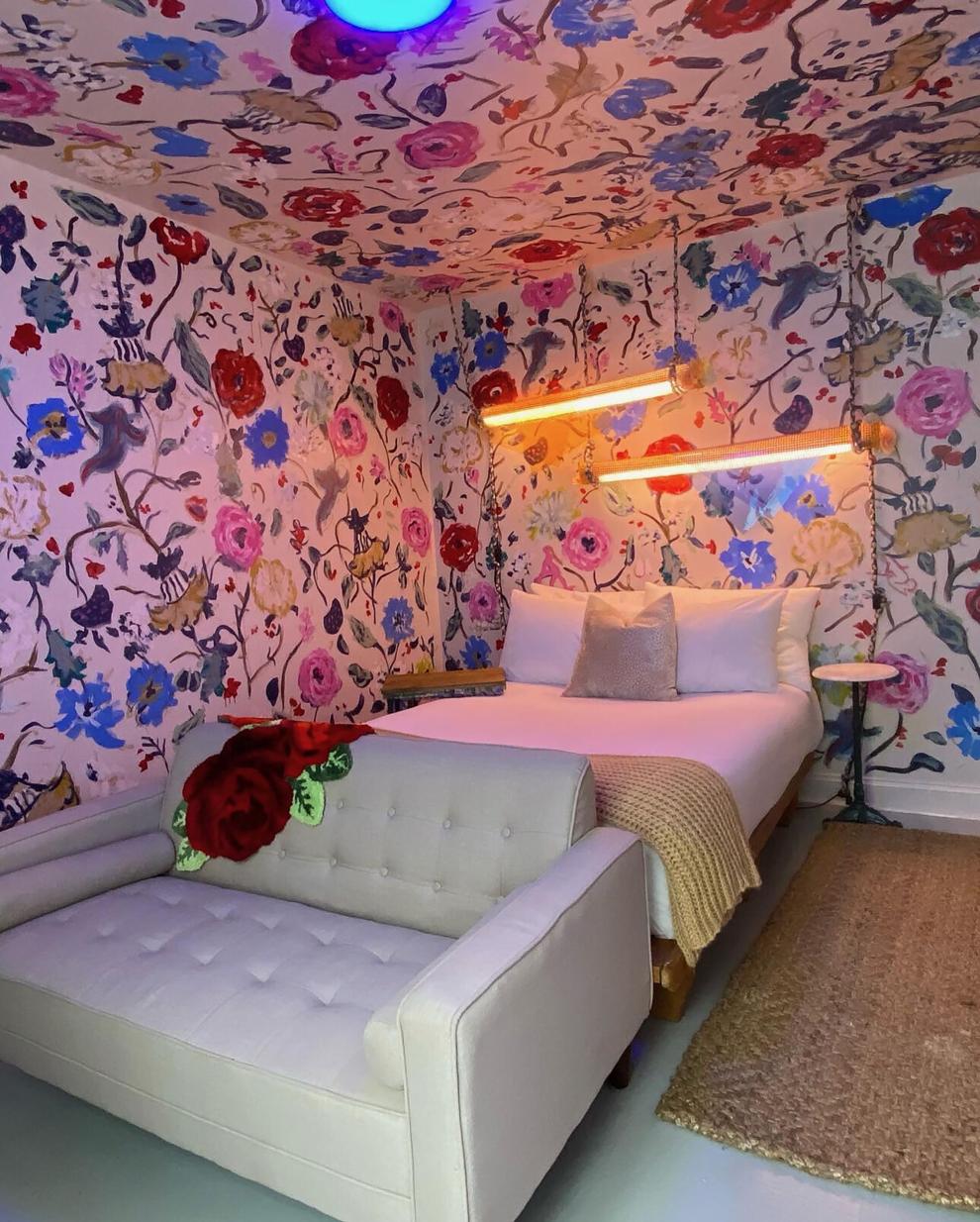 "The room was actually very sad before so all I could think of to reverse that energy, I guess, was to bring something beautiful in. As soon as I decided that it was going to be the Rose Room, I had my friend Gina Franco from Greensboro. She painted the most beautiful rose-inspired mural on all four walls and the ceiling," Thompson said.
However, six months earlier, Thompson was on her way to a relative's farm after having to leave her home of 20 years.
In March 2020, when the COVID lockdown and restrictions began, Thompson was in good shape at the Warehouse Art Hotel. The space was booked out for months and had recently hosted a successful art exhibit from Greg Vore's "At an Intimate Distance" collection.
That quickly changed, leaving her with a host of cancellations and one last guest, a traveling nurse who was only staying for a week. Thompson calls the situation "kismet."
"I started talking to her after all of the cancellations came in about how to go about hosting travel nurses," she said.
While she didn't typically host long-term guests, for the next ten months she found herself hosting a slew of traveling nurses who were working across the Triad and needed a place to stay for at least three months. During this time, she also helped friends convert parts of their homes into housing for traveling nurses.
"That really helped pay the rent and kept us above water as a business," Thompson said. "But also, it was fascinating to hear the inside scoop on what was going on with COVID and the first-hand experience."
Thompson was asked if she thought the art in the hotel acted as a form of therapy for the nurses, and she said that while didn't often see them and didn't receive that type of feedback, she did aim to make the space comfortable for them.
"The best I can say is that they all had a great experience there. I try to make the spaces comfortable and sort of magical," she said. "Hopefully they got that out of it. And it was therapeutic and restful because I know they were exhausted. So I would hope so."
Still wanting to share art, Thompson still hung art exhibits in cafes and restaurants that were open while making informational videos about artists and the Hotel.
Fast Forward to today and Thompson is preparing herself and her new space to host guests this weekend just as she's begun hosting guests in the next apartments. Residents and artists are invited to stop by the hotel on Saturday, Sept. 18 beginning at 8 a.m. to look at the work that Thompson and her team have accomplished so far.
There will be coffee and pastries from Sayso Coffee and food from Native Root throughout the day. The open house will offer live music, live art sales, and a raffle to win a one-night stay for two at the West Salem Art Hotel. Attendees will also be able to see the collaborative Solarium Mural by Zac Trainor and Molly Grace.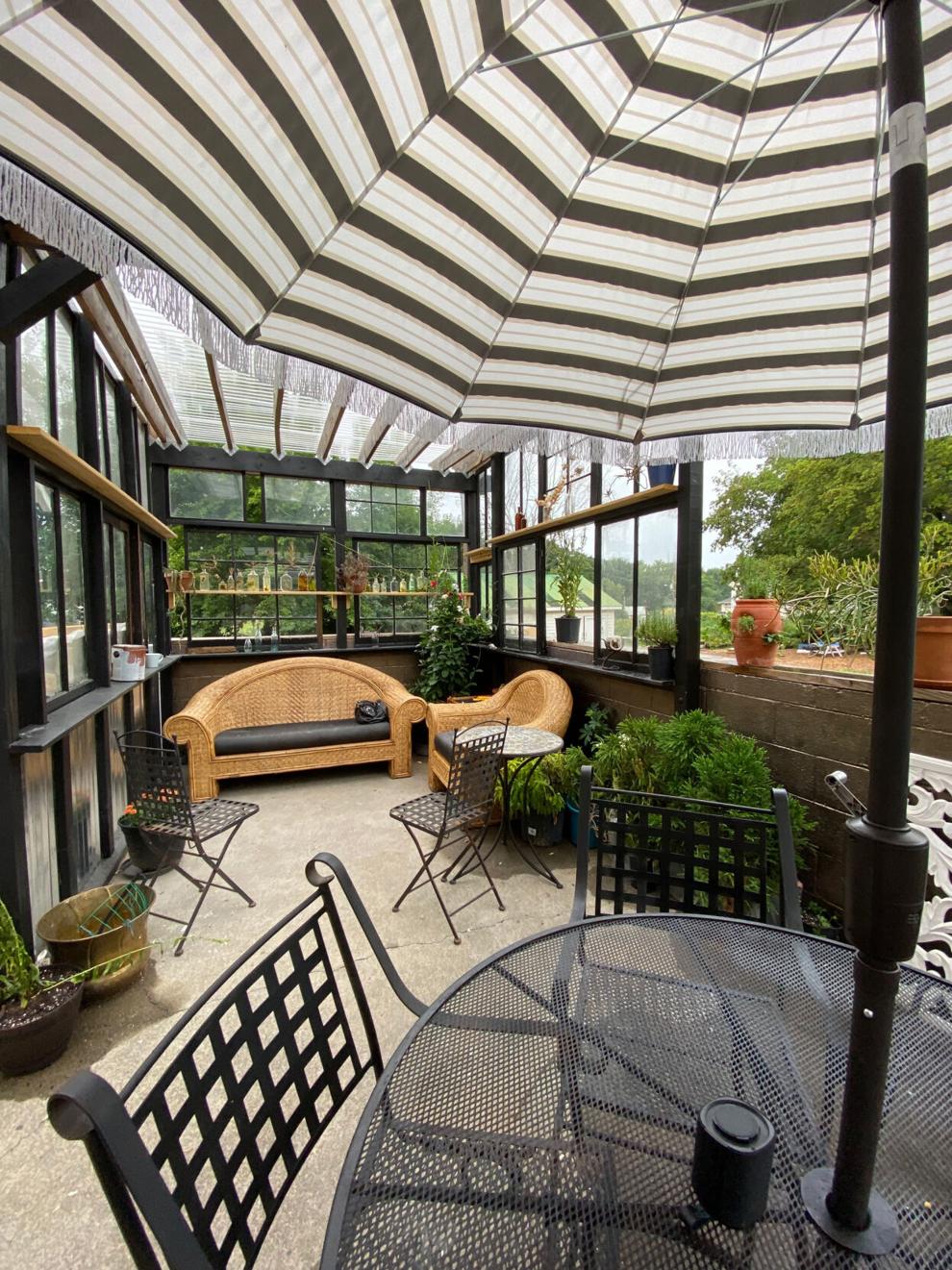 "I'm excited. It's a whole new world, and we're right next to some very energized and creative makers.
There will be social distancing precautions in place to avoid overcrowding, masks are required, and that includes making the open house an all-day affair. The protocols will also roll into the hotel space.
"We've always kept the space clean, but now it'll take three times as long because we're disinfecting," Thompson said. "We're being very careful, and I don't know what to expect in the future."
Thompson said she plans to take it easy after booking up the first apartment so quickly.
"I don't want to rush into anything, but I don't want to pretend that we're living in the same world in February 2020. We were at the top of our game and booked out for months, so it was a real eye-opener."
Thompson said, for now, she'll let the community and the people tell her what they need and want.
"Success to me is that everyone stays healthy."
She encourages artists and residents to watch the hotel's social media pages for workshops and events, and asks if they'd like to submit any of their works to email westsalemarthotel@gmail.com.