"The Invention is a game to be played on an air cushion table of specific design," begins a 1972 patent originally titled Air Cushion Table Game.
In 1969, Phil Crossman, Bob Kenrick and Brad Baldwin, engineers and hockey fans working for the Chicago-based company Brunswick Billiards dreamed of a game table with an extremely low-friction surface, in which air pockets would replicate the way a hockey puck glides over an ice rink. With a few tweaks and the help of a fourth inventor, Bob Lemieux, the resulting tables were purchased by pizza parlors, bars, and recreation centers. Soon after in 1973, air hockey associations were formed in the Houston pubs Carnaby's and Damian's and the University of Houston game room, leading to codified rules and the creation of the Texas Air-Hockey Players Association.
The next year, the game would reach the east coast when 31 regional champs competed for a $5,000 prize and the title of "Best Air Hockey Player in the World" at the first national championship in Manhattan. In 2015, the Air Hockey Players Association was formed to further promote and organize the sport.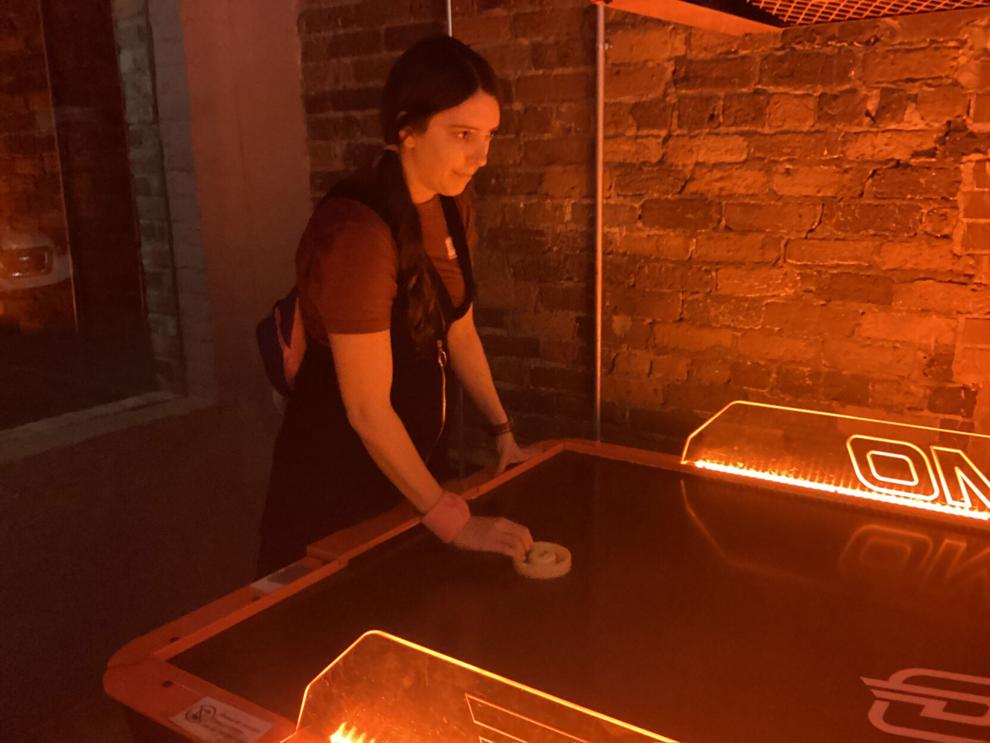 Now the sport is gaining new popularity in North Carolina, with 60 ranked players competing in free weekly tournaments at Boxcar Bar + Arcade in Greensboro, Durham and Raleigh, and a statewide championship planned for later this year. Sarah Mann and Paul Creely, who discovered and fell in love with Air Hockey at the Raleigh Boxcar location, have formed the nonprofit North Carolina Air Hockey Foundation to promote the sport across the Triangle, Triad, and state.
"The tournaments began at the Raleigh Boxcar in late 2018 or 2019," said Mann, who is president of the foundation, "and had picked up a lot of players by 2020, but Paul and I didn't start playing it until a little over a year ago."
"The number of players at Boxcar in Raleigh and even in Greensboro has grown exponentially since then," said Creely, secretary of the nonprofit.
"I got into it through skeeball," said Mann, "which Boxcar also has tournaments in, and which became a big thing for me. I would go do all those tournaments. Then, when playing in one, I saw a sign for an upcoming air hockey tournament. I had never played air hockey in my life and had only been playing skeeball for a couple of months. This was when things started opening up after Covid, and I was looking for free things to do."
Creely said the foundation would be sponsoring the North Carolina Air Hockey Tournament. "We formed the nonprofit as a better way to partner with other organizations and give back to our communities, and also to be able to read more players across the state. So, the goal is to host other events across the year as well as the state tournament."
The sport attracts a very diverse range of players.
"For instance," said Creely, "we have one who used to live in Colorado, where he was heavily into air hockey 30 years ago. He'd been living in North Carolina for 25 years, and back in November, he came into Boxcar and began to casually play. People saw him and told him about the league of tournaments, and he said he had no idea it's become such a thing in this state, and thought it was awesome so many people were playing it. So, we have some people like that, ones who are older and have families, but also freshmen and sophomores in college. For Boxcar, players have to be over 21, but we definitely have players as young as that, and as well as ones several decades older. And a lot of them are women, including some who beat me all the time."
"We also had a kid's tournament one weekend, for a couple of the people who have children," said Mann. "They really enjoyed that. It was a lot of fun."
Creely said they're looking for a charity to which the state tournament can donate proceeds. "It's a way of giving back. Doing that kind of thing is one of the biggest reasons we formed a nonprofit. We are actually in the process of finalizing a big partnership now."
Mann said their ultimate dream is for air hockey to become an Olympic sport. 
"That's why our long-term goal is as much growth as possible," said Mann.
Creely expressed excitement about their foundation's recently formed partnership with the Colorado-based New Belgium Brewing Company.
"They said that the air hockey scene in North Carolina seemed really cool and they wanted to learn more about it. That's going to be huge for everybody involved in that situation. We're going to have plans to work with them for streaming of air hockey, and we're going to hopefully have Mountain Time and North Carolina — themed items as extra incentives for competing in challenge matches and rankings. As far as I know, this is one of the biggest things to have happened with Air Hockey anywhere, so we're really excited."
While the initial interview with Mann and Creely was over the phone, they invited me to last week's Greensboro tournament at Boxcar on 120 W. Lewis St., where around 20 players were competing. One was Seth Garrett, treasurer of the North Carolina Air Hockey Foundation.
"I started playing at Boxcar in Raleigh right after I graduated college," said Garrett. "Me and my roommate would go there and play, and then one time, we met Joey Liss, one of the players who regularly compete in the Raleigh tournament. Joey said, 'hey, we're doing a Monday night tournament and you should come play.' And so, I've been competing for about a year and a half now, and it's been so much fun."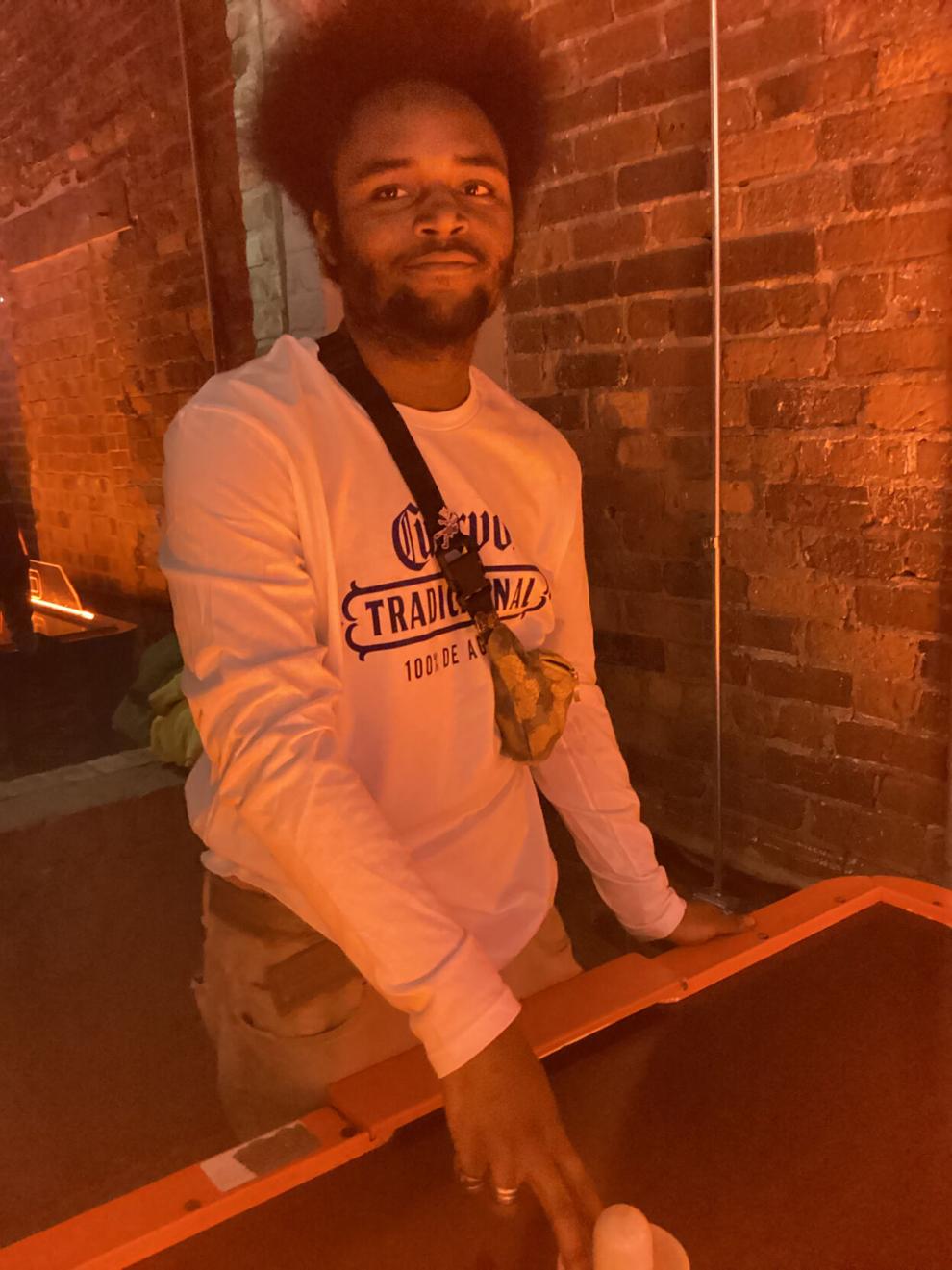 Greensboro resident Alexander King has been playing here since before the tournaments began. "I started casually about at Boxcar when it opened six years ago. It's been great and I guess I'm kind of hooked but in a good way. It's just a good friendly kind of thing."
Then there's Al Trayvon, a Boxcar employee in charge of the weekly Greensboro tournament.
"It's been great because there's such a sense of community among the players, whether it's the ones who've been coming in for five-plus years or the ones who just joined us in the last few months."
For more information about the weekly tournaments, which start at 8 p.m. every Wednesday, and at that same time on Mondays in Raleigh and Wednesdays in Durham, email ncairhockeyplayers@gmail.com. Tournaments are free and registration begins at 7:30 p.m. To learn more about the upcoming state and national tournament, check out ncairhockeyplayers.com, and the North Carolina Air Hockey Players Facebook page.
Ian McDowell is the author of two published novels, numerous anthologized short stories, and a whole lot of nonfiction and journalism, some of which he's proud of and none of which he's ashamed of.