"You can host anything, anywhere!" reads a banner at Airbnb.com. "Apparently, even if it belongs to somebody else," said a former Greensboro resident after the company allowed a fraudulent "host" to rent her home to UNCG students.
The homeowner asked to be called Ann Bailey rather than her married name, and for the address of the property not to be printed. After verifying her identity, ownership, and address, which were also confirmed by the Greensboro Police Department and Airbnb, this writer agreed.
On May 1, Bailey received a phone call from a former neighbor, who said, "there's a huge party going on in your backyard." The Baileys moved to Florida in late 2019, and their Greensboro residence is for sale, but they were not renting it out.
"My husband and I called our realtor and asked him to go meet the officer," said Bailey. The partying strangers turned out to be UNCG students, who had rented the house on Airbnb.
The Baileys had not listed it on that popular service, and neither knew about nor made any money from the rental. According to the website's listing for the property, the "host" (meaning one who lists with the company, which gets a cut of the rental), listed only as "Marie," had been "verified."
Journalists and consumer advocates have been documenting problems with Airbnb's verification system since 2015 when the Los Angeles Alliance for a New Economy (LAANE) released a report alleging that the company allowed large rental agencies to create pseudonyms that made them appear to be private homeowners. One particularly prolific host identified by LAANE was a now-defunct company that ran an Airbnb profile under the pseudonyms "Danielle and Lexi."
Airbnb's Community Standards state that no host should "provide inaccurate information," but the report alleges that the company does not rigorously enforce this rule. "In spite of the fact that Danielle and Lexi received a verified ID badge on their profile page, we have no way of knowing if they had any role in the properties other than having their photo taken," the report stated. "This case also undermines one of the cornerstones of Airbnb's business model, namely that the company's ratings and identity verification system are a viable means by which travelers can vet their prospective hosts."
That profile was used by a real estate company that owned the properties it listed under a deceptive pseudonym. "Marie" was running a more audacious scam.
According to Bailey, the GPD officers who ejected the hapless students did not seem concerned about the deception.
"They said this stuff happens all the time, people show up for Airbnb listings and can't get in because the host didn't actually own the house. I said, but they DID get in! It's someone renting our house out and getting away with it, and she's clearly doing it elsewhere."
On the early morning of Saturday, May 1st, the Baileys logged onto Airbnb and found their house. "We called Airbnb to inform them that 'Marie' was using their site to commit fraud. The call center rep said this was something the service department couldn't handle, and that Airbnb would have to get back to me the next day."
Unsatisfied with that response, Bailey and her husband tweeted at Airbnb that the company was fraudulently listing their home. "Shortly after our tweets, the listing disappeared, and we went to bed."
But on May 2, the listing was reposted around 10 a.m.
"I spent almost two hours on the phone with a customer representative. I asked to be transferred to a supervisor, but she refused, saying all she could do was have someone call us back in 24 hours. She hung up on me, and nobody ever called us back."
Bailey and her husband spent the next few days regularly tweeting at Airbnb and emailing the company's website. "They eventually emailed to say the resolution was that they could not do anything about it. The quote was something like 'the individual listing the house has been verified through us, and we respect our hosts' privacy and we can't help you with this issue. We recommend that you reach out directly to this individual who is renting your house.' They actually told me to contact the person who had broken into our home and taken photos for her listing."
Angered by this response, the Baileys decided to investigate "Marie" themselves.
"She also had other listings of different properties in Greensboro. They were all kind of sketchy like ours. Some were clearly Zillow pictures, but there were also freaky photos of an empty house taken on a cellphone. Our listing had a bunch of photos from our Zillow.com listing, and then a photo taken through the backdoor where you could see her reflection, and then a couple from inside the house which were really blurry with all the lights off."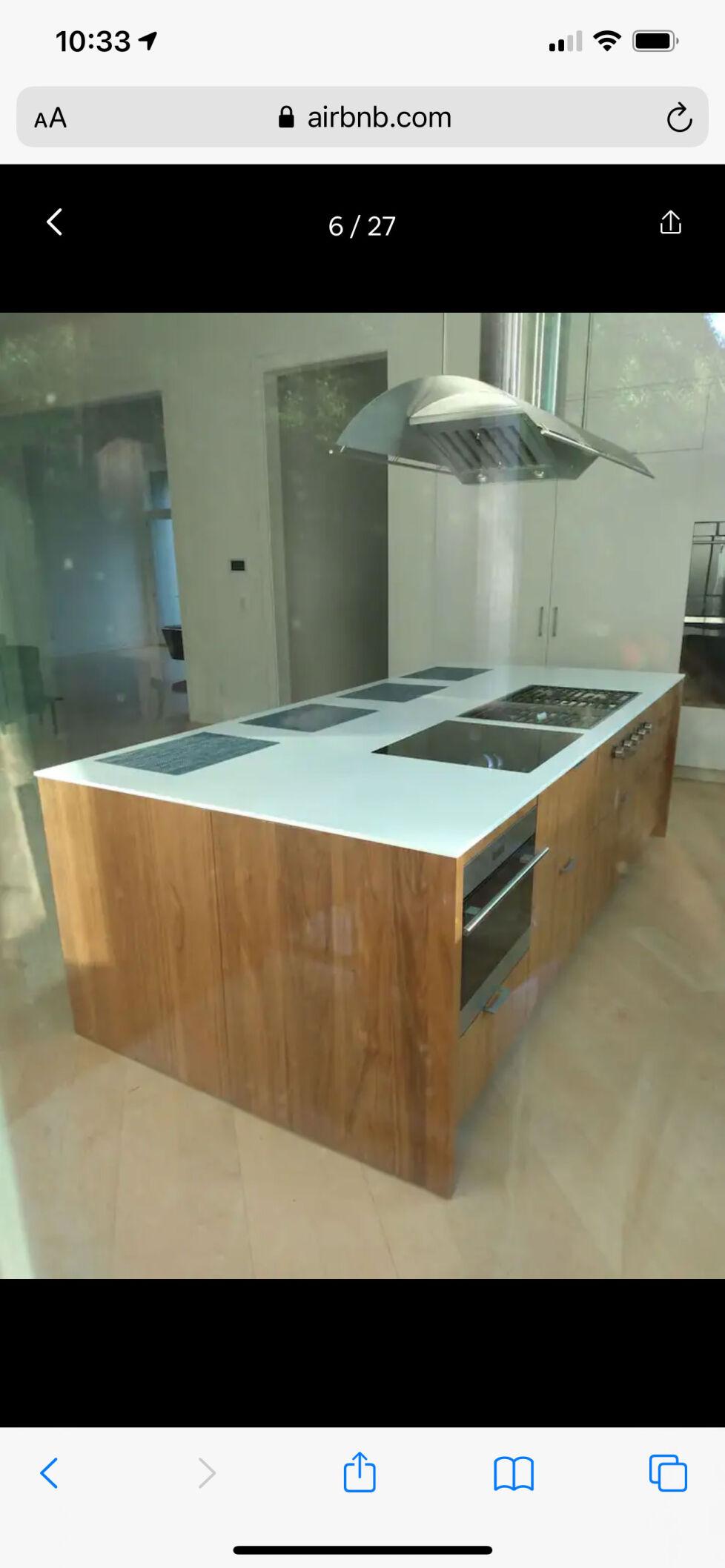 Still, said Bailey, the Greensboro police did not begin investigating until a police officer from New York got involved.
"I work for a law enforcement agency in Orange County, New York, but can only speak to you as a civilian who almost got scammed," said Anna Briceno in a phone interview. "I go to Greensboro every year for a swim meet for my children. The property I saw listed by 'Marie' was not the Baileys', but on Willoughby Boulevard."
Once she booked it, she was notified of the address. "Often, they wait until the week before you check in to tell you where it is, but in this case, provided it when I booked."
Something made Briceno uneasy. "I googled the address, and it came up as a lease-to-own for people with credit problems. This didn't make sense, so I went to the county tax system, located an owner of record, and contacted him. He put me in touch with the lease-to-own manager, who was appalled, and assured me it was not an Airbnb. I canceled immediately."
Although Briceno got her money back, she was still bothered.
"I couldn't let it go, knowing what this person was doing. I continued to scroll 'Marie's' listings and soon noticed new ones. I internet-sleuthed their addresses and this led me to the Bailey home. I started with their real estate agent, who said yes, we have the police involved. I said, you're not the only one, and gave them other homeowners' information. There was a suspicious townhouse that was listed, and there was a bunch of blurry photos from inside the property, including one with her reflection in the mirror."
Briceno forwarded that to the Baileys and advised them to ask if their neighbors had any Ring video footage of strangers arriving at the Bailey home, get information from agents showing the property, and compare those visits to time stamps on the neighbors' videos and motion detectors inside the home.
"[Bailey] provided all that to the Greensboro detective, who was extremely thorough, and obviously did his job very well, because an arrest was made."
Briceno said she also followed up with the Rent-to-Own manager of the Willoughby Boulevard properties, who was surprised when she told him those residences were booked for the next several months on Airbnb. "He said his house wasn't booked; I told him it was and showed him the listing."
Which, according to Briceno, Airbnb then refused to delete.
"I kept reporting them, and until the arrest happened, the listings stayed up, as did 'Marie's' profile. After that, it was all taken down. But it took a lot."
Bailey said that she was hugely grateful to Briceno for her persistence and sleuthing skills.
"Our motion detectors showed some odd activity in our house. When our realtor would show it, he always entered through the garage. But there were instances of people entering through the back patio doors. A neighbor's camera caught 'Marie' getting out of a cab and meeting a realtor. In the video, you can see and hear her introducing herself as Rose Marie, and it's the spitting image of the lady in the mirror."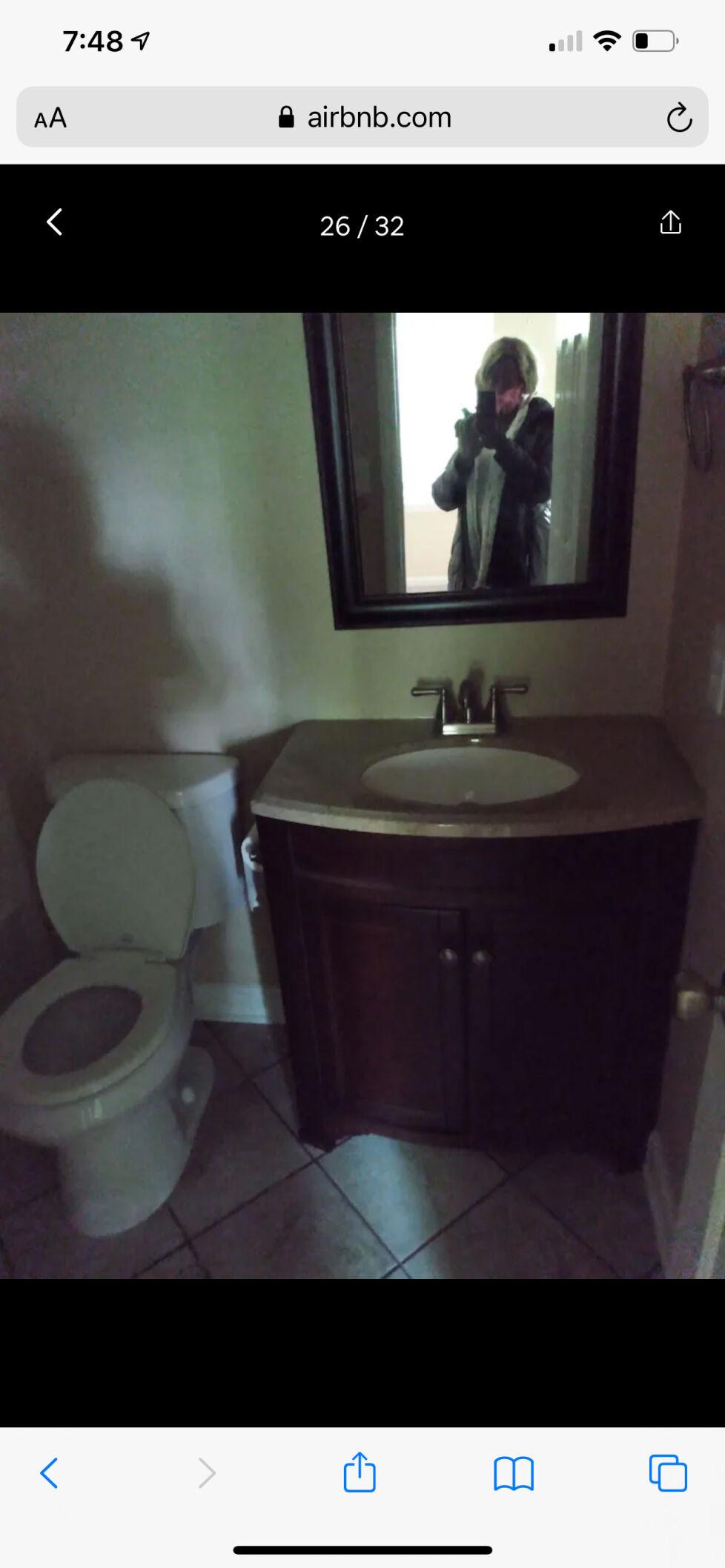 On that particular occasion, "Marie" had not entered through the patio doors, but arrived for a legitimate showing as if she was a prospective buyer.
"I talked to our realtor, who was working with this lady named Rose Marie. She claimed to own a charter school in downtown Greensboro that she was taking virtual, and said she was getting a business loan to purchase a house to run her virtual school out of. At least, that was her story."
There were other videos of "Marie" from neighbors' Ring cameras. "You could see her unloading suitcases and boxes and things into our driveway. She'd been in and out of our house a couple of times."
Bailey said that GPD detectives arranged a sting operation with her realtor, who asked "Marie" to come back for another showing and discuss whether she was ready to buy the house.
"When they arrested her, she had a big suitcase and two or three big handbags on her, and the detectives told us afterward that were thousands of forged documents and stolen identities in those bags and suitcases, so they thought this was something she had been doing for quite a long time. Plus, she had continued to rent it out. Probably ten minutes after she was arrested, a group of moms showed up to move in."
On June 28, YES! Weekly contacted the Greensboro Police Department and requested confirmation of Bailey's claims that officers arrived at her Greensboro home on May 1, discovered a party by students who'd rented it on Airbnb, and, ten days later, Detective Joseph Harrill arrested a female suspect at the same address.
GPD Public Information Officer Ronald Glenn responded with the following statement: "I can confirm that the incident was reported and is being investigated. There are no additional details outside of the information you mentioned in your email. The investigation is active and ongoing."
It took longer to get a statement from Airbnb. After YES! Weekly reached out to the company on June 29, Trust Communications Director Ruthie Wabula responded over the course of 8 days with multiple requests for additional details about the complainants. Given a deadline of July 5 for a statement, Wabula sent the following on July 6. It is reproduced below (including boldface headings), with only the homeowner's real name redacted:
Statement Attributed to an Airbnb Spokesperson: 
These issues are rare, but we take them very seriously. The listings associated with these reports are no longer active and the host was removed from the Airbnb community in early May. 
Background: When signing up to host on Airbnb, hosts agree to abide by Airbnb's Community Standards, which prohibit the use of someone's property without their permission. Hosts also agree to our Terms of Service, which stipulate that they must be in compliance with local rules and regulations, and any contracts with third parties. The property associated with this incident was removed on May 11th, within 10 days of [the homeowner's] complaint to Airbnb on May 1st.