ZZ Top's Raw Whisky tour rolled through the White Oak Amphitheater on July 5. Storms rolled around the county but steered clear of the outdoor concert.
Kenny Wayne Shepherd opened, accenting the blue base around which the trio of Billy Gibbons, Frank Beard, and the dearly departed Dusty Hill, have been shuffling in C since the late-1960s. 
Spanning the generations with hot rods, beards and all the legs, that little 'ol band from Texas continues to tear up a stage with a sharp sense of pizzaz, cool flash and a peculiar sense of showmanship that reinforced the raw talent that inspired their new "Raw" album, which serves as a sort of soundtrack celebrating the recent Grammy-winning 2019 Netflix documentary, ZZ Top: That Little Ol' Band from Texas.
Recorded by the original trio at Gruene Hall (the oldest dance hall in Texas), the album revisits the rumblin' early days through the "Eliminator" era that solidified the group as a force beyond the dusty southern rock-n-roll circuit and beyond the music video age—ala cheap sunglasses, charisma, and straight up sick guitar licks. 
The show itself was an all-killer, no-filler affair. Gibbon's gravelly banter directed the audience through a carnival midway of hits, starting with "Got Me Under Pressure," and a literal thank you before their version of Sam & Dave's "I Thank You," off 1979's "Degüello."
With a flip of the fingers, Gibbon's leaned straight into their '70s catalog, with back-to-back tracks off 1973's "Tres Hombres," busting moves during "Waitin' for the Bus," and offering a dancey interlude into "Jesus Just Left Chicago." 
Taking liberties with the lyrics to account for their location, and as a means of honoring Hill, "you may not see him in person, but don't you know we gonna see him just the same," buzzed through the microphone following a few bass notes from Hill's replacement, Elwood Francis. 
With a smirk and nod to the notoriously beardless drummer, Mr. Frank Beard, the trio kicked into "Gimme All Your Lovin" and "Pearl Necklace," before giving Francis his formal introduction. 
"This guy, my main man over here," Gibbons said, with a finger toward Francis. "I had to go find him—he was out there behind the tour bus drinking that moonshine whiiiiiiiiiskey," he added, with a hiss. "Y'all know that's not a pin-on beard? It's the real deal. Elwood Francis right there."
"We've been coming around with y'all now for five decades," Gibbons said, with a hand outstretched. A remarkable milestone they're able to continue while honoring Hill's wishes, expressed before his passing in July of 2021. "Well, it was a direct directive from Mr. Dusty Hill," Gibbons told Variety of Hill's desire to see Francis fill the spot should he not "bounce back."
Francis stepped up in spades, or in whiskers rather. "Elwood had been holding down the guitar technician post for 30 years as a clean-shaven young fellow," Gibbons shared with the audience, with memories of recent years. "When the lockdown was imminent, I asked Dusty, 'it looks like we're not going to be able to go do much or go anywhere. What do you plan to do?'" Gibbons noted. "And he said, ''well, I'll tell you what I'm not going to do. And that's cut the lawn. I'm not going to cut the grass.'" Gibbons shared the resolve, which extended to an otherwise smooth-faced Francis, who Gibbons recalled saying, "if you guys aren't going to cut the grass, I'm not going to cut my whiskers."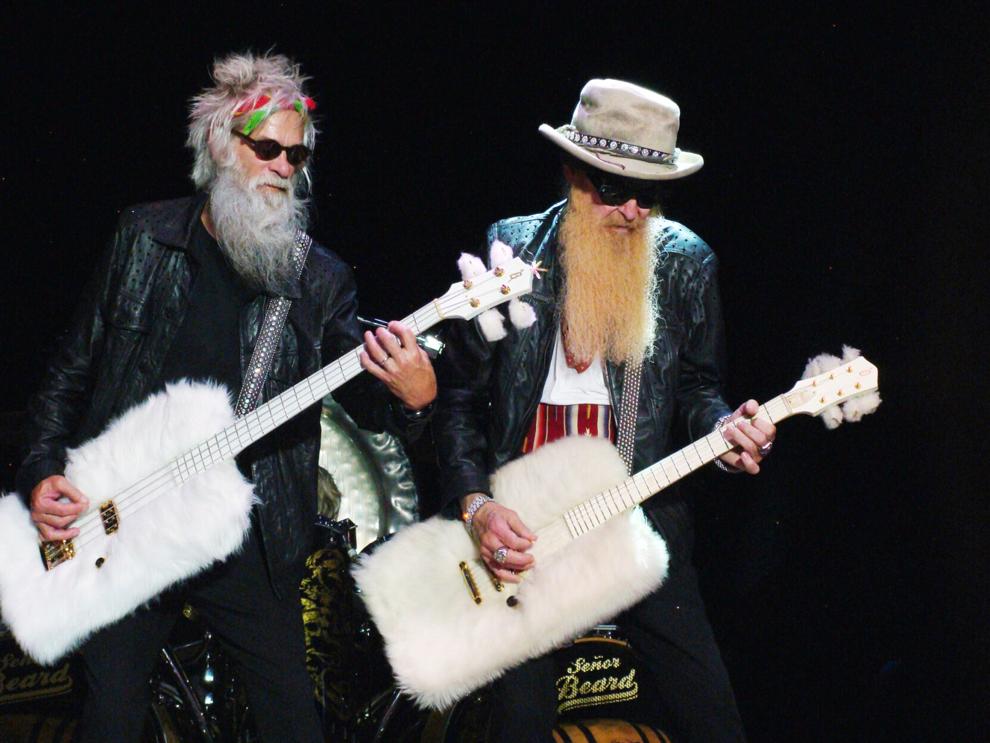 Cut to Gibbons seeing Francis a few weeks later for rehearsal, "and he's got chin whiskers as long as me and Dusty!," Gibbons told the crowd. "Cuz he's bad and you nationwide," he said, inviting the audience for the chorus and ripping into "I'm Bad, I'm Nationwide."
Blues riffs and dance moves rolled into "I Gotsta Get Paid," a local take on "My Head's in Mississippi," with heads in North Carolina; and Gibbons recalling a phone conversation with Jeff Beck. "He said, 'ZZ Top plays a lot of rock-n-roll," Gibbons howled. "So we're going to do a country song." 
With a tease of the chorus; and a swing and a snap of the hand, Gibbons started into Merle Travis' "Sixteen Tons." "Y'all know that song?" Gibbons poised. "Well, hell, I wish we did. But we're gonna do it anyway!" 
Ripping into their rendition, the cover capped the first part of the set, which featured Francis and Gibbons on matching turquoise Bolin guitars, ensconced by a wall of Magnatone Amplifiers. A gearman's man, Gibbons' collection is renowned. And following that first switch—overdramatized thanks to the flair of the tech and pearly-gated harps playing over the speakers—the axes kept rolling. 
"He's weird," Gibbons said of the exchange, taking a slide from the tech like some sort of token; and switching to a cherry red Gretsch guitar (emblazoned with the Bighead logo for Spitfire skate wheels, of all things). "He wants me to slip and slide on this thing a little bit," Gibbons continued, sliding into "Just Got Paid," followed by a switch to a sunburst Gibson.
"Still weird," he cracked—turning to the crowd and tickling the intro to "Sharp Dressed Man." "Sing along and shout it out," Gibbons beckoned, himself sharply dressed in a glittery sort of tuxedo, complete with a cowboy cummerbund to match the headband worn by a similarly styled Francis.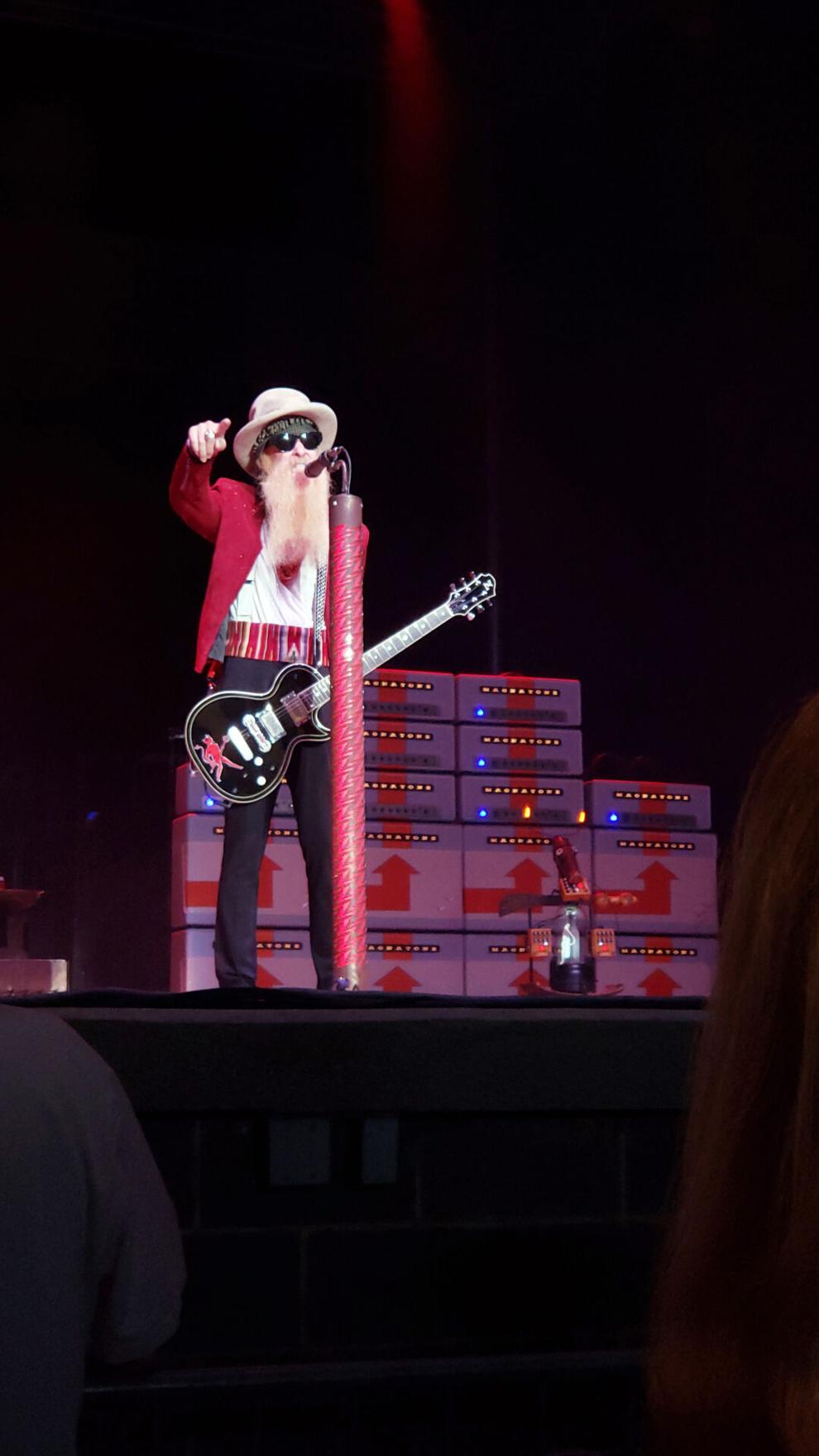 ZZ Top has long embraced panache, from the Nudie-suited 1980s to the matching fur guitars made famous in their "Legs" music video that dominated MTV—the updated version of which came next, along with "Legs," and a few sweet moves to offstage. 
Crowd chants echoed into the summer night as the boys returned, donning fresh red jackets to match the devil illustration on the black Zemaitis guitar in Gibbons' hand. "We went back there and put on the fancy good duds here," he explained, with a nod to their new LP and segway to their first, the aptly-named 1971 record, "ZZ Top's First Album."
From "Brown Sugar," to the "Tube Snake Boogie," the night closed out with clamor and a little trip down to "La Grange" (during which a pogoing Francis showed off his punk roots).
The pair shared a dance while Gibbons shared exchanges with the crowd—handing a pic to a lucky fan in the first row, as bubbles filled the air and the band bowed out.