Triad Stage produces World Premiere Production celebrating the Bennett Belles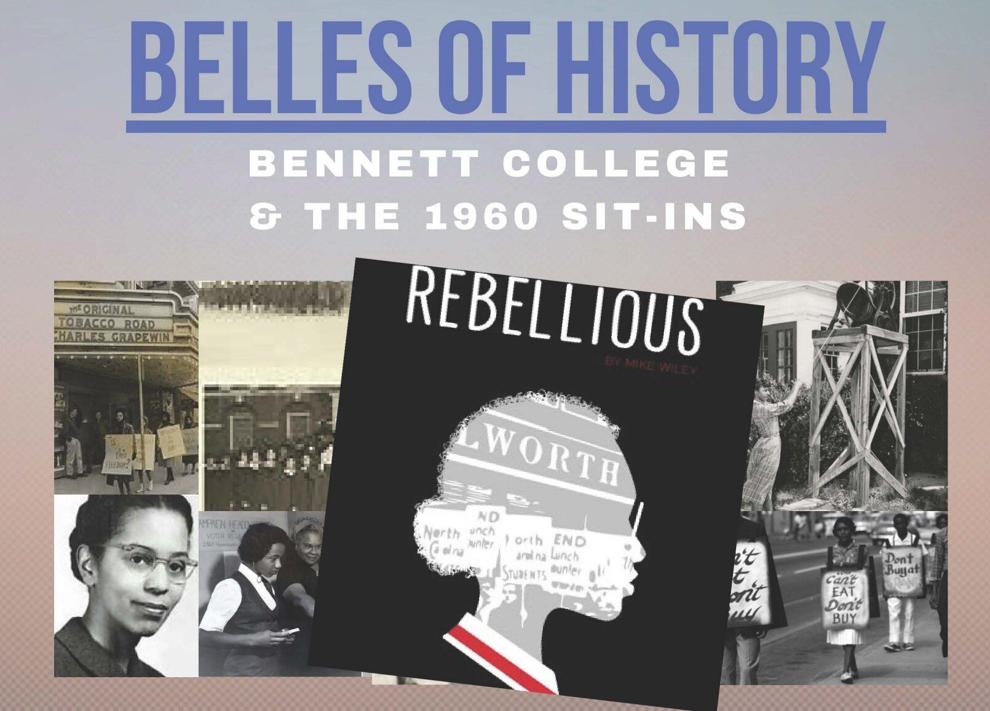 Greensboro, NC - Triad Stage, the professional regional theater located in Downtown Greensboro, is reopening after a two-year hiatus with a World Premiere production of Rebellious by North Carolina Playwright Mike Wiley. This original work celebrates the Bennett Belles and their tireless work in the Greensboro Sit-in movement. Helmed by North Carolina Agricultural & Technical State University  and Director, Donna Bradby, this powerful production follows four Bennett Belles through their lives, culminating in February 1960. They must navigate the complexities of friendship, their growing sense of self, and oppression that they face in daily interactions in Greensboro. As they work to define who they are in this crucial moment in time, these Belles must decide if and how they will take a stand and be REBELLIOUS. 
"Having the opportunity to direct the World Premiere of Rebellious is an honor. Greensboro is my hometown and Bennett College has always been an iconic institution," said Director Donna Bradby. "Telling the story of their tremendous contribution to the Civil Rights Movement is humbling and extremely powerful. The Bennett Belles were and still are courageous, bold, and resilient."
Inspired by Bennett alumna Dr. Linda B. Brown's book, The Belles of Liberty, Mike Wiley developed the script over the last two years with the support of Triad Stage, the National Endowment for the Arts, and a private donor.
"I'm so thrilled our reopening and Triad Stage's New Play Initiative is kicking off with a World Premiere by Mike Wiley and features a Greensboro-based story. Mike's work has been celebrated on the national level and to have him at Triad Stage is an extraordinary gift," said Artistic Director, Sarah Hankins.
Triad Stage's New Play Initiative will cultivate a new play each season with workshops and readings. The organization then plans to premiere that script in the following season. While Rebellious was cultivated during private workshops during the closure, patrons can see a sneak peek of the Season 21 World Premiere by attending the developmental workshops of Jekyll, which runs October 27-29. In this workshop of a modern adaptation of the Strange Case of Dr. Jekyll and Mr. Hyde, the script will change every night as the playwright, director, and actors to find the best way to tell the story.  
As they prepare for opening night for Rebellious, Triad Stage will co-host a live History Notes podcast with the Greensboro History Museum, featuring Bennett Belles who took part in the 1960 Sit-Ins, as well as an opportunity to converse with the creative team of Rebellious. You can join the event on Sunday, September 25 at 2:00 p.m. in the UpStage Cabaret at Triad Stage. Attend to learn more about the history behind the production and connect with Greensboro's living legends. More information at: https://greensborohistory.org/event/belles-of-history.
Rebellious begins previews Tuesday, October 4 and celebrates Opening Night on October 7, which will include a post-show toast and reception. 
The creative team includes: director and Triad Stage veteran Donna Bradby; North Carolina A&T State University  Professor and scenic designer David Tidwell; North Carolina A&T State University Professor costume designer Gregory Horton; lighting designer Kathy Perkins (Broadway's Trouble in Mind); and sound designer G. Clausen (Triad Stage's And Then There Were None, A Christmas Carol).  
Making their Triad Stage debuts are Donald Elise Watkins (Amazon Prime's Emergency, Underground Railroad) as Dr. Martin Luther King, Jr. and Hilda Willis (Atlanta's True Colors Theater) as Dr. Willa Player.  
A true celebration of Greensboro talent, the cast features three North Carolina A&T State University students and alumna: Corin Davis, Jada Wesley, and Jordan Hankerson, as well as University of North Carolina Greensboro Alumni: Victoria Pittman-Morris, Elise Kimple, and Brian Mullins. More information on the production can be found online at https://triadstage.org/performance/348/rebellious.
All performances are at Triad Stage at The Pyrle Theater, located at 232 South Elm Street in downtown Greensboro, North Carolina (between Market and Washington Streets). Show times for Rebellious are 7:30 p.m. on select Tuesday, Wednesday, Thursday evenings and 8:00 p.m. on Friday and Saturday evenings. Saturday and Sunday matinees are at 2:00 p.m. 
About Triad Stage
All Triad Stage productions are created in the Piedmont Triad of North Carolina using the best of local and national talent. Triad Stage gratefully acknowledges the support of its sponsors including the North Carolina Arts Council. Season passes and single tickets are currently on sale for the 20th Season. To purchase tickets or for performance information on Rebellious, call the Triad Stage Box Office at 336.272.0160 or visit www.triadstage.org.