Getting into the holiday spirit is always a bit easier with a song or two—which comes especially easy thanks to Triad artists. With original tunes, covers, and shows to get the spirits flowing, 'tis the season for one and all. 
In "Christmas at the Laundromat," Bruce Piephoff pens a heartwarming dedication to the holidays (and denizens of Lindley Park watering holes) in a sweet narrative of a holiday night at the infamous Suds & Duds in Greensboro. "It's a Christmas story about little folk with big hearts," Piephoff explained of the song that closes with empty street stumbles and wishes that "every day could be so happy and complete."
The Brown Mountain Lightning Bugs delve into the not-so-holly or jolly in "Tape Up the Window," their upcoming holiday tune (scheduled for release on Dec. 19) which follows a Christmas narrative of a different sort—involving a shattered car window and a long, cold ride home. "It was 13 degrees outside, and we finished the remaining two hours of the drive shivering and dodging flying glass," Kendra from BMLB recalled. "After a rough year, that seemed like an insult to injury," she said. "The song goes out to anyone having a tough holiday season—it's a little note to let folks know they're not alone."
A similar story rings from Dale Cole, and his latest single, "A Christmas to Forget." 
"It's a tough time for a large percentage of the population," Cole noted. "As a society, we've been sold on the idea that Christmas is all happy-happy, joy-joy. When in reality it is overwhelming for a lot of folks." Lamenting the stress of money-woes and memories of lost loved ones, Cole wrote the tune from an admittedly dark place. "I think all of us have experienced this type of Christmas at least once in our lives, so this song goes out to all of the Bah Humbugs," he said. "Maybe next year I can write one from the other end of the spectrum." 
As a co-founder of the "Virtual Village," Cole is dedicated to helping folks in the community. He and Clay Howard plan to sing Christmas songs for charity, from 11 a.m. to 3 p.m. on Dec. 21, at Lowes Foods on Robinhood Road in Winston-Salem.
Cole's son, Lindsay Ian Cole, got a bit more festive in 2020 with a classic Christmas cover, "Rockin' around the Christmas tree." William Nesmith likewise engaged in the tradition, with his popped-up rendition of "Deck the Halls." As did the punks in Orphan Riot, who put out "O Come, All Ye Faithful" on the Fixed Frequency Records' "Holiday Wrecker Vol II" compilation.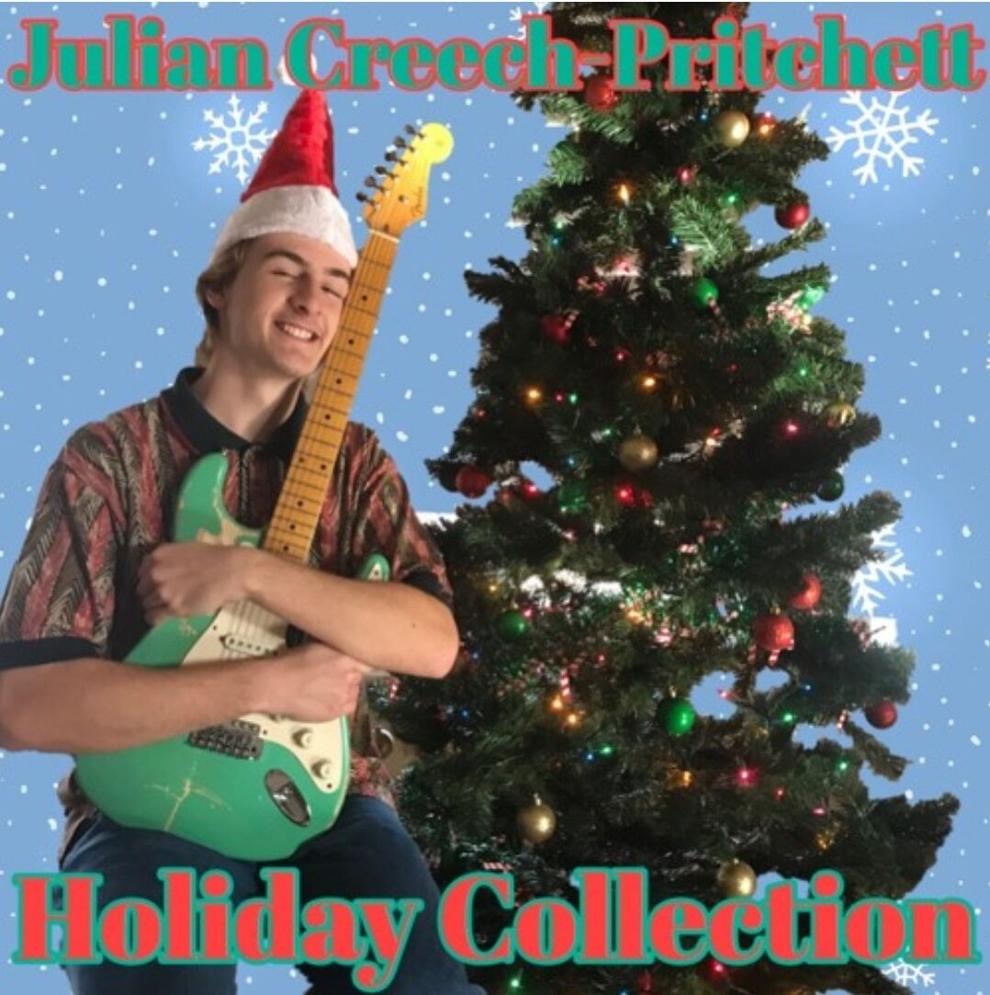 Christmas covers have become something of a personal tradition for Julian Creech-Pritchett of Sweet Dream, who's been releasing a cover each holiday season for the past five years. "I love the vibe and nostalgic feeling that a lot of classic holiday tunes have," he said. "It's always a fun challenge to pick a song and do my own arrangement each year." 
Compiled on his "Holiday Collection" via Soundcloud, the practice began with John Lennon's "Happy X-mas (War is Over)" in 2017. "Wonderful Christmastime" by Paul McCartney and Wings followed in 2018. The classic "Rudolph" (featuring Dylan Innes on the monologue) lit the way in 2019. In 2020, Creech-Pritchett paired with Ashley Virginia and Liam Trawick for "This Christmas;" and released a tribute to "A Charlie Brown Christmas," as part of the James Mclaughlin Trio with Ramon Garcia. For 2021, he went surfy, with a full band, doing the Beach Boys' "Little Saint Nick."
Those itchin' for more holiday surf rock will enjoy "Surfing On Christmas Day (Santa Won't You Bring Me Some Waves)," the latest holiday single from Southern Culture on the Skids, who'll be riding a corn rocket in lieu of Santa's sleigh to the Ramkat on Dec. 10, with the Dex Romweber Trio in tow. 
For a bill filled with strange characters, they're no strangers to Christmas tunes. SCOTS' spectacular version of "Merry Christmas Baby" appeared on the 1996 "Just Say Noël" Geffen Records compilation (alongside artists like Beck, Aimee Mann, Sonic Youth, The Roots, and Remy Zero). And their cover of 2015 "Silver Bells" shines with a trademark surfy twang. 
Romweber, meanwhile, keeps it dark, with the glow of his scratchy Silvertone croon, and the "Dark Christmas" track off Bloodshot Records' "13 Days of XMAS." The "I'll Have a Merry Christmas Without You," EP from his days in Flat Duo Jets makes a snarky swinger; as does their jumping take on "Jingle Bells," released as part of the delightful—albeit difficult to find—"Ho Ho Ho Spice: A Hospice Awareness Benefit Project" of the early 00s. 
Moving to the blues and benefits, it's a hotamighty holiday in High Point with Matt Walsh's Low Down Blues Revue Christmas Spectacular, "covering some 1950's Christmas Blues classics along with the rest of the rough stuff you love," at Sweet Old Bill's on Dec. 9. Songstress "Whisky Christy" Hopkins and her Half Pint Orchestra plan to ring in "Auld Lang Syne" on Dec. 11 as part of the holiday show and food drive at WAVE Studios with Above the Fray, Der Mere, Habitat, The Wandering, Lonesome Bones, and Gaffer Project.
From food drives to toy drives, the Piedmont Blues Preservation Society will host a "Spirit of Giving Fundraiser and Toy Drive," with T.C. Carter Band (the 2021 "Road to Memphis Blues Challenge" winners) at Elm Street Lounge in Greensboro on Dec. 12. 
Over at Joymongers, the Finns will kick off the brewery's "Toys for Tots" drive with a show on Dec. 9. The drive itself runs through Dec. 18, culminating with a performance from Abigail Dowd and Jason Duff. 
Greensboro Beer and Hymns looks to get in the spirit, with spirits, for "Carols and Ale" at Oden Brewing on Dec. 12, featuring Oden's latest brew, the "Chuck Mountain Dew," created in partnership with Ales for ALS, a fundraising organization dedicated to awareness and support for ALS (Lou Gehrig's disease).
From grinches to elves, the holidays have hit the Triad. Here's wishing the best to you and yours. Cheers!