The Winston-Salem Symphony Will Present Handel's Messiah December 7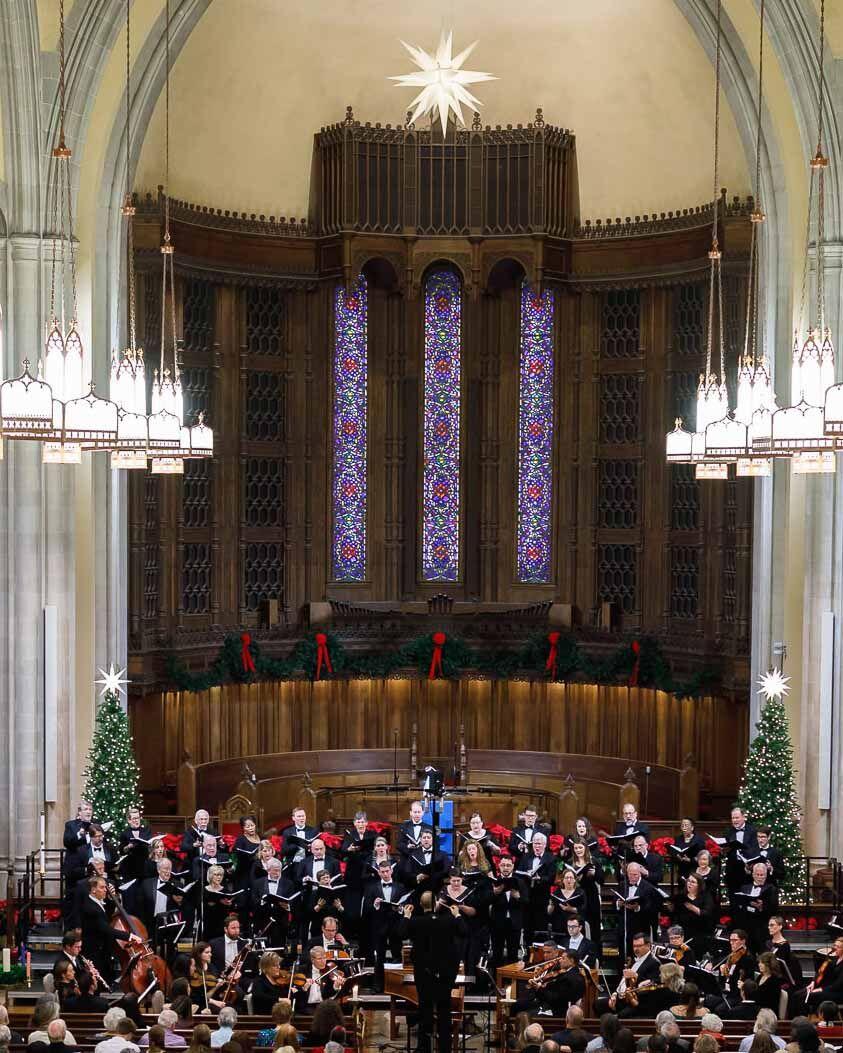 WINSTON-SALEM, N.C. (NOVEMBER 29, 2021) – The Winston-Salem Symphony's annual performance of Handel's Messiah will take place on Tuesday, December 7. This year marks the Symphony's fourteenth year performing what has become a Triad holiday favorite and is widely regarded as music's most powerful message of faith. Conducted by Dr. Christopher Gilliam, Winston-Salem Symphony Chorus Director, the Messiah is a spiritual experience perfect for the holiday season.
The concert will take place at 7:30 p.m. at Centenary United Methodist Church (646 W. Fifth St., Winston-Salem). Tickets begin at $25 and can be purchased online at WSsymphony.org or by phone at 336-464-0145. Please note, all patrons attending Winston-Salem Symphony events must present proof of vaccination or a negative PCR test, and masks are required. For more information, visit wssymphony.org/covid19.
The Winston-Salem Symphony's performance of the Messiah will feature guest singers Shawnette Sulker, Soprano; Sarah Coit, Mezzo Soprano; Karim Sulayman, Tenor; and Kevin Burdette, Bass; as well as members of the Winston-Salem Symphony Chorus, under the direction of Dr. Gilliam.
Handel's Messiah is one of the most celebrated oratorios of all time—beloved for its beauty, drama, and its famous "Hallelujah" chorus. Centenary United Methodist Church provides a beautiful, spiritual setting for the music with seasonal decorations including greenery, poinsettias, and a large, illuminated Moravian star. The musicians, the voices, and the location create a unique and magical experience.
Shawnette Sulker has been described as a singer "…displaying a bright, superbly controlled soprano with perfectly placed coloratura." A native of Guyana, the soprano has sung leading roles with many opera companies and orchestras in the United States and Europe. She created the role of Corina in the world-premiere of David Conte's opera "Firebird Motel." The original cast recording can be found on the Arsis label. Her film credits include a soundtrack performance for the movie "Mimic" and an on-camera operatic appearance in the feature film "Jackson," directed by J.F. Lawton. Sulker earned scholarships to attend Bennington College and graduated with a bachelor's degree in vocal performance. She was awarded scholarships to attend both the Contemporary Opera and Song Program at the Banff Centre for the Arts in Canada and the OperaWorks Summer Intensive Program in Los Angeles. She was also a resident artist for the Natchez Music Festival in Mississippi. A winner of career scholarships from the East Bay Opera League Vocal Competition, Sulker has also been a regional finalist with the NATS Competition and a finalist and award winner with the Irene Dalis Vocal Competition. For more information, please visit shawnettesulker.com.
Opera News praised Mezzo-soprano Sarah Coit's performance in "Le nozze di Figaro" with Michigan Opera Theatre: "Sarah Coit's burnished mezzo-soprano gave her Cherubino a seductive tinge. Her pure, lovely "Voi che sapete" confirmed her bright future, made all the more likely by her undeniable aptitude for physical comedy." She has performed orchestral concerts, recital, and chamber music with numerous prestigious companies throughout the United States and abroad. She was a 2017 National Semi-Finalist in the Metropolitan Opera National Council Auditions and has received prizes from the George London Foundation and the Handel Aria Competition. She is the 2020 recipient of the American Bach Soloist's Jeffrey Thomas Award and was a runner-up in the "Best Opera Singer" category for 2019–2020 season San Francisco Classical Voice Audience Choice Awards. A native of Spring Hill, FL, Sarah holds degrees in Music Studies and Theatre Performance from the University of South Florida and a master's degree from the University of Michigan. For more information, please visit sarahcoit.com.
Lebanese American tenor Karim Sulayman has garnered international attention as a sophisticated and versatile artist, consistently praised for his sensitive and intelligent musicianship, riveting stage presence, and beautiful voice. The 2019 Best Classical Solo Vocal GRAMMY® Award winner, he regularly performs on the world's stages in opera, orchestral concerts, recital, and chamber music. Sulayman's thought provoking and innovative programming is highlighted in his growing discography, which includes his debut solo album, "Songs of Orpheus" and his second solo album, "Where Only Stars Can Hear Us." In November 2016, Sulayman created a social experiment/performance art piece called I Trust You, designed to build bridges in a divided political climate. A video version of this experiment went "viral" on the internet and was honored as a prizewinner in the My Hero Film Festival. He has been invited to give talks and hold open forums with student and adult groups about inclusion, empathy, healing from racism, and activism through the arts. A native of Chicago, Karim's musical education began with violin studies at age three. He graduated with highest honors from the Eastman School of Music and earned a master's degree from Rice University. He later moved to Paris, France where he studied with renowned tenor/haute-contre, Howard Crook. He also studied improvisation at the Second City Training Center in Chicago. For more information, please visit karimsulayman.com.
American bass Kevin Burdette has impressed audiences on both sides of the Atlantic with his mellifluous voice and strongly dramatic characterizations. The San Francisco Chronicle called his Leporello "a tour de force of vocal splendor and comic timing," and the New York Times dubbed him "the Robin Williams of opera." He was featured as Stefano in Adès' The Tempest with the Metropolitan Opera, the DVD of which, on Deutsche Grammophon, won the 2014 GRAMMY® Award for "Best Opera Recording" and was awarded a French Diapason d'Or. He has performed with major opera companies and orchestras throughout the United States and Europe. An alumnus of the Juilliard Opera Theater and the University of Tennessee, Kevin Burdette is a former member of the Opéra National de Paris Young Artists' Program and San Francisco's Merola Opera Program. He is also the recipient of the prestigious Richard F. Gold Career Grant Award awarded by the Shoshana Foundation and of the 2006 Dr. Marcia Robbins-Wilf Award, presented by New York City Opera to an artist who demonstrates outstanding dramatic ability. For more information, please visit kevinburdette.com.
This concert is sponsored by Season Presenting Sponsors Bell, Davis, & Pitt, P.A. and Truist, as well as the Arts Council of Winston-Salem/Forsyth County and the North Carolina Arts Council. 
About the Winston-Salem Symphony Chorus
The Winston-Salem Symphony Chorus is an auditioned mixed ensemble made up of volunteer singers, many of whom are professional soloists, or who are current members of area church and university choruses. It is directed by Dr. Christopher Gilliam. The Symphony Chorus rehearses weekly and performs several times each year with the Winston-Salem Symphony. For more information visit wssymphony.org/about/chorale.
About the Winston-Salem Symphony
Established in 1946, the Winston-Salem Symphony is celebrating its 75th anniversary and is proud to be one of the Southeast's most highly regarded regional orchestras. Today, the Symphony inspires listeners of all ages throughout the North Carolina Piedmont Triad with a variety of concerts, education programs, and community engagement initiatives each year.
The Symphony's 2021–22 performance season, aptly entitled Kaleidoscope, celebrates everything that a live orchestra can be and every color that it can create. The Classics Series includes a wide range of powerful music showcasing virtuoso guest artists, orchestral masterworks, recent compositions by living composers, and much more. The Music that Pops Series includes crowd-favorites Steep Canyon Rangers, the return of A Carolina Christmas, and a celebration of film music. As part of the 2021–22 season, the Winston-Salem Symphony is launching the Ignite Family Series, which is an interactive experience created for the whole family. Subscriptions and single tickets are on sale now and can be purchased online at wssymphony.org or by calling the Symphony Box Office at 336-464-0145. 
The Symphony is supported by Season Presenting Sponsors Truist and Bell, Davis & Pitt, P.A.; 75th Anniversary Sponsor Betty Myers Howell; Symphony Unbound Presenting Sponsors Chris and Mike Morykwas; the Arts Council of Winston-Salem/Forsyth County, the North Carolina Arts Council, and other dedicated sponsors. For more information, visit wssymphony.org.