Behold! The Bronzed Chorus returns, greeting seasons of change and challenge — riding into new releases with a new single, upcoming album, and a show with Life in Vacuum at Gas Hill Drinking Room on May 15. 
In the six years since their last EP, guitarist Adam Joyce and drummer Hunter Allen have taken pause — reworking their gear, readjusting to the pandemic, revisiting the energy and atmosphere that fueled their noted cycles of "hang, tour, crunk, work, work, work, tour, wash, wash, repeat."  
Stuck in the work-wash-work for a while, the instrumental duo has been renowned for themes expressed in tones — the balance between the bleeps and bloops — a serious craft beyond their rhythmic crunk. They're craftsmen after all — Allen has been known to tinker for trade and Joyce leads the Wood Shop at the Forge makerspace. 
But it's a new season for the electro-experimental post-rock duo who've been "writing complicated music since 2006." More than a tagline, Joyce takes the notion to heart and hand. "With each new release, we try to challenge ourselves by completely reworking our gear setup and build (or destroy) what came before," he said.  
"Riffing off of all of these concepts, you have our new record 'Aki', which translates to 'autumn' in Japanese," Joyce explained, pointing to the path of "season records" besetting their discography.  
In practicality, they'll continue that pathway with an album release to start the summer. Going back to the beginnings, it's another step forward, facing challenges first taken in their inaugural album "Thurtythurty." "It was all about trying to sound like four people, with the sum of two," Joyce noted, turning to the seeds of seasons and synthesizers planted in 2009's "I'm the Spring," which paired synths and drums played simultaneously by then-drummer Brennen O'Brien.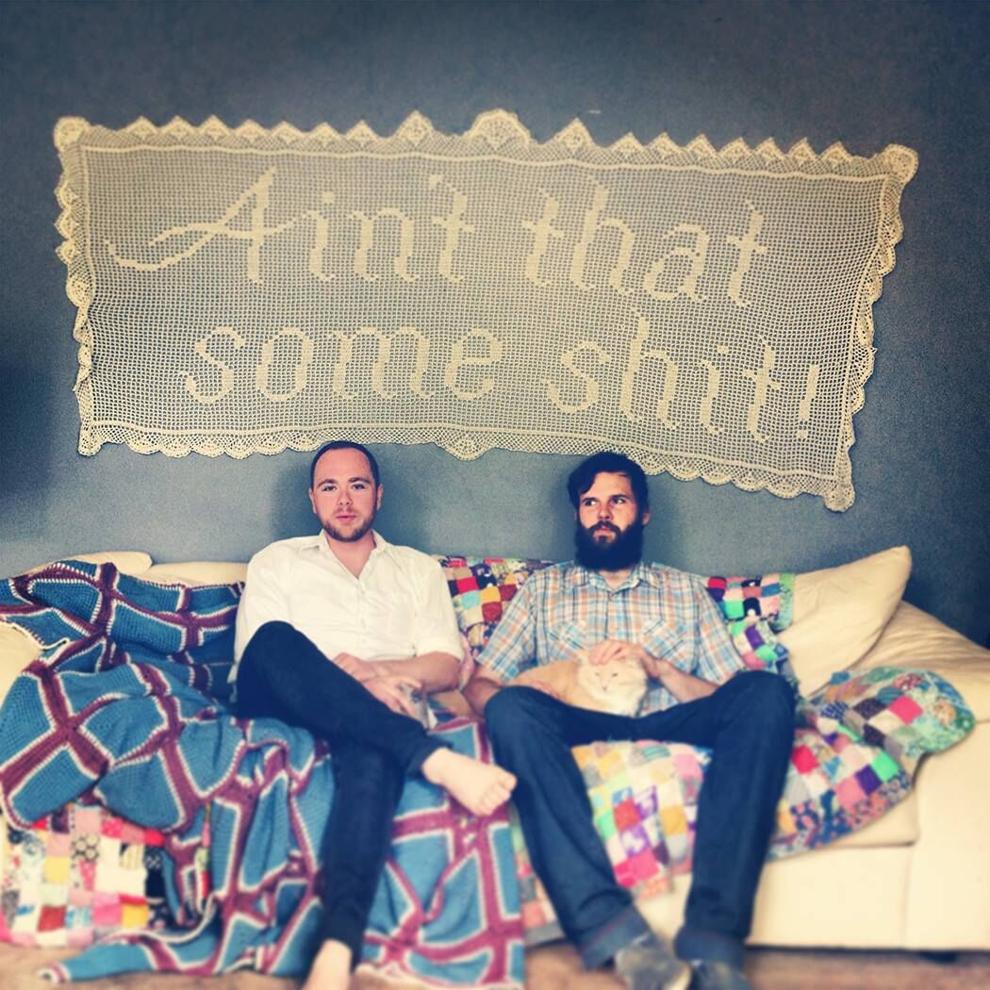 By 2011's "Gleaning," Allen was behind the kit — along with a menagerie of "old things that shouldn't be used for music but we decided to do it anyway," like an Atari 2600 video game console. "We armed with a synth mod cart that lets you play synth lines with the keypad controllers," Joyce explained of the gadgets that helped the album feel at home on the Athens-based Hello Sir Records with labelmates and video game wizards, Bit Brigade. 
Coming into bloom on 2016's "Summering," Joyce's penchant for looping techniques sprouted legs — and jumped onto playing keys on the 2017 "Yearling" EP, a ret-con/followup hybrid that featured remixes of "Summering" songs by electronic artists Treee City, .darklove, Quilla and Rocky Rosga. 
Turning a new leaf into their latest endeavor, "Aki" ups the ante of synthesized vibes over 8-tracks. Released through the Virginian Ossein Collective, the album will be digitally available on June 9, with a limited-edition run of Translucent Mist colored 180-gram vinyl due in July. The first single, "Pluck," and its accompanying video are out now via Bandcamp and YouTube.
"Our new challenge on 'Aki' is to incorporate sequenced synth," Joyce noted. "It still sounds like us, but with a synth "player" covering more of the bass territory this time. It's definitely the most moody record we have ever made."  
It's a moodiness relayed through the album art: "Mist" by Greensboro photographer Terri McNaughton. "We fell in love with that piece," Joyce said. "To me, it represents the struggle of one's hope and despair, themes of existential dread revolving around climate change, social unrest, dealing with one's own tug between empathy and apathy."  
To set the mood sound-wise, they ventured north: recording at Machines with Magnets, a multifaceted studio-artspace located in Pawtucket, Rhode Island (just outside Providence). "It was a great place to get away from the comforts and distractions of home, but still be in a comfortable, and inspiring place," Joyce explained. "The studio has an adjacent apartment, which made the place really easy to stay focused on the recording. We could just stroll into the studio with our socks on to start the day."
Beyond the comfy digs, "records coming out of that place have just been sounding so deep and rich, especially with the drums, which can really be heard on Daughters' 'You Won't Get What You Want'," he said, praising various works from sound-engineer Seth Manchester. "Seth is fantastic. We really enjoyed his very tasteful mixing on Wildflower's 'The Ocean Rose'; and we knew he could handle all the MIDI stuff because he co-engineered both 'Mirrored' and 'Gloss Drop' by Battles."
"MIDI is a nightmare," Joyce continued. "As someone who really only writes by ear, moving to using MIDI to control and sequence synths for both a guitarist and drummer is daunting," he explained. "But we think we've tamed the beast."
"I guess we'll see how this goes live," he added, with a chuckle and an eye on upcoming shows with their Canadian (by way of Ukraine) buds, Life in Vacuum. The pair are playing Rubies on Five Points in Durham on May 14 (with Wailin Storms), and Gas Hill Drinking Room in Winston-Salem on May 15.
"These are our testing grounds for the new material," Joyce said. "Our pals from Life in Vacuum asked us to play shows for their east coast tour, so we helped them fill out some dates to also help us get back into the swing of things."
"We haven't played since 2019, which was a benefit at Motorco in Durham," he continued, expressing a bit of mood matching the new record. "I'm a bit anxious, to be honest," he admitted, pointing at pitfalls that accompany their affection for gear expanse. "We seem to love to add more and more elements of technology to our live shows that could go wrong."
Ever ready to crunk, Joyce shrugs off the doubt with plans for a fall tour across the seasons and old stomping grounds. "I guess it's just time to 'ride the snake'."
Wanna ride along with the Bronzed Chorus? "Pluck," the first single from their upcoming album, is out now; "Aki" drops via Ossein Collective on June 9. They'll be at Gas Hill on May 15. 
Katei Cranford is a Triad music nerd who enjoys spotlighting artists and events.