Sting Concert Review –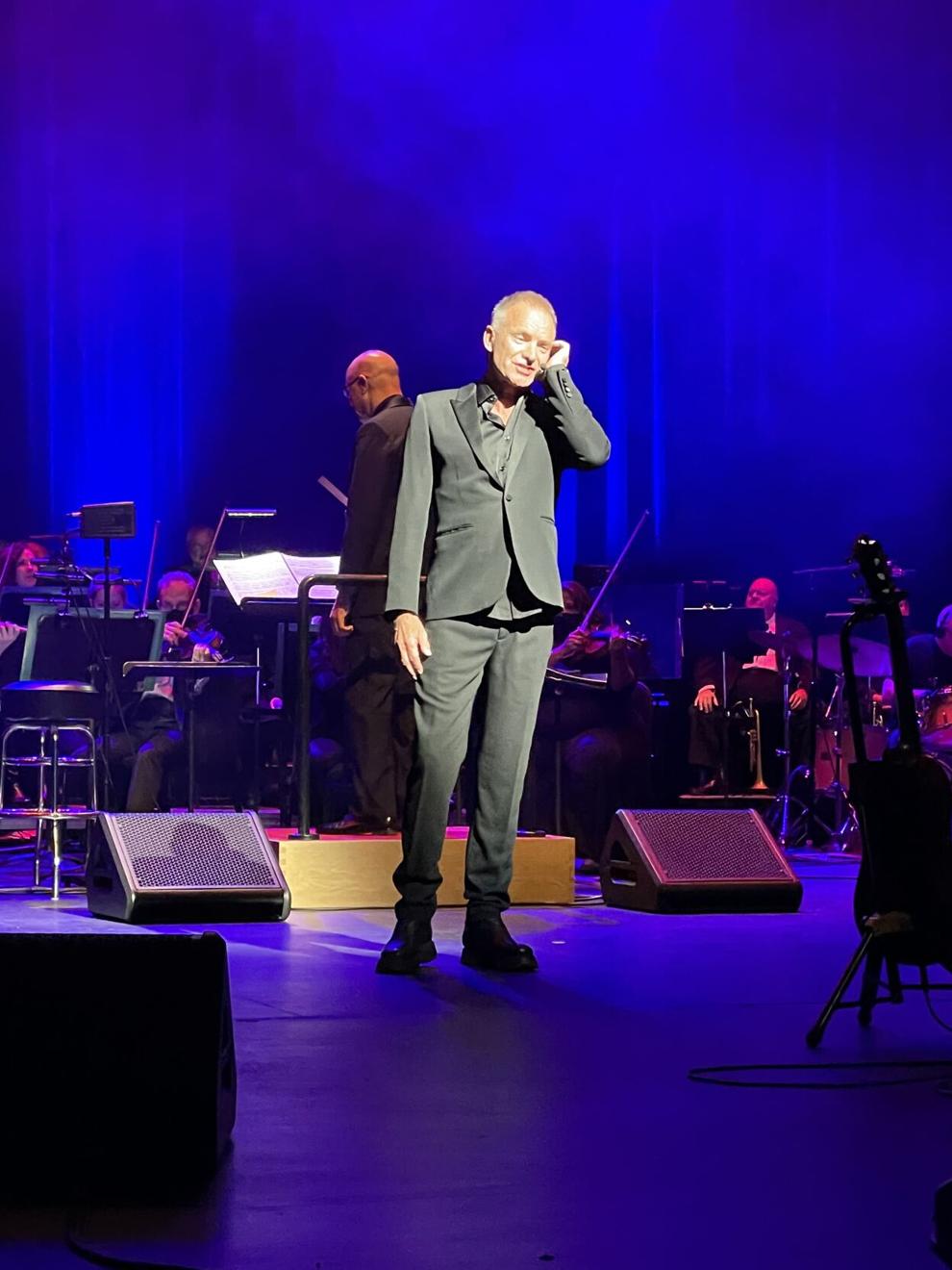 A blue haze hangs over the stage at the Tanger Center Saturday. Notes, like raindrops, sprinkled the auditorium as the performers tuned their instruments.
A storm was coming. It strolled in stage left - dressed in black as storms often do - and in the form of a legendary rock star and poet.
Sting had come to Greensboro.
All rose to welcome him as he greeted us with one of his many hit songs, inviting us to sing along and compelling us to match his energy. He took his seat long before the rest of the us. It was time to settle down. This was to be an intimate occasion. Not only would he share his rich musical anthology, he would also share the inspiration and context for each song. All were eager to follow his pulse, his mood, and his memory.
It began with a young schoolteacher resigning his position and pension to follow his dream of becoming a musician. He bet his security on passion and a "bag full of songs".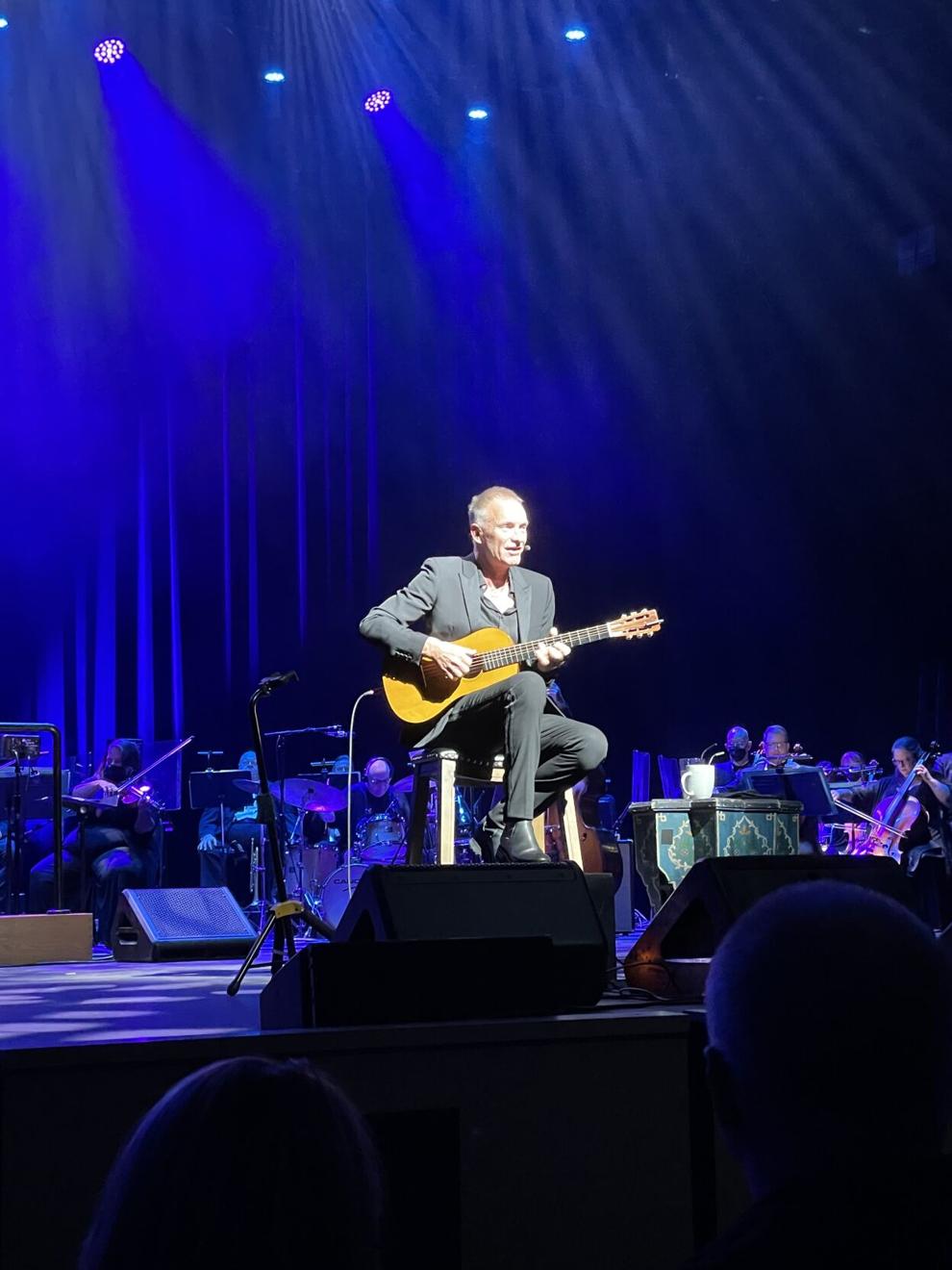 One night he and his band were staying in a "flea-bitten" hotel that doubled as a house of ill-repute. In the lobby of the hotel, he passed a poster for the play Cyrano de Bergerac. The intersection of what he had seen and what he was hearing in the hotel was the inspiration for his first hit – Roxanne.  And as they say, it was all rock history from there. But not everyone knows that Sting's songwriting has crossed over genres many times.
His song I Hung My Head from his 1996 album Mercury Falling was covered by the legendary Johnny Cash on his 2002 album American IV: The Man Comes Around. His shipbuilder heritage and complicated relationship with his father inspired The Last Ship – his foray into musical theatre. He performed a number of songs from the musical to include a haunting rendition of What Say You, Meg?.  The musical was also inspired by his 1991 album The Soul Cages from which he performed Why Should I Cry for You?.  The song was written in the aftermath of his father's death and performed in dedication to his forefathers and his sons. The effect was reflective silence.
But this is a rock show, right?
Silence is fleeting. Once fully evaporated, we ended where we began. While he had shared the fullness of humanity, his snap back into a parade of hits reminded us that we were sharing the evening with a rock deity. The crowd once again rose to its feet, keeping rhythm with the music and singing along when invited.
While performing Desert Rose, he dropped a hip gyration on us and I thought the woman next to me was going to throw her lingerie onto the stage. And while I'm pleased to report she did not, the threat was real. Another audience member loudly exclaimed, "you still got it"! Indeed.
The Greensboro Symphony was an enthusiastic and excellent accomplice in expressing the nuances of Sting's music while honoring the essence of the original recording. One could sit and enjoy the renewed sophistication of the songs or stand up and sing along. Nothing was lost in interpretation as can so often be the case when orchestra meets rock star. My only wish is that he had performed more from his most recent release – The Bridge. But we'll have to cross that bridge on our own in hopes that he will one day return to share the story of its making. It was a magical evening during which the music of our youth was consumed like a fine wine. And if only for this one night, like Sting, we had all grown better with age.
Photos by Tamara Jarrett