The punkers in Orphan Riot enter a new age with their new self-titled album, out now, on Coffin Curse Records.
Headed by guitarist and vocalist, Noel Greene, Orphan Riot's latest release ushers their next era — eschewing their self-proclaimed title as "the world's youngest old school punk band," which they've been trucking since Greene started the group in his garage as a preteen. 
Demonstrating a tenacity and dedication beyond his 18 years, Greene has failed to abandon Orphan Riot through a handful of EPs and a string of rhythm sections — the latest of which features Brennan Crawford behind the drums, with Dylan Rock on bass.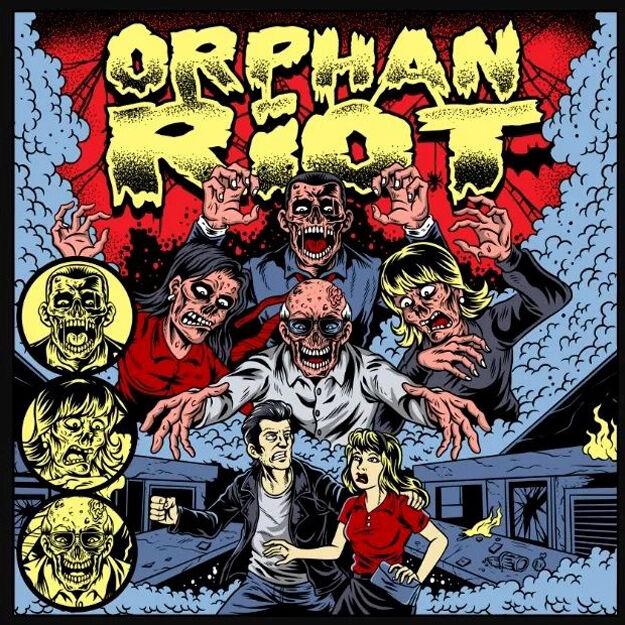 "Our new album is self-titled to represent a new beginning," Greene explained. "It was written while I was trying to put the band back together, so a common theme is coming to terms with big life changes and starting over." Experiencing a shift in eras and incarnations early on, as the band (and most of its members) age into their own — hitting the five-year milestone of their first show in December. "I'm proud of everything we've done up until now, but the addition of Brennan and Dylan has been an absolute rebirth. I'm super stoked to see where we go next!"
They remain on the younger side — Greene and Crawford are fresh out of high school, though Rock is a generation ahead. "We met on Bandmix," Greene said. "He's in his 30s and married with two kids, but it's been a great fit. Everyone gets along really well and the band has never sounded better."
Praising Rock's vocal work (which appears on the track, "Yesterday") Greene is stoked to share the mic. "He's been doing a lot of vocals live and it sounds killer and I'm a big fan of bands with two singers like Rancid, Alkaline Trio, and Lawrence Arms."
Greene's fandom comes through — hints of Skiba's tone resonate in new singles: "Devil's Work" and "One More Round" (which has a video in the works). While the infamous gravel of Tim Armstrong's intonation carries across the Orphan Riot catalog. 
As popular affection and nostalgia squares-in on the early 00s, Orphan Riot follows musical pathways of punks 20+ years their senior–taking more of a Hellcat Records route amongst the emo connections and scene-queen styles re-entering the spotlight–to fit amongst Triad contemporaries like Wolvesx4 (who played the release party at Local 506 earlier this month,) while also conjuring a particular era of punk's past–the likes of which offering an enjoyable flavor for those who miss bands like the Nondenoms, Social Life, or Queen Anne's Revenge.
But for Greene, it's neither nostalgia nor gimmick, it's growing up in real time amidst album releases and a heavy tour schedule to the hop-along thump of Matt Freemanesque bass lines. "I started this band when I was first getting into punk and I was writing inspired by bands I knew and loved at the time," he said. "The more I discover the more I add to my arsenal when writing songs." 
As his arsenal (and voice) have grown, the subject matter stays true to the ideals behind the Henry Rollins' quote Greene imbued in the liner notes for Orphan Riots debut LP "American Endgame": "this is what Joe Strummer trained us for."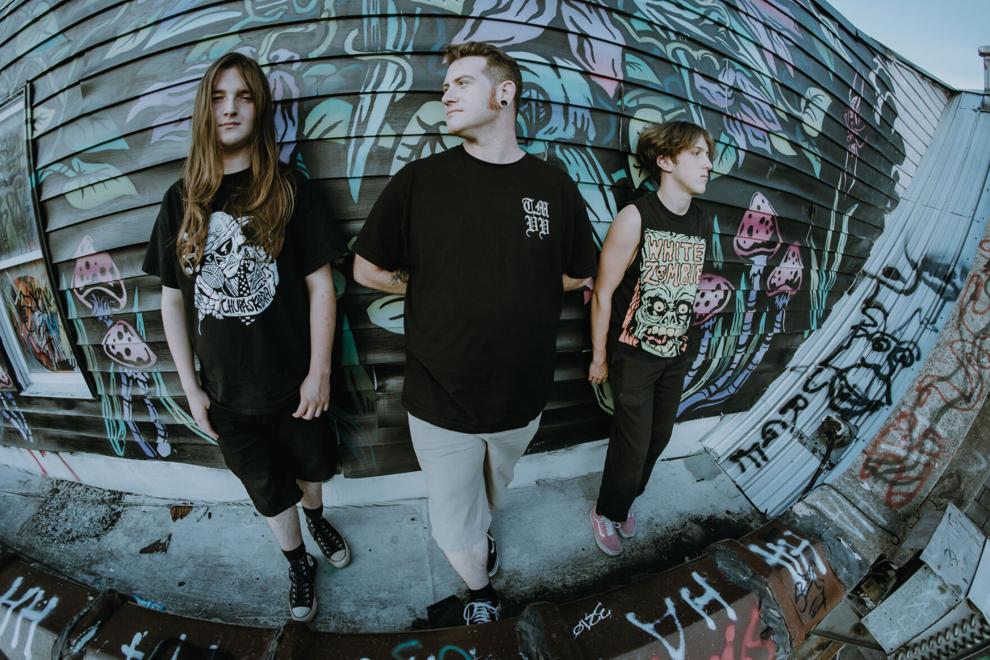 Societal ideals from a punk standard ring in "Upon Conformity," (which flies along Green Day's "J.A.R." era) there's the adorable self-deprecation ala Jesse Michaels' style in "Teenage Dipshit." Operation Ivy's influence extends into the follow-up "37" EP, with the "High Cost of Living" single rolling in tune with Op Ivy's "Bombshell." Paying direct homage, Orphan Riot offers a parody t-shirt of the legendary Bay Area punk band's logo; and even covered "Vulnerability" on Coffin Curse's "Unity: a Tribute to Operation Ivy," compilation album.
But the band is moving beyond the 924 Gilman bubble — they released a cover of "Forever Family," from Richmond's Ann Beretta in 2022. With their latest album, Greene's voice has noticeably deepened, and their tracks tightened in a shift toward the east coast styles of Bouncing Souls; or the Chicagoland punk from Greene's latest musical obsession: Alkaline Trio. 
"It's opened up a whole new outlet for me," Greene explained, pointing to a new foundation and focus honed with help from producer Scotty Sandwich (at the Sandwich Shoppe in Oxford). "He's been a huge help and a huge influence to us. He came out of the Chicago punk scene that gave birth to Rise Against and Lawrence Arms and Alkaline Trio so it's been great to be able to learn a lot from him."
"He's really helped with the evolution of our sound and our writing," Greene continued. "To me, songwriting is an outlet to better come to terms with whatever situation I'm in. The band's sound has evolved with my listening habits, but we have a solid foundation in fast and melodic punk rock with a 90s flavor similar to that of bands like Rancid and The Bouncing Souls."
Looking back on where they've been, "Orphan Riot started in the summer of 2017 with two guys I went to middle school with and we started off playing covers," Greene explained, referencing their first show at Burlington's Main St Vinyl the following December. 
Following what he sees as a natural progression towards writing songs and gigging out, Greene exudes gratitude. "We really had to make our own opportunities in the beginning," he said. "It took a lot of work and support from older bands in the scene to get where we are now."
"At first it was a struggle to find places to play because we were young," he continued, "but so many bands took us under their wing and helped us out a lot. There's a real sense of community, and my favorite thing about touring is all the bands we get to hang with."
And the struggle has paid off. The group has been touring since before most members could legally drive. "My dad's always been super supportive and used to drive us around to gigs when we were first starting out," Greene said, tipping his hat toward his father (and the band's manager) Mike. "We've always had a really tight dynamic." 
Together, Orphan Riot clocked 50-some shows in 2019 — Greene's sophomore year of high school. Their 2021 "R.H.T.S. (Raise Hell This Summer) tour" reached across the upper Midwest and Southeast, with shows running from Michigan to Georgia. Life on the road has grown since — having a license these days helps. And with the new album in tow, they're stoked to continue hitting the highway. 
"We're really looking forward to gigging out and promoting the new record," Greene said. "We can't wait to see where the next one takes us."
Orphan Riot has show dates booked around North Carolina through February. Their self-titled album is out now via Coffin Curse Records.  
Katei Cranford is a Triad music nerd who spotlights area artists and events.