Not submitting to intimidation, loss, hardship, or pandemics: FemFest NC returns to the stage with a double-barrel bill, live and in-person at the Ramkat on December 3.
With gratitude for the impact of their mission, the audience, and supporters — and the ability to enjoy it all in person — FemFest NC organizers continue carrying on the work and vision of founder, the late Bryn Hermansen: raising funds for Family Services through music and empowerment, while advocating against domestic violence and sexual assault.
"All I ever wanted was a day where women felt safe and inspired by seeing other women play music," reads a quote from Hermansen on the FemFest website. "This is for the women that have nowhere else to turn other than the safe space of the shelter that Family Services built and I'm giving you an opportunity to support that."
FemFest IX marks its second round following her passing; and after two years of virtual performances, the fest returns to its roots: on-stage with a full audience, split over two shows at one big venue. "Two shows, one day, lots of great bands and ticketing options to see one or both!" organizers explained.  
An early-bird special starting things off with Through the Tallwoods, True Lilith, Dissimilar South, Red Lipstick Society, and Reese McHenry, running from 3-6:30 p.m. Night owls soar from 7:30-11 p.m., with Teens in Trouble, Bangzz, The P-90's, Fortezza, and Thelma and The Sleaze. "As with every year, all proceeds go to the Family Services Emergency Domestic Violence Shelter to help women and families affected by domestic violence and sexual abuse," organizers added — reflecting on the outpouring of support that has grown over the years.
"Femfest has come a long way since 2013 when I donated an envelope of $800 cash like a ransom on demand," Hermansen said in a 2021 Facebook post praising the $5,127 raised during FemFest VII. "But that was just the (very cool and fun) first step towards many years filled with love, support, and growth." 
Through the pandemic shift and Hermansen's passing, family and cohorts kept up the charge to produce FemFest VIII, raising $12,302.57 in 2021. "Our focus has been to support the victims and survivors of domestic violence and sexual abuse through fundraising efforts in support of the Emergency Shelter operated by Family Services of Winston-Salem and Forsyth County," explained FemFest NC's Director of Marketing, Erin McCulley. "In 2022, FemFest NC became a 501c3, nonprofit with a five-person board of directors — which includes Bryn's brother, Chris, to ensure the family's direct involvement regarding her legacy is always guiding us." 
"The FemFest NC family has grown exponentially each year since," McCulley continued. "That community includes a multitude of local businesses, artists, performers, and sponsors. Ultimately, the greatest, collective impact comes from individuals who donate, attend our pop-ups and the festival; and even the simple act of sharing a social media post." 
With a sense of family and community, organizers have expanded the FemFest NC footprint throughout the year — hitting the streets with pop-ups and partnerships beyond the traditional festival and auction format. 
"We've been honored that a diverse group of businesses have reached out to us in the spirit of collaboration to create unique experiences, campaigns, and to raise awareness for our mission," McCulley noted. "These partnerships enabled FemFest-themed events to take place like Music Bingo at Joymongers Barrel Hall, Women-themed Trivia Night at Silver Moon Saloon, and FemFest editions of the Beer and Banjos series at Gas Hill Drinking Room. In particular, our Drag Brunch at Joymongers provided a platform for the performers to share their own experiences with domestic violence and sexual assault in an empowering yet safe space." 
FemFest's connection to the community is interwoven between artists, organizers, performers, and attendees. Or folks like Billie Feather, who toes the line of roles across the board: from playing nearly every year with her band, the P-90's, to now being a member of the organizing team, to curating the Beers and Banjos series; and ultimately relishing the work and festivities.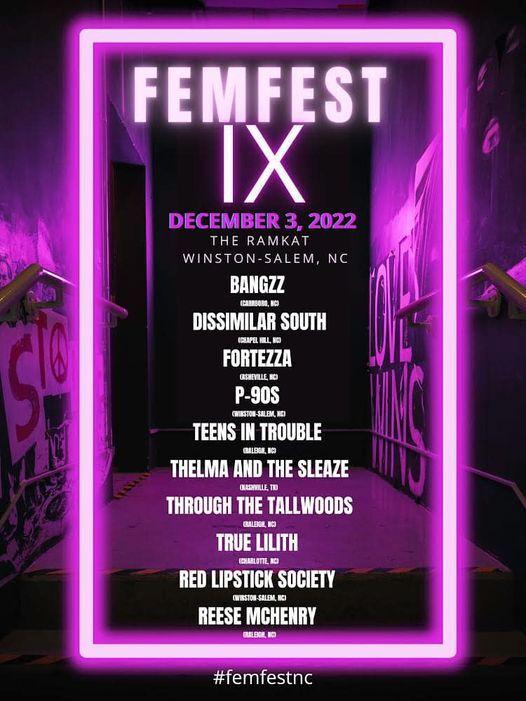 And it's work that's picked up year-round. In the spring, FemFest NC hosted the "WSProm Shop," collecting around 200 pieces of formal wear and distributing them in a free-shop format in the Burke Street Pub for teens in need during prom season. As for their merchandise, they've expanded their line into new styles of shirts, mugs, koozies, and various swag — with all profits directed to the Family Services Emergency Shelter. Organizers implore notions to "Shop for Good" as the holiday season approaches. 
It's a notion they carry into the annual art auction and raffle that accompanies each festival. "While we consider our annual festival the primary event for Femfest NC, we understand that there are those who wish to support us in a virtual way," McCulley explained. "Covid prompted us to seek online platforms that we found to be successful and plan to utilize in our fundraising efforts to attain greater visibility and financial support going forward. It's one way to achieve our goal of being as inclusive to as many folks as possible." 
The auction and raffle began in early November, with bids accepted until closing on December 4. Links are available online and a donation coordinator will be on-site during the festival itself to facilitate any interested bidders. 
Sculptures, prints, paintings, photos, and more are on the art auction block, which features work from area artists like: Mike Duggins, Dalia Pica, 64 Harvard, Jody Erickson, Home State Alien, Rebecca Dresser, Liz Simmons, Ian Bredice, Laura Lashley, Joy Ritenour, Cindy Taplin, Kimberly Varnadoe, and Cheryl Ann Lipstreu.
As for the raffle, there's prizes up for grabs like a Danby 95-Can Capacity Beverage Center from Wagner Appliance, a disc golf prize pack by Bangin' Chainz, a charcuterie board and woven wall hanging from Pencil+Pines, a pig in a jar from Major Tomms, cyanotype printed goods from Lady Fern Creations, and a pair of glasses from Eyes on Trade.
Experience packages and services in the raffle include: a house cleaning session from Bless Your Mess; car washes from Classic Touch Car Wash; an empowerment photo session with The Goddess Experience; "An Afternoon with The Girls" Service at the Powder Room (a 2-hour tab for four, plus an UBER ride home) a Chef's Table reservation and tab for four at Spring House Restaurant; Reynolda House admission for two; and a private whiskey tasting for four at Broad Branch Distillery. 
Gift certificates for shops and bars are on the table from Foothills Brewing, Wise Man Brewing, Joymongers Barrel Hall, Hel's, Roar, Happy Hour Vintage, Off The Rack, Underdog Records, McKay's, Tattoo Revival, the Snob Shop, the Humble Bee Shoppe, Gaia, Van Davis Aveda, Trader Joe's, and 64 Harvard. Plus certificates and services from wellness studios and salons: EgoHR, the tiny spa, Claws Nail Studio, Sacred Harmony Center, and the Myocare Neuromuscular Pain Relief Clinic.  
In the spirit of giving: raffles, auctions, and the whole of FemFest NC offer gifts that reverberate throughout the community. "The financial support of FemFest and other donors help make our work happen," said Family Service of Forsyth County Vice President, Philanthropy and Public Relations, Michelle Speas. "In 2021, these gifts supported 1,507 victims in-person for crisis intervention, safety planning, and support groups, managed the Domestic Violence Shelter resulting in 4,893 nights of care, handled 4,893 crisis line calls, and provided safe shelter to 172 women and children, supported 1,319 victims in-person for crisis intervention, safety planning, and support groups, and helped 66 children who stayed in our shelter." 
Offering more than immediate assistance, "the majority of those children are eyewitnesses to violence," Speas noted. "Through Family Services' trauma-focused behavioral services, children are offered the opportunity to start their healing journey."
"FemFest and its volunteers are a hard-working bunch and we are so grateful for their support of our work," she continued. "Those volunteers who carry Bryn's torch of FemFest have done so much to expand the fundraising and awareness to not only one concert, but an online auction and various events throughout the year. The more than $25,000 in donations that FemFest has given to Family Services to date has had a huge impact in making sure those who seek our services are able to do so at no cost." 
But it's about more than money. "As an agency whose workforce is mostly women, led by an all-female management team, and serving so many women in the work we do, it's wonderful to be supported by an event that celebrates and empowers women in the arts," Speas said. "For many years, FemFest has been making music and shining a light on a topic that isn't easy to talk about. Bryn Hermansen, founder of FemFest had a passion for those who seek our services for domestic violence and sexual assault, and her vision for a concert fundraiser has blossomed into a female force of nature!" 
It's a force graciously reinforced by the artists involved. "Femfest is a force that punches the patriarchy in the gut year after year," said Bangzz's Erika Libero. "It's direct community action as well as a yearly reminder for all of us involved to hold our power and to not submit to intimidation." 
A Triangle-based punk duo, Bangzz has performed in several FemFests over the years, including the virtual sessions held during the height of the pandemic. "It's a network of women helping women," Libero explained. "Building networks to lift each other up is in direct defiance to the patriarchy. Bryn built this bridge so we can be there for each other when we need it most. It's an honor to play FemFest this year and every year. We'll see you there!"
There's a noted excitement for the return of audiences during FemFest — which followed an online format in 2020, followed by a hybrid live-streamed version in 2021. "Last year, when we were unable to sell tickets to the live performances of our annual concert due to Covid-19 precautions, we filmed and recorded all the amazing artists who made the trip to The Ramkat," organizers said. "While watching all of those women, female, femme empowering performances, we knew that our event had found its new home."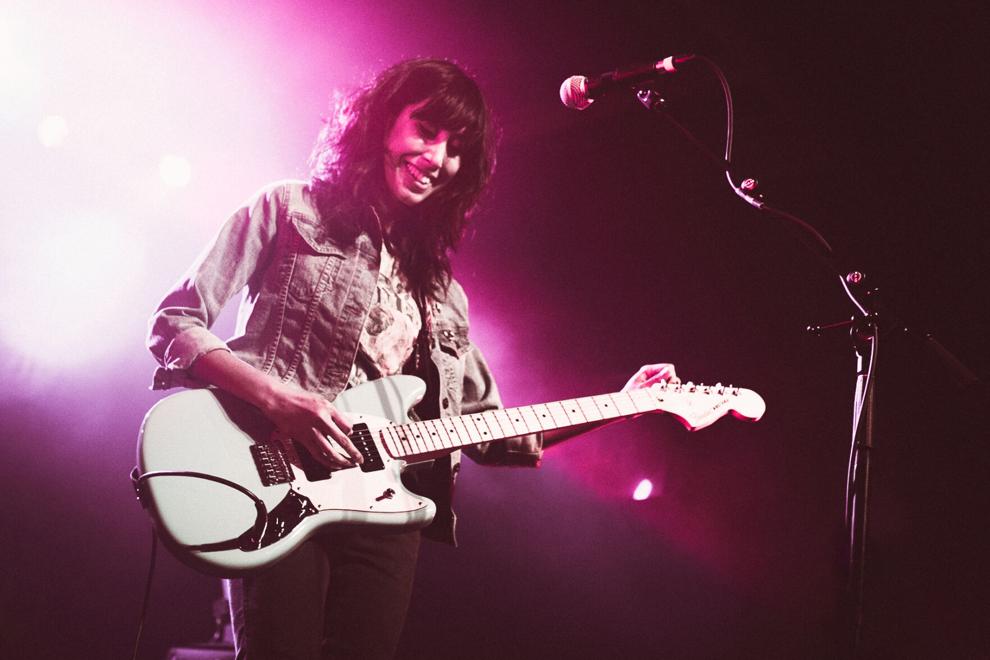 And with that, FemFest NC decided on a double-barrel homecoming for the audience: 10 bands split over two shows. "Because the impact of Covid has subsided and we had the opportunity to curate our first live performance since 2019, our board unanimously agreed that we needed to do something big," McCulley said. "Our goal was to extend an invitation to both veteran FemFest artists and talented performers that we know would be Bryn-approved. We were overwhelmed by the positive responses of support, and the vulnerability many of the performers showed while sharing the impact of domestic or sexual violence in their lives. As FemFest NC provides a platform of empowerment and hopes to help in the healing process, we created an all-day festival with both afternoon and evening performances; the most inclusive way to showcase all of their talents and voices." 
The showcase itself highlights various FemFest eras and regions across North Carolina. Charlotte's True Lilith considers their first appearance (at Monstercade in 2019) a "special moment" in their timeline as a band. "It felt truly incredible to be able to be a part of something so pure and to support such a great cause," they said. "Music is a big outlet for people, and connecting with everyone at the festival and intermingling our energy was otherworldly." 
Energies on the bill intermingle from the west with Asheville's avant-garagers, Fortezza; and Nashville rippers, Thelma and the Sleaze. From the east FemFest NC welcomes back rock-n-roll songbird Reese McHenry, along with newcomers: Chapel Hill folksters Dissimilar South, Raleigh post-punkers Through the Tallwoods, and the brisk punk rock of Teens in Trouble.
And while Through the Tallwoods describes themselves as "very sad all the time," they're pretty stoked to be included. "We're honored to be a part of the important work that FemFest is doing in the community," they said. "Every member of this band has been affected by domestic and sexual violence in our lives. A lot of the music we make is a commentary on our experiences, and a way for us and hopefully others to start to heal from them. To be able to help FemFest bring awareness and relief to something that's been so important to us since we started this band is just incredible and we feel so lucky to be involved." 
The awareness and impact of FemFest NC extends well beyond Winston-Salem — catching the attention of Lizzie Killian (from Teens in Trouble) when she moved to North Carolina a few years ago. "I think it's really important that this festival — that both features women artists and raises awareness on domestic violence and abuse — exists," Killian said. "Having known many survivors and being one myself, these are issues that affect women every day in obvious and less obvious forms. And not everybody is able to speak up and stand up for themselves in these situations. For those who are able to get out, it can still take years and years to heal and recover from the trauma. For me, music is an outlet that can be used to express yourself where it may otherwise be difficult with close friends and family or therapy sessions. Music is healing."
As FemFest officially returns to the stage, The Red Lipstick Society — the fully female Winston-Salem murder ballad dark country queens — make a special resurrection of their own, just for the occasion. "I went to my first FemFest last year and was so inspired that I knew — even though the band hadn't played in almost 10 years — I wanted to be a part of it," said Amanda Dunn Moore of RLS. "The women that run FemFest are so hard working and dedicated to this cause that you can't help but want to be involved." 
Fellow Society member, Alanna Meltzer-Holderfield, agreed. "I became acquainted with Bryn and FemFest when she invited my old band Jews and Catholics to play the first couple years," she explained, with emphasis on the fun involved. "Bryn created something special when she founded FemFest," she added. "Her legacy lives on and we are excited to celebrate and honor her as well as raise money for the important work of Family Services to help women and children affected by domestic violence. Bryn was such a strong supporter of the local music scene and we really miss her. I'm so proud of what she created and the amazing way the FemFest team is carrying on the work today. The lineup is stacked with awesome bands and we're glad to be among them." 
Gratitude for FemFest NC is shared amongst the Red Lipstick Society as a whole. "I've been a supporter and a part of FemFest for many years and watched this grassroots effort evolve into a community-driven cause," said RLS's Jill Martin-Byers. "After Bryn's passing, seeing the women in music in this music community take up the torch and keep it alive and growing every year, has been so amazing and inspiring to witness."
"Several years ago she asked me to play and was so welcoming when I suggested I have my mother — who has always wanted to perform live — join me," Martin-Byers continued, musing memories of FemFests past. "The setting was Test Pattern and the biggest thing I remember from that experience was how kind and welcoming everyone was to play and work with. I'm honored to 'ride again' with the wonderful crew of Red Lipstick Society for this worthy cause!"
From making memories to honoring memories. Reunions and returns. FemFest continues rocking out and helping out. "Thanks for being part of the ride," Hermansen posted in a 2021 reflection on FemFest VII. "Be good to each other."
FemFest IX rides into the Ramkat on Dec 3 with Through the Tallwoods, True Lilith, Dissimilar South, Red Lipstick Society, Reese McHenry, Teens in Trouble, Bangzz, The P-90's, Fortezza, and Thelma and The Sleaze.
Katei Cranford is a Triad music nerd who enjoys spotlighting artists and events.