Swinging its way from city to city, the Kris Allen Triangle Offence tour stops in Winston-Salem to perform jazz classics, and selections from new project 'June.'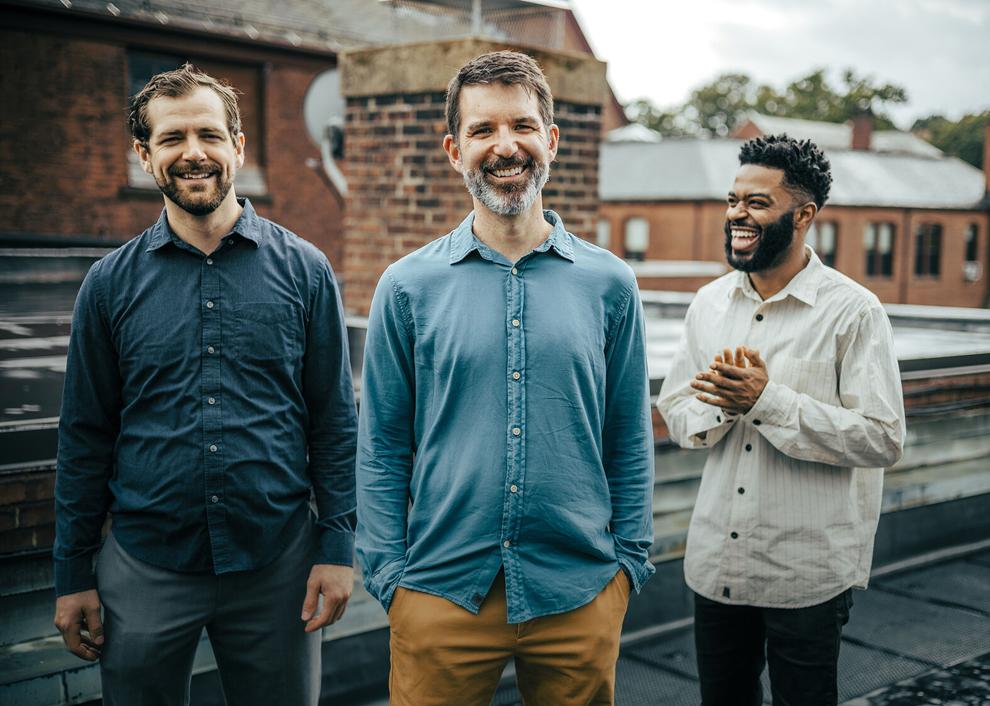 WINSTON-SALEM – The members of the Kris Allen Triangle Offence trio have spent time during the Covid-19 quarantine practicing and honing their skills as composers and arrangers. Among the results of this period is a new recording of original compositions and arrangements titled "June," to be released this summer.
Presented by Piedmont Jazz Alliance, listeners will enjoy compositions from the new project, as well as classics and other pieces in the trio's repertoire, when the trio performs Friday, June 3, at 7 p.m. in the Reynolds Place Theatre, Milton Rhodes Center of the Arts, 251 N. Spruce St., Winston-Salem, N.C.
General admission tickets are  $25 and are available online at  PiedmontJazzAlliance.com, or by phone at  (336) 747-1414 Tuesday-Friday from 1 p.m. to 5 p.m. Tickets also are available in person at the Milton Rhodes Center for the Arts Box Office, 251 N. Spruce St. in  Winston-Salem 
Kris Allen's musical studies began at an early age in his home state of Connecticut, but his desire to play jazz was catalyzed when he apprenticed with the great alto saxophonist Jackie McLean, first at the Hartford Artists Collective (which McLean founded), and later at the Hartt School of Music in McLean's African American Music Degree Program. Allen has more than a decade as a leader and sought-after sideman. He has performed or recorded with Illinois Jacquet, Gerald Wilson, Helen Sung, the Mingus Dynasty, Winard Harper and many other musicians. He also has collaborated with poets, visual artists, and with musicians from diverse styles and genres. Following in McLean's footsteps, Allen also is a teacher of music. He has taught at the Hartt School of Music, and at Trinity College in Hartford. He currently is artist in residence at Williams College in Williamstown, Mass., and a senior teaching artist at Litchfield Performing Arts, Inc., in Litchfield, Conn. Allen's releases include the quartet recordings "Circle House," and "Beloved." The new release "June" features new compositions, and arrangements of music from artists as diverse as Cole Porter, Stevie Wonder, and Elliott Smith. 
Triangle Offense trio is Allen on alto saxophone, Jonathan Barber on drums, and Matt Dwonszyk on bass. The members of this trio have deep roots in the music worlds of Hartford, Conn., and the New York City area. They have spent more than a decade performing, composing, and arranging music together. They have regular residencies at venues in Massachusetts and Connecticut, and often perform in New York City clubs. Each is a leader and composer in his own right. Among their influences and inspirations, they cite the "holy trinities" of trios led by Ahmad Jamal, Keith Jarrett, and Branford Marsalis.  In June the trio, with support from a South Arts Jazz Road grant, will embark on an Eastern U.S. tour before entering the studio to document their unique body of work for TRR Records. This Tour is made possible with the support of Jazz Road, a national initiative of South Arts, which is funded by the Doris Duke Charitable Foundation with additional support from the Andrew B. Mellon foundation.
The presenter Piedmont Jazz Alliance, is a Winston-Salem based organization founded in 2009 that present, promote, and preserve Jazz through music performances and events in the Piedmont Triad that foster greater interest, understanding and appreciation for Jazz. Information at https://www.piedmontJAZZalliance.com