Production Scheduled for April 15-17 and April 22-24 on the GTCC High Point Campus
HIGH POINT, N.C. (March 23, 2021) – The Complete Works of William Shakespeare (abridged) [revised] presented by the Guilford Technical Community College theatre program, is Shakespeare like you've never encountered.
The production is a comic romp that parodies the plays of Shakespeare, compressing more than 30 of his stage works into one fun show with a few superheroes thrown in for good measure. The show contains adult content and is recommended for mature audiences only. 
The production is scheduled for April 15-17 and April 22-24 at 8 p.m. each evening at the Black Box Theater on GTCC's High Point Campus, Building H-2.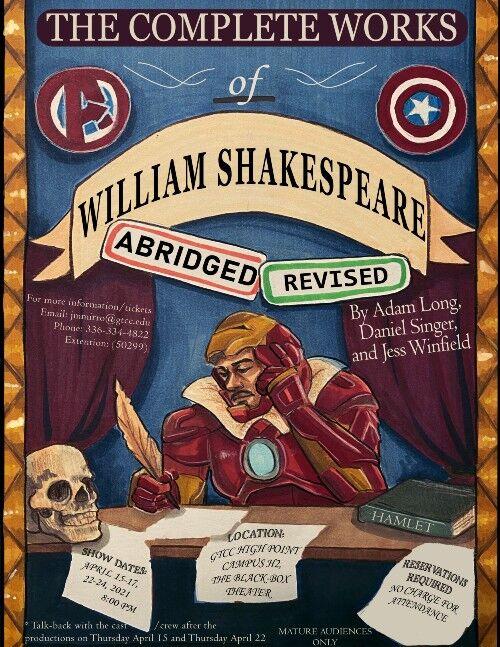 There is no admission charge, but due to COVID-19 regulations reservations are required on a first come, first served basis with limited seating. Reservations may be made by emailing jmmirro@gtcc.edu or calling (336) 334-4822, Ext. 50299.
About Guilford Technical Community College: Guilford Technical Community College is the third largest of 58 institutions in the North Carolina Community College System. GTCC serves nearly 35,000 students annually from five campuses and a Small Business Center. Learn more at www.gtcc.edu.