Calling all ghouls and goblins looking to get down, Halloween is here and the Triad is filled with frights, fun, tricks, and treats.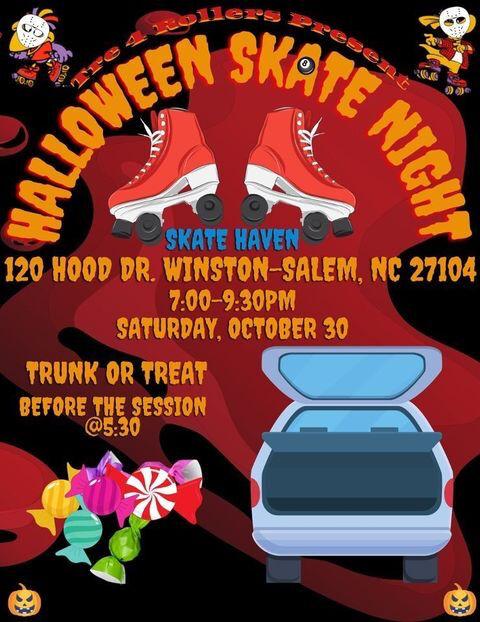 Winston-Salem is on a roll Halloween weekend—quite literally—with Skate Haven USA hosting a trick-or-treat before the skate session on Saturday. Downtown, the ARTC Theatre is bringing Evil Dead the Musical to life Oct. 29-31, with a special pre-show Halloween Party at 10:30 p.m. on Oct. 30.
Cover shows take over the Ramkat, with Dirty Logic (a Steely Dan Tribute) on Oct. 28; Vagabond Saints Society doing their rendition of Lucinda Williams' "Car Wheels on a Gravel Road" on Oct. 29; and Jukebot's resurrection on Oct. 30, featuring spooked-out covers from the '80s and '90s to backdrop a massive costume contest—and a benefit for the Red Feather Farm Animal Sanctuary.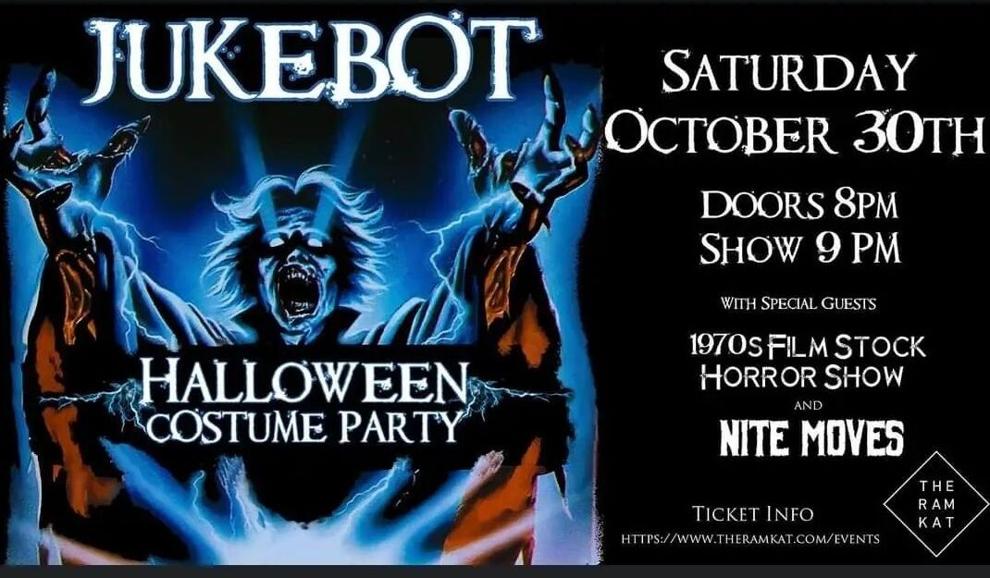 A special "Horror Show" from 1970s Film Stock opens the Jukebot party, with mastermind (and horror enthusiast) Eddie Garcia roping drummer Dane Walters in for the show. "We're keeping the project veiled in some secrecy," Garcia said, "but I can say it's about 26 minutes, there's a projector and screen. It's definitely R-rated, and certainly loud." Dance party wizards (and rumored vampires) Nite Moves will close the night.
Meanwhile, Monstercade will resurrect its indoor stage with an array of kooky offerings, starting Oct. 29. "Our very first act of the night is the Legendary RenElvis, a 5 foot tall Filipino Elvis Impersonator!" operator Carlos Bocanegra said excitedly, with Solemn Shapes, Night Terror, and the Palace of Tears welcoming the weirdo den back to life. The next night, Monstercade partners with Queer Winston-Salem for "a Really Gay Halloween Dance Party" on Oct. 30, with drag performances by Aphrodite and a double DJ set by RubyCult.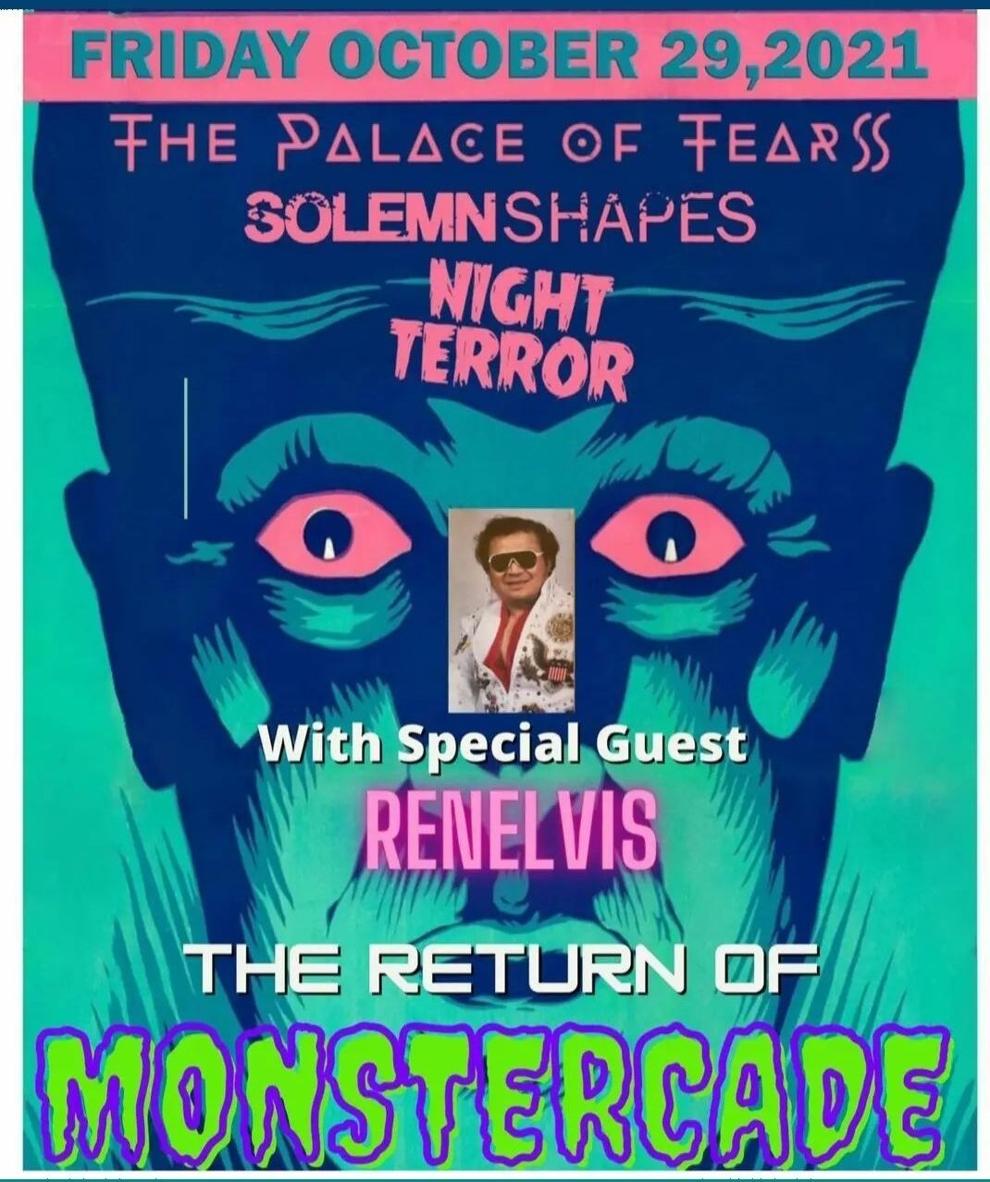 Around the corner, the Southside Beer Garden will host an "All Hallows Eve" party that evening, with spooky specials, psychic readings, and music from Dark Prophet Tongueless Monk, Yung Lungz, and Bolmangani.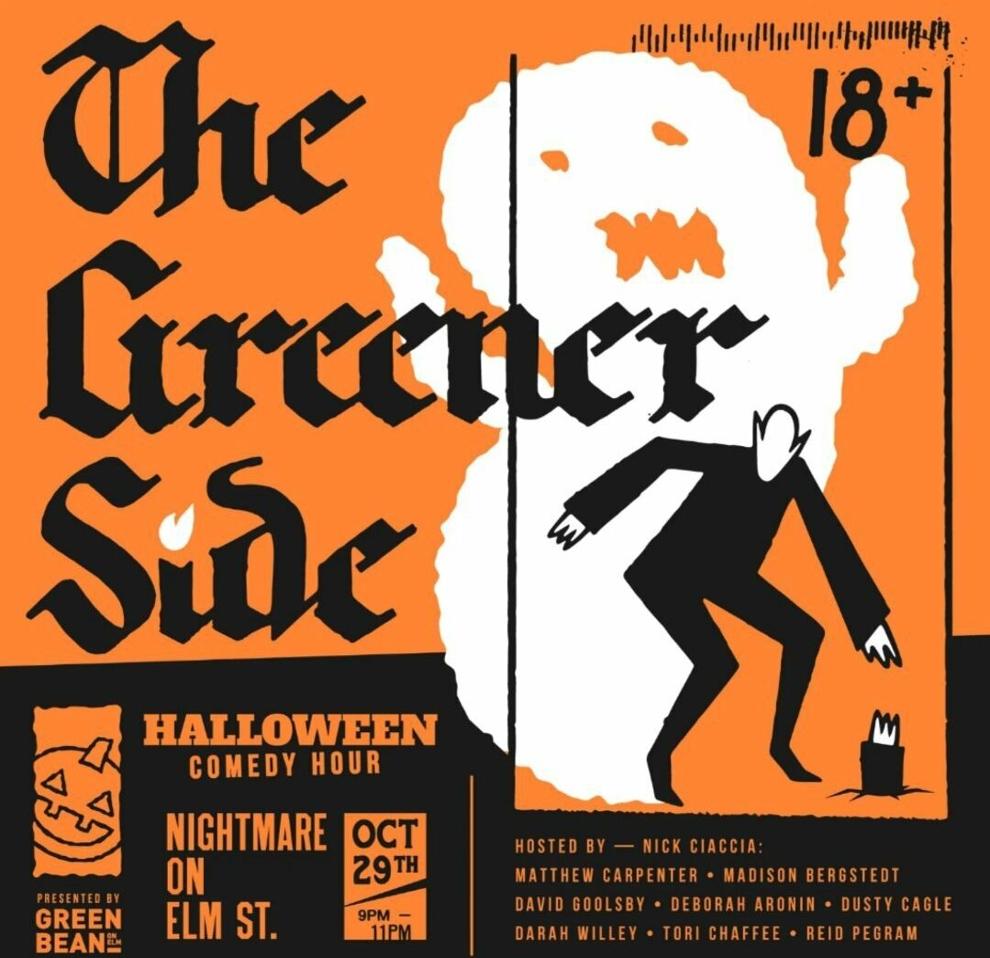 In Greensboro, the Greener Side Comedy Hour will present a special "Nightmare on Elm St." round of costumed comedians at the Green Bean on Oct. 29. Reid Pegram will don the cowl and cape for his infamous Batman routine, which he'll reprise on Oct. 30 at the Comic Dimension's "Halloween Party and Comedy Showcase," where attendees can flex horror-trivia and costuming skills to win horror-themed board games before the show.
Strictly Social's "Hallows Groove" will bring a devilish dance party to Elm & Bane on Oct. 29, with sets from Maison Fauna acts Temple of Boom and 2DWAVE, along with HDNSM, Chaos Control, and Freddie Fred—all raising funds for the Taussig Cancer Center to honor patients and survivors during Breast Cancer Awareness month.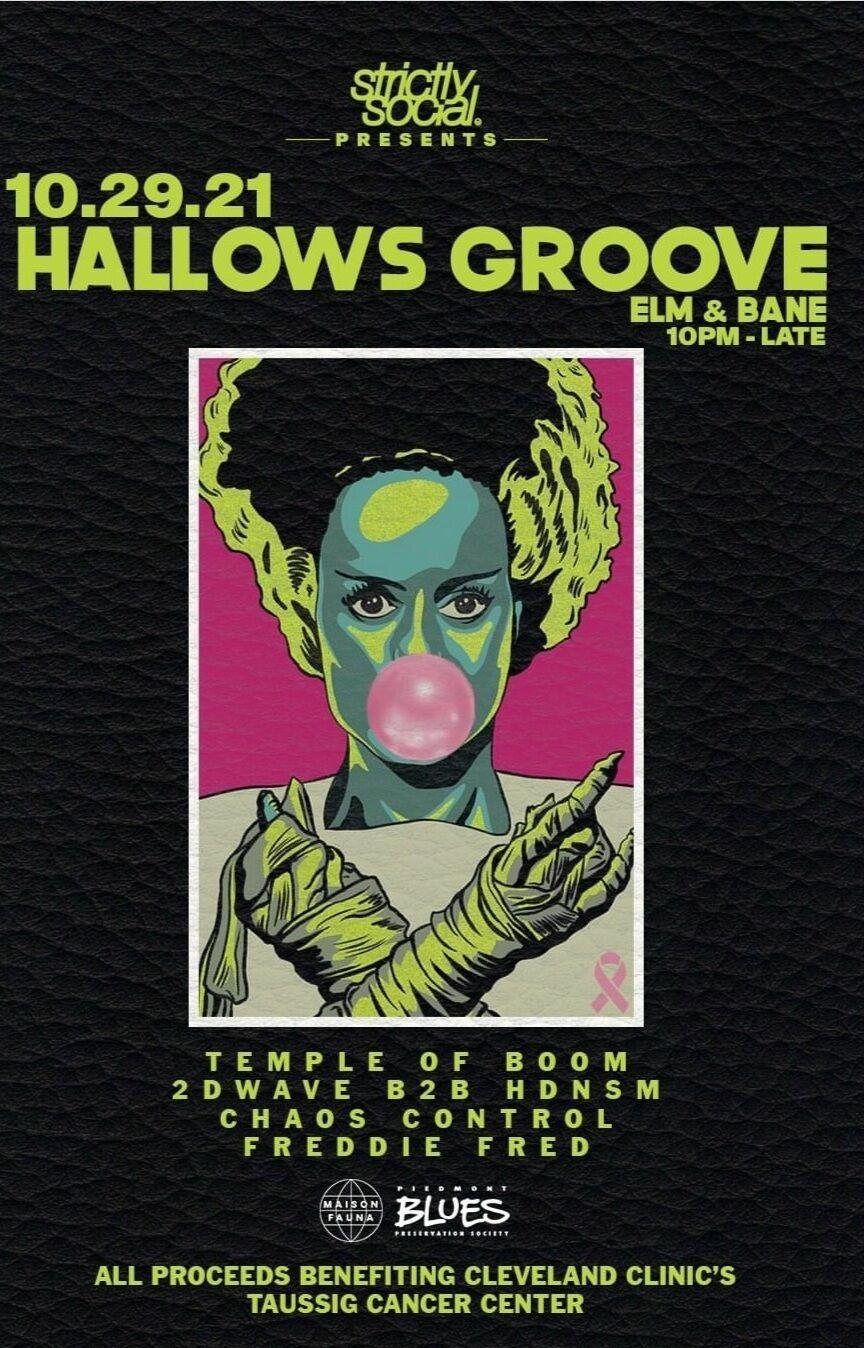 In Glenwood, Etc.gso will host Doc Chad's "Pick or Treat Haunted Hayride" with Eugene Chadbourne, Le Rétif Christian, and James Gilmore on Halloween afternoon on Oct. 31. Hippies will descend downtown that night for The Wright Ave and Get Back! at the Flat Iron.
Folks itchin' for festival vibes can head to the Major Malfunktion Halloween Party, featuring the Mantras, on the three-day bill of music and spooky activities, Oct. 28-30, at Little Creek Vineyard in Snow Camp. Heads and covers will roll in Chatham
County as Shakori Hills and Cat's Cradle present "Horror in the Hills," to celebrate the season and Dante High's new record; with Hand of Doom doing Black Sabbath, Vaccination Street covering the Cure, Canine Heart Sounds, Mix Tape Grab Bag, Skylar Gudasz, and Shirlette Ammons will appear among the artists, activities, and gorey goodness going down Oct. 30-31.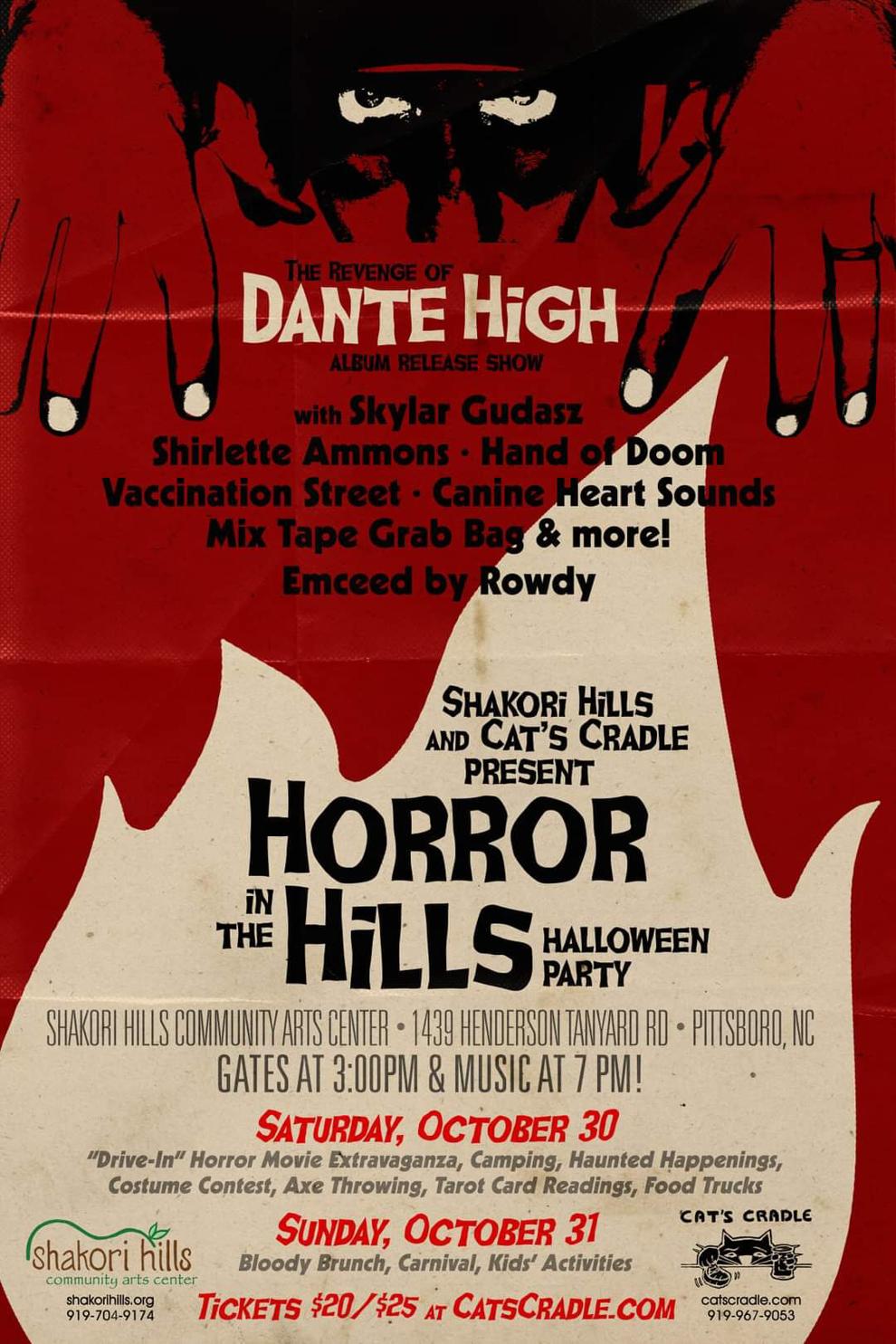 Up in Transylvania County, Camp Transylvania will host a Halloween blowout at Valley Bear Farm (Oct. 29-31) with Triad acts Condado and Sweet Dream among the hoard. And in Wake Forest, "Halloween in tha Carolinas" will bleed horror and hip-hop on Oct. 30, with a day of a few dozen acts including OG Spliff and the Steady Hyperactive Collective; along with photographers, Bosha novART and Phany Paxk.
For those looking to get freaky, Castle McCulloch will host "Fantasy Fetish Friday," on Oct. 29, followed by their annual "Beer and Fear Bash" on Oct. 30, with both events featuring elaborate stages, live entertainment, and costume contests not for the faint of heart.
Things are a bit more traditional at the Blandwood Mansion, where Cynthia Moore Brown will be sharing ghost stories on Oct. 29. The Historic Jamestown Society will host "Tales from Beyond the Grave," giving historical accounts of those interred at Deep River Friends Meeting Cemetery on Oct. 29 and 30. And scaredy-cats can head to the Piedmont Environmental Center's "Halloween Safari," Oct. 29 and 30, for a hike with educational "animal" encounters from costumed presenters, followed by a campfire with cookies and apple cider.
The "Monsters and Mayhem Ball" at the Alibi in Thomasville on Oct. 29 kicks off a weekend of costume contests, including rounds on Oct. 30 at Wise Man Brewing, Boxcar Bar + Arcade, and Southend Brewing (for dogs, too!). Foothills Brewing's contest that night follows a theme, as they throw things back to the 1990s for a "Halloween Prom," featuring '90s covers from Discount Rothko.
Costume parties sans-competition are going down on Oct. 30 at the Red Oak Lager Haus with Russell Thompson and DJ Mike Wawa, at Baxter's with Flat Blak Cadillac, and for a dance party at Westerwood Tavern. Meanwhile, Viva la Muerte looks to do their name justice at Oden Brewing on Halloween night.
As the veil thins and spirits loom, Casa Azul will celebrate their 10th annual "Day of the Dead Ofrenda Exhibition" running Nov. 1-13 at the Greensboro Cultural Center.
Here's to a Happy Halloween, and enjoying all the treats the Triad has to offer!