GEARS & GUITARS CYCLING/MUSIC EVENT TO RETURN IN 2022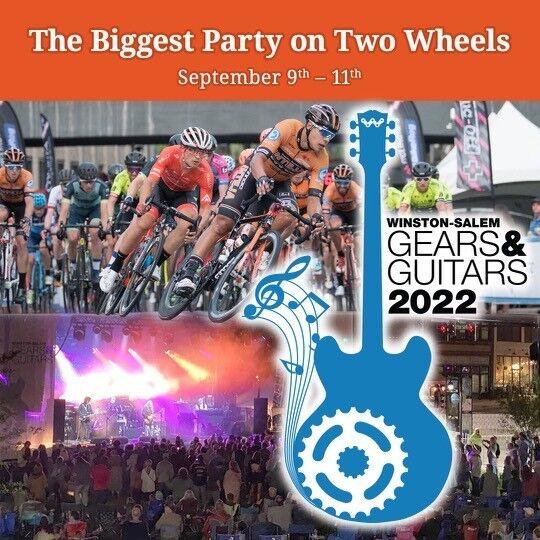 WINSTON-SALEM, NC – Gears & Guitars announced today that the ninth edition of the cycling/music event will return to Winston-Salem, NC the weekend of September 9th through 11th. Featuring three days of professional and amateur bike racing, community bike rides and an always anticipated live music component, the organizers are "taking it up a notch" from last year's Covid-reduced event structure.
"We learned last year that racing on Friday night could be a blast. So, this year we're going to fully commit to that," stated Ray Boden, COO of the event.  Streets of Fire, presented by Flow Automotive, will feature dragrace-style street sprint heats down 4th Street all evening, with free live music from big names along the side street. 
"It's our way of helping support the restaurants and bars and businesses along 4th street and celebrating the great city that Winston-Salem is. We're going to give people something really unique and fun to watch – and participate in too if they'd like," stated Boden. But that's just the start of the weekend.
Saturday, the event will return to its favorite stomping grounds at Bailey Park for criterium racing all day long. Amateurs and professionals will take to the challenging course throughout the day, and the route will now start and finish on an uphill segment along Vine Street. Organizers say this will totally change the race dynamic and enhance spectator viewing.  It also opens up all of Bailey Park for more of a festival atmosphere for the weekend with booths, food trucks, a beer garden and exhibitions in the mini velodrome (a small wooden and steeply banked arena where cyclists compete in thrilling pursuit races).
Saturday night will again feature some big-name music, although organizers are being tight-lipped about the headliner for now. "We are excited about this year's musical acts and can't wait to announce them," stated Boden. Long time sponsors like Novant Health, Flow Automotive and the Carolinas Pain Institute have been instrumental in supporting the event over the years and in bringing the event back full-force again this year.
Sunday will be more of a community cycling day of celebration, featuring "Fondo" rides (also presented by Flow Automotive) that are open to anyone, and this year include a "greenway/gravel" option for the first time. Sunday's afternoon activities will also include a bike rodeo for kids and a family bike parade. All Sunday activities will also originate from Bailey Park.
"We really want to embrace all that's happening with cycling in our city and let all the area organizations that are involved really shine," stated Michael Hosey, the event's Director of Community Engagement.  "It's a great opportunity for everyone to bring out their bike, enjoy the day together and celebrate the healthy, active and vibrant community we have here.  We're expecting a lot of cycling enthusiasts and recreational riders to come out and spend the whole weekend enjoying the wide range of events.  It's the best weekend in Winston."
Registration for the community Fondo rides opens on April 4th at WinstonSalemCycling.com. Plans are for race registrations to open on the site on May 1, followed shortly thereafter with announcements on all the music lineups.
More information can be found on the plans for the full weekend at WinstonSalemCycling.com, or by following the Gears & Guitars social feeds.
#    #    #
About Gears & Guitars
Now in its ninth year, Gears & Guitars is one of the country's premiere professional and amateur cycling events, bringing racers from across the country and often across the globe.  Called "the biggest party on two wheels", the event has a reputation for its challenging criterium circuit around Bailey Park, a host of community cycling activities and big-name live music for a one-of-a-kind weekend in the city.  www.WinstonSalemCycling.com
About Winston-Salem Cycling
Winston-Salem Cycling is the organization that hosts the annual Gears & Guitars event, and also helps support activities and programs of the National Cycling Center.  These activities include the FLOWBIKES Bikeshare system, the NCC Bike Program within WSFCS and the monthly Cycling Heals Vets Connect events for disabled vets and wounded warriors at Salem Lake.  www.usncc.org