The North Carolina Folk Festival is back in the flesh, and looking to bring folks to downtown Greensboro for a free three-day music festival Sept. 10-12. 
"We're thrilled to be able to return to hosting an in-person festival that will provide a welcoming, celebratory environment for all members of our Greensboro and North Carolina community to enjoy," said Amy Grossmann, President and CEO of the North Carolina Folk Festival. "Thanks to the support of our presenting sponsor, Towne Bank, and our close partnerships with Guilford County and the City of Greensboro, we will present a festival that our performers, staff, supporters, and audiences will be able to safely enjoy."

Continuing the legacy of the National Folk Festival, which ran from 2015 to 2017, the 2021 NC Folk Festival takes a cue from the more regionally-focused, virtual festival in 2020; and features a new layout, curated programming, an NC Makers Marketplace; and the "Not Your Average Folk" contest—a sweepstake for a spot on the bill.
The Greensboro Cultural Center, at 200 N. Davie St., will continue serving as a landmark at the center of the festival site, which sees 35 acts spread over four main stages: the Towne Bank Stage at LeBauer Park, Lawn Stage (at Bellemeade and North Greene Streets), the Lee Wrangler Stage will be on the site of the former CityStage (at Davie Street and Friendly Avenue). And new for 2021, the Old Courthouse Stage, will be on West Market Street, near John Wesley Way and the West Market Street Church. The #DGSO Stage (presented in partnership with Downtown Greensboro, Inc.) will be at South Elm Street and Martin Luther King Jr. Drive on Saturday.
To help folks keep up with what the folk is going on, organizers have developed an official mobile app, which allows users to build their own daily schedule; and provides information on the lineup, vendor info, audience contests, updates, and more.
"We're excited to grow the partnerships we've developed over the years with the artists and organizations in our community that share our commitment to honoring and celebrating diverse cultural traditions through music and dance," Grossmann said of the specialty bills curated by Greensboro-based hip-hop artist Demeanor, the Piedmont Blues Preservation Society, the North Carolina Folklife Institute and the Center for Cultural Vibrancy. "Through these partnerships, we proudly share our stages to feature legendary and up-and-coming performers who are exemplars of tradition, creativity, and innovation in their respective fields."
Justin "Demeanor" Harrington, an Americana award-nominated artist and two-time performer at the NC Folk Fest, will host the "North Carolina Hip-Hop: Rap is Folk" showcase on Saturday at the Towne Bank Stage and a series of workshops at Center City Park on Saturday and Sunday.
With a banjo in hand, Harrington "bridges the gap between contemporary and traditional cultural music," while engaging in story-telling and cultural connection. "Love and passion for Black American music traditions run deep in my blood," Harrington said. " And to have an opportunity to share this music—and this movement—with my city is really special."
Seeking innovations beyond genre and industry, Harrington will debut songs from his album, along with a live looping set using his banjo and laptop. "I did it for the first time at the Newport Folk Festival, and it feels so good to bring it home."
A co-founder of the Haus of Lacks collective in Greensboro and TEDx speaker, Harrington is excited to continue his work as a "culture bearer;" and curate a rap program for the festival he considers a family affair. "My first time at the festival I performed with my aunt (Rhiannon Giddens), the second time was virtually with people I care deeply about," he said, "and this year I get to bring my peers onstage. This is the first time there's been rap programming at a Folk Festival in America, and I'm honored to be able to do this with people I respect and cherish."
Among those people are Los Angeles transplant GATECITYCRAIG, KembeX from Illinois, and Greensboro rappers: Lovey the Don, Chris Meadows, and Antion Scales. 
"When I say 'Rap is Folk,' I'm not just talking about music," Harrington noted. "The ways Black artforms have been boxed-in and commodified has left a hole in our communities," he explained. "The misinformation and miseducation have been systematic. We have the space and tools to challenge ideas of supremacy and segregation within our industry. And this year we get to celebrate each other; and set forth a new precedent."
Scales, a Greensboro artist who doesn't rap so much as he "sells advice," agreed. "Too often people misconstrue the messages, the meaning and the storytelling behind rap and hip hop," he said. "With this being my first time performing at the festival, I'm overly excited to show those who are unfamiliar the vulnerability, the skill, and the transparency it takes to do what we rappers do." 
In a similar vein, Atiba Berkley continues carrying the torch as President of the Piedmont Blues Preservation Society (and presenter of the Carolina Blues Festival), who partnered with the folk fest for a shared virtual experience in 2020. "In this unique time in America, the Blues speaks to the enduring legacies of American folk and pop-culture," Berkely said. "Our 21st-century presentations of Blues and Black Arts Culture are poised to provide healing, and inspire social dialogue." 
For 2021, they'll present "Buckdance & Blues: Remembering Algia Mae Hinton and John Dee Holeman," a tribute showcase from Tad Walters, Bob Margolin, and Lightnin' Wells at the Towne Bank Stage on Saturday; and the Old Courthouse Stage on Sunday. 
From carrying the torch to carrying the light, the North Carolina Folklife Institute and the Center for Cultural Vibrancy will host "Carolina Gospel Sunday" all day on the Lawn Stage with Jalessa Cade, Mangum and Company, Cora Harvey Armstrong, the Gospel Stars of Greensboro, and the Legendary Ingramettes singing to the most high. 
Beyond an extended curation, the 2021 NC Folk Festival looked to foster local connection through the "Not Your Average Folk" contest, a panel and voter-judged sweepstakes for local, independent artists. Winners received an invitation to play the festival, with the grand prize including a recording session at Black Rabbit Audio in Greensboro. 
"The pandemic has been a challenge to all of us for sure," said Black Rabbit founder, Tom Troyer. "The amazing contest submissions emphasized that folk-arts are vital. And reassuring," he continued, referencing the winners. "It all feels like a healing enterprise—the vibrancy of Lorena Guillén Tango Ensemble and the deeply emotive sounds of Grand Shores proving the value of individual musical practice within the folk traditions. And that the folk 'scene' here is particularly fruitful."
In first place, the Lorena Guillén Tango Ensemble from Greensboro will open the Old Courthouse Stage on Saturday at noon with "soulful arrangements of Argentine tango standards and original compositions that create a dynamic tango and pan-Latin fusion." Grand Shores, an Americana group with West-African instrumentation from Chapel Hill will play Saturday at Center City Park. And third-place winners, Jazz Xpressions featuring Lydia Salett Dudley, will be on the #DGSO stage on Saturday. 
Beyond culture, the festival aims at educating and enriching audiences. A community jam presented by the UNCG Old-Time Ensemble will kick things off following opening remarks on Friday at the Lee Wrangler Stage. Exhibitions exploring "Flatpicking Traditions Across Three Continents" and "Fiddle Traditions: From the Highlands to the Plains," will roll Saturday afternoon on the Lawn Stage.  
Harrington will host a "foundsound beatmaking" workshop followed by a tutorial on DIY home recording, mixing, and mastering on Saturday at Center City Park. Sunday's topics include radio-ready instrumentals and "Writing a 16: the lyricism of rap." 
Other workshops across the Sunday schedule include: a Women in Gospel workshop on the Lawn Stage, Yoga with Dancing Dogs Yoga of Greensboro and "Percussion: Building Block For Song" at the Towne Bank Stage; and a double-dose of South Indian Bharata Natyam from the Leela School of Dance, with an interactive experience followed by a stage performance to end the evening.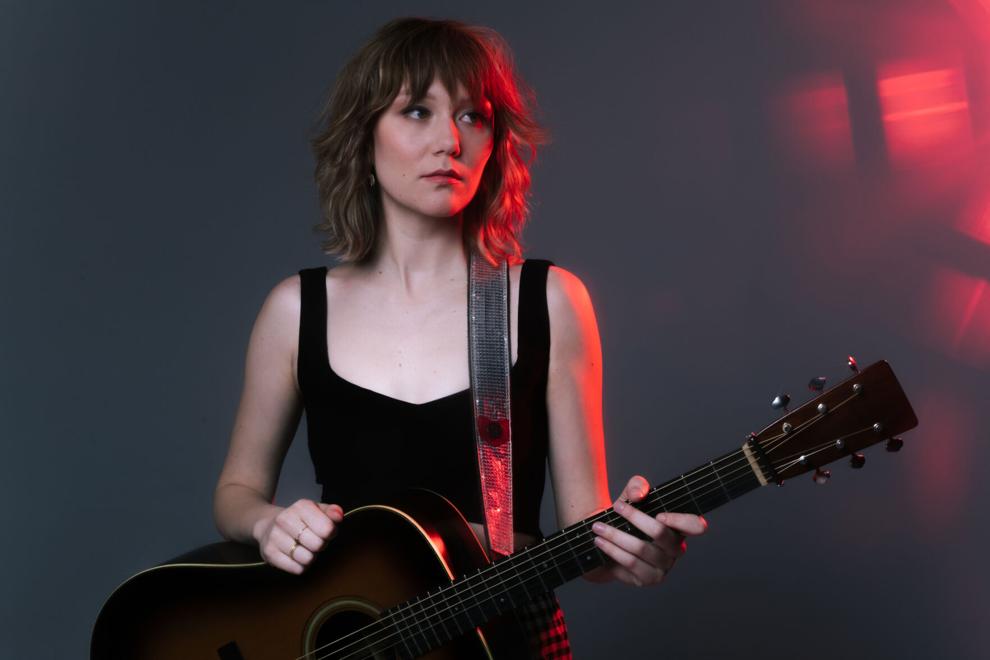 And while the 2021 festival makes a slightly more concerted effort to connect locally, the bill features a fair share of national artists. Nashville guitarist Molly Tuttle is on track to headline the Lee Wrangler Stage on Friday night, where things will get jazzy on Saturday with 14-time "Jazz Journalists Association's Trombonist of the Year" Wycliffe Gordon. On Sunday, the big hair comes out with country tunes from The Malpass Brothers, a pair of rhinestoned siblings from Goldsboro intent on carrying on the traditional country twang to the Lee Wrangler Stage. 
A jazzier sort of country from Austin's Hot Club of Cowtown roped the spot before Tuttle on Friday evening. They'll also follow Conjunto Guantánamo's Afro-Cuban rhythms to close the Towne Bank Stage Saturday night. An NYC-based quartet, Conjunto Guantánamo will "celebrate Cuban folklore as the spirit breathing life into its sound," with sets all weekend across the Lawn, Towne Bank, and Lee Wrangler stages. 
Meanwhile, New Orleans funk and hip-hop from Shamarr Allan and the Underdawgs will close the Lawn Stage on Friday, before pulling two sets on Saturday at the Old Courthouse and Lee Wrangler Stages. And the Mari Black Trio, a fiddle-heavy Scottish bit from Boston, will also be on the Lee Wrangler Stage, with sets both Saturday and Sunday.
While national artists round the bill, the festival prides itself on bringing a "global flare," from acts like Quraishi Roya, a world-renowned Afghan-American rubab player who'll open the Towne Bank Stage on Saturday, before playing the Lawn Stage later in the afternoon; and returning to the Towne Bank Stage on Sunday.
Caique Vidal & Batuque an Afro-Brazilian band (from Salvador de Bahia by way of Greensboro), will open the Towne Bank Stage on Friday, close the Old Courthouse Stage on Saturday; and perform a special Oxente Brazilian Drumming session at the Lee Wrangler Stage earlier Saturday afternoon. Alsarah & The Nubatones will also be dancing into the night with their blend of East-African retro-pop, closing the Towne Bank Stage on Friday and the Lawn Stage on Saturday; with an afternoon set at the Lee Wrangler Stage earlier in the day.
Turning to NC-based artists, Javier Montano, an NC-native and young singer-songwriter, will share music from his parents' birthplaces in Mexico on Saturday at the Lawn and Old Courthouse stages. Hard Drive, a "hard-driving aural modern traditional authentic millennial bluegrass collective" will bring high-octane old-time to the Lawn Stage on Saturday before opening the Old Courthouse Stage on Sunday, followed by a set on the Lee Wrangler Stage that evening.
Dewey & Leslie Brown and The Carolina Gentlemen will ramble down the Old Courthouse twice on Saturday before they close out the festival on Sunday. A bluegrass "power couple," Dewey spent 11 years as a fiddler in Ralph Stanley's band, the Clinch Mountain Boys; and together they operate the Liberty Showcase Theater in Liberty. 
In the spirit of tradition, Laurelyn Dossett's "Songs of Hope and Justice" will ring from the Old Courthouse Stage Friday evening. Now in its sixth year at the festival, Dossett presents a musical menagerie of scholars, social justice workers, and songsters including: Jaki Shelton Green (Poet Laureate of North Carolina), Dr. Lalenja Harrington, Molly McGinn, Sam Frazier, Wendy Hickman, Desahwn Hickman, J. Scott Hinkle, George Sluppick, Alice Gerrard, Alex Bingham (from Hiss Golden Messenger), and Charly Lowry (from Dark Water Rising).
This writer conveys personal hopes that the NC Folk Festival regards justice with more than just lip service, and is finally acknowledging the murder of Marcus Smith by officers of the Greensboro Police Department during the festival in 2018. An Eventbrite page for the "Art of Mass Gatherings" training symposium hosted by the festival and Majestic Collaborations (a Colorado-based consulting firm), invites attendees to a demonstration in memory of Smith on Saturday afternoon. But while the Greensboro Justice Coalition will be gathering at Government Plaza (110 Greene St.) on Saturday at 6 p.m. to lead a "March for Victims of Police Violence," no other local organization, (including the NC Folk Festival) shared any information on the memorial listed on the Eventbrite page.
Festival organizers are, however, much more forthright regarding details for the 9/11 Remembrance Stair Climb Saturday morning at the Bellemeade Parking Deck (with the national anthem sung by Greensboro vocal ensemble Bel Canto) and a 9/11 memorial ceremony that afternoon on the #DGSO Stage, which will close with Greensboro funk group, Doby.
Get ready to get the folk down as the North Carolina Folk Festival returns Sept. 10-12 in downtown Greensboro.