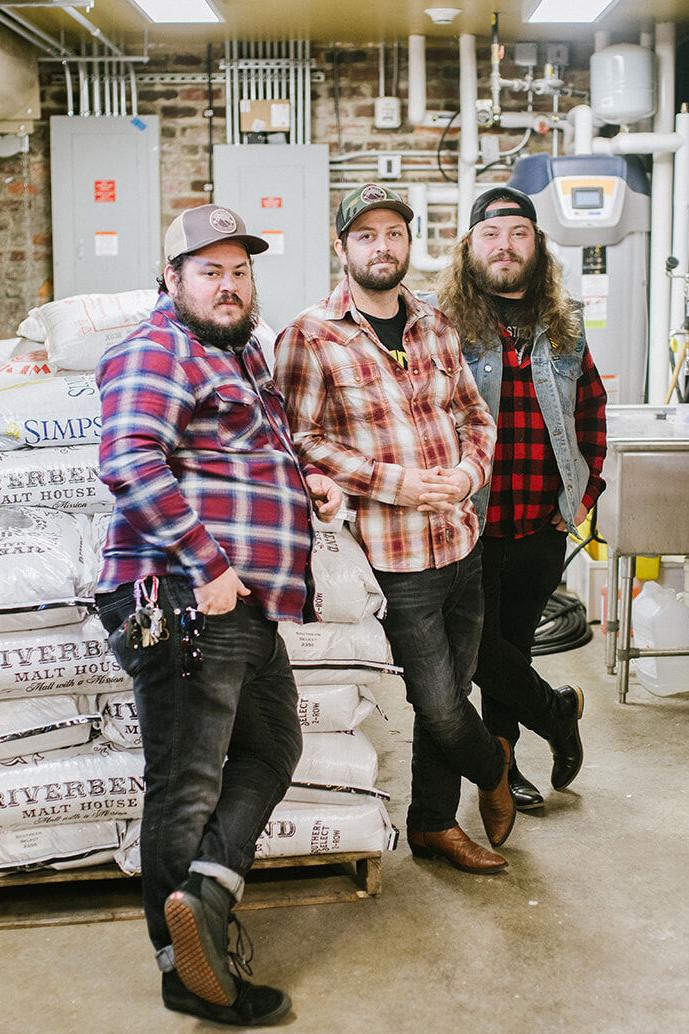 Chuck Mountain invites listeners to join their "Fool's Journey," with a drink in hand, cracking beer-paired releases to celebrate songs leading to their debut LP.
It's southern rock with a side of suds from a trio who've enjoyed chugging along across brewery stages — and now their shelves — with a fresh beer release to accompany their latest single, "Moonshine" out April 28.
 "Moonshine" marks the second single off "Fool's Journey" and the band's third offering of brews — a pattern they intend to repeat for each song on the album. 
"It all started as a joke and led us to the path we're now following," guitarist Beau Wigington said, reflecting on their first brewing foray back in 2021. "Chuck Mountain Dew'' would end up being released through Oden Brewing in partnership with "Ales for ALS" (a national non-profit geared toward treatment for ALS, also known as Lou Gehrig's disease).
"It was one of the coolest things to go up and order a beer with our name on it," he said, "and even cooler grabbing a can with our silly faces on it." The satisfaction stuck around, igniting a passion within the band that also hosts the "Brews Rock" podcast.
"We've spent a ton of time playing a lot of different breweries with the band, so we thought it was about time to learn about making beer and the business behind it," Wigington explained. "It's been a lot of fun so far. We get to go and travel to new spaces and chat with brewers and people working."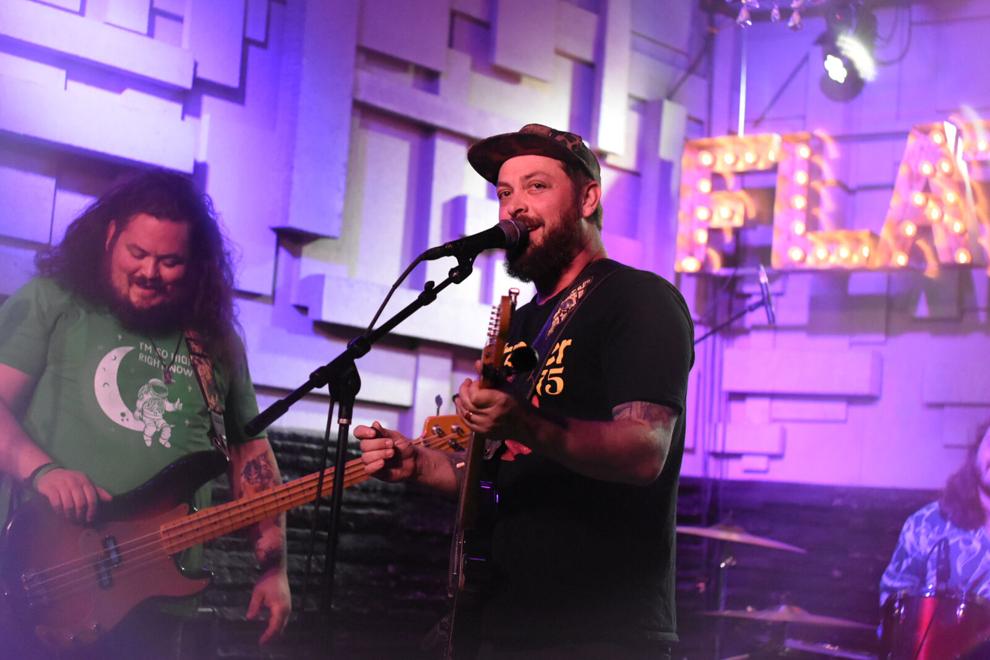 For Wigington, the podcasts and beer pairings are an extension of their role to help keep food on the table — for both brewers and bands. "We hope collaborating helps to get new customers out; or get beers into bars, restaurants, and bottle shops in markets they might not be yet," he said.
It's a notion tied not only to their music within the working-class veins of southern rock but within their own formation. Wigington met drummer Sammi Printz as a co-worker at Hops Burger Bar; and was introduced to bassist Jeff Wysosky when being interviewed for an instructor gig at Guitar Center.  
Together, the trio brings along their experiences arriving at "Chuck Mountain," Wigington's nickname from his days in The Heavy Heavy Hearts — the rock 'n' roll group he joined in Los Angeles and moved with to Nashville, before landing in Greensboro in 2017. Their songs were in shows like "Shameless" and in the movie "Bad Country." Wigington's solo work appeared on ABC's "Nashville."  Around these parts, Wysosky is known for his time in The Billyfolks. 
And it's those experiences that provide the bedrock of their sound. "Grooves and riffs surrounded by honest lyrics are the backbone of our sound," Wigington noted, praising the on-stage chemistry between his bandmates.
Offstage, that chemistry translates into their songs. "They're a collection of road-ready anthems vividly documenting the struggle between virtue and vice through a decidedly southern-tinted lens," Wigington continued. 
For "Fool's Journey," that southern-tinted lens also happens to flow through tarot cards. 
"It follows the idea behind the Major Arcana in the tarot," Wigington said, referencing the sequence laid out in the self-titled first single. "It sets out following — the call to adventure," he explained. "It's learning who you can trust along the way, falling into addiction, working on trying to get out of it, finding yourself, and emerging, letting go of that previous life and starting the journey all again."
Relaying his own personal journeys through song, "You start off learning along the way about life until you figure out all the answers have been inside the whole time," Wigington explained, pointing to the balance between complexity and simplicity paralleled into the "Fool's Journey Hazy Pale" beer pairing with Little Brother Brewing. "The star of that beer was definitely the Idaho 7 hops and creamy mouthfeel," he described. "It was super smooth and just bitter enough to make you want another one."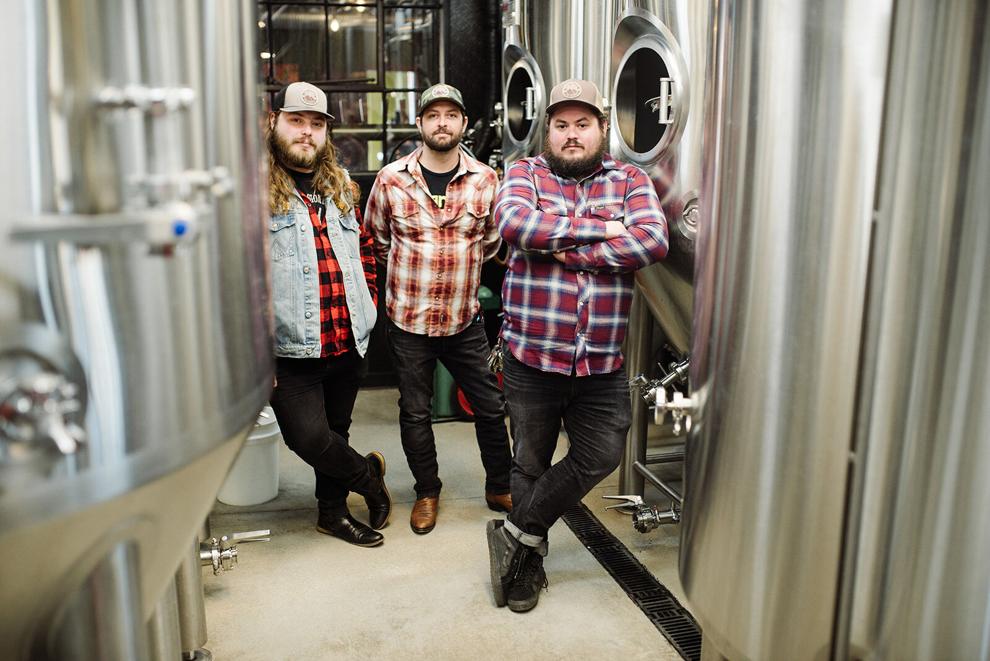 In terms of releases, Wigington sees their prior stand-alone singles as "stepping stones" leading up their own sort of mountain. "We were exploring our sound," he said, reflecting on their DIY backlog. "All those songs were self-produced and recorded, except for 'Got Nobody' which we tracked in Nashville with Don Bates."
For their official debut LP, Chuck Mountain turned to Benjy Johnson at Earthtones Studio in Greensboro. "Benjy was awesome to work with," Wigington said. "The production is pretty straightforward — we didn't want to go too wild with overcomplicating it. We just wanted it to sound huge."
Drawing from influences ranging from Wolfmother and Cage the Elephant to Gary Clark, Jr., Blackberry Smoke, and the Cadillac Three. Chuck Mountain offers a variety of sounds often expounded from a trio, "Fool's Journey" is thickened by added guitar work from Seth Williams, Anthony Mancini, and Andrew Davis from Them Dirty Roses (who also mixed and mastered the record). 
Williams appears on the upcoming "Moonshine" single, a song that Wigington wrote years ago, intended as a theme song submission for the "Moonshiners" television show.
As for the beer, its official title is still pending approval from the North Carolina Alcoholic Beverage Control Commission, but some variation of "Chuck Shine" is in the brewing process. "It'll be a hazy pale ale featuring galaxy hops. Dry and crisp and packing a punch at around 6% ABV," Wigington explained, pointing to the Kveik yeast that speeds up the fermentation process. "We wanted to carry the spirit of moonshine — with a quick process and only available if you knew where to look." 
Those looking to indulge should head to the Little Oblivion Brewing taproom in Graham, where it'll be released exclusively through their work with brewer, Eric Lebsack.
As for the band, Chuck Mountain will return to Oden Brewing on May 6; and rock the stage at the Power & Sound Revival in Elon (along with hosting a cornhole tournament while camping at the weekend festival) May 19-20. They'll also be at Craft City Sip-In in Greensboro on May 27 and at Southend Brewing on June 2.
"Moonshine," the latest single from Chuck Mountain, is out April 28. 
Katei Cranford is a Triad music nerd who enjoys spotlighting artists and events.