Members of the Haus of Lacks collective continue constructing avenues to build greater arts communities around Greensboro with their latest series Underground Now. 
The bi-monthly programming endeavor launched in June, and features two artists sandwiched around a "discussion centering empathetic community building through the arts in a post-pandemic climate." Initially slated through August, the series will roll into the fall, with dates tentatively scheduled through October.
"We hope that providing an opportunity to invest in local artists leads to overall investment in our community," said members of the Haus, who speak collectively, "and also open pathways to participate in larger conversations about the vibrancy and efficacy of the arts community in Greensboro."
Taking their name from Henrietta Lacks, "a Black woman with the first known case of immortal cells—which never die and continue to multiply— led to advancements in medicine beyond comprehension. And they never recognized her for it," they said. Turning to their work in the Triad, "the songs, voices, and truths of our communities are our immortal cells. They never die. They multiply. The Haus is here to make sure we recognize them."
Uplifting artists and bestowing recognition is one pillar on which the Haus hinges. "Offering visibility and opportunity for artists so they can have a platform to speak their truths," they defined. The other involves "bridging the gap between those artists and their community members to help facilitate empathetic and educational conversations."
The Underground Now series builds upon both. "We really want to invite people to the table with love, so a lot of the impetus for these shows is to build out a safe, intimate space, where artists can express themselves free of judgment, expectation or censorship," the Haus explained. "We try really hard not to force the music, or the inevitable conversations, into a box by leading conversations in a specific direction, but rather offer artists a platform to do what they were made to do: share ideas."
The Haus holds their ideas like torches lit by five founding members: Justin 'Demeanor' Harrington, Savannah Thorne, Virginia Holmes, SeLena Little, and Maia Kamil - who "came together during the wake of George Floyd's murder - and executed the "Black Elm Street Project." Harrington, Holmes, and Thorne continue, "carrying those torches under the nonprofit Haus of Lacks, centered around the same mission and vision."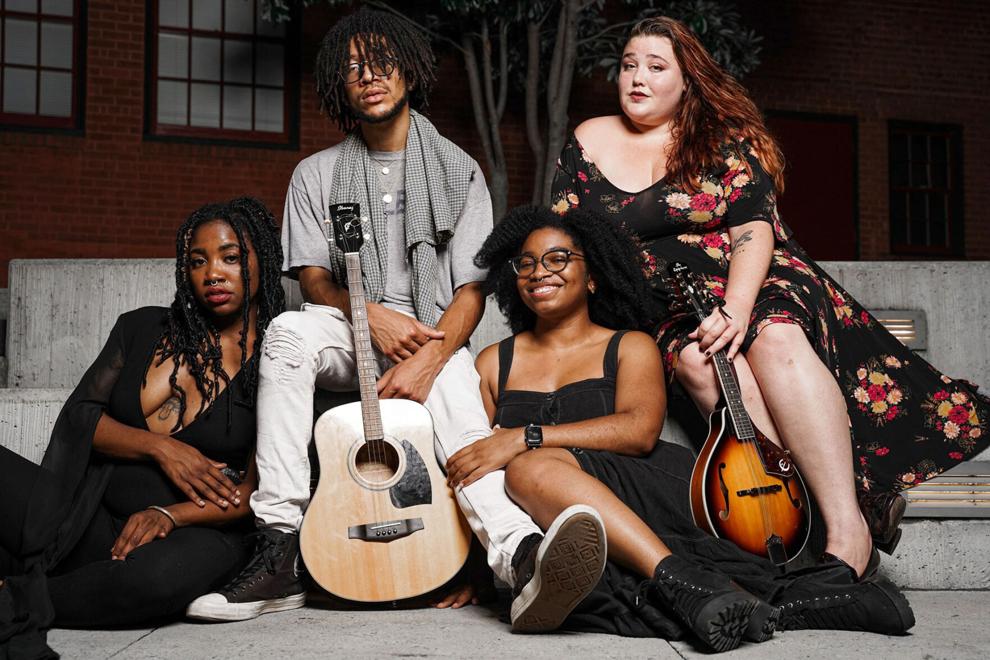 Their unique, but complementary, backgrounds provide a certain poise to their pursuit. Harrington (who performs as "Demeanor") is a musician, along with Kamil (who specializes in ethnomusicology). Holmes is a visual artist who also founded the Haze Art Collective and co-founded The Collective GSO. Little is an arts administrator and project manager for the ACOBE Festival, who, along with Thorne (an art historian), was involved in the Greensboro chapter of "SoFar Sounds," a nationwide network hosting pop-up music events. 
"Because we each individually interface with different aspects of the artistic process," they said reflecting on their backgrounds, "we see the disparities that marginalized voices face in each of these fields, we're able to focus our programming in hyper-specific ways to make the act of expression—from pop-up shows to galleries—as equitable as possible for the artists we serve." 
While the five were acquainted before building the Haus, it was during the protests following the wake of George Floyd's murder that truly brought them together. "Greensboro has deep artistic roots, and the community here is very strong. It seems everywhere you go, you run into someone you know," they noted. "And we all found ourselves drawn downtown after the news broke - and like most people, we were all soaked in grief and anger. Although we didn't go downtown together, it became apparent from the beginning that the people called to lead were members of the arts community," they explained. "Later, when the protests had settled down and we had time to reflect, our mission and vision started to come together." 
Taking the helm, armed with the notion of artists as "culture-bearers for the community," they began collaborating on the "Black Elm Street Project," a demonstration and performance platform, and actual app (developed by musician Ben Singer) wrapped in one package, serving as a catalyst to the Haus of Lacks. 
"We knew we wanted to do something for Juneteenth - but only had about 20 days to organize and pull off a pretty large vision - so we set out to create this giant proof of concept," they explained of their inaugural endeavor. "We placed ten artists downtown and equipped each with a specific disparity facing the black community—everything from healthcare to education, to police brutality. They had 30-minutes to create a set of their choosing to express what that specific disparity meant to them." 
The intention was multi-faceted. "On the one hand, we wanted to make sure there was representation for the Black folx, who desperately needed to see themselves reflected on stage. On the other, we wanted to educate in a way that was accessible and approachable for folx who weren't dealing with these disparities on a daily basis."
The result of "Black Elm Street" was "a beautiful testament for us that five people who barely knew each other could create something meaningful in less than three weeks," they said. "From there, we took the momentum and ran with it."
Within a few days, they had fiscal sponsorship aiding their formation as a 501c3 nonprofit. And began drafting their mission. "The Haus maintains that artists aren't simply decorative, which at our core is the motivation for our existence," they explained. "And artists are, at the core of their being, members of our community, who have the hefty job of synthesizing their experience and feel called to express that information in a way that resonates with the community."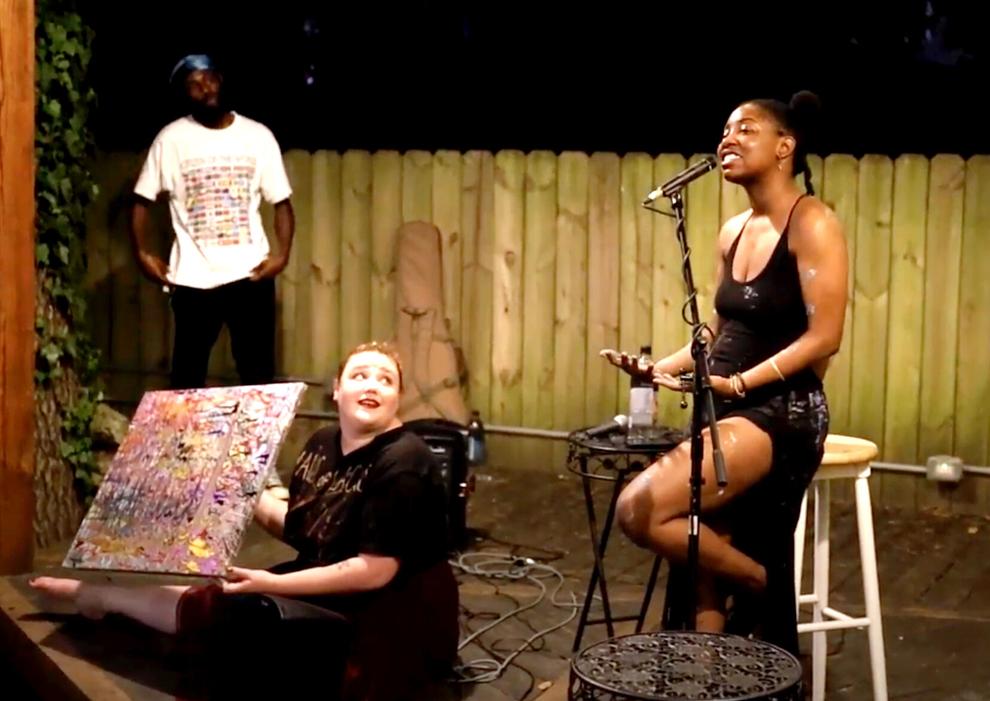 The Haus sees their mission as a nonprofit to, "build out intentional spaces to celebrate the inherent humanity in artistry, and to make sure that we aren't separating intention from the art we are consuming," they said. "Art is created with a purpose; we want to make sure that it is consumed with its purpose."
Defining their purpose as an avenue for action, the Haus contends, "there are many efforts around the world that use art to underscore societal issues. We've seen people perform at protests, we've seen artists perform at the White House, we've seen artists create campaign flyers. All of this is beautiful, yet sometimes it seems that art is used to decorate a problem rather than respected as an actual solution," they noted. "We're here to build community, to fight for a better future together." 
From a holistic perspective, the Haus sees artists as community voices. "They're brave souls that speak intimate truths about the realities we face," they said. "Bridging gaps between people, artists are crucial to societal development, and we firmly believe that by empowering the artist community, we'll build a more compassionate future." 
Acknowledging "artists aren't the only pieces in the puzzle," the Haus sees art as the "connection between us all," with DIY efforts driving that connection. "Grassroots organizations are more in touch with the reality of creation, and the realistic needs of artists outside of profit margins," they explained. "Obviously, major institutions love the spirit of expression just as much as the underground scene, but there's a deep value in creating opportunity out of necessity."
Exploring disparities within the art world, and the issues around the "trickle-down Robinhood" method utilized by major arts organizations, the Haus aims for a more equitable approach. "That's not to say that working with these institutions can't be incredibly beneficial for an artist from any background, or that they don't offer some incredible opportunities," they said, "but the sudden emphasis on inclusion and equity doesn't automatically deem historically wealthy, white institutions as safe spaces." 
Finding their own balance has been vital—the Haus is currently working on galleries with the Center for Visual Arts, sits on a community board with the North Carolina Folk Festival, and is involved with the award-winning "Pieces of Now" exhibit at the Greensboro History Museum. And within that, they've internalized a quote they attributed to Carly Jones (of the North Carolina Arts Council): "it's okay to work inside of these institutions, as long as you agree to be a disruptor." 
That agreement has shaped their goal of "flooding as much of the Greensboro artist community into the programming as possible." An approach with which the Haus also shifts to the holistic. "And not just their art, but their stories," they explained, referencing their work on "Pieces of Now," which goes beyond the interviewees' motives to paint during the protests; extending to "what that expression meant for those artists in the context of experiences growing-up in Greensboro."
The focus of the exhibit itself, which opened in September, revolves around street art created during the protests, along with photos, and video interviews with artists and organizers, while inviting the community to share their experiences around the current events facing our area today. Holmes, Thorne, and Emilio Marz (of the Collective GSO) created the entry piece for the exhibit, which includes the art piece Holmes made on the storefront of Cheesecakes by Alex during the protests.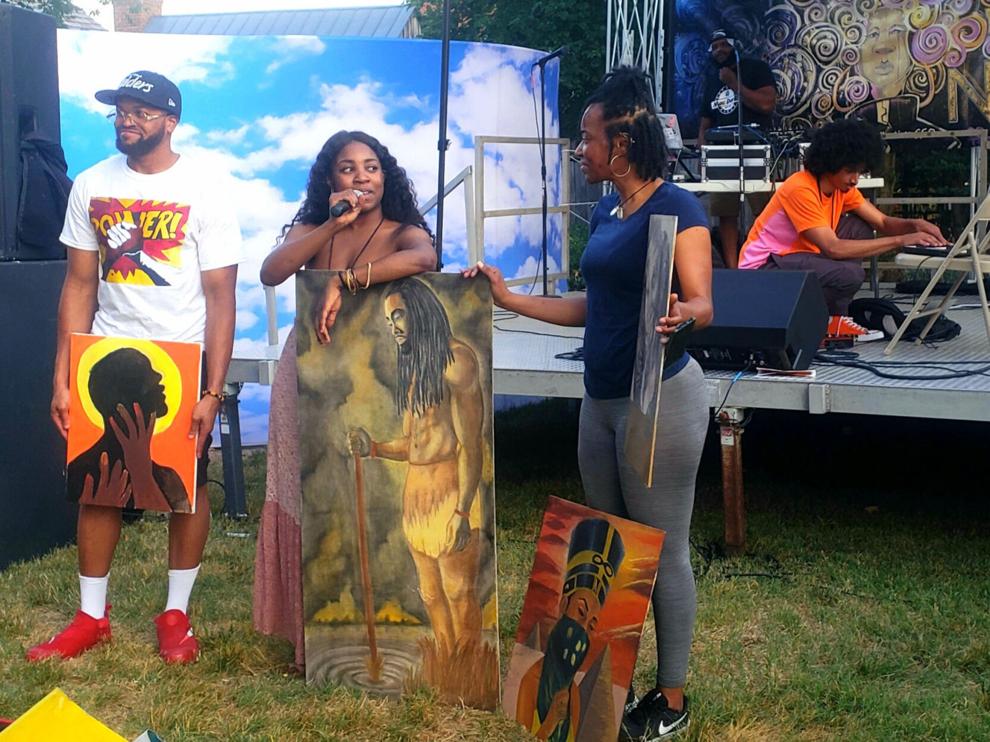 The Haus celebrated the anniversary in June by hosting the "Reflections on Pieces of Now" party, with DJs, art installations, hip-hop artists, and more than 250 attendees in the museum's Mary Richardson Park. "It set a standard for what can be accomplished when unity is not a topic but also an action," they said, noting their excitement to continue collaborating with the museum as "aids to ever-changing history, setting new precedent, breaking cultural boundaries, and archiving Greensboro History."
From archiving the history to active creation, the Underground Now series was launched a few weeks later. "We joke that after every great plague comes a renaissance - but in many ways it's inevitable," they said. "The goal has really been to make sure there's a new standard for when artists come back to performing regularly in Greensboro." 
The "intimate" concert series takes several cues, and artists, from Thorne's SoFar shows—of which the Double Oaks was also a venue—the Bed and Breakfast boasting a more interesting set of programming and libations than seen in similarly lofty spaces. And the Underground Now series being more affordable and accessible than the So Far variety.  
Beginning with Leroy Pridgen and XOXOK in June, the following sessions saw performances from Sonny Miles and T. Walker; and Sunqueen Kelcey and Debbie the Artist. 
The next round on Aug. 15, will feature rap artist Chris Meadows and producer Jordan Lee, whose impressive credentials include ACOBE Festival founder, Entertainment Arts Curator for Guilford County Schools, and Director for the Modern Music Production Program at Penn-Griffin School for the Arts in High Point.
"We're psyched," the Haus said of the upcoming session and extending the series through the fall, possibly longer. "If we continue having the incredible support that we've received so far," they said. "This has been such an eye-opening experience for us - perhaps it's just because we've had a devastating pandemic, but we've found Greensboro to be more open, willing, and excited to consume and support the arts than ever."
Beyond live shows, the Haus is developing "Underground Everywhere," a docu-series about "humanity in creation, featuring local Black artists at historic Green Book sights." And "Underground All-access," an online educational outreach series of master classes and workshops for upcoming artists.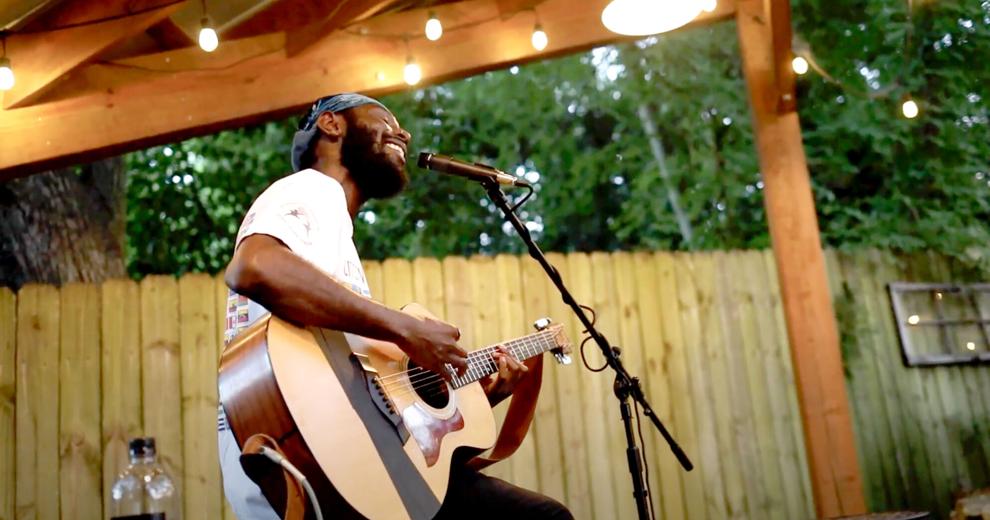 "An important piece of our work is providing as many opportunities as possible," they said. "We're all artists in our own right, so we've been through the gauntlet. We know what it's like to put your everything into something which doesn't exactly pay the bills. Art doesn't exist in a vacuum, we're doing our part to support, uplift, and empower those who are narrating our world." 
"This city has limitless potential," they continued. "We can't wait to keep building and see where it goes in the next few years. Hopefully, the work we do here also lends itself to communities around North Carolina and beyond."
With several projects in the works, including collaborations with the NC Black Creatives Revival, galleries with CVA, and several secret projects underway, the Haus continues to build. 
"Anything we CAN do, we WILL do," they said. "Promise."
The next edition of "Underground Now" will feature Jordan Lee and Chris Meadows on Aug. 15 at Double Oaks in Greensboro.