Blues-rock monster touring in support of new album "Emotional Gangster"
Popa Chubby, whose 30-year career hit new highs with a recent Guitar Magazine cover and a rave Rolling Stone review for his most recent album "Emotional Gangster," will bring his fierce and soulful sound to The Ramkat in Winston-Salem on Wednesday, March 22, 2023.
Over the course of a career that dates back to 1994, Popa Chubby, AKA Ted Horowitz, has been a force of to be reckoned with on the guitar, and his tempestuous, soulful playing has never been more powerful. An imposing figure with a shaven head, tattooed arms, a goatee and a performance style he describes as "the Stooges meets Buddy Guy, Motörhead meets Muddy Waters, and Jimi Hendrix meets Robert Johnson," Popa Chubby is an endearing character who is one of the genre's most popular figures.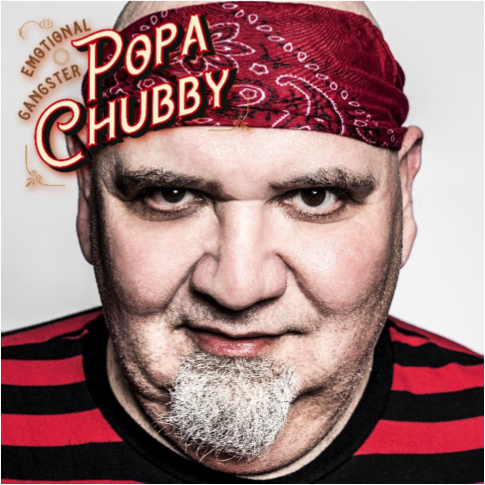 A native New Yorker, Horowitz's first gigs were in the NYC punk scene where he was immersed in rock 'n' roll as theater. He learned from other legends playing CBGB's at the time, including the Ramones, the Cramps, Richard Hell, whose band, the Voidoids he joined, that rock 'n' roll should be dangerous.
"Musicians like the Ramones and the Sex Pistols weren't just bands," Horowitz remembers. "They were a threat to society."
The blues, however, was the foundation of his playing style. And the blues was no less edgy than the punk of his youth.
"Since I'd grown up on Hendrix, Cream and Led Zeppelin, when I started playing blues in New York clubs I understood that the blues should be dangerous, too," he said. "It wasn't just from playing in punk bands. Howlin' Wolf and Muddy Waters were dangerous men. They'd cut or shoot you if they thought it was necessary, and Little Walter packed a gun and wouldn't hesitate to use it. That danger is a real part of the blues and I keep it alive in my music."
That edgy, dangerous mood is as relevant today as ever it was in history, he says.
"I'm living in a wild time, and that is where the inspiration is drawn from," he said. "There are my issues, but the picture is much bigger than me and my situation. Everything is breaking down in the world. The lines are being redefined. We all need something."
Popa Chubby will appear at The Ramkat in Winston-Salem on Wednesday, March 22, 2023.
o   170 W. 9th St, Winston Salem, NC 27101
o   336-391-8282