Black Violin Set To Bring Holiday Tour To High Point

Give Thanks Tour highlights giving back to others through music and youth empowerment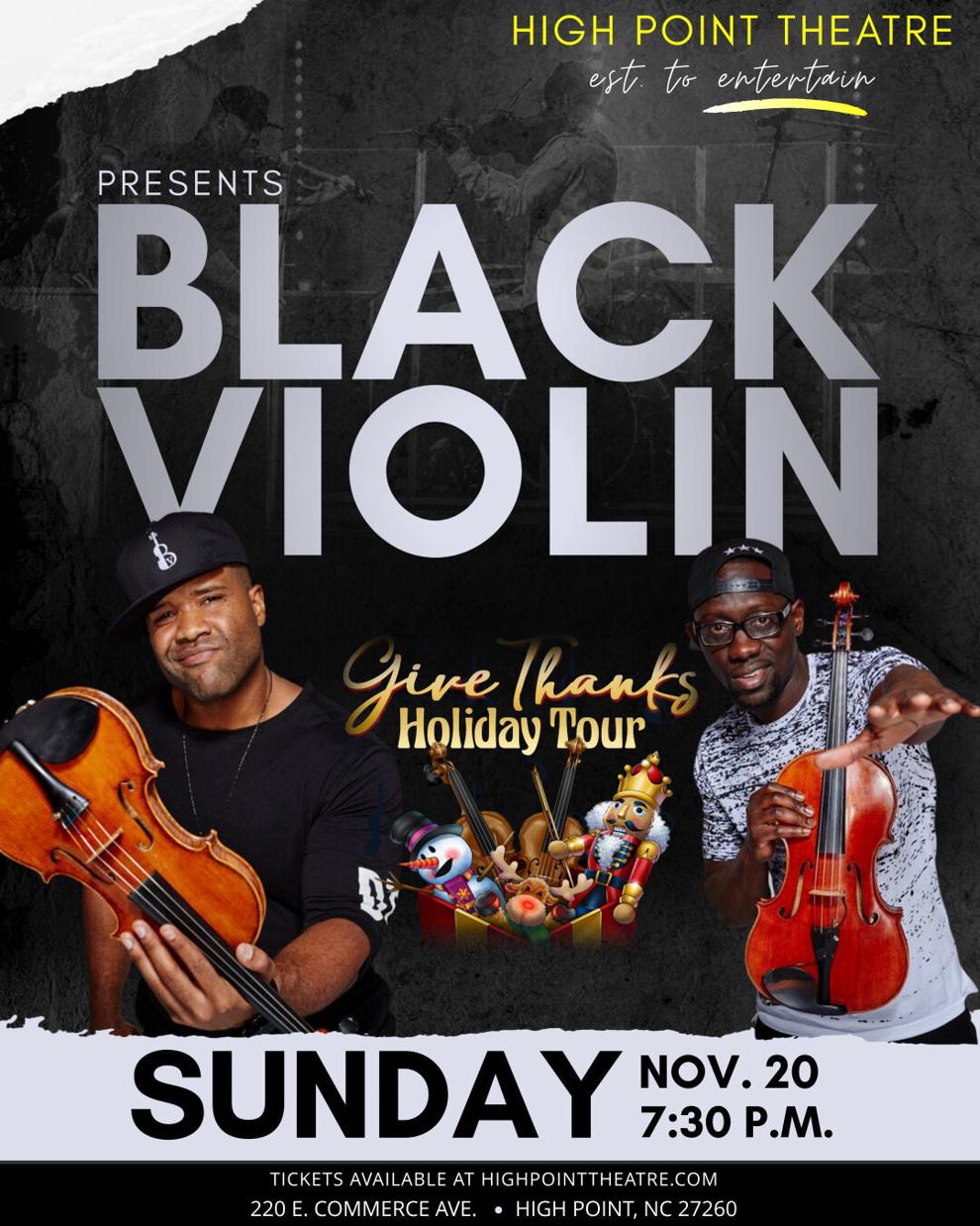 HIGH POINT, N.C. (Nov. 17, 2022) –Nationally-acclaimed string instrumentalists, Black Violin, return to High Point Theatre on Sunday, Nov. 20 at 7:30 p.m. with their Give Thanks Holiday Tour.
For 17 years, the award-winning, classically trained duo – comprised of Wil B. (viola) and Kev Marcus (violin) – has merged string arrangements with modern beats and vocals, all while building bridges in communities along the way.The tour employs playful storytelling, whimsical string melodies and hard-hitting beats from the band's Grammy-nominated Take the Stairs and Give Thanks albums, respectively. Joining them onstage will be DJ SPS and drummer Nat Stokes. Most recently, Black Violin received their second Grammy nomination for "The Message," a collaboration with legendary Gospel group, the Blind Boys of Alabama.
Each ticket purchase helps to benefit the Black Violin Foundation, Inc., a non-profit organization dedicated to empowering youth by providing access to quality music programs in their community. The Foundation's inaugural program, the Musical Innovation Grant for Continuing Education, will provide scholarships to young music students to attend a program of their liking that fosters musical creativity and innovation.
"Black Violin has become a Triad favorite over the past few years, and we're excited to have them back with us," said David Briggs, director of the High Point Theatre. "Their energetic approach to classical and hip hop music is sure to make this performance unforgettable for everyone attending."
Discounts of $5 per ticket are available for High Point residents and groups of 10 or more. To receive the resident discount, please call the box office directly at (336) 887-3001, Monday - Friday 12 noon – 5:00 p.m. For more information, please visit www.highpointtheatre.com.
Who:              

Black Violin


What:          Give Thanks Holiday Tour
Where:         High Point Theatre
                   220 E. Commerce Ave.
                    High Point, N.C. 27260
When:          Sunday, Nov. 20
                   7:30 p.m.
                   Doors open at 6:30 p.m.
The City of High Point aims to serve as the catalyst for bringing together the community's human, economic and civic resources for the purpose of creating the single most livable, safe and prosperous community in America. For more information on the City, visit www.highpointnc.gov.