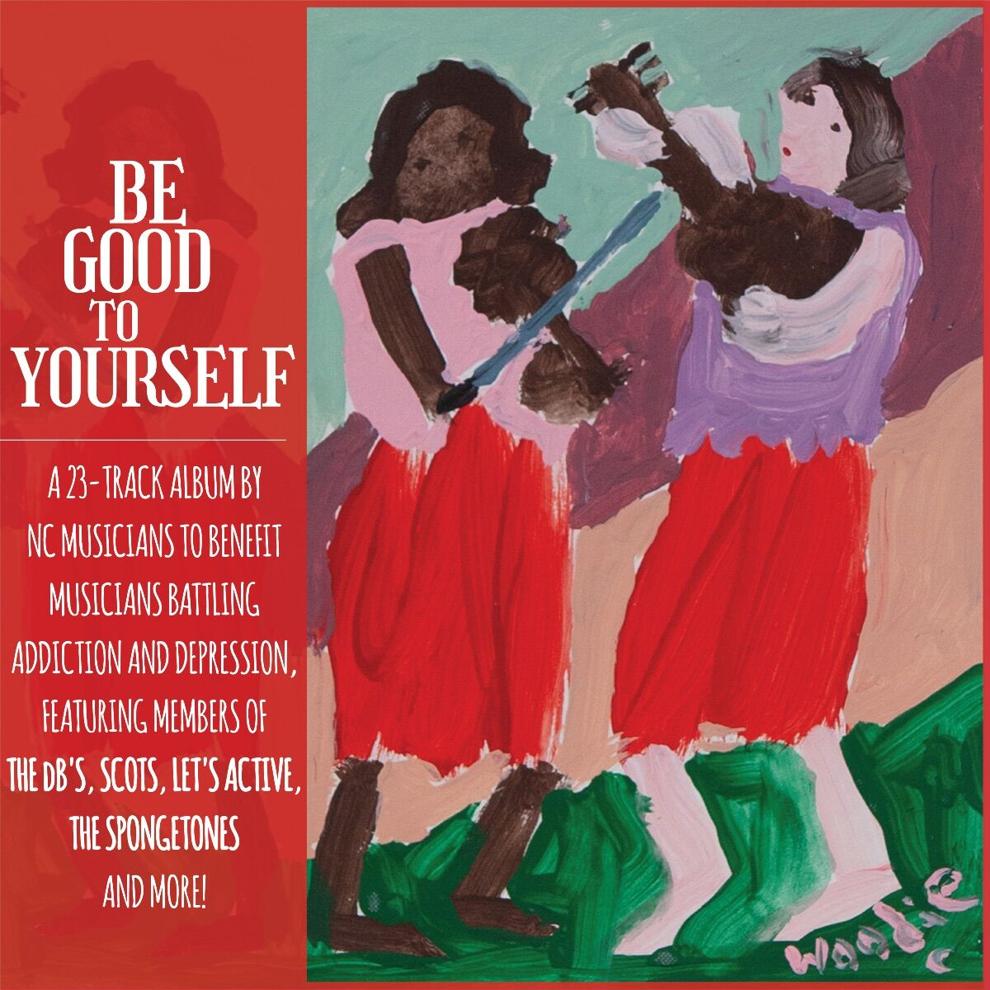 BE GOOD TO YOURSELF
A benefit album with an all-star cast to help uninsured NC musicians battling mental-health challenges and substance abuse 
Release Date: November 8, 2021
Produced by Chris Garges, Ed Bumgardner, Rob Slater
Recorded and mixed by Chris Garges at Old House House Studio, Charlotte, NC 
Mastered by Scott Craggs at Old Colony Mastering, Scituate, RI 
Vinyl lacquer master cut by Jeff Powell at Take-Out Vinyl, Memphis, TN
In the fall of 2019, three veteran North Carolina musicians - Ed Bumgardner, Rob Slater, and Chris Garges - decided to record a benefit album to help pay for mental-health treatment for uninsured North Carolina musicians battling addiction and severe depression. 
The album was to be 10 tracks, performed by an all-star cast from the broad NC musical community. 
Then came the COVID-19 pandemic.
Now, two years after the first sessions, comes the completed Be Good To Yourself benefit album.
Basic tracks were recorded at Old House Studio in Charlotte by Chris Garges. Due to the restrictions of the pandemic, 29 additional recording studios chipped in to record vocals and overdubs during the recording process.
What started as a 10-track concept is now 23 songs, featuring more than 60 musicians, all but three from NC. Among the participating musicians are Rick Miller and Mary Huff of Southern Culture On The Skids, Libby Rodenbough of Mipso, Bill Lloyd, Mitch Easter, Peter Holsapple, Snüzz (Britt Harper Uzzell), Doug Davis, Don Dixon, John Howie Jr., Caitlin Cary, Rod Abernethy and Robert Kirkland, Jeffrey Dean Foster, Danielle Howle, Kenny Soule, Brett Harris and Steve Stoeckel and Jamie Hoover of The Spongetones, and members of the Charlotte Symphony Orchestra.
Among the NC songwriters whose work appears are such well-known talents as Mitch Easter, Snüzz, Ben Folds, Peter Holsapple, David Childers and Terry Anderson, as well as less-known but extraordinary NC composers Peter May, Sunshone Still, Bruce Hazel (Temperance League) and Matt Faircloth (The Houston Brothers)
THE MUSIC:
The backing band on all tracks is The DeFacto Brothers: Chris Garges, Ed Bumgardner, Rob Slater, Gino "Woo Funk" Grandinetti, Doug Davis.
Musicians associated with following musical enterprises appear on Be Good To Yourself: The Spongetones, Mipso, Temperance League, Southern Culture On The Skids, The dB's, Let's Active, Sneakers, Asleep At The Wheel, Foster & Lloyd, Arrogance, Ben Folds, The Yayhoos, Pan Rocks, The Popes, The Olympic Ass-Kicking Team, The Fabulous Knobs, the Charlotte Symphony Orchestra, The Houston Brothers, Bunky Moon, The Mike Strauss Band,  The Temptations, The Four Tops, Whiskeytown, The Eyebrows, Magnolia Green, Ancient Cities, and Rosewood Bluff.
CD 1
01. ESSENCE  Māya Beth Atkins: Vocals. (05:25)
02. AWAY WITH LOVE Snüzz: Vocals. (03:36)
03. WHY DOES IT ALWAYS RAIN ON ME? Libby Rodenbough: Violins, cellos, vocals. (04:00)
04. GETAWAY CAR  Don Dixon: Vocal. (02:38)
05. DREAMS THAT SHONE LIKE DIAMONDS Mike Strauss: Vocal. (05:18)
06. PILLS  Bruce Hazel: Harmonica, vocal; Peter Holsapple: Accordion; Marlene Ballena:  Cellos; and Tim Gordon and Greg Jarrell: Saxophones. (02:58)
07. SHORT FLIGHT TO JORDAN  Peter May: Acoustic guitar. (00:36)
08. FREE TO GO  Josh Daniel: Vocal; Joey Recchio: lead guitar; Larry Carman: Drums. (04:15)
09. THE SAINT OF LOST CAUSES Bruce Piephoff: Vocal; Larry Carman: Drums; Roberto Orihuela: Vibraphone; Brad Wilcox: Muted trumpet.
10. WHILE THE WORLD CAREENS  Bill Lloyd: Vocals. 
11. THUNDERBIRD  Rick Miller: Lead vocal; w/Mary Huff: Background vocal; Steve Stoeckel: Bridge "choir" vocals.
12. GHOSTLAND  John Howie Jr.: Lead vocal; w/Caitlin Cary: Harmony vocal; Randolph Lewis: Palm-pedal guitar solo and fills; Dan Hood: guitar.
13. BARSTOOL Justin Faircloth: Vocals, synthesizer; Marlene Ballena: Cellos; Stephen Warwick: Harmonium, background vocals.
CD 2
01: FRANKENSTEIN  Chris Garges: Main drums, percussion, Mellotron samples; Kenny Soule: Additional drums; Tracy Thornton: Steel pans; Daniel Seriff: Electric guitars; Mark Stalling: Synthesizers, organ; Jay Reynolds: saxophones.
02. LATE  John Elderkin: Vocal, acoustic guitars. Ron Brendle: String arrangement; Jane Hart Brendle: Violins; Matt Darsey: Viola; Marlene Ballena: Cello. (Strings courtesy of the Charlotte Symphony Orchestra).
03. MANIC DEPRESSION  Faith Jones: Vocal. Larry Carman: Drums; Daniel Seriff: Electric guitar.
04. SOONER OR LATER NOW  Danielle Howle: Vocals.
05. RUBY BEACH Jeffrey Dean Foster: Lead vocals, guitar solo; Ava Louise Foster: vocals. 
06. BETTY FORD  Bob Northcott: Vocal; Jack Cornell: Background vocals.
07. THERE WAS A LIGHT Peter Holsapple: Lead vocal, organ. Mitch Easter: Guitar solo; Shawn Lynch: background vocals.
08. FEARLESS  Rod Abernethy: Vocal;  Robert Kirkland: Background vocal; Bob Barone: Pedal-steel guitar.
09. BE GOOD TO YOURSELF  Doug Davis: Lead vocal, keyboards; Tim Gordon: tenor and baritone saxophones; Brad Wilcox: Trumpets.
10. BETTER THINGS  Brett Harris: Lead vocals: Jamie Hoover and Elena Rogers: Background vocals.