Beloved Festival to Again Feature Live Music, Crafts, Food & Fun on the River Saturday and Sunday
Virtual Event Kicks Off Weekend Friday Night
Durham, North Carolina—The Eno River Association will present the 2021 EnoFest Sat., July 3, and Sunday, July 4 at West Point on the Eno City Park in Durham, North Carolina. After pivoting to a completely virtual event in 2020 due to COVID-19, the 2021 festival will again feature an immersive in-person experience with live music, a juried craft show, food and fun on the river. As a special bonus, EnoFest will kick off with a free virtual event streamed on Friday, July 2.
The Festival will showcase over 40 artists on three stages throughout the two days, including The HamilTones, Sarah Shook & the Disarmers, the African American Dance Ensemble, Lightning Wells, Javier Montano, the Tan & Sober Gentlemen, PaperHand Puppet Intervention, and many more.
EnoFest features a wide array of activities beyond the music, including a juried craft show spotlighting over 60 artisans from throughout the southeast, hand-selected food trucks and vendors, craft beers, wines, seltzers, and cider at the Eno beer garden, art, and dance demonstrations, and more – all on the banks of the Eno River. All necessary safety protocols will be in place for the Festival and tickets are limited. A sellout is expected.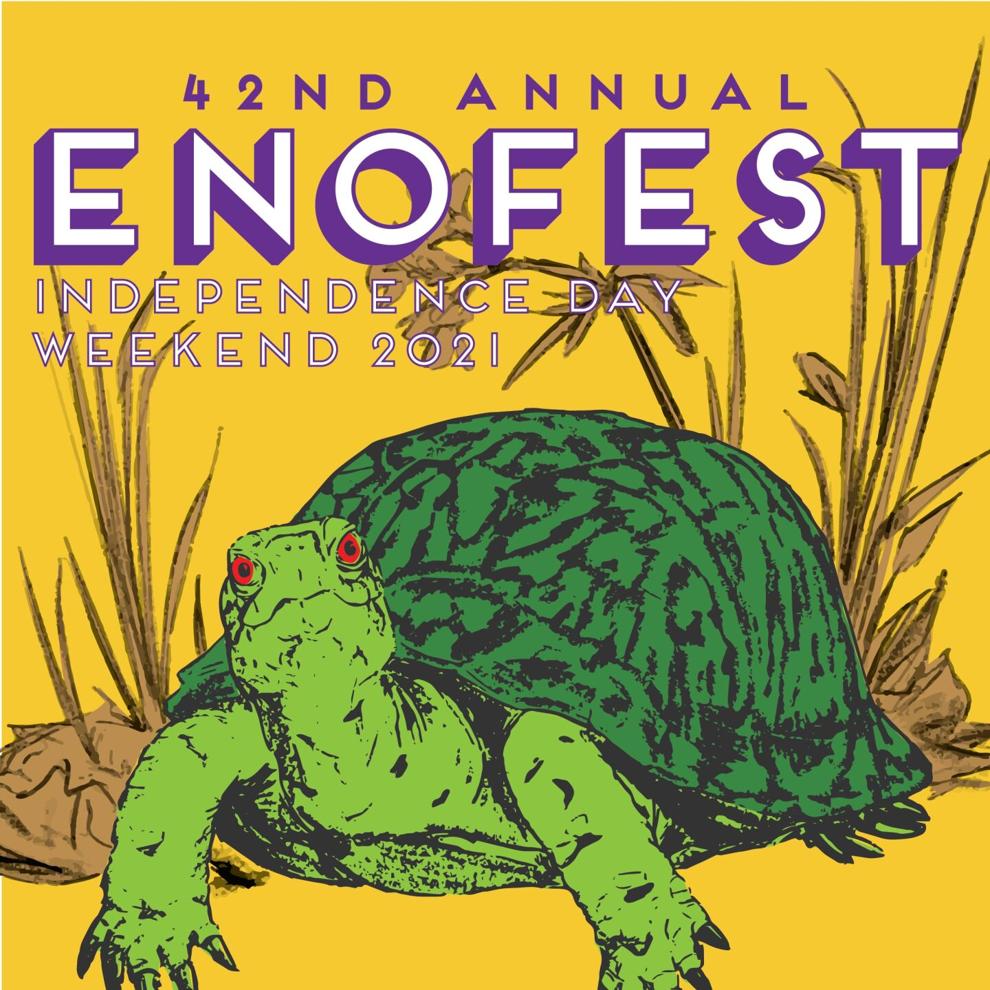 This year's EnoFest will also include a special virtual event hosted by Joe Newberry and featuring performances by Alice Gerrard & Friends, the Branchettes, Javier Montano, and the Gospel Travelers of Garysburg, NC that will air Friday, July 2nd via YouTube, Facebook, and the EnoFest.org website. The intimate concert will be filmed before a small audience Thursday, July 1 at St. Joseph's AME Church in Durham, edited and streamed the following evening.
"Last year's virtual event had the unexpected benefit of allowing us to reach supporters from far away or who have been unable to attend the Festival in-person," said Bell. "We reconnected with old friends, made new ones, and shipped our famous tee-shirts to over half the states in the country! Re-branding this year's event "EnoFest" allows for the continuing presence of virtual entertainment, in addition to the familiar Festival for the Eno."
EnoFest raises awareness and funds to protect and restore exceptional places that provide our region with clean water and healthy forests, wildlife, and natural areas and open space.
Tickets are on sale now and are available online at www.EnoFest.org. Tickets are $25 per day or $40 for a two-day pass.
About the Festival for the Eno
What: EnoFest '21, 42nd Annual Festival for the Eno
When: Saturday, July 3 and Sunday, July 4 (10 am - 6 pm each day) with a special virtual live-stream event Friday, July 2.
Where: West Point on the Eno City Park on Roxboro Road in Durham. Parking is free at the Durham County Memorial Stadium on Duke Street one mile north of I-85.
Shuttle bus: Festival visitors may purchase tickets at the Durham County Memorial Stadium and ride in free air-conditioned buses that run continuously to and from the festival site starting at 9:30 a.m. There is no parking on-site except for bicycles and the disabled.
Cost: Ticket Prices: $25 per day, $40 two-day pass, Children 5-17: $10 per day, $15 two-day pass. Anyone ages 5 and over will require a ticket to enter. Children 4 and under are free. Ticket sales are limited and sell-outs are expected. Tickets may not be available on the day of the Festival.
Info and to buy tickets: www.enofest.org, 919-620-9099 x 203
About The Eno River Association
The Eno River Association (ERA) is a 501c3 non-profit conservation organization whose mission is to conserve and protect the natural, cultural, and historic resources of the Eno River basin. The ERA is a nationally accredited, professionally staffed land trust. Since 1966, the Association has worked actively to protect the lands and waters along the Eno River and its tributaries. To date, we have permanently protected more than 7,500 acres of land for the benefit of current and future generations.