VISION AND HEARING SCREENINGS AT CENTRAL LIBRARY ON APRIL 8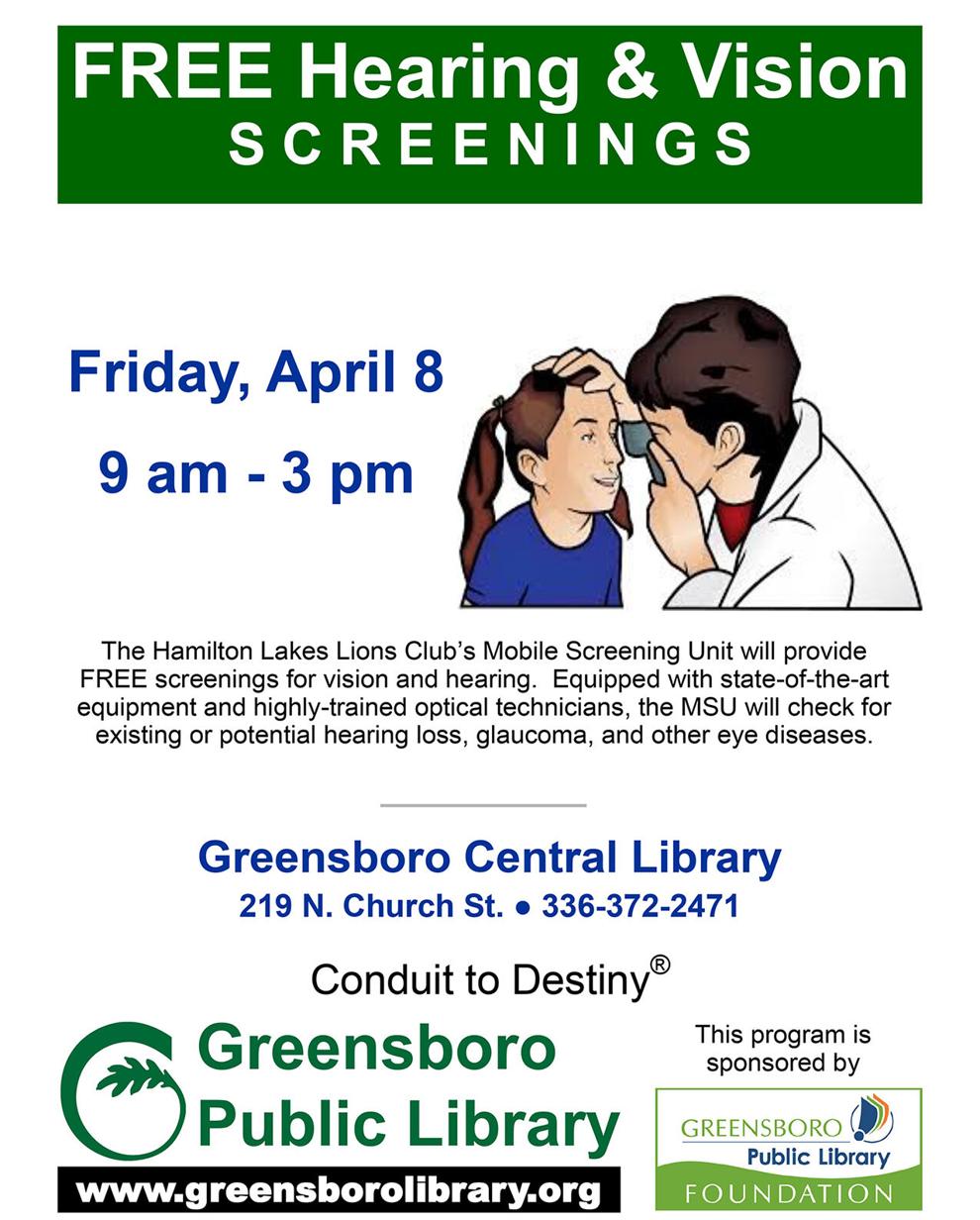 GREENSBORO, NC (March 29, 2022) – The Hamilton Lakes Lions Club will be at the Greensboro Central Library to offer hearing and vision screenings on Friday, April 8, 2020. The event will begin at 9:00am and end at 3:00pm. The screenings are free, and the public is invited to attend. 
Using their mission, "We Serve!", the Hamilton Lakes Lions Club will sponsor the Mobile Screening Unit (MSU) to provide free screenings for vision and hearing problems. Equipped with state-of-the-art equipment and highly-trained optical technicians, the MSU will be parked in front of the Greensboro Central Library to conduct the screenings for existing or potential hearing loss, glaucoma, and other eye diseases. 
Once the screens are completed, the patrons may be referred to their doctors or get information on local agencies that will provide additional follow-up services for little to no cost if problems exist. Through early detection of eye disease and hearing loss, hearing and vision screenings will prevent additional hearing loss, blindness, and many other chronic illnesses. 
The Hamilton Lakes Lions Club has served Greensboro for over 60 years and is a part of Clubs International, the world's largest service organization with more than 1.4 million members in approximately 46,000 clulbs in more than 200 countries. 
For more information about this program and other programs sponsored by Friends of Greensboro Public Libraries, please visit the web at www.greensboro-nc.gov/library or visit any branch of Greensboro Public Library System.