Thugod comes through with his "Thugolicious Sauce," for your bbq, speakers, and even a cookbook for your bookshelf. 
The "Thugolicious Sauce" itself is a sweet and spicy blend, combining Spanish, Caribbean and Soul food techniques—for what Thugod called "a cross-cultural infusion of flavors," from "a robust creation of carefully handpicked ingredients collected from generations of family recipes, Thugo-liciously blended into one unique experience."
That experience is crafted by Greensboro rapper and entrepreneur Khorrie Cochran (aka Thugod) and his business partner Nicholas Campbell. Who, influenced by the flavors of their families—especially their moms—have turned out a tomato-free BBQ sauce (made from a fruit and pepper medley) along with a cookbook of Thugo-liciously enhanced recipes; and a single to enhance soundtracks for grilling sessions. 
For Thugod, a passion for food mixes with a central focus on music. And while Campbell offers motivation and merch outlets, Thugod's music is a mostly solo endeavor, wherein he's auditioned for NBC's "The Voice" and plugged some major openers for acts like Petey Pablo, Renni Rucci, and with DJ E. Sudd (a High Point native and official DJ for 2 Chainz).
He's had "the pleasure" of lunching with Fat Joe, and working security with Young Dolph, and Chief Keef—though opening for Welterweight Champion boxer Joseph Jackson lands amongst his true honors.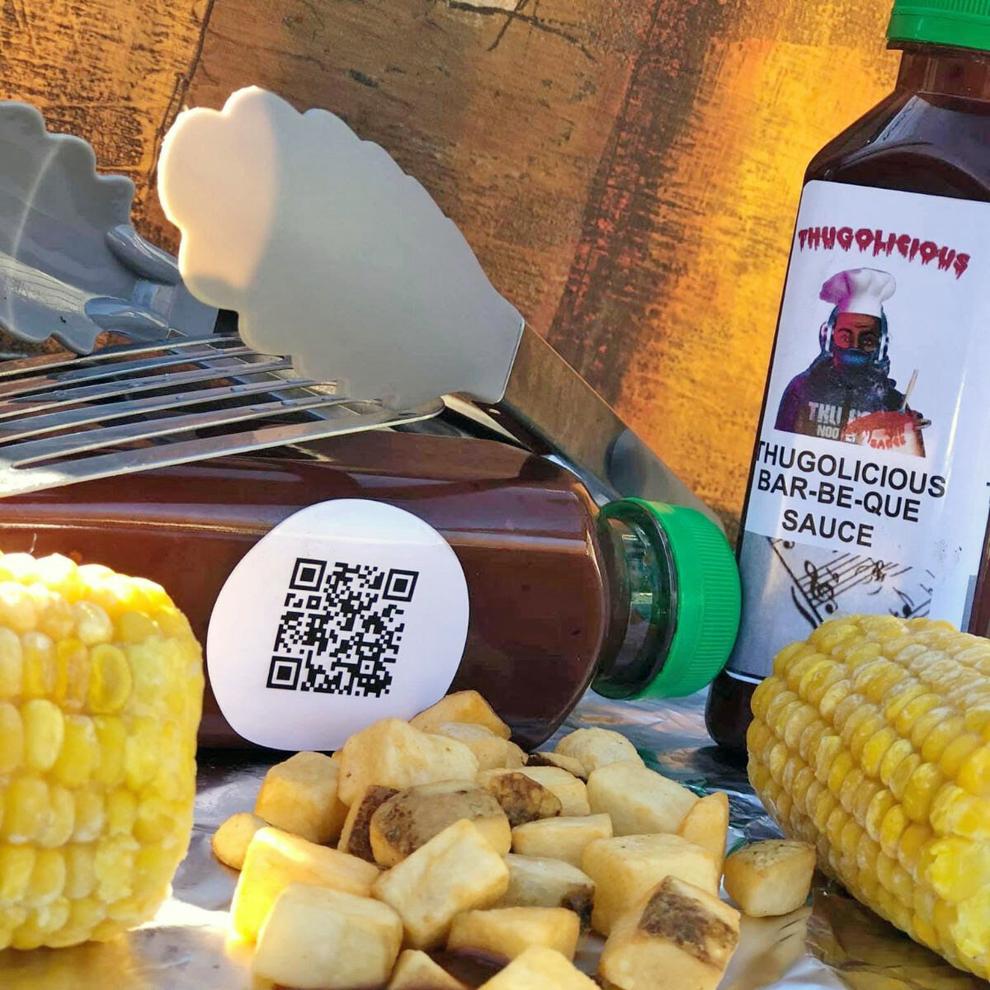 With influences ranging among major artists like Biggie Smalls, Jay Z, Nas, Eminem, Busta Rhymes, and Jeezy, Thugod's material often explores themes of betrayal, redemption, and life and death.
"It's always been said that I have street smarts," he explained of the way events in his life influence his work more so than artists. "But no one ever took the time to look under the hood," he continued, "the loss of friends, my momma—rest her soul—and a lot of betrayals influence my music most."
Guided by grief, Thugod looks to carve a musical niche, meshing hip-hop and R&B to elicit feelings. "I just let my emotions guide my music," he noted of the process behind his latest work, including the "I am Legend" and "Destiny" albums; and singles like "On My Way," "Legend," and "Only Fans." "I just love to be an artist who is creative, and goes with the flow," he continued, pointing to his new single, "Mesmerized," which boasts a reggaeton influence with guest reggae artist, Zulu. 
And while Thugod's focus centers around music, his passion for cooking cements his latest direction as an artist and entrepreneur. The "Sauce" single dropped during the summer of 2020, and the Thugolicious Sauce hit shelves the following November. He credits the success to working with his business partner. "Our minds together are unstoppable," he said. "While our journey hasn't been easy, we have an awesome team—that plays a major role in our success."
The pair's activities come together under the "Thugod Noo LLC," business umbrella, which remains aimed at "doing what we can to impact other people's lives in a positive way." A recent Thugod single, "Colorblind," was recorded as part of a Juneteenth Cypher and is included in the Greensboro History Museum's "Pieces of Now" exhibit. 
The Thugolicious Sauce was used as a secret ingredient in the Grill Godz Cookoff at the Wisdom and Words Community Festival in April, during which local chefs competed using the sauce in recipes for salmon sliders, grilled alligator, and more traditional fare, like chicken and pork chops.
Folks at home can find their own Thugolicious menu inspirations in "Sauce Cookbook: Thugod Ingredients List, Thugolicious Sauce-Cooking Instructions always hungry Bbq Grill," a recipe book the pair published in April. "We're always looking for ways to be innovative and unique," Thugod noted of their pursuit into publishing—something he'd never before considered before writing was underway. 
It's a similar story for their previously authored release, a biography accompanying Thugod's latest album, "Destiny Thugod: Mp3, Music, hip hop Thug Life Glasses- Thugod Music Life Story," which debuted over Amazon in February. "We're always challenging ourselves to be different," he said of expanding into various outlets of media, "and I feel I have a story that can impact someone's life."
The books and sauce can be found at the Town & Country Meat Produce Market on Vandalia Road and Bender's Tavern on Market St. in Greensboro. Bottles, books, and much more are available on Campbell's website: ancdecommerce.com. An endorsement from Mayor Nancy Vaughan signals the Thugolicious Sauce could give Greensboro's infamous "Boar and Castle Sauce'' a run for its money around Triad cookouts.
Thugod and company will have plenty for the tasting at their table during the next Poetry Cafe event on August 14 in LeBauer Park.