The day gets started at 8am with a "Never Forget" 20th Anniversary of 9/11 commemorative event in the Willingham Theater
(Yadkinville, NC) – The Yadkin Valley Harvest Festival finally makes its 44th debut! This festival, which has been a highlight of the fall season around Yadkinville since 1976 witnessed its first ever cancellation in 2020, and the return of the regular festivities is sure to be sweet! This year the festival will be held on Elm and Jackson Street in downtown Yadkinville on Saturday, September 11 from 10am-3:30pm and will feature over 70 vendors with an array of fares. 
The town will close Elm street and celebrate all that is good in Yadkin County from agriculture to local couture and more! Over the years, the festival has grown and evolved, meaning there is something for everyone who attends. An array of vendors are slated to line the streets. Sumptuous food offerings will tempt the hungry. This year will showcase all local bands performing on the Plaza Stage located outside of the Yadkin Cultural Arts Center featuring: None of the Above, Blues Deville, and Big Daddy Mojo.
Festivities also include Inflatables by Fun Time Inflatables, face painting, as well as caricature drawings. This is not a ticketed event, cash is recommended in order to participate in all the fun and support all of Yadkin County's local artisans.
09.11.01 ~ 09.11.21 "Never Forget" Ceremony - 8am in the Willingham Theater
While you are in town for the Harvest Festival, the Yadkin County Government and Yadkin Arts Council also invite all who are able to attend to join in honoring the first responders and victims to commemorate the 20th anniversary of 9/11 in The Willingham Theater at 8:00am. This event will feature speaker First Officer Steve Scheibner, the American Airline pilot originally scheduled to fly Flight 11 on 9/11/01, as he recounts his story detailed in the book entitled "In My Seat".
By marking the 20th anniversary, the community is playing an important role in memorializing those who were killed, honoring the sacrifices of the first responders, and recapturing the spirit of service and community that emerged in the aftermath of 9/11. This special event is being coordinated by the Yadkin County Government.
PERFORMANCE SCHEDULE:
10am – None of the Above (http://noneoftheabove.net/)
11:30am – Blues DeVille (https://www.reverbnation.com/bluesdeville)
1:30pm – Big Daddy Mojo (https://www.facebook.com/BigDaddyMojo/)
The Yadkin Arts Council's 44th Annual Yadkin Valley Harvest Festival would not be possible without the help of our wonderful sponsors including our Presenting Sponsors: Unifi, Indera Mills, Lomar Enterprise Inc. & Allen and Associates / Platinum Sponsor: Ireland Insurance / Gold Sponsors: First National Bank, and Yadkin Vision Center / Silver Sponsors: Countryside RV, Skyline National Bank / Bronze Sponsor: Edward Jones / Tent Sponsor: Gentry Family Funeral Services for providing shade for our outdoor dining area! 
2021 AMUSEMENTS & VENDORS:
Amusements: Fun time Inflatables
Handmade Craft Vendors:  Anderson Farmstead, Barbara's Unique Creations, Basically Undecided Shop, Bloomin' Plates, Country Folks, Cultivating Home Co., D-Daddy's Crafts, Encouraging the Nations, Fandabidozee, Fields of Faith Flowers, Flynt Service Company, Hummingbird Craft Shop, J & B Ceramics, Kathleen's Resining, LB Creative Designs, Little Wagon Boutique, LulaRoe by WendyGayle, Melissa's Spare Time Crafts, Michele Smith, Pocket Full of Posies, Rae Leigh Artistry, Razz Custom Woodworking, Roxanne's Vinyls, ShantyTown Woodworks, Simply Sue's Bowtique, The Barkery home of Melissa's Natural Pet Treats, The Barn Door, Twice the Charm, Whitney's Custom Glitz, Yadkin Arts Council ArtMe Members.
Agricultural Vendor: Yadkin County Farm Bureau, Yadkin Farmers Market, NC Cooperative Extension Yadkin County, and Yadkin County Master Gardeners.
Food Vendors: 4 Foster Slushies, A-Maize-ing Kettle Korn, BJ's Fry Shack, Crushers, Garden Route Coffee, LLC, Maplewood Baptist Church, Rascal Jack's Sandwich Shack, Soul to Bowl, Super Snack Shop, The Center Bistro, Tilleys Dogs.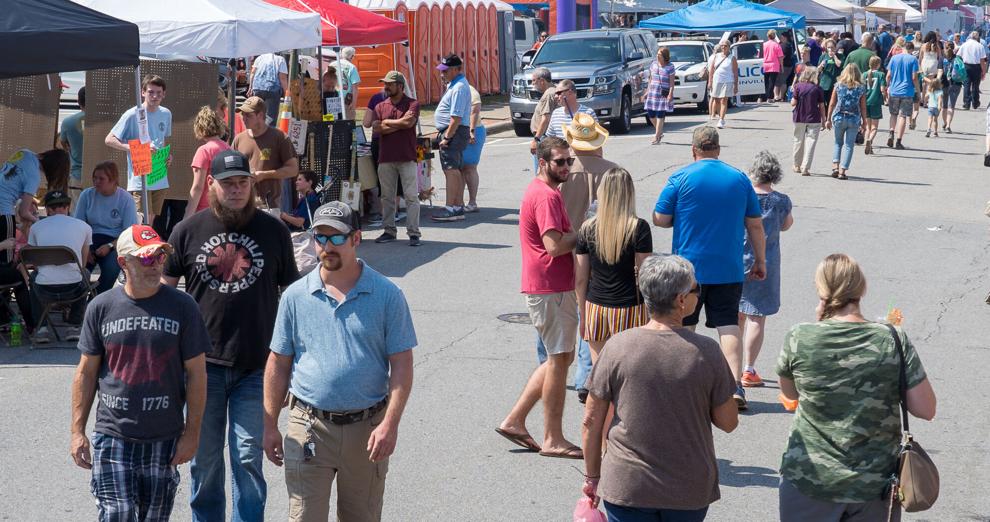 Retail Vendors: Activewear on Main, LLC, Apache Solutions, LLC, Avon, Colorstreet Nails, Unsung Hero Designs, Gassed Up, Jennagirl Boutique, Laurel Valley Boutique, Mary Kay, Prospective Press, Start Studio, Stevie Paige Boutique, The Parlor at North Bridge Boutique, Tupperware, Yadkin County Veterans Council.
Promotional Vendors: Compassion Care Center, Curves, Girl Scouts - Carolinas Peaks to Piedmont, Historic Richmond Law School, The Gideons International, Yadkin County Democratic Party, Yadkin County GOP, Yadkin County Historical Society, Yadkin Family YMCA, Yadkin Gray Eagles Camp 1765, Yadkinville Lions Club, Yadkin Vision Center, Yadkin Nursing Center.
Informational Booth and First Responders: Yadkin County Rotary Club, Yadkinville Rescue Squad and EMS, Yadkinville Fire Department, Yadkinville Police Department, Yadkin County Interact Club.
Additional Information 
Yadkin Arts Council's 44th Annual Yadkin Valley Harvest Festival
When: September 11 from 10am-3:30pm, 2021
Where: Elm & Jackson Street, Yadkinville NC 27055
Admission: FREE. For more information, email info@yadkinarts.org or call 336.679.2941.
 About the Yadkin Arts Council
Transforming lives in our community through the arts by offering opportunities to encounter, create, and participate is the Yadkin Arts Council's mission. We believe art is transformational.  Arts open minds, frees imagination, and helps people see the world from different perspectives.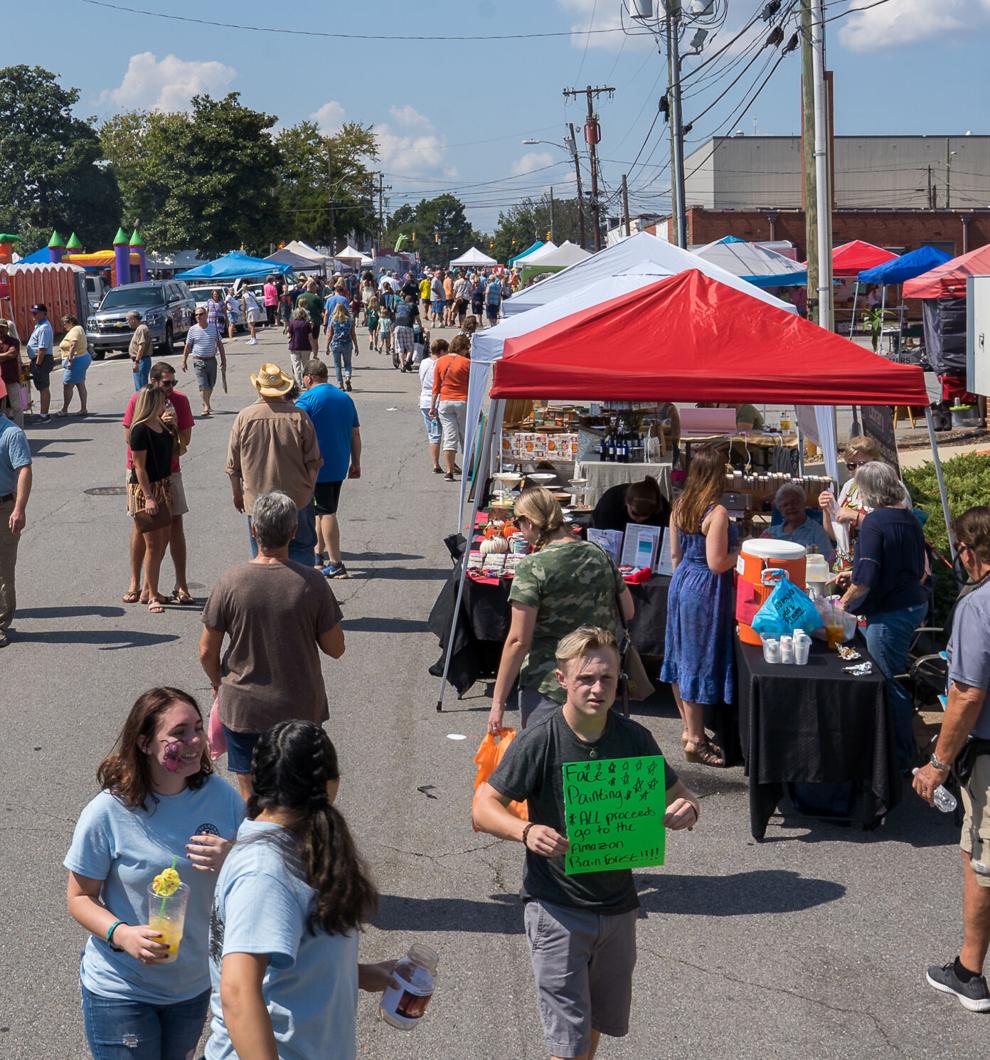 The Yadkin Arts Council is a nonprofit 501(c)3 organization dedicated to enriching the lives of Yadkin County citizens through the arts. In September, 2010, the council opened the new Yadkin Cultural Center, providing a home for the arts in Yadkin County. It encompasses the Welborn Gallery, the Willingham Theater, the Center Bistro, classrooms and meeting rooms, staff offices and working artist studios.