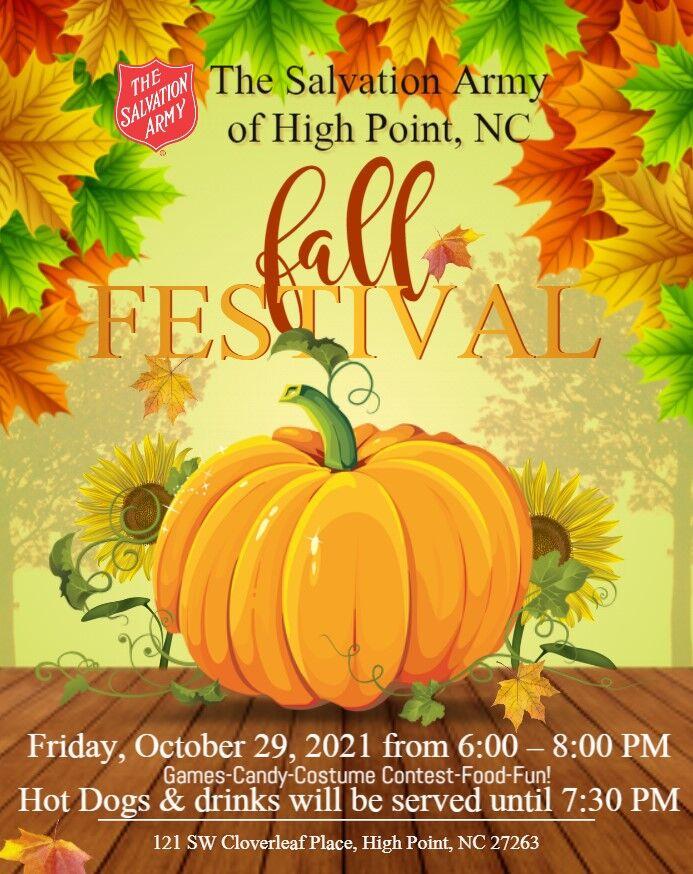 THE SALVATION ARMY OF HIGH POINT  TO HOST ANNUAL FALL FESTIVAL 
"Doing The Most Good" 
HIGH POINT, NC (October 11, 2021) – The Salvation Army of High Point is excited to host its annual fall festival event and celebration, in late October.   
When: Fri., Oct. 29 
Time: 6:00pm - 8:00pm 
Where: The Salvation Army Boys & Girls Club 
121 SW Cloverleaf Place, High Point, NC 27263 
The Fall Festival celebration will be held outdoors, is family friendly, and open to the public! Admission is free. During the Fall Festival, The Salvation Army will provide free hotdogs and candy to local community members who attend! A Costume Contest and outdoor games will allow the entire family to have a spooktacular time! Please arrive early as food stations will close at 7:30pm in order for the costume contest to begin! To ensure the safety of all guests, The Salvation Army of High Point is asking all participants to practice social distancing while having fun!  
For more information on The Salvation Army's annual Fall Festival, please call 336-881-5448. 
About The Salvation Army 
The Salvation Army annually helps more than 23 million Americans overcome poverty, addiction, and economic hardships through a range of social services. By providing food for the hungry, emergency relief for disaster survivors, rehabilitation for those suffering from drug and alcohol abuse, and clothing and shelter for people in need, The Salvation Army is doing the most good at 7,600 centers of operation around the country. In the first-ever listing of "America's Favorite Charities" by The Chronicle of Philanthropy, The Salvation Army ranked as the country's largest privately funded, direct-service nonprofit. For more information, visit SalvationArmyUSA.org. Follow us on Twitter @SalvationArmyUS and #DoingTheMostGood