Greensboro, NC - The Greensboro Farmers Curb Market (501 Yanceyville St.) will host an "Ultimate Breakfast Sandwich To-Go" fundraiser withMELT Kitchen & Bar on Saturday, December 5th, 8:30 am – 11:30 am. This tasty fundraiser will be served in a convenient take-home container to enjoy at home.
Chef Jeff Brewer of MELT and restaurant staff will be serving a special, savory sandwich with a side of farmers-market-sourced sweet potatoes made into a hearty hash. Their delicious sandwich is a brioche bun, filled with fluffy chive scrambled eggs,Neese's Country Sausage, cheddar cheese, caramelized onions, and their chipotle mayonnaise. The minimum suggested donation is $12. Supporters will receive a mini-sized, ice-cold Cheerwine can bonus, available for the first 100 orders.
Pre-orders are strongly recommended as a very limited number of meals will be available to purchase on the day of the fundraiser. Preorders can be purchased here and supporters will be offered to choose a pickup time:https://www.gsofarmersmarket.org/product/melt-fundraiser-breakfast/. Tickets may also be purchased at the Market on Saturdays from 8am - noon at the Information Hub. 
Proceeds from monthly fundraisers benefit Greensboro Farmers Market, Inc., a 501c3 non-profit, to underwrite market operations and to subsidize vendor table cost and food security programs.
An array of all-local, seasonal products will be available from Market vendors, from fresh seafood to dairy, eggs, meats, vegetables, baked goods, handmade soaps, and artisan goods. 
About the Market
Greensboro Farmers Market, Inc. (GFM) operates the Greensboro Farmers Curb Market on behalf of the City of Greensboro. GFM is a 501c3 nonprofit. GFM provides greater Greensboro with opportunities to purchase and learn about local food in a friendly and diverse setting. GFM encourages and supports the growth of local foods and artisan goods businesses to improve greater Greensboro's economy, support better health through healthy eating, and build social and community connections.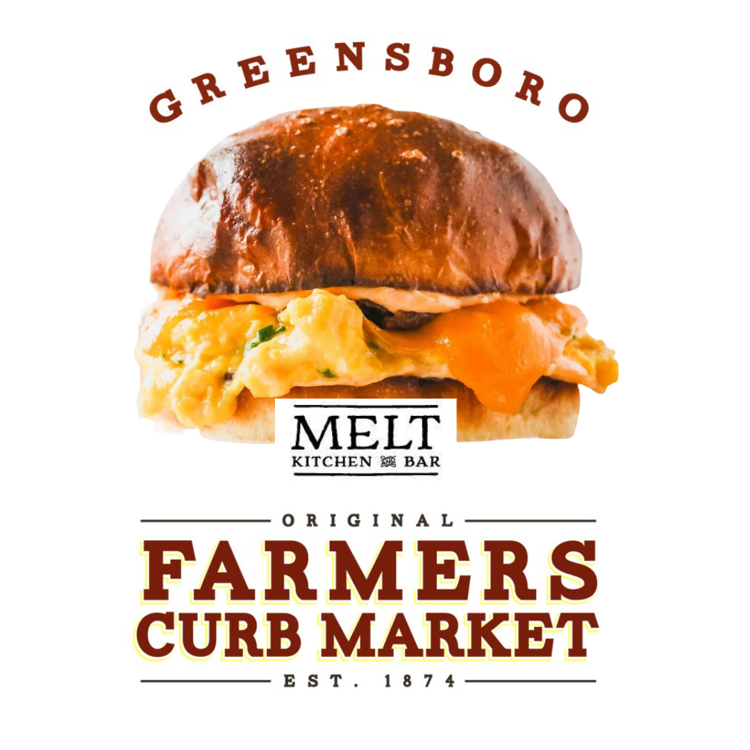 Location and Hours of Operation
The Greensboro Farmers Curb Market, 501 Yanceyville Street, is located at the corner of Lindsey Street and Yanceyville Street across from the War Memorial Stadium and operates year-round on Saturdays 8 am to 12 pm. Vulnerable shoppers can enter at 7:45 am. All patrons are asked to arrive by 11:30 as the Market closes promptly at 12 noon. In response to COVID-19 concerns, the Market is currently operating as an indoor and outdoor Market, cloth face masks are required, building occupancy capacity is reduced, airflow has been increased and visitors are asked to shop with purpose.  Visit www.GSOfarmersmarket.org for more information.