Newly named head chef Justin Webster strolls into his domain at Krankies Coffee in Winston-Salem, located at 211 E. 3rd St., refreshed and excited. He has just returned with his wife, Heather, and 4-year-old son, Levi, from the beach - his first vacation in over a year.
The 29-year-old father was given the reigns as head chef at the local favorite on April 1. But he has made sure, while making his mark at Krankies, that customers know this is no April Fool's Day joke.
Over the past year and a half as sous chef, Webster said he came up with many of the successful specials on the menu, but was running sandwiches and plate specials. The previous menu had two biscuits: the Krankies Classic: with fried chicken with Texas Pete & Honey or smothered in sausage gravy and the Egg & Cheese.
Before being named head chef, Webster said he created and added the Nashville Hot, featuring fried chicken tossed in a house-made spicy hot old blend and a dill pickle.
The newly added biscuits include:
The Lexington: Coffee rubbed/cherrywood smoked pulled pork, served with NC BBQ sauce, mayo, firecracker slaw.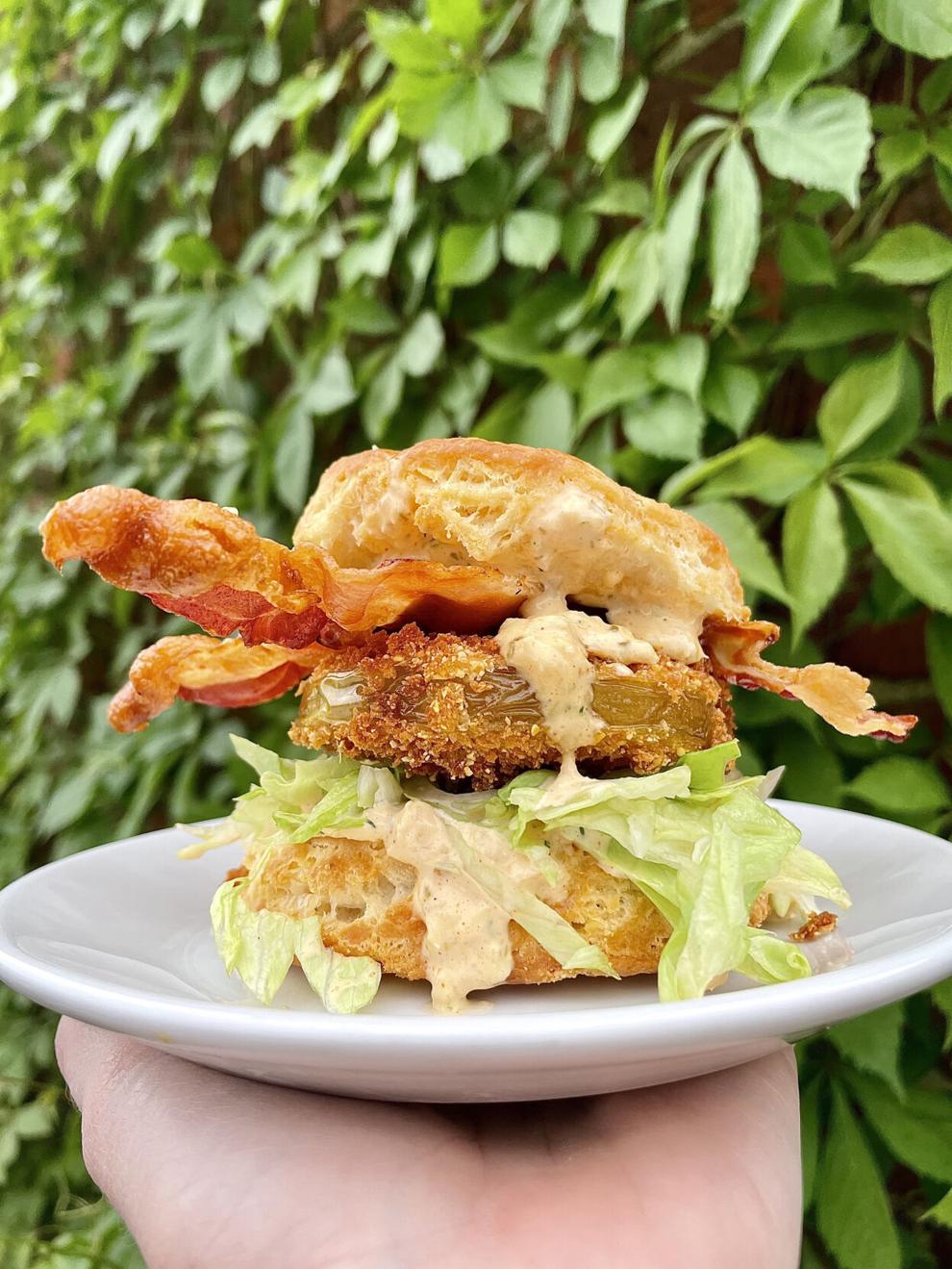 Old Dutch: Fried green tomato served with shredded lettuce, applewood smoked bacon, charred onion remoulade.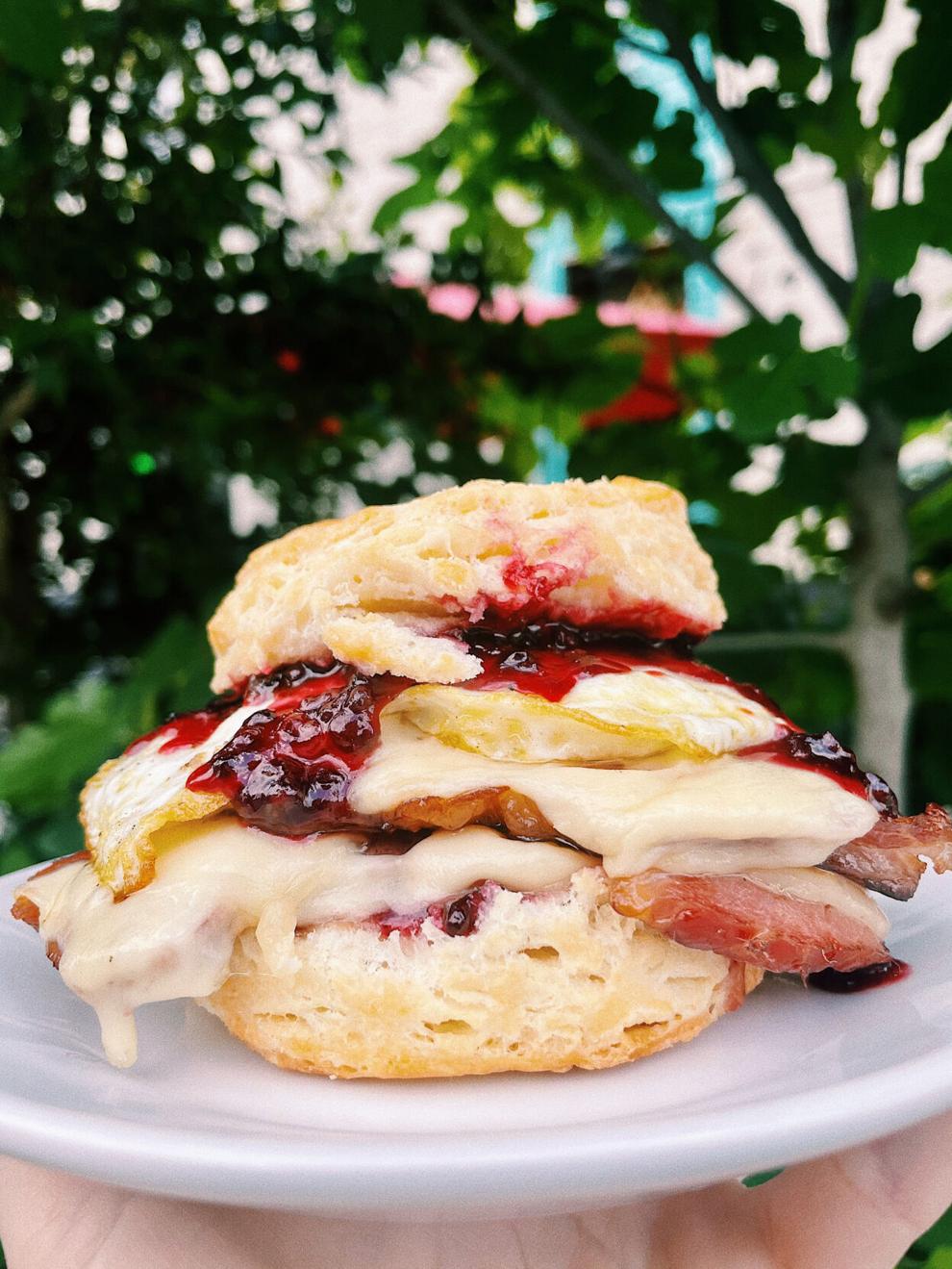 Ham Jam: Thick-cut cherrywood smoked ham topped with Swiss cheese, a fried egg, rotating seasonal jam.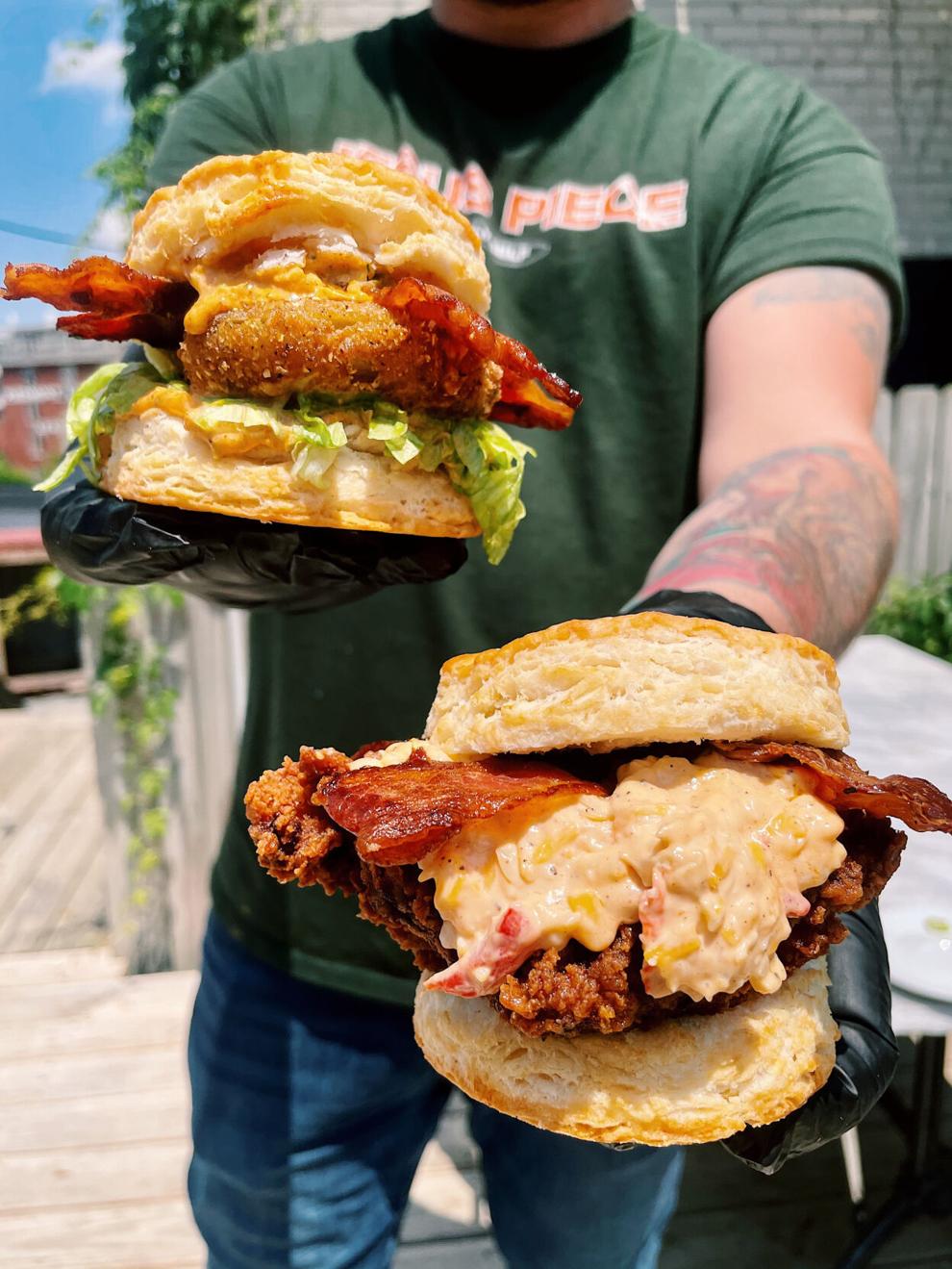 Dirty Bird: Fried chicken topped with pimento cheese, applewood smoked bacon.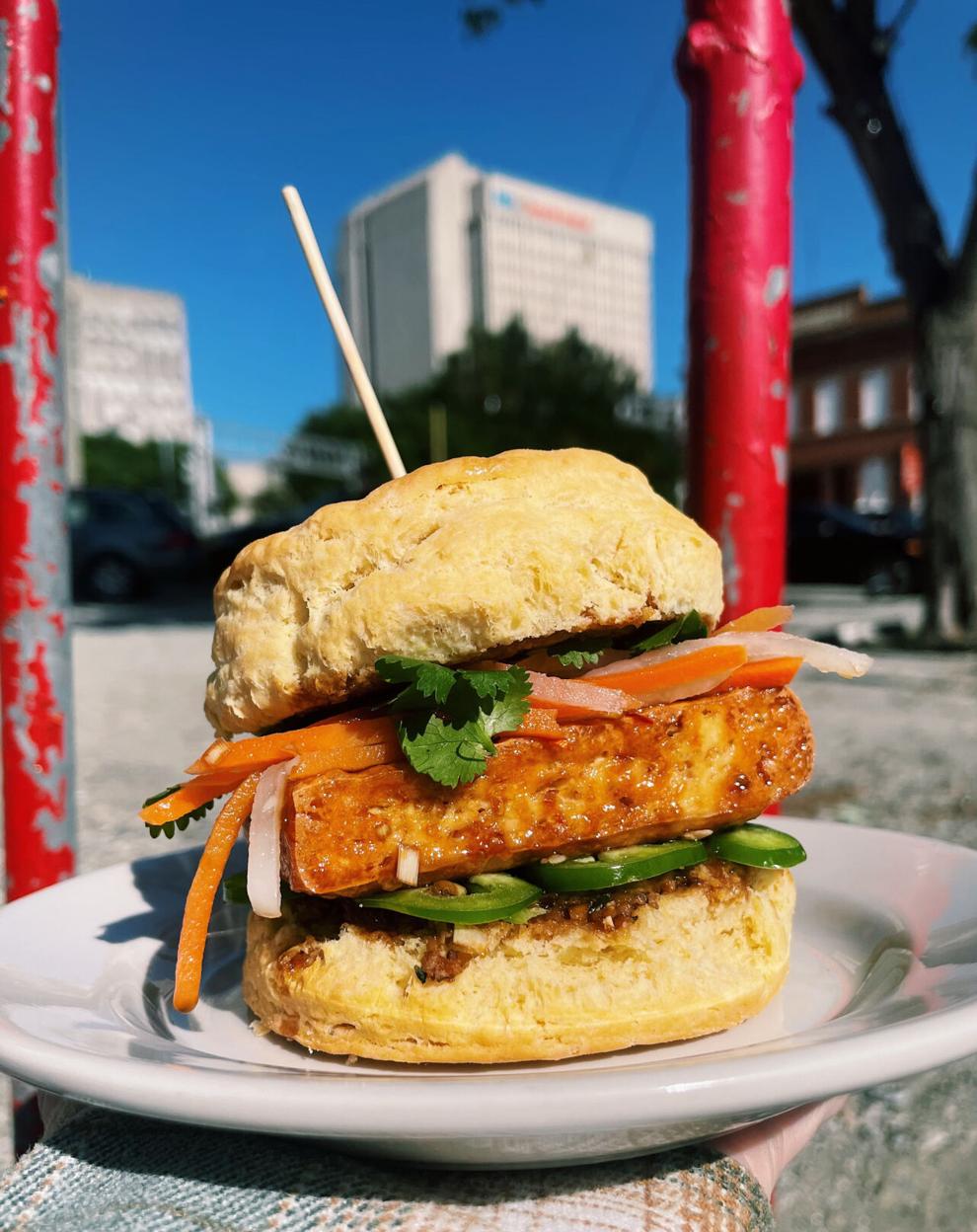 Tofu Banh Mi: Crispy tofu tossed in a sweet house-made glaze, pickled veggies, mushroom pate, cilantro, jalapenos.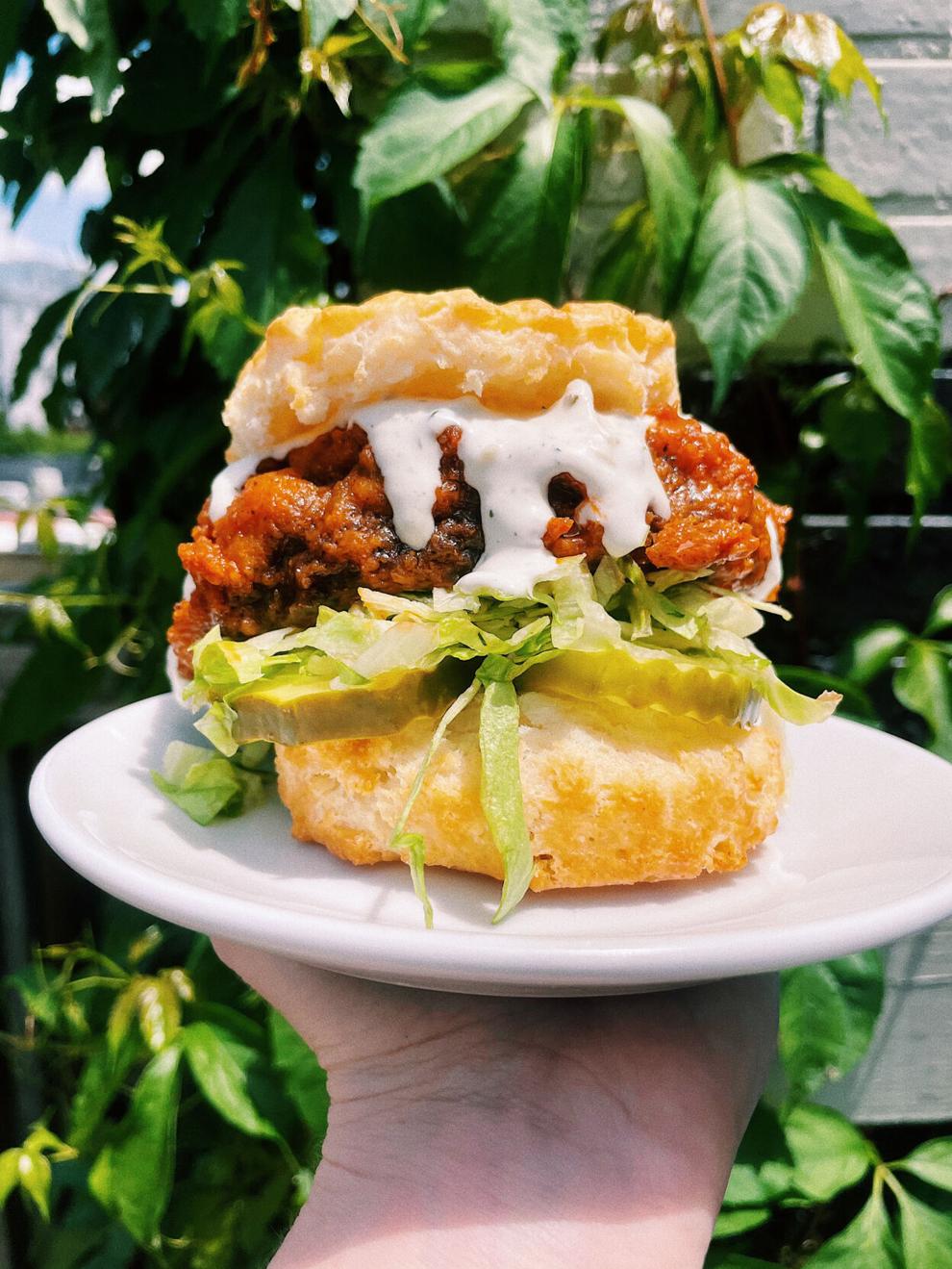 Hippie Chick: Fried Portabella mushroom tossed in Buffalo sauce, with shredded lettuce, dill pickles, blue cheese dressing.
"We had a soft launch the other week and every biscuit sold pretty much the same amount," Webster said. "Which is such a good indicator. But as we run specials throughout the summer and see what sells really well, maybe in the Fall, we could potentially swap out some (menu) spaces. The menu is not static. I think it's going to be an evolving menu."
Webster said his goal with the new menu was to create something well balanced and have something for everyone.
"We have a really strong vegetarian option with the Hippie Chick," said Webster. "And the Tofu Banh Mi is for vegans. That actually comes on a vegan biscuit. So we try to keep it well rounded, and anyone that comes here should be able to find something that they will like."
Webster admitted that one of the hardest things with a biscuit restaurant is that it is more of a meat, dairy-centric kind of food item. So, it could be harder for some vegetarians to find something agreeable with their dietary restrictions. The Tofu Banh Mi biscuit tastes similar to cornbread.
"It's really good," Webster added. "Tofu, with Vegan Chinese sauce and mushroom pate. It's good. It's so buttery."
On being a chef, he proudly said, "It's fun! It's really fun. You know you have to really pay your dues when you are a chef. You have to work the line and really earn your way to 'chef-hood.' But when you get there, it's super fun and creative."
General Manager Candice Parsons, who runs all the social media, catering, specials events, and front of the house, is also very excited to be a part of the new things taking place at Krankies.
"We are super stoked about being able to have options for everybody," said Parsons, who joined the Krankies team in January 2020. "It's not just southern food. There are dietary options and things for vegans, vegetarians, gluten-free items."