Three years ago in October, Debbie Garrett made a change in her life for the sweeter, buying the long-time favorite Triad bakery, Easy Peasy Decadent Desserts from Traci and Eric Rankin.
On Oct. 8, 2022, from 11 a.m. to 4 p.m., she will celebrate her third anniversary with a party to celebrate and thank her customers at their 1616 Battleground Ave, Greensboro location.
A nurse for 28 years, Garrett said, "My husband and I had been customers since they opened and have always loved Easy Peasy. We originally found the bakery because my daughter was in town and she needs to eat gluten-free. She just Googled places that offered gluten-free desserts and Easy Peasy came up. So we came in, loved everything they had and became regular customers, coming in several times a week."
Garrett explained that she and her family got to know the Rankins really well.
"When they said that they were ready to move on and put the bakery up for sale, I told them, I thought I might want to buy it. They just kinda laughed at first and were like, yeah… right. They said that because I'm not a baker, I'm a nurse and I'm retired now," said Garrett. "I was invited by Traci to come in and work for a couple of weeks first, to see if I liked it and to see what all they do."
Garrett said after coming in, working a few weeks and meeting the staff, it just made her want to do it that much more.
"I wanted to know and understand the process and know what everyone did," said Garrett. "So I worked all summer, learning it, everything and meeting everybody and getting accustomed to it. Then we took over in October 2019. The staff has been amazing and I'm very blessed to have them. We would not have kept our heads above water without them."
The staff includes Sara McCartney, front-of-house manager; Yahaira Reyes aka Yaya, kitchen lead and cake artist; and Wilson Hollis, sales associate.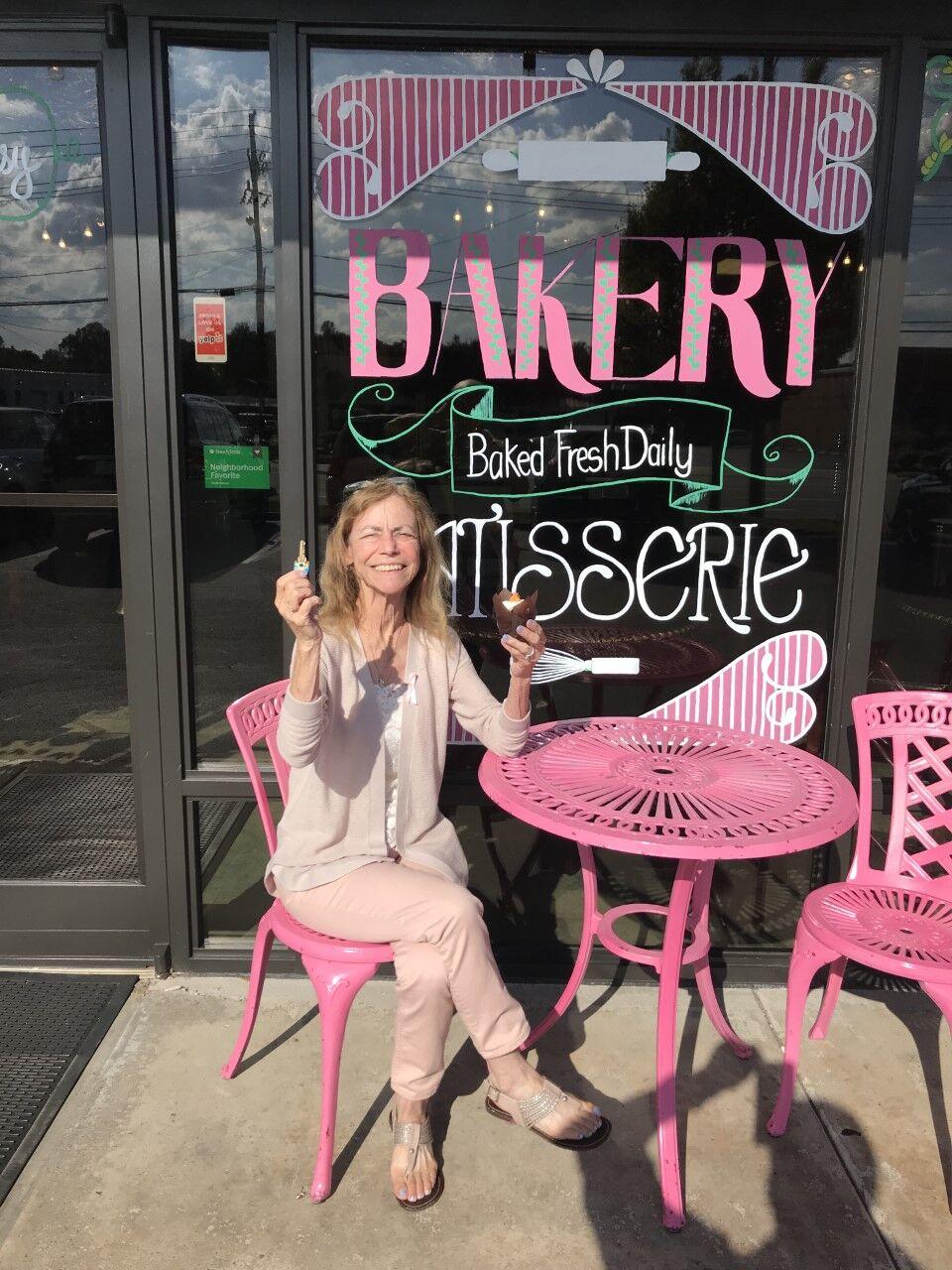 "I'd never done anything, like go out to a wedding venue and set up a wedding cake," said Garrett. "I wouldn't know where to start. So there was a learning curve for me to at least understand what was going to go wrong once the cake left the bakery and how it had to be transported and how it had to be made. So it was secure and didn't fall over. There were just a lot of things that I had never thought about because my experience with desserts has been popping into the oven and then popping in your mouth."
According to Garrett, she has learned a lot and has several favorite things to bake.
"I can probably make about 90% of everything that we do here," she said. "I'm not good at decorating, but we have an amazing decorator, Yahaira Reyes, that was with Traci and Erin. And she is so good. But my favorite thing to bake is muffins, any kind of muffins. I love to eat muffins and I love to bake muffins."
When asked about Easy Peasy specialties, she said, "We are a small batch bakery and we bake our desserts fresh in small batches every morning. When you order a custom cake or dessert from us those items are always freshly baked and we do not cold store anything except our cheesecake-based keto desserts. Two of our most popular are the French Macarons and our cupcakes because our menu changes every week. We offer flavors that you don't typically see in a bakery or a different twist on something that you might have seen before. I like changing the flavors. We do have a couple, a chocolate and vanilla that we offer every week, but then we have at least four flavors that change weekly."
When asked some of the things that make what she is doing the most rewarding, Garrett said, "It's things like watching a couple on their wedding day see their wedding cake for the first time. Or watching a child see their birthday cake, just seeing this brings so much pleasure. Something as simple as someone coming in off the street and saying, I've never been here before, tell me what's in your cupcakes and you tell them and they go, mm, that sounds so good in watching their face."
Garrett said her husband is still involved in handling maintenance. And jokingly said he has probably fixed everything we have in the bakery at least once. Her daughter has been helping over the summer but she lives in California.
Currently, Easy Peasy Decadent Desserts is open Wednesday to Friday from noon to 5 p.m. and on Saturday between 11 a.m. and 4 p.m. 
"We will be adding Tuesday back in and probably expand those hours to open earlier and close later, but we haven't decided yet exactly what time we're going to open," said Garrett. "If we're here, even if we're closed if someone wants to come in and talk to us about an order, we will always let them in. Walk-ins are a large part of our business."
Admitting the issues when COVID came about originally, Garrett explained, "I feel like there are many things out of our control sometimes and I feel like you can't blame everything on COVID. It hit us hard, but we got thru it. So we just focused on trying to make people happy and to offer things exactly the same way they remember. Money is tight for everybody right now and dessert is a luxury and it's really challenging to work around pricing and try to still keep things affordable. I can't tell you how much our decorator, Yaya, has taught me about baking. The entire staff has been amazing and I'm very blessed to have them. We would not have kept our heads above water without them. Even though they knew I was not a baker and had no expertise in the bakery industry, it makes me very happy that they (the staff) trusted me, and stayed."