Greensboro Farmers Market Announces  Strawberry Celebration Day at the Curb Market on Saturday May 21, 2022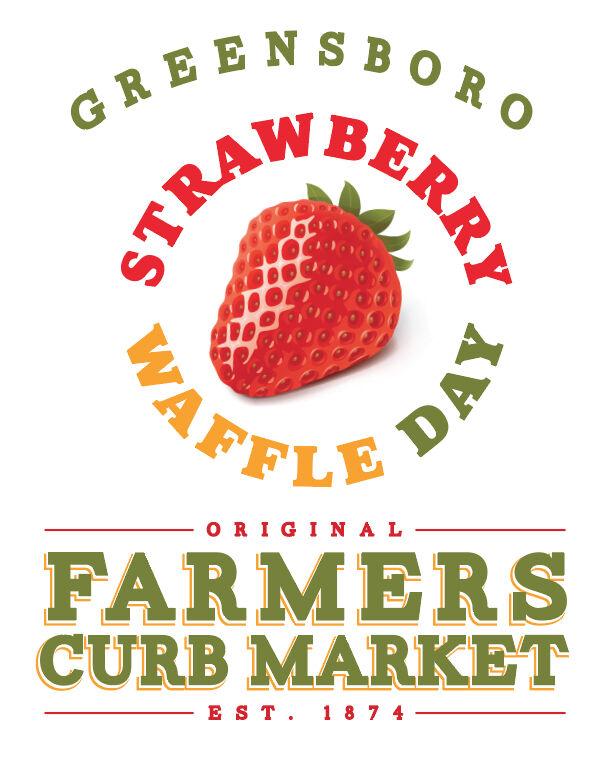 Greensboro, NC – GFM, Inc. will host  its annual Strawberry Celebration Day featuring a strawberry waffle breakfast fundraiser on Saturday, May 21, beginning at 8:30 am at the Greensboro Farmers Curb Market (501 Yanceyville Street).
Guest chef Denzell Berry will offer his specialty waffles made with Massey Creek Farm eggs and topped with local Market strawberries. Two thick waffle wedges topped with strawberry compote will be available for $10 per plate (minimum donation). Patrons can add a Neese's sausage patty or bacon, orange juice or bottled water for an additional $2. Event proceeds provide vital funds for hunger relief programs at the Curb Market providing fresh food access to neighbors in need in our community. Fundraiser breakfasts are available first come, first served and while supplies last.
Market vendors will offer fresh local strawberries by the quart and gallon, jams, specialty baked goods and strawberry ice cream for sale. 
There will be live music for all to enjoy on the lawn. Patrons are invited to bring their own chairs or blankets, picnic seating is available on the lawn with additional seating inside at the Market Café. 
About the Guest Chef Denzell Berry
Chef Denzell trained in classical French cuisine at the renowned cooking school Le Cordon Bleu. He is also a graduate of the Culinary Business Academy and a member of the United States Personal Chef Association (USPCA).  As a professional chef for over 10 years, Denzell has trained in Italy, China, Chicago, Cincinnati, and Key West. His restaurant experience includes The Klimpton Gray Hotel, Jam brunch restaurant, Interstate Hotels and Resorts, The Village Italian restaurant, and he is currently the Lead Baker at Cheesecakes by Alex. Chef Berry combines his classical training with Asian and European influences to create a cuisine that is uniquely American and distinctly his own. A food traveler, he has been around the world from Central China to Northern Italy sampling regional cuisines and bringing those flavors and ingredients back to his clients. Chef Denzell Berry provides personal/private chef services & catering at his business, Savoir Personal Chef Services Phone: (336) 265-7403Website: savoirpersonalchef.com
About the Market
Greensboro Farmers Market, Inc. (GFM) operates the Greensboro Farmers Curb Market on behalf of the City of Greensboro. GFM is a 501c3 community nonprofit that supports farmers, food artisans and crafters year-round. GFM connects farmers, food and friends to foster an equitable, nutritious food system, and support local entrepreneurs in an inviting, inclusive community.
To learn more about the activities scheduled at the Curb Market during Saturday and Wednesday market, the public is invited to "find their fun at the Curb Market" and sign up for weekly emails to receive news about upcoming free tastings, book readings, food preparation classes,and  music on the lawn.
Location and Hours of Operation
The Greensboro Farmers Curb Market is located at 501 Yanceyville Street – at the corner of Lindsay and Yanceyville, a few blocks east of Downtown Greensboro. The Market operates year-round on Saturdays 7:30 am to 12 noon and seasonally on Wednesday 8 am – noon (mid- April – October 12). The Market is a heated and cooled indoor/outdoor farmers market supporting producers located within a 100 mile region. The Curb Market is Greensboro's  original farmers market, founded in 1874, and has been in this historic armory since the early sixties.