Greensboro Farmers Curb Market Hosts Stone Soup Community Gathering and Annual Fall Made for the Holidays Market Sat., Nov. 13 & Sun., Nov. 14, 2021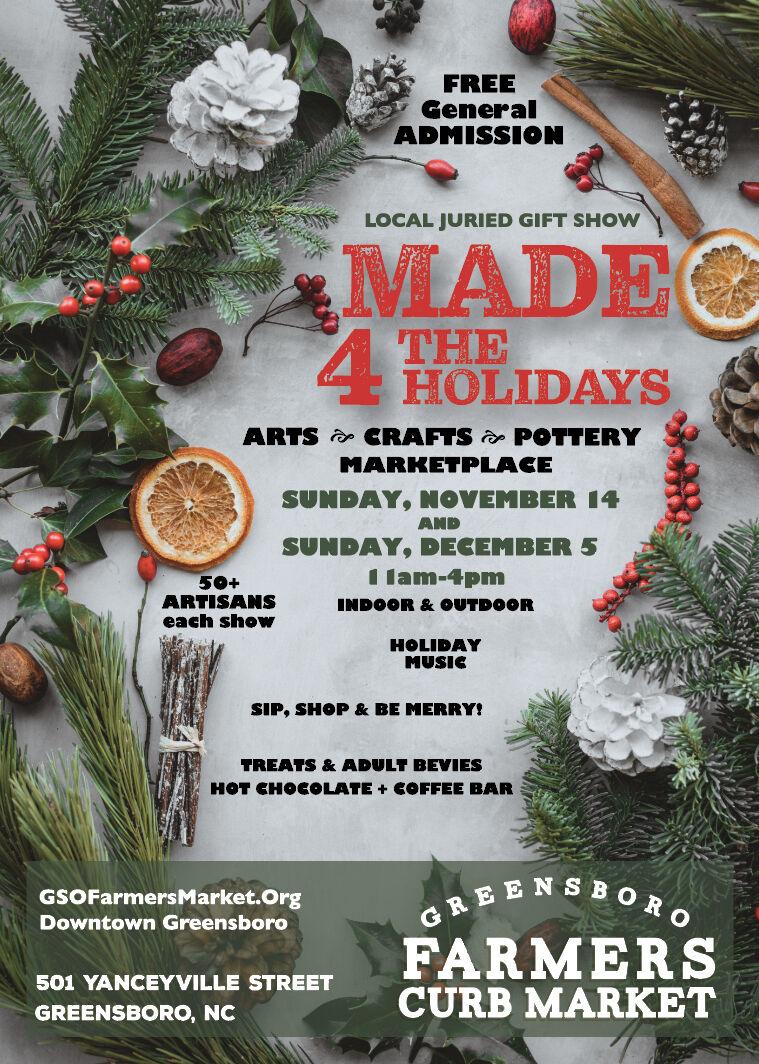 Stone Soup Community Gathering
Sat., Nov. 13 2021 9 am -11 am 
Greensboro, NC- The Greensboro Farmers Market, 501 Yanceyville Street, invites the public to a morning of  storytelling, readings and seasonal soup sampling on Saturday morning in the Market cafe. Stone soup Community Gathering is the kick-off event for the Market year-end annual giving fund campaign.
At 9:00 and 10:00 am, Steve Tate (Goat Lady Dairy) will delight us with an interpretative version of " Stone Soup" the folk story where a community comes together to share offerings for a soup so all in the community, visitors and villagers alike, can partake and enjoy a substantive, nourishing meal.  Kids, of all ages, will be invited to participate if they like, in the interactive sessions. At 9:30 and 10:30, Greensboro resident Chris Musselwhite will share excerpts from his book about growing up in rural NC, "Barker Ten Mile, Stories from the Edge". 
These 15-20 minute sessions are scheduled to provide ample time for patrons to enjoy the event before or after shopping the market. Patrons are welcome to purchase coffee, tea and breakfast items from market vendors to enjoy in the cafe during this Fundraiser kick off. Soup tasting provided in partnership with Recipes for Success. Christmas light balls will also be available for purchase. 
As we kick off our annual year-end fundraising, our goal is to raise $5,000 for the continued operation of five food security programs at the market that serve neighbors in need.  The event is free, although any donation amount is welcome to support these programs as we celebrate the season of sharing and caring. Tax donation receipts are available .All proceeds go directly to the food security programs at the Market:https://www.gsofarmersmarket.org/fresh-food-access/
Made 4 the Holidays Arts, Crafts & Pottery Marketplace
Sun., Nov. 14 11-4 pm 
GFM is hosting the annual MADE 4 the Holidays Arts, Crafts, & Pottery Gift Market on Sunday, November 14 (and again on December 5) . Patrons can shop handcrafted jewelry, fiber art, body care, ceramics, wood turning, glass object, fiber art, up-cycled objects, delicious shelf-stable NC artisan food products, + more! This favorite, festive shopping tradition is the area's largest local juried holiday show produced by the Greensboro Farmers Market. Shop a curated showcase of more than 50 Piedmont artisans and makers who will be located in the inside and outside market place.
FREE entry at the door from 11 AM to 4 PM. Early Bird tickets (entry at 10 AM) available by pre-purchase: $7 in advance, $10 at the door. Or purchase early bird tickets online @TicketMeTriad.com for $7 plus processing fees. Parking is free.Don't miss the second show on December 5th with additional participating artists!
Make a day of it with holiday music ( in the outdoor marketplace), hot chocolate and coffee bar to enjoy in the market or cafe. You'll find gifts for everyone on your list …including you!