Opens restaurant amid pandemic, provides 40 jobs
GREENSBORO – In an effort to drive traffic back to Gate City Boulevard, local business owner Mike Clark has dreamed up a new restaurant and playground, Box Office,  for residents who want to go out for food and drinks without having to fight the hustle and bustle of Downtown Greensboro.
Box Office Kitchen and Cocktails, located at 2800 W. Gate City Blvd., held its Grand Opening and ribbon cutting today, Mon., Sept. 7, 2020, at 10 a.m. Close to the Greensboro Coliseum Complex and various hotels, the venue will offer the area at least 40 new jobs between wait staff, bartenders, cooks, hostesses, etc.
The venue will offer your traditional brunch specials, Happy Hour, big screen televisions for sports, pool tables and theme nights.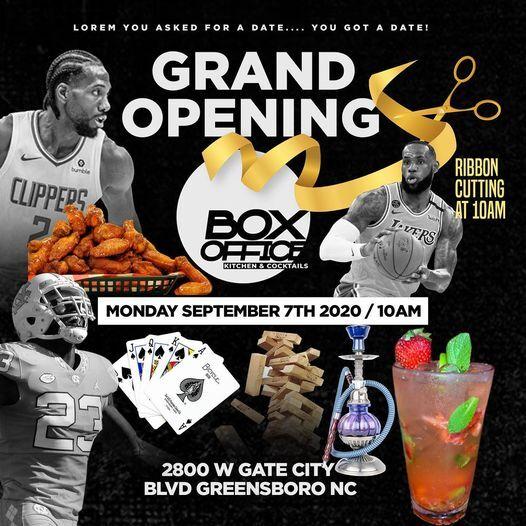 Unlike traditional venues, Box Office will offer board games like Jenga, UNO, Monopoly, Clue, etc. and a signature cereal drilled customizable Bubble Waffle Cone Ice Cream bar.
Clark, former owner of Greene Street Club, said it was important for him as a husband and father to recognize the new stage of life he was in and that it didn't necessarily mesh with his former entrepreneurship path.
"When I thought about it, I realized there were people just like me. Young families that didn't really want to be in the clubs but did want to step out and have fun every once and awhile," he said. 
He also knew that he didn't want it to be in downtown. Clark wanted to bring entertainment back to Gate City Boulevard, where it was roughly 10 to 15 years ago
"It's become oversaturated in my opinion. Everyone is trying to get a venue in this small area," Clark said.
Box Office will have social distancing measures in place.