Clyde May's named Official Bourbon of the Wyndham Championship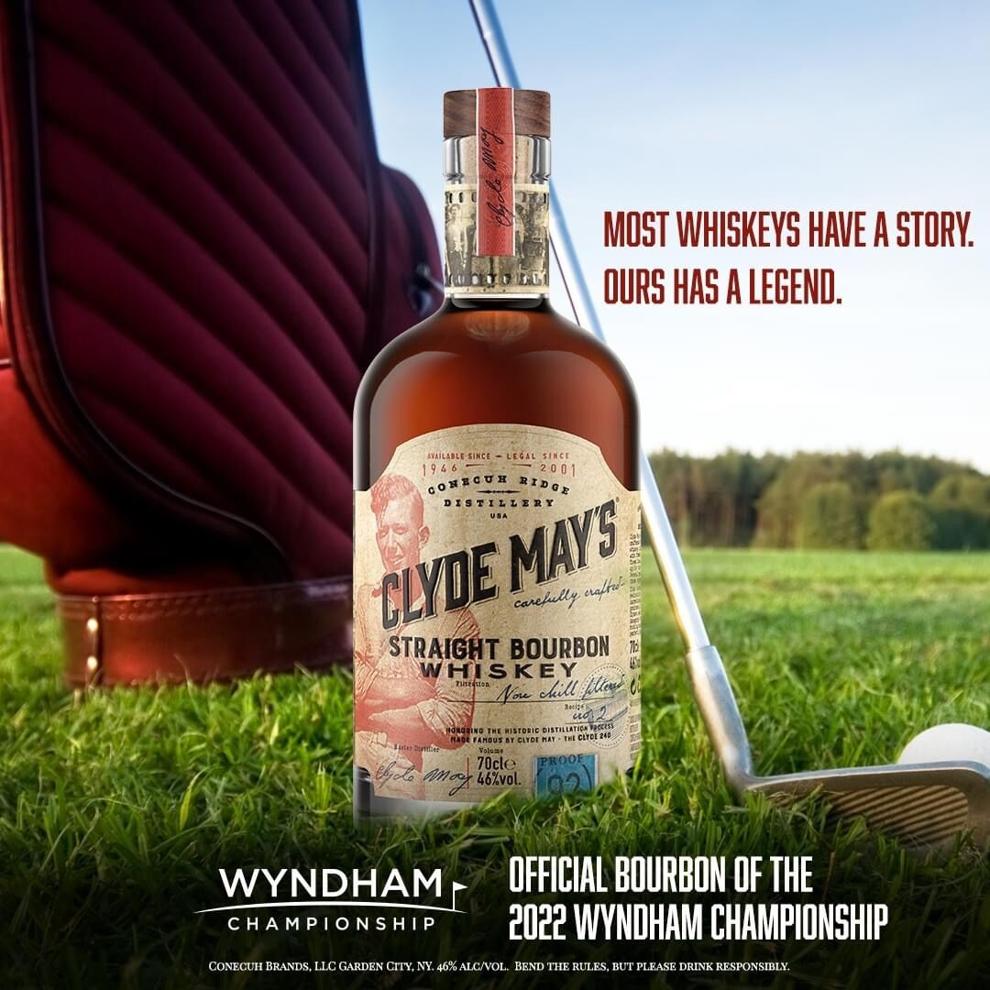 GREENSBORO, N.C.  – Bourbon fans rejoice! The Wyndham Championship has an official bourbon, and Clyde May's is headed to Sedgefield, the tournament announced today. Next week's 83rd annual Wyndham Championship is set for Aug. 3-7, 2022 at Sedgefield Country Club.
Wyndham Championship fans can enjoy Clyde May's products at the Clyde May's Barrel House located to the player's left of the 10th fairway. At the Barrel House, fans can sample Clyde May's products, purchase specialty cocktails and other concessions items.
The Clyde May's Barrel House will feature Clyde May's Alabama Style Whiskey and Straight Bourbon Whiskey. These products will be used to make such signature cocktails as Clyde's Summer Sipper, L.C.s Tea, Clyde's Lemonade and Clyde's Figgy Fizz.
"We're thrilled that Clyde May's is the official bourbon of the Wyndham Championship," Conecuh Brands vice president of marketing Phil West said. "The opportunity to reach golf fans and introduce them to this iconic brand through the Clyde May's Barrel House on-site fan experience is exciting for all of us. We have no doubt that our bourbon and cocktails will be a hit throughout the tournament. We're also excited that LC May, grandson of the eponymous Clyde May, will be on hand in the Barrel House to greet fans each day and share his passion for the brand."
"We constantly strive to enhance our spectator experience, and the addition of Clyde May's as our official bourbon does just that," executive director Mark Brazil said. "One of our priorities is providing fan amenities that are available to all tournament patrons, and I have a pretty good idea the Clyde May's Barrel house will be a very popular addition to the Wyndham Championship."
The Clyde May's family of bourbon brands includes Alabama Style Whiskey, Straight Bourbon Whiskey, Special Reserve Straight Bourbon Whiskey, Straight Rye Whiskey, Cask Strength Bourbon Whiskey aged 10 years and Cask Strength Bourbon Whiskey aged 13 years. For additional information, please visit: https://www.conecuhbrands.com/clyde-mays/
Wyndham Championship tickets are on sale now. All ticket options, along with detailed pricing, are available for purchase by visiting http://www.wyndhamchampionship.com/tickets. Tournament tickets must be purchased online in advance; tickets cannot be purchased at the tournament entrance. 
About Conecuh Brands, LLC:
Founded in 2014 and headquartered in New York, Conecuh Brands is a leading producer and marketer of super premium craft spirits, focused on developing high-quality brands, including Clyde May's Whiskey, Prospero Tequila, and McConnell's Irish Whisky. Brands created by Conecuh Brands have authentic brand stories, delivered in world-class packaging at an outstanding value. To learn more, visit Conecuhbrands.com.
About the Wyndham Championship:
Contested annually on the Donald Ross-designed course at Sedgefield Country Club in Greensboro, N.C., the Wyndham Championship was founded in 1938 and is the sixth-oldest event on the PGA TOUR excluding the Majors. The tournament thanks title sponsor Wyndham Rewards and presenting sponsor Truist for their continued support. Additional tournament information is available at www.wyndhamchampionship.com and the tournament's social media channels, including the Wyndham Championship Facebook page, Twitter and Instagram.