Winston-Salem has always had a vibrant downtown. It is getting steadily better, as industrial sites on the fringes are redeveloped and repurposed as condos/apartments, retail shops, and, of course, restaurants.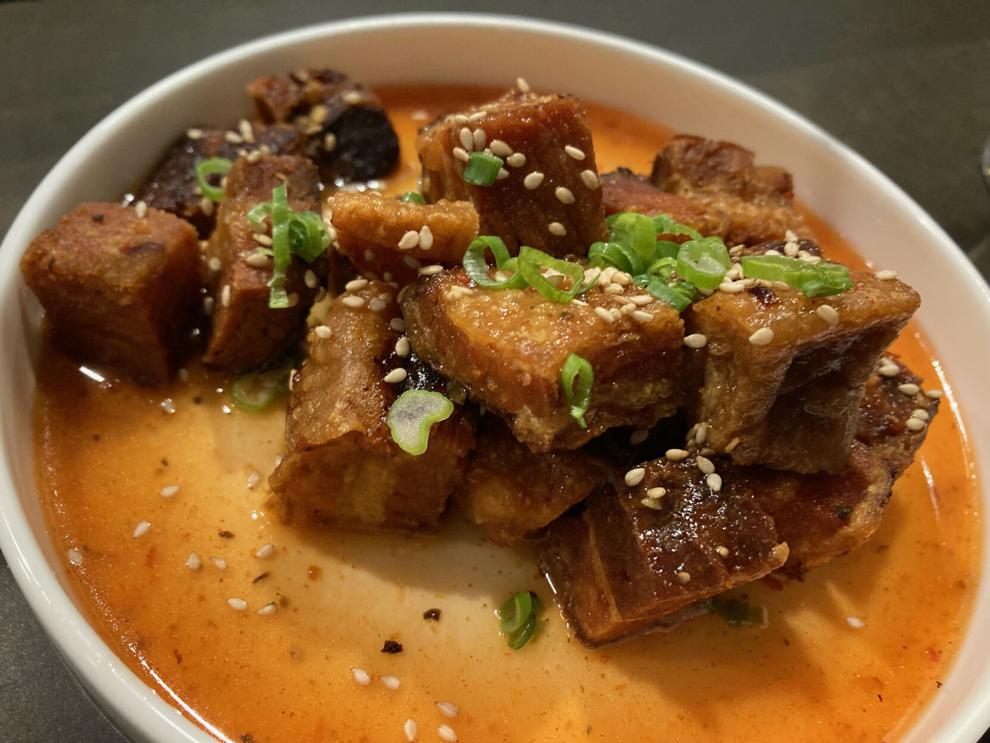 Six Hundred Degrees opened last March, in the old Bailey South building, formerly the R.J. Reynolds Tobacco Company power plant, in the neighborhood now called Innovation Quarter. The category is certainly appropriate for this establishment. It already ranks high on my list of the Triad's best, delivering creations that seem familiar at first glance, but reveal themselves as unique upon further inquiry. 
Three partners own the restaurant. Travis Myers is a CIA graduate, formerly chef at Willow's Bistro and River Birch Lodge. The North Carolina Restaurant and Lodging Association named him Chef of the Year in 2018. Allan Coats owned Davie Tavern in Mocksville. The two met over a meal there. Ryan Oberle is also General Manager. 
I would term the look industrial-chique. There's a lot of exposed concrete. A glassed-in section houses wines. Tables are well separated. Seating at a long "food bar" allows a direct view into the open/glassed kitchen, where I enjoyed watching the culinary team work.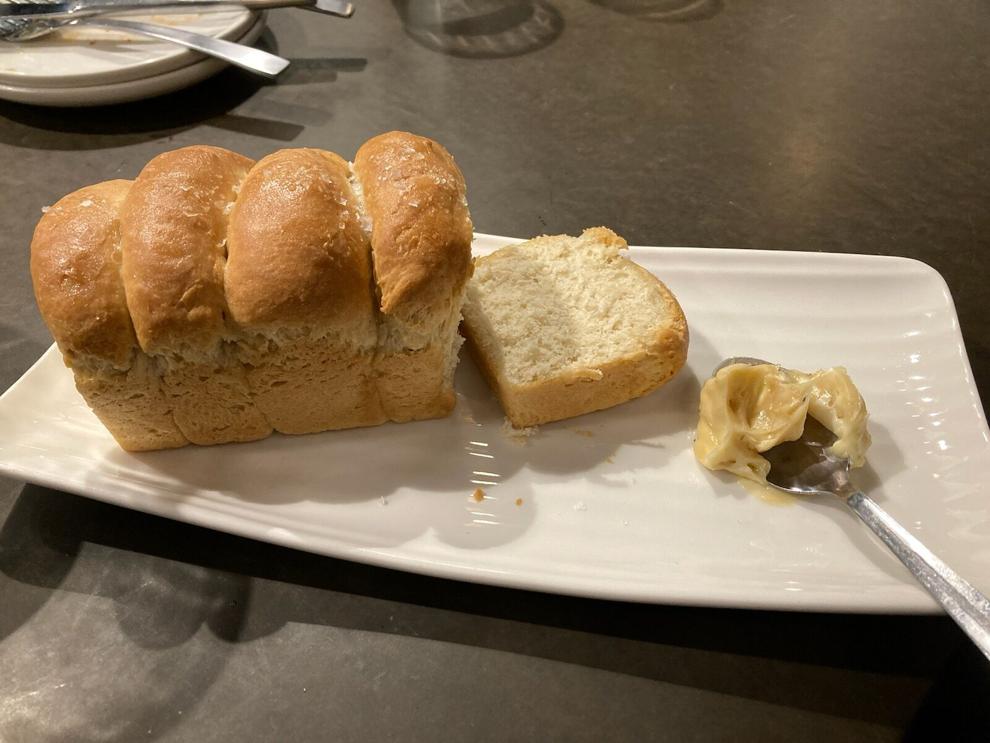 Dustin Tise drew special attention as he operated a large wood-burning grill, the source of the restaurant's name. Wood turns to ash and coals at six hundred degrees Celsius. Tise monitors doneness most frequently by look and feel, but when cooking the Joyce Farms Bone-In Ribeye, I noticed him inserting a meat thermometer to ensure precision.
That's a commendable practice. It probably also reflects a desire on the part of management to avoid returns of a $120 entrée. That number is not a misprint, and I confess that I have never seen its equivalent even in New York, Rome, or Paris. Whether it's worth the cost is a matter of individual judgment, but I can tell you this is a truly exceptional cut of meat — large enough to share, beautifully crusted, subtly redolent of wood smoke, tender and juicy inside, emitting exceptional depth of flavor.
Two menu sections, "For the Table" and "Small Plates," list smaller courses. Pull Apart Rolls are actually a small loaf of yeasty bread, augmented with thyme butter on the evening my party ordered it. Burnt Ends are thick slices of pork belly, leaner than usual (a good thing), but with enough fat to help convey hearty bacon flavor.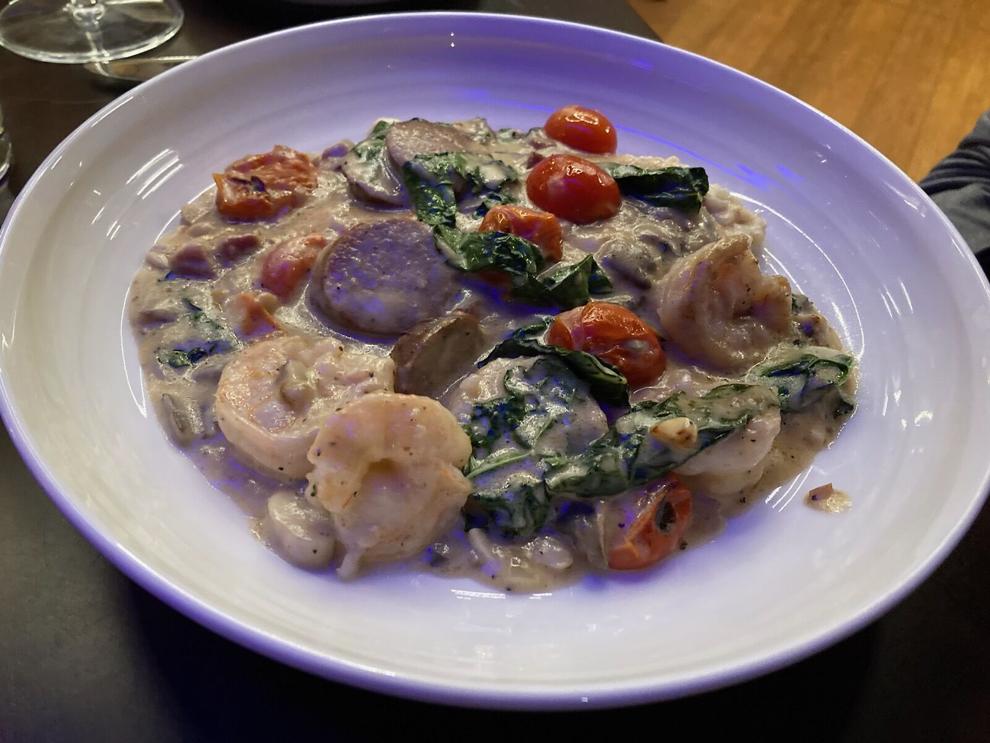 Shrimp and Grits deliver rich flavor from creamy texture, hosting deveined, tender jumbos, slices of andouille sausage, spinach, and tomatoes — one of the better renditions of this perennial favorite. Seared Ahi Tuna is obviously sushi grade, no white gristle evident, presented in a spicy, Thai-influenced sweet chili garlic sauce, decorated with pea shoots and sliced red onions.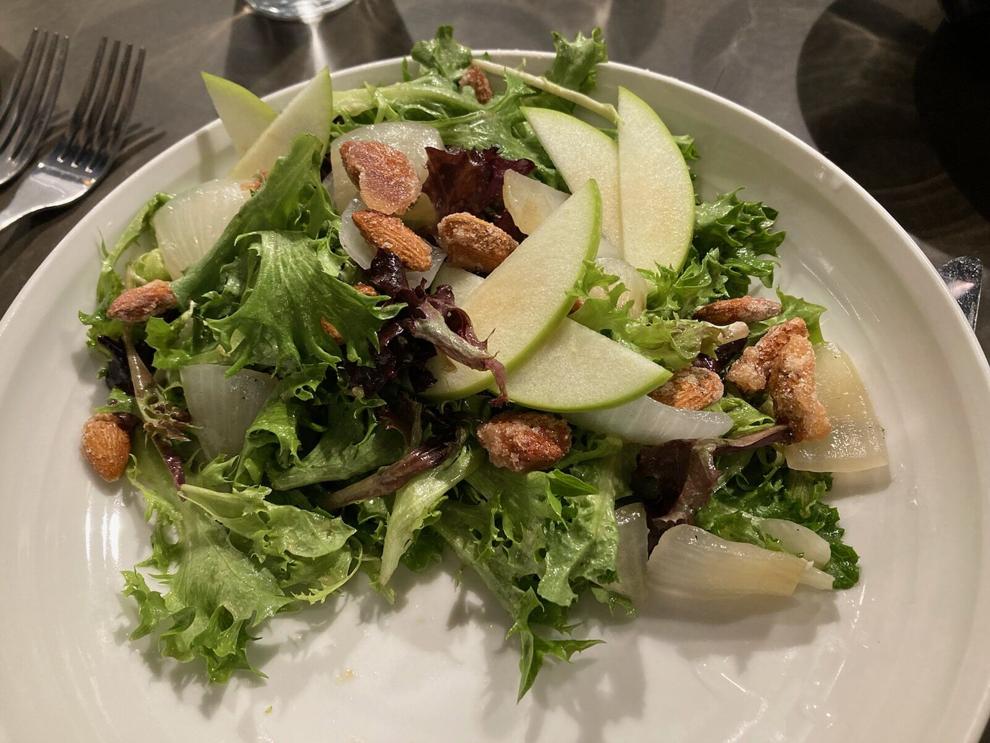 Salads earn praise for appearance as well as flavor. The House is based on mixed leaf lettuces, plus sliced tart apples and sugar-coated almonds, with hearth onions, all lightly tossed in a sherry vinaigrette. Little Gem provides a whole head, base removed, leaves spread, sprinkled with shiitake mushrooms, thinly shredded celery, and finely grated Parmesan cheese, dressed in buttermilk Caesar.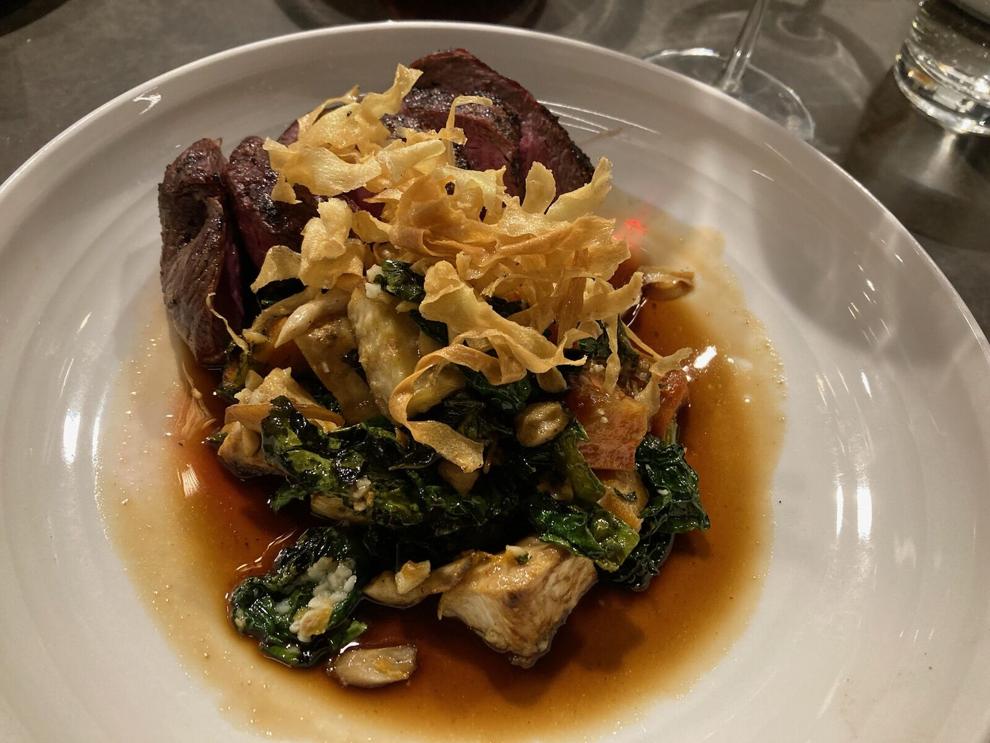 Returning to entrées, more game appears on this menu than usual among Triad restaurants. Venison is inherently very lean, which often leads to lesser flavor and a more firm texture than desirable. But my serving here, cooked in a cast iron pan, provided solid flavor, and it was quite tender, well-served by accompaniments of garlicky wilted kale, sweet potatoes, and cubed sunchokes. Bison can suffer a similar too-lean fate, but here, the short ribs version is tender and richly flavored, joined on the plate by broccolini, sunchokes, sliced potatoes, and confit onions.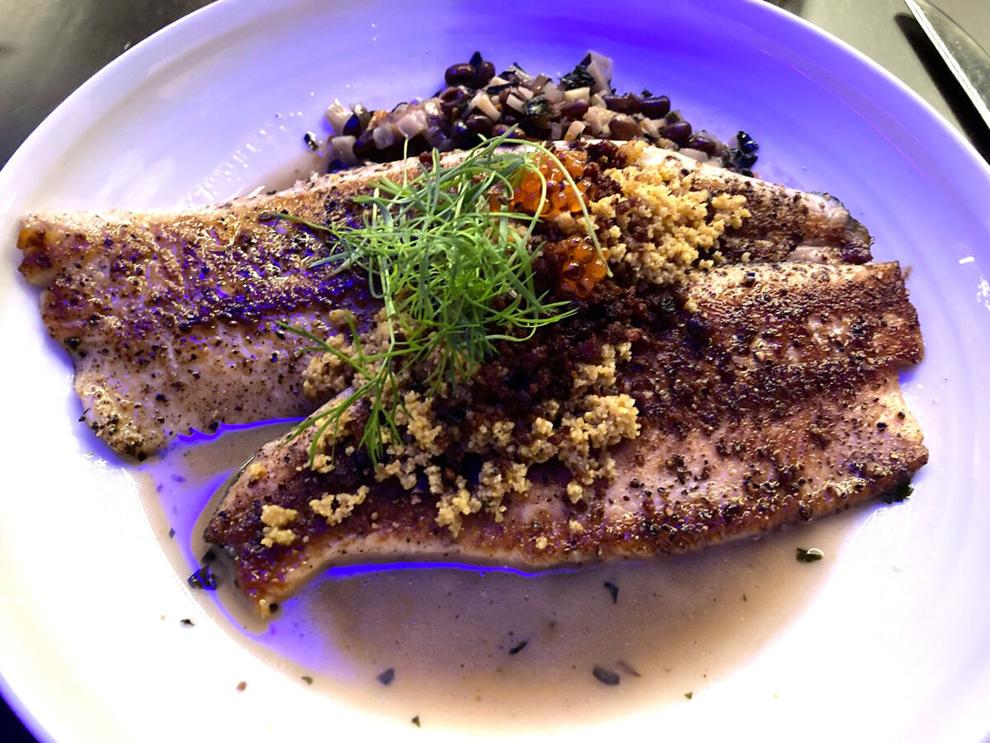 Seafoods are appropriately represented among the entrées. I really liked my serving of Trout, sourced from a North Carolina mountain farm and decorated with trout eggs, presented over Carolina caviar — blackeye peas and corn. King Crab Legs are huge- they hang over the sides of the plate — simple, steamy-hot, otherwise unadorned. Everyone at our position thought the accompanying aioli was excessively salty.
Several vegetables are offered as additional sides. The French fries should not be missed. Fresh-cut, skin-on, they are crisp and eminently tasty, blessed with finely grated Parmesan cheese. 
Desserts emerge from the mind of pastry chef Sue Peel. A Lemon Tart is sharp-sweet, partially covered by a baked meringue. Tasty and lovely to boot!
Todd Allan Martin, Chef de Cuisine, completes the culinary team.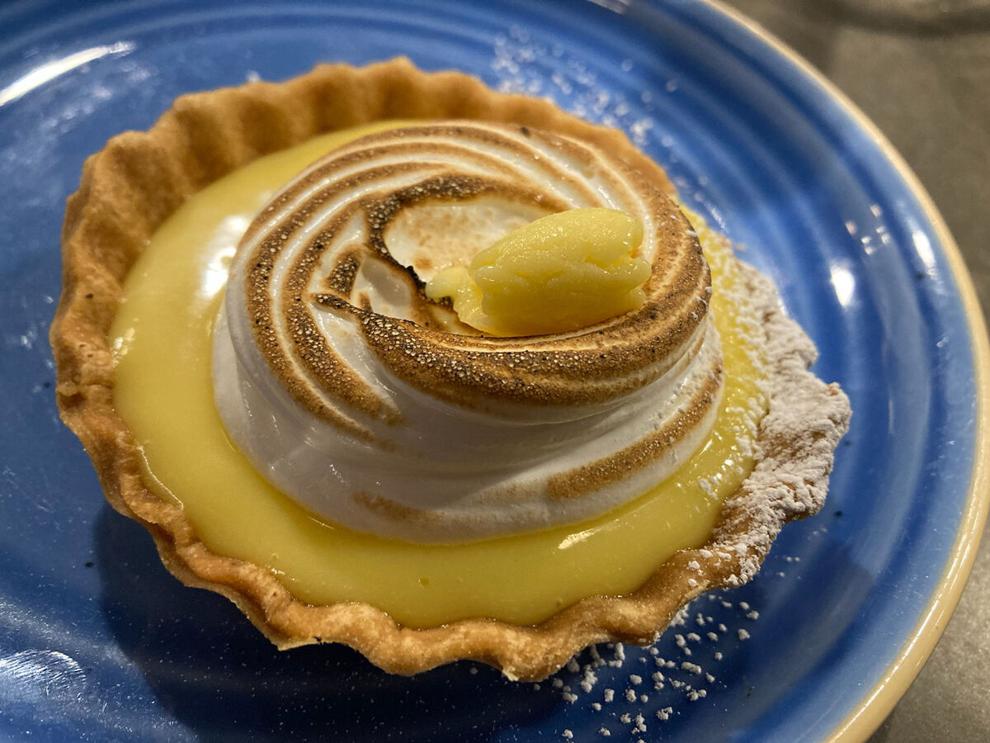 I look forward to trying more of the vegetables and desserts on future visits, and I'm looking forward to some new entrées, too. This place is downright vibrant.
John Batchelor has been writing about eating and drinking since 1981. Over a thousand of his articles have been published. He is also author of two travel/cookbooks: Chefs of the Coast: Restaurants and Recipes from the North Carolina Coast, and Chefs of the Mountains: Restaurants and Recipes from Western North Carolina. Contact him at john.e.batchelor@gmail.com or see his blog, johnbatchelordiningandtravel.blogspot.com.