Ridge Shrimp and Oyster is the latest initiative from long-time area restaurateur Drew Lackland. He was one of the originators of Bert's, for those readers with long memories, as well as Reel Seafood. Ridge reincarnates those basic concepts, on a somewhat smaller scale in the Oak Ridge shopping center.
Offerings focus on seafood, but for meat-eaters, there is a burger and a steak. The menu is non-contact, posted on a chalkboard, as is the wine list. That list blends quality with value. You can't go wrong here, no matter what you choose. Artisan brews abound as well. 
Seating indoors is well separated. Four tables outside accommodate about 16 guests. An herb garden—functional as well as attractive—flanks the outdoor seating section. Service personnel are all masked. Although you can't see smiles through masks, pleasant and naturally friendly personalities are evident. Orders are accurate, deliveries appropriately paced.
My wife and I started one evening with Fried Calamari, a perennial favorite. Ridge's version uses tiny rings, lightly battered and fried very crisp. These are so small in diameter, it's almost impossible not to render them a bit firm, and these were, but the flavor is quite good and we liked the texture. A good marinara sauce intensifies flavor.
Oysters Rockefeller are portioned in sixes or twelves. The oysters themselves are juicy and fresh tasting, augmented with the traditional spinach, garlic, and hollandaise sauce. This kitchen augments these basics with crisp pieces of fried bacon, plus melted Parmesan cheese. A richly rewarding rendition. Additional oyster selections—raw to broiled—change according to fresh availability.
Fried Shrimp can be ordered as a starter or entrée. Ridge's treatment is among my favorites—lightly coated in cornmeal and flour, delightfully crisp, yet still tender. If you are a fried shrimp fan (and who isn't?), these are worth the drive to Oak Ridge. The seafood cocktail sauce, made in-house, is noteworthy. You can also get shrimp that have been steamed and spiced.
Mussels provide a similar first/main alternative. They are fresh tasting (no muddy aftertaste), available in three configurations. Italian (the version we tried) adds garlic, tomatoes, and sausage to the broth—delicious. I'm looking forward to getting around to the other two—with marinara sauce, or with garlic, white wine, and butter.
The Wedge Salad meets or beats any steakhouse version in the Triad. A large, chilled iceberg lettuce wedge is ladled with rich blue cheese dressing, made in-house, flanked by cherry tomatoes, and decorated with diced bacon. 
Flounder Sesame has been one of my favorite seafood entrées for decades. A light coating of crushed wheat crackers and sesame seeds forms a crust for the fish, dredged in egg wash, then pan-fried crisp in sesame oil. Homemade tartar sauce adds bite.
Grilled Tuna uses quality fish, cooked precisely as ordered, enhanced with a mustard dill sauce. Salmon is usually available on the menu in at least two preparations. The version I tried was grilled, pleasantly crusty on the exterior, but moist and tender inside, coated with lemon beurre blanc sauce. 
Scampi is one of the most flavorful treatments of this perennially popular dish I've ever had. A rich lemon, butter, fresh herbs, and white wine broth hosts large, tender shrimp, yielding an abundance of flavor. Crab Cakes are mild in flavor, but fresh tasting, enclosed in a light, crisp crust. Again, the homemade tartar sauce is really good.
Entrées come with a choice of two sides. No matter what else you select, somebody at the table should get hushpuppies. They are crisp and abundantly flavorful. Other alternatives include coleslaw, crisp French fries, sweet potato fries (one of our favorites), red potatoes (also recommended), potato salad (accented with mustard), corn on the cob, and another seasonal vegetable, lately grilled yellow squash and zucchini. 
Desserts are scratch-made in-house. The tart Key Lime Pie in graham cracker crust is the standard by which I judge all other such preparations. If I weren't already committed to it, then the Chocolate Peanut Butter Pie would most likely be my favorite—another killer, both well worth the calories.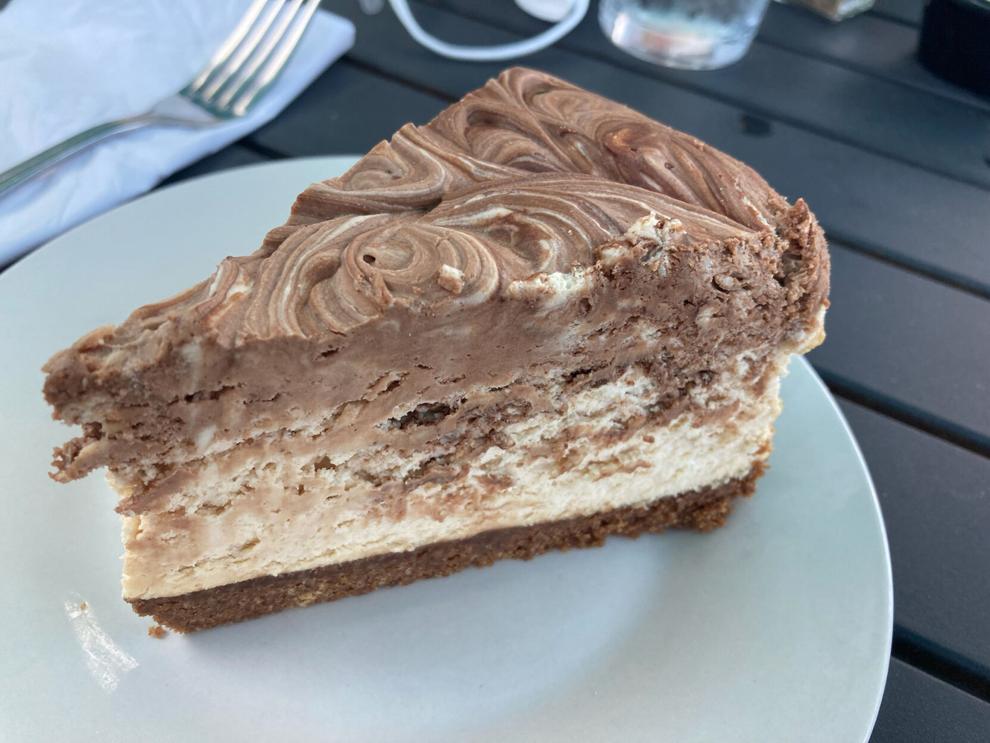 Brad Hendrix is the kitchen manager/partner. The other partner is Darold Dumond. This trio has been collaborating for decades.
Now that the beltway is open out this way, a drive to Oak Ridge is easy, quick, and scenic. You go past the airport (don't take Old Oak Ridge Road) then turn at the marked exit. The road goes past the Old Mill at Guilford. I have enjoyed the ride and will again in the future!