MJ's, according to the restaurant website, "is a locally family owned and operated restaurant inspired and influenced by family, friends, and good food. Tad and Rachel Engstrom are the owners. The restaurant is named after their daughters, Madelyn and Julianna. Tad is the Executive Chef."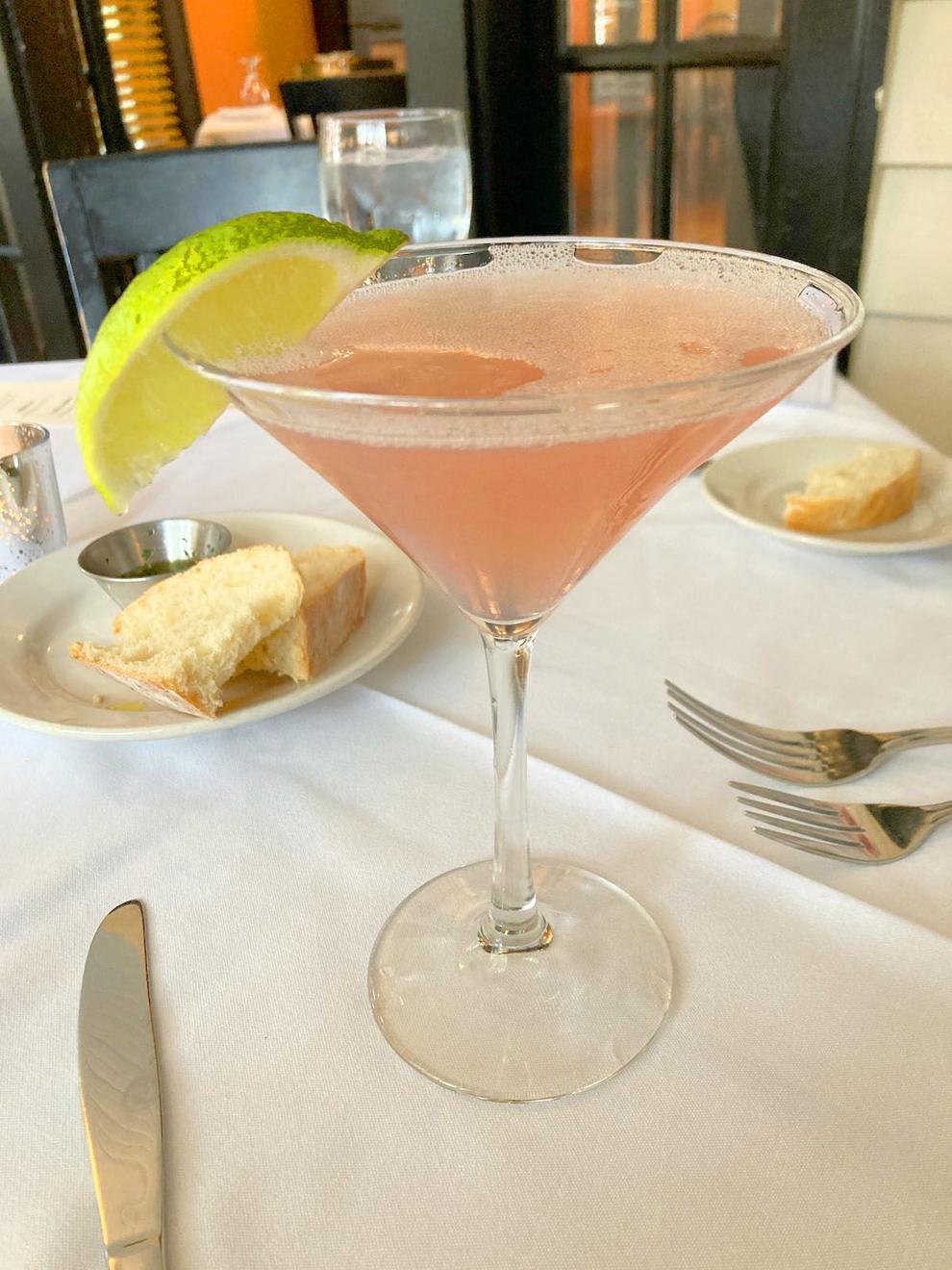 Chef Tad Engstrom trained at the New England Culinary Institute. He was sous Chef at 223 South Elm and Executive Chef for Sweet Basil's before opening MJ's in 2011. He describes his style as "Southern Cuisine with French influences," certainly a good combination in my estimation.
A Guilford College neighborhood home has been opened up inside to create a dining room on the right, with additional seating in an alcove to the rear. Salmon walls frame an open fireplace. On the other side of the room, original art decorates beige walls. White tablecloths adorn the tables. The bar area to the left of the entryway has established a popular following. No matter the location of your seating, residual noise is low enough to allow conversation — a rare and most welcome feature. Patio seating, illuminated with tiny overhead lights, is especially attractive this time of year.
The wine list contains mostly unfamiliar selections, at least to me, but when a server recognized that I was not enamored with my selection, she insisted on replacing it, and I was only charged for the lower-priced original. No harm, no foul, no risk. My wife has been engaging in bar sampling recently, and MJ's earned special praise in this regard. The Twisted Angel Cosmo is prepared with Grey Goose vodka, a touch of Domaine de Canton liqueur, plus lime and cranberry juices.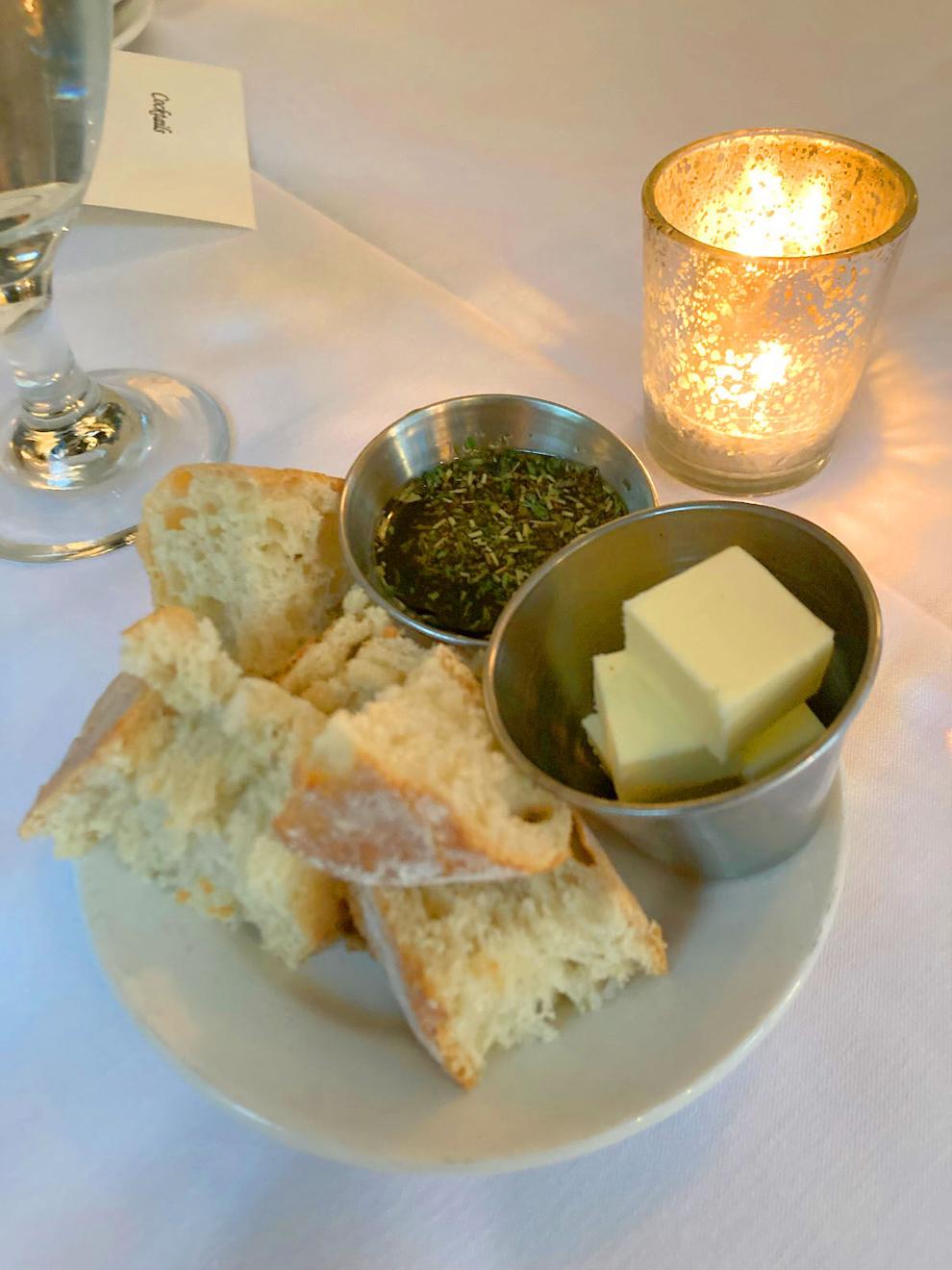 I have always considered MJ's a very good restaurant. But meals this year have been noticeably better than in the past. My most recent visit took place during Furniture Market. In spite of a packed house, service remained well paced and attentive on this as well as previous occasions.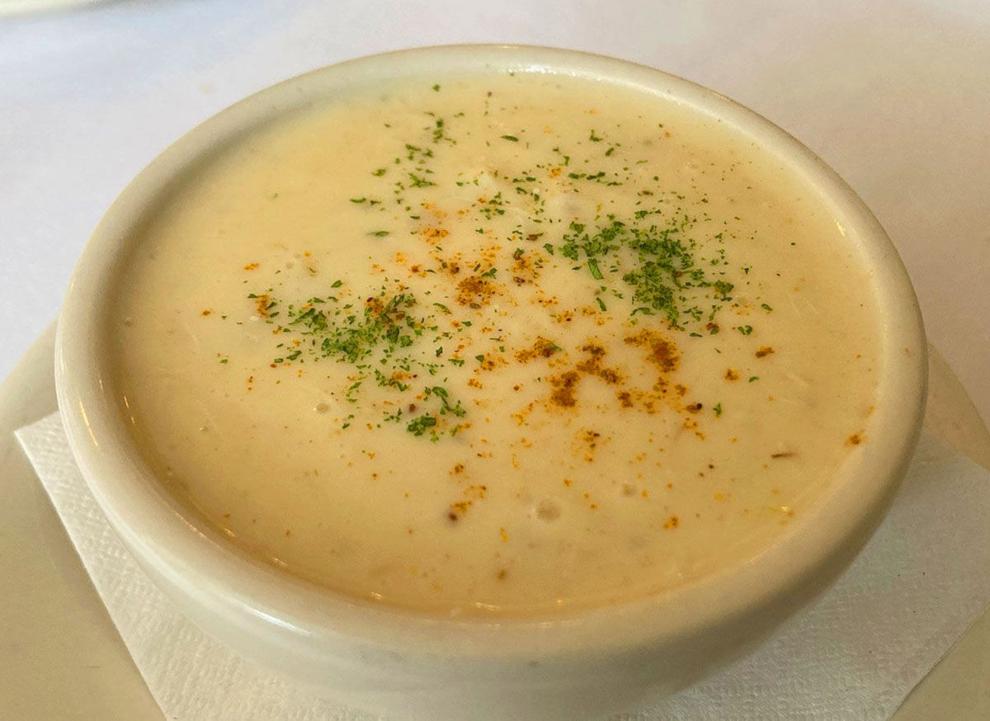 Bread (no extra charge) is crusty and flavorful, joined by softened butter and good quality herbed olive oil.
She Crab Soup drew memories of The White Heron in Myrtle Beach, one of my absolute favorites from long ago. It's rich and creamy, oozing the flavor of fresh lump crabmeat. A Charleston-influenced recipe, it bears subtle nuances of onions, sherry, and paprika.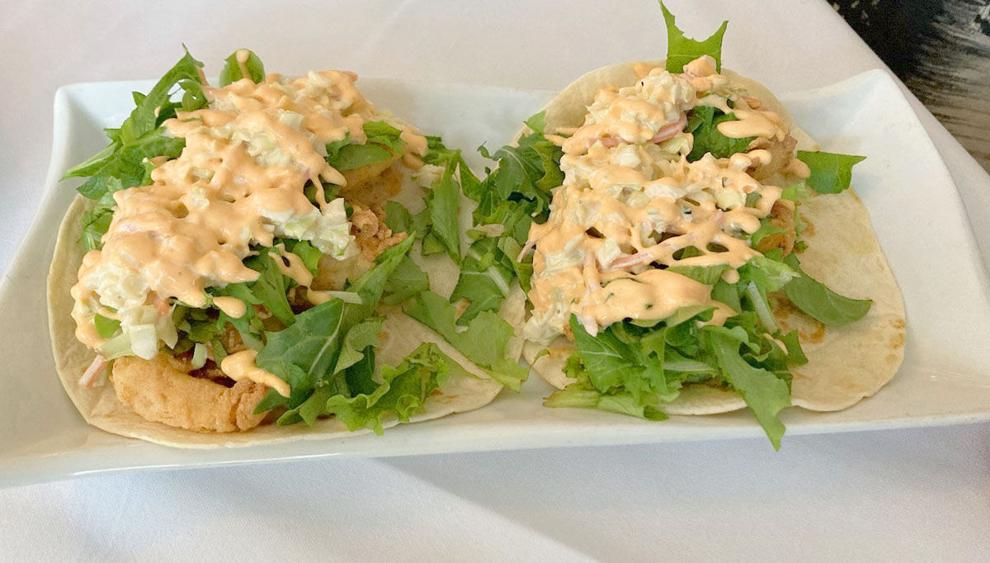 We also rated Shrimp Tacos in the highest echelon, a function primarily of the flavor and texture of the abundant shrimp, enhanced with sesame slaw, ponzu sauce, and spicy aioli, all presented on a bed of fresh arugula, which adds a kick of its own.
Fried Calamari is noteworthy for its light, crusty exterior and overall tender texture, sharpened with caper aioli. This also ranked in the upper category, relative to similar preparations in other Triad restaurants.
Poutine is one of this restaurant's signature items. I did not order it on these most recent evenings, but I have had it in the past. It's a heavy concoction of French fries covered with cheese curds and onion gravy — to me, a hearty, wintry dish.
About half the entrée section of the menu is devoted to seafoods.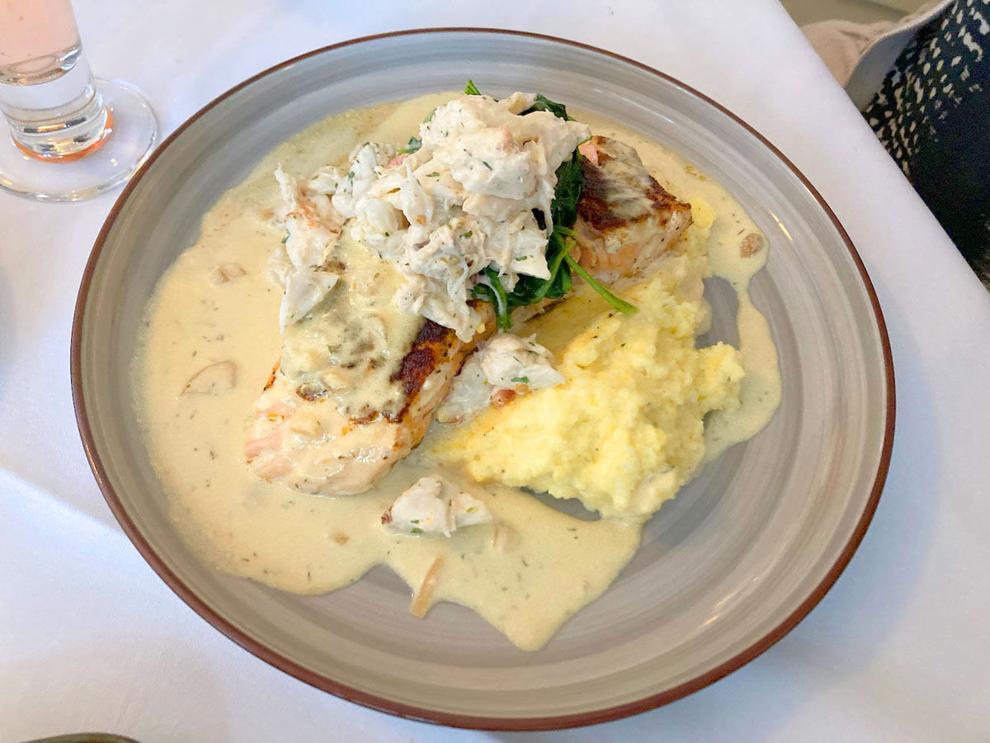 Blackened Salmon gets a more elaborate treatment than the name implies. It's covered with lump crabmeat and ladled with beurre blanc sauce, layering rich flavor dimensions over the mildly spicy accent of the blackening spices. The assembly is presented over Hoppin' John rice with asparagus.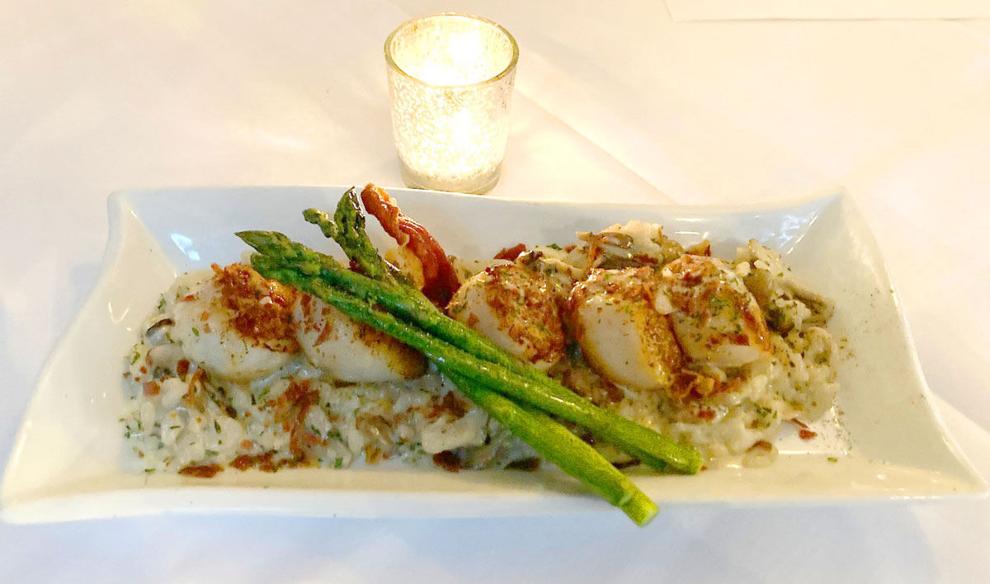 Scallops are large, seared just-right-tender, scattered with bits of crisp prosciutto. This elevates the usually crude bacon-wrapped scallops conception up several notches while retaining those perennially popular flavors. A lush lemon-butter sauce rounds out the preparation. Mushroom risotto provides a creamy-rich host, flanked by asparagus. This kitchen earns particular praise for trimming off the stalky ends of that vegetable.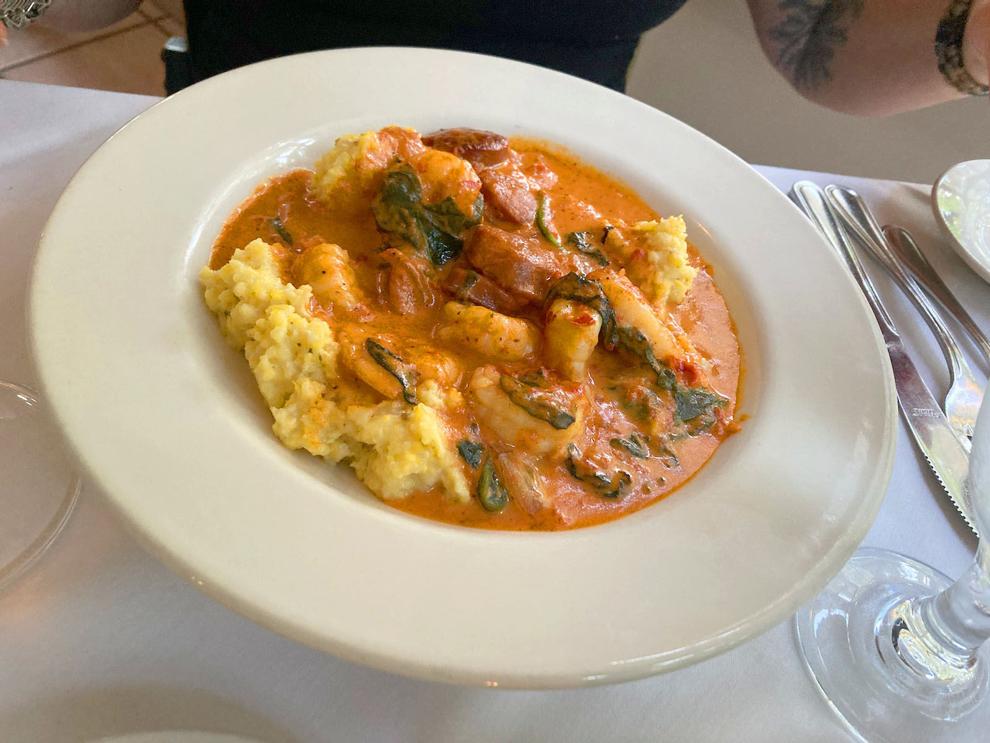 Shrimp and Grits is such a popular dish, it's almost mandatory in area restaurants. MJ's version is exceptional, with plenty of large, tender examples of the main ingredient, plus chunks of andouille sausage, along with onions and spinach, over Coldwater Creek Farms creamy grits, all bathed in tomato gravy. Luscious!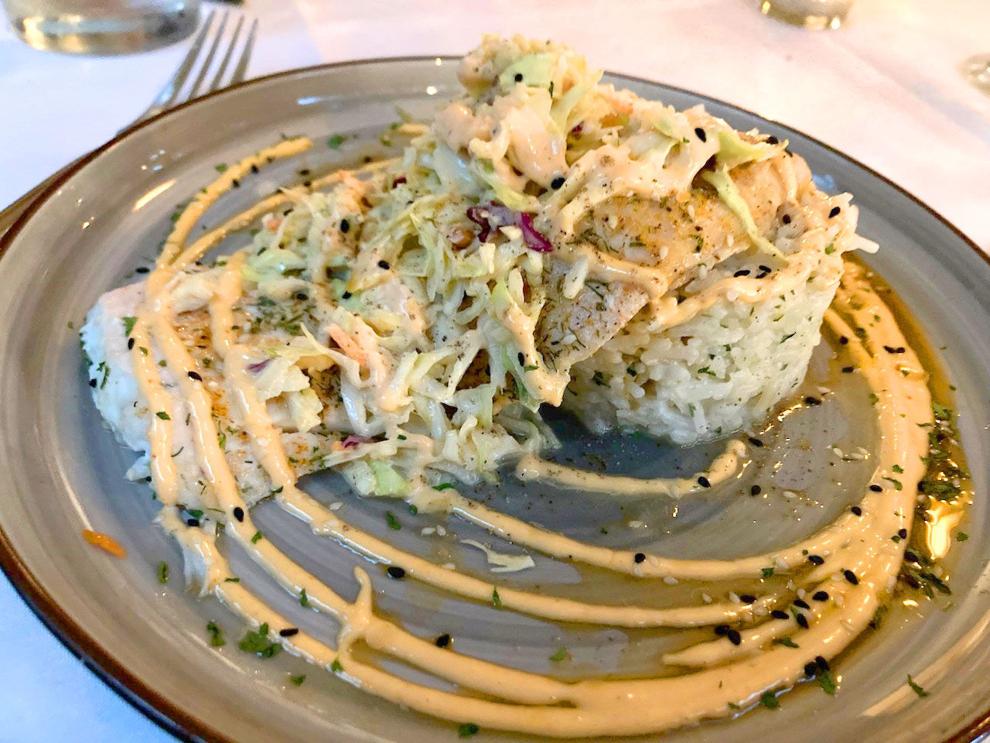 "Fish of the day" on one occasion was flounder, the other time grouper, in each case imminently fresh and moist, pan-seared. The fish is plated over coconut rice — a treat in its own right, plus sesame slaw, all swirled with spicy sriracha aioli and ponzu sauce, scattered with black sesame seeds. Visually striking and a real flavor treat.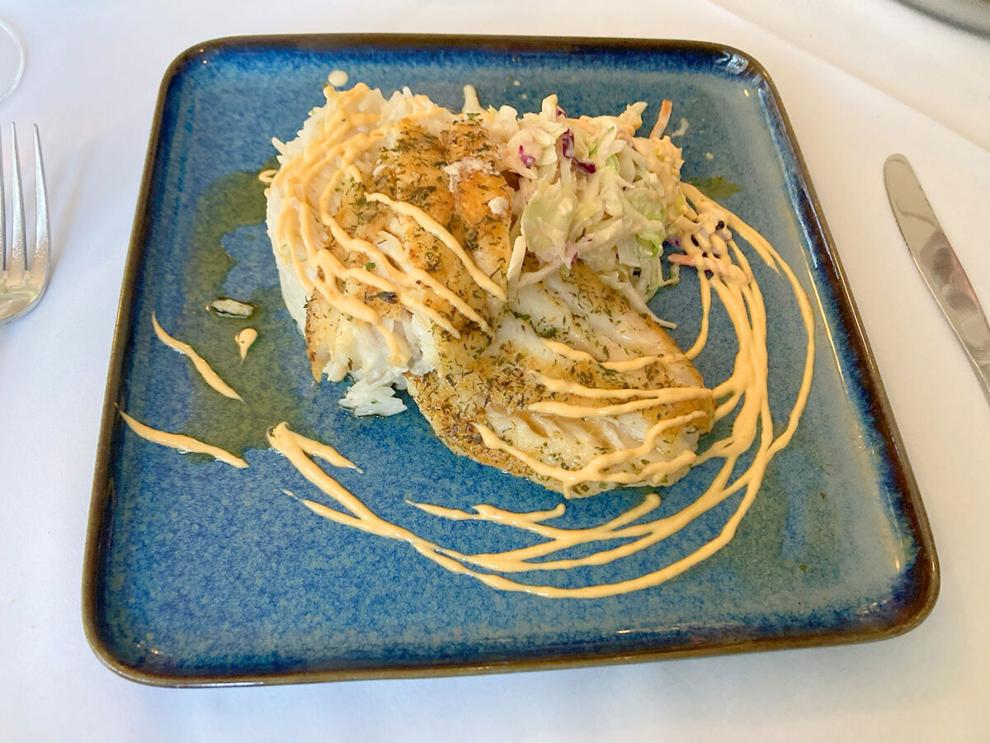 Meat seekers should have no fear of neglect here, however. A Ribeye turned out to be large enough to feed me and my wife with leftovers the next night. And it's superior quality — Certified Angus Beef, cooked just as ordered, resting in bordelaise sauce. It comes with mashed potatoes blended with crème fraiche, plus baby spinach lightly flavored with garlic.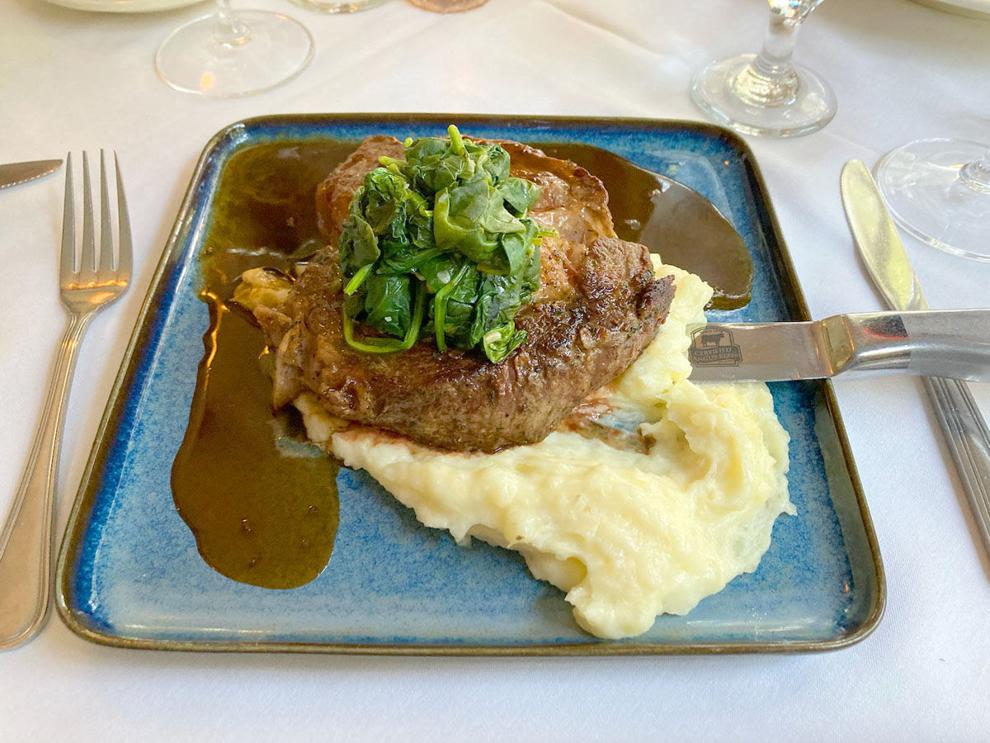 Braised Short Ribs would be my favorite, though, due to the meat's exquisite tenderness, deepened with bordelaise sauce and aged balsamic vinegar. This usually comes with crispy brussels sprouts, but the accommodating kitchen provided asparagus for a guest, on request.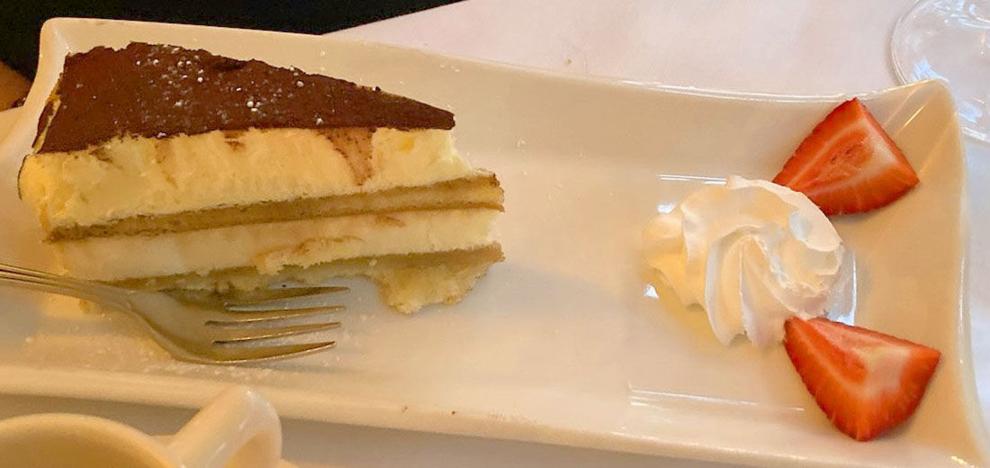 We were fortunate to have friends who were willing to share desserts. Tiramisu Cake is so named because it has two layers, each redolent of custard and coffee flavors. Key Lime Pie is pleasantly tart. Easily worth the calories!
I need to go back to MJ's more often!
John Batchelor has been writing about eating and drinking since 1981. Over a thousand of his articles have been published. He is also author of two travel/cookbooks: Chefs of the Coast: Restaurants and Recipes from the North Carolina Coast, and Chefs of the Mountains: Restaurants and Recipes from Western North Carolina. Contact him at john.e.batchelor@gmail.com or see his blog, johnbatchelordiningandtravel.blogspot.com.
Wanna Go?
MJ's: 620 Dolley Madison Rd. Greensboro, NC 27410
mjs620.com, Hours: 5-9 p.m. Monday-Saturday
Appetizers: $13-$15, Salads: $6-$10, Soups: $6-$10, Entrees: $28-$45, Desserts: $7-$9
Most recent visit: April 22