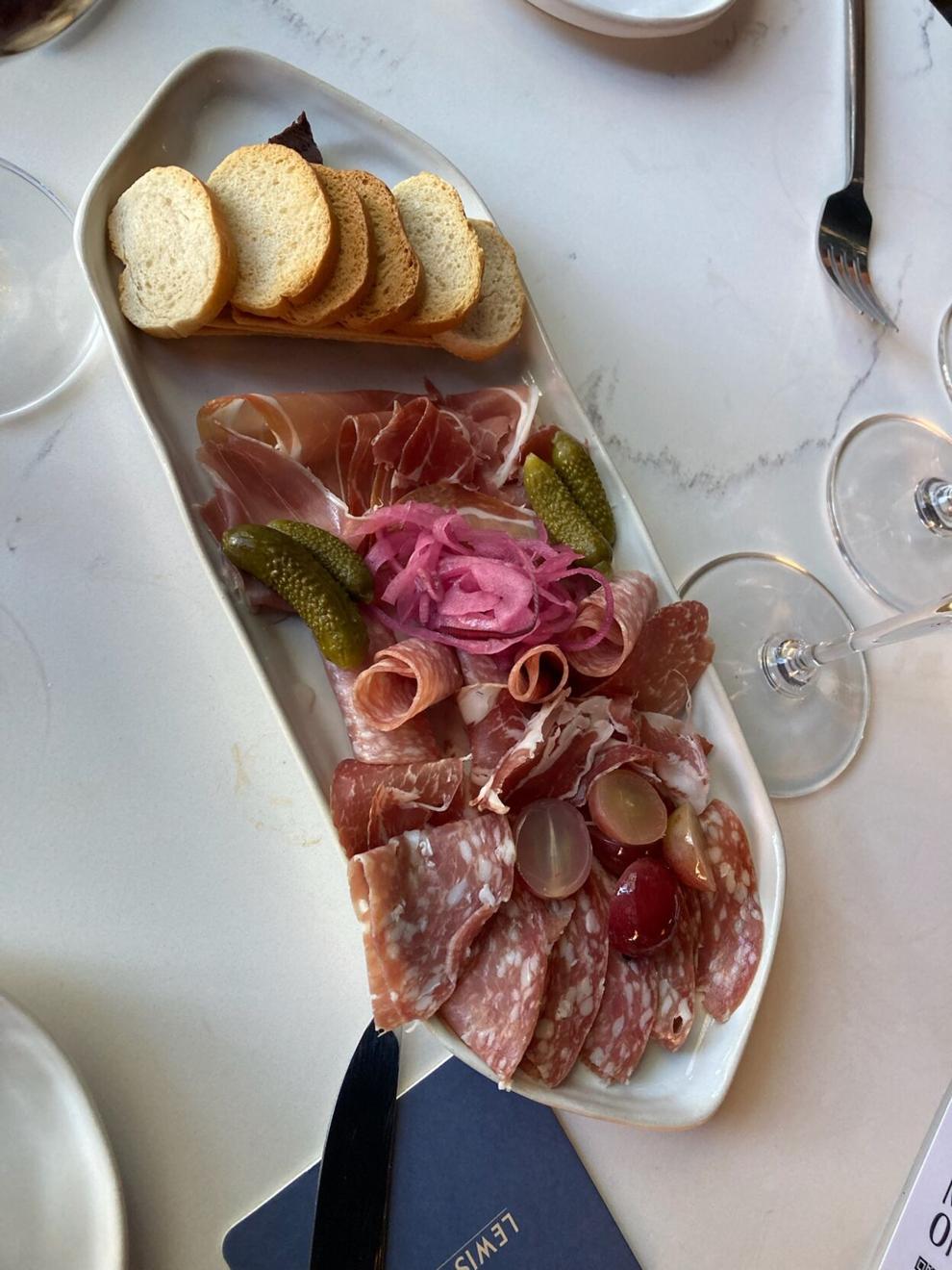 Lewis and Elm is a fairly new establishment from Jake Assaf, one of the tiny number of certified sommeliers in the Triad. It opened in mid-summer. He also owns Rioja (1603 Battleground Avenue, (336) 412-0011, riojawinebar.com) and hosts tours focused on wines (in Italy, at the present).
Lewis and Elm and Rioja are both, at their core, wine bars with light food and snacking, but Lewis and Elm offer a somewhat more complete sit-down dining experience, whereas Rioja has a larger retail bottle section. (The beverage menu at Lewis and Elm is not restricted to wine, but there's a solid focus on wine.)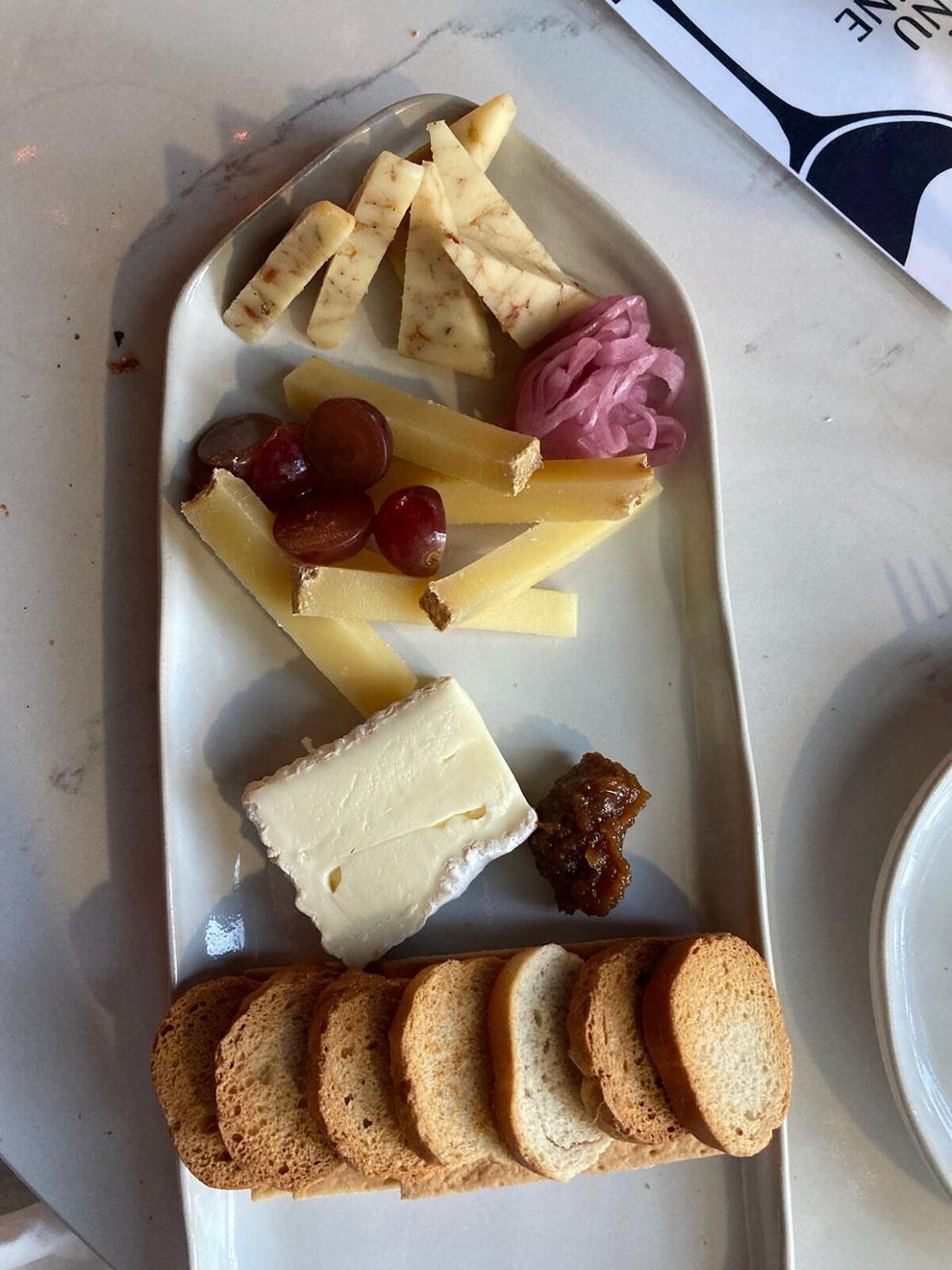 A long bar lines one wall. The rest of the interior is devoted to tables and chairs, which are actually comfortable. (I sometimes wonder if some places deliberately select seating that makes you hurt after awhile, so you will leave, and they can seat another party.) Walls are painted a rich blue. A shelf offers bottle selections, in addition to those on the wine list.
Given the expertise of the owner, you would expect the wine offerings to be very well chosen, and they are. In-house personnel are unusually well-informed as well. My meals here have typically begun with the best descriptions of wine specials I've ever encountered in any restaurant, anywhere, akin to what I hear when visiting wineries and talking with wine makers. You get a sense of place as well as flavor, yet I never perceived snootiness — just a sense that these people are interested in and enjoy what they do.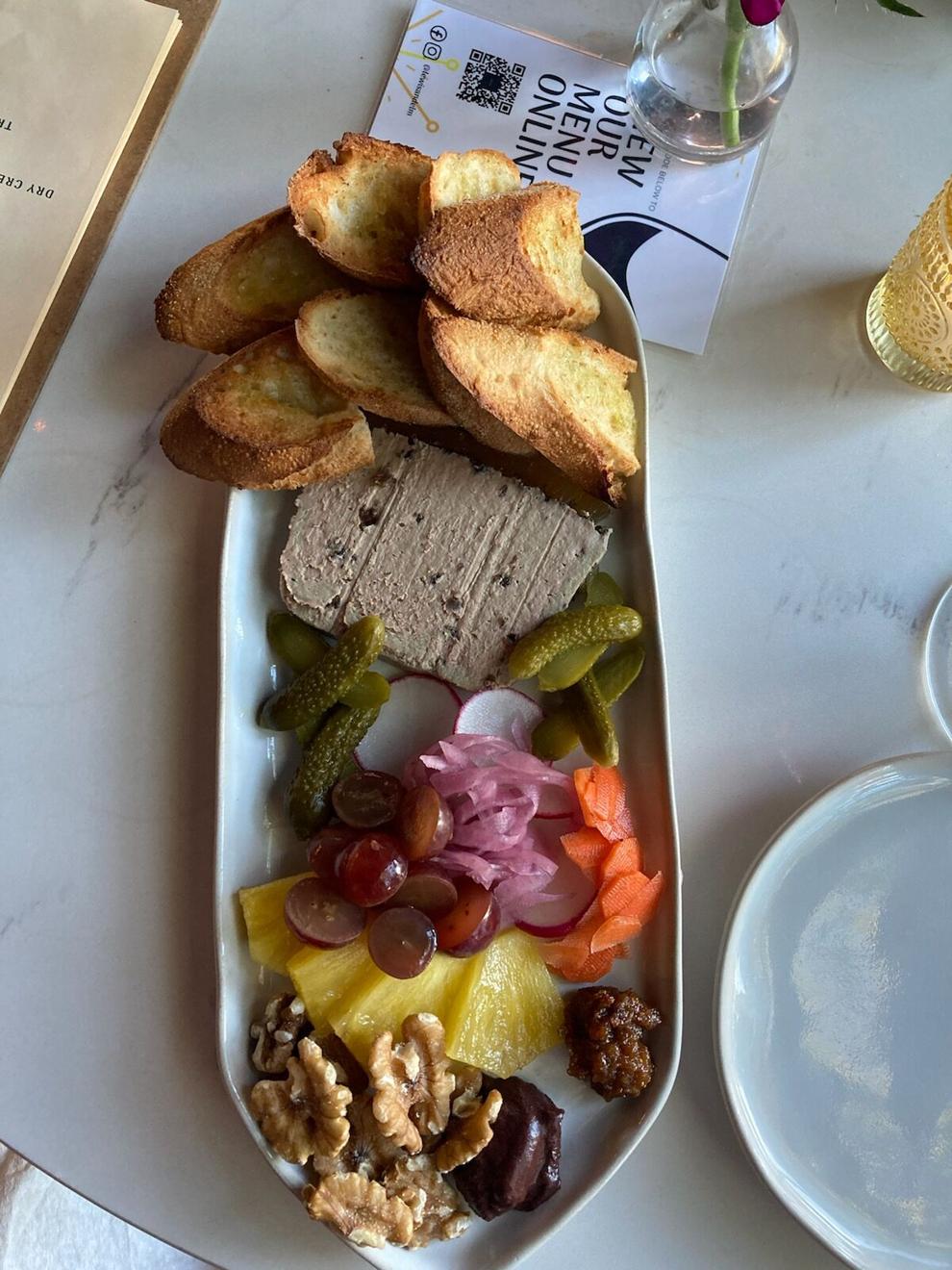 The food is casual, designed for sipping, snacking, and conversing. You can actually carry on a conversation here. You only hear the muted hum of people having a good time visiting, not the obtrusive noise that characterizes so many restaurants these days. 
Each menu item includes a beverage suggestion. Under "Salads and Snacks," for example, I noted Spanish Cocktail Mix, consisting of corn kernels, fava beans, garbanzo beans, and Valencia almonds; a Marinated Olive Medley; as well as several salads that can be augmented with a protein. You will also find four interesting cheese assortments. These seem well suited for a very light evening.
I was seeking dinners, though, so I gravitated toward the more filling fare.
I am a big fan of mousses and pate's, but I seldom see them in local restaurants. Of course, I ordered the Mousse Truffe'e here -— creamy chicken liver blended with bits of truffles and sherry. The recommended pinot noir turned out to be an excellent pairing. 
The Ploughman's Platter joins thinly sliced prosciutto with cheese wedges, flanked by grapes and carrot slices, pickled in-house, plus cornichons and walnuts. The kitchen makes a mustard from grape must — suitable for a wine themed bar — and that sharp enhancement is special with the meats on this and other plates. The menu recommends a beer with this, but I stuck to wine.
The Charcuterie Selection presents Coppa (an Italian pork cold cut), salami, and prosciutto, with pickled onions and grapes, along with cornichons, plus a dab of that must mustard. Spread that on dry toast points and crackers, and you've got another winner. The suggested pairing is La Coux Côtes du Rhône, a good French red.
The final page of the menu offers tartines (open-faced sandwiches) and paninis.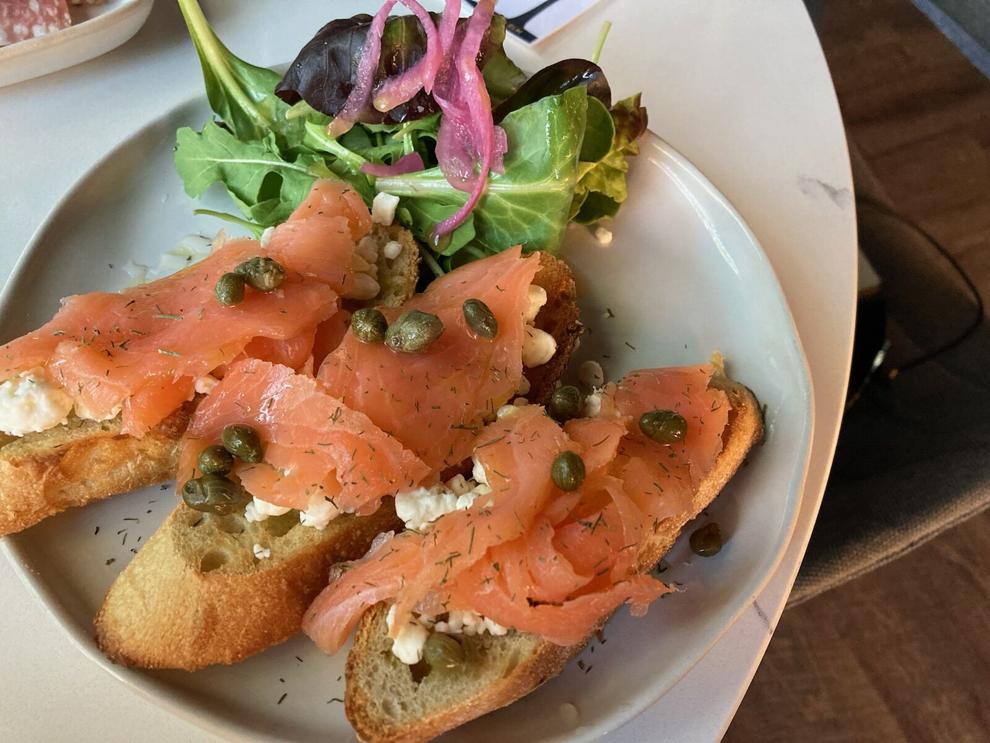 The Norwegian Tartine takes its name from the primary ingredient — smoked salmon- layered over crumbled goat cheese, all scattered with capers, a classic combination. This is assembled over crisp baguette slices, alongside a small salad of leaf lettuces with pickled red onion slices. I really liked the suggested Alla Costeira Prosecco — an Italian sparkling wine — with this.
The Panino Italiano places salami, prosciutto, and blended cheeses between slices of focaccia, a small house salad, and homemade pickles alongside. The menu also recommends the Alla Costeira Prosecco with this, but I was more inclined to a Carignan flight special that was offered that night — the same red varietal, but made in three different locations — France, Sardinia, and Spain. Yes, you can tell the difference. All enjoyable, but each unique. 
The same sides come with Beef and Blue, sliced roast beef plus bleu cheese, also on focaccia. This bread is really tasty, and these two primary ingredients are well matched for each other. The Robert Hall Cabernet Sauvignon proved to be a very good recommended pairing.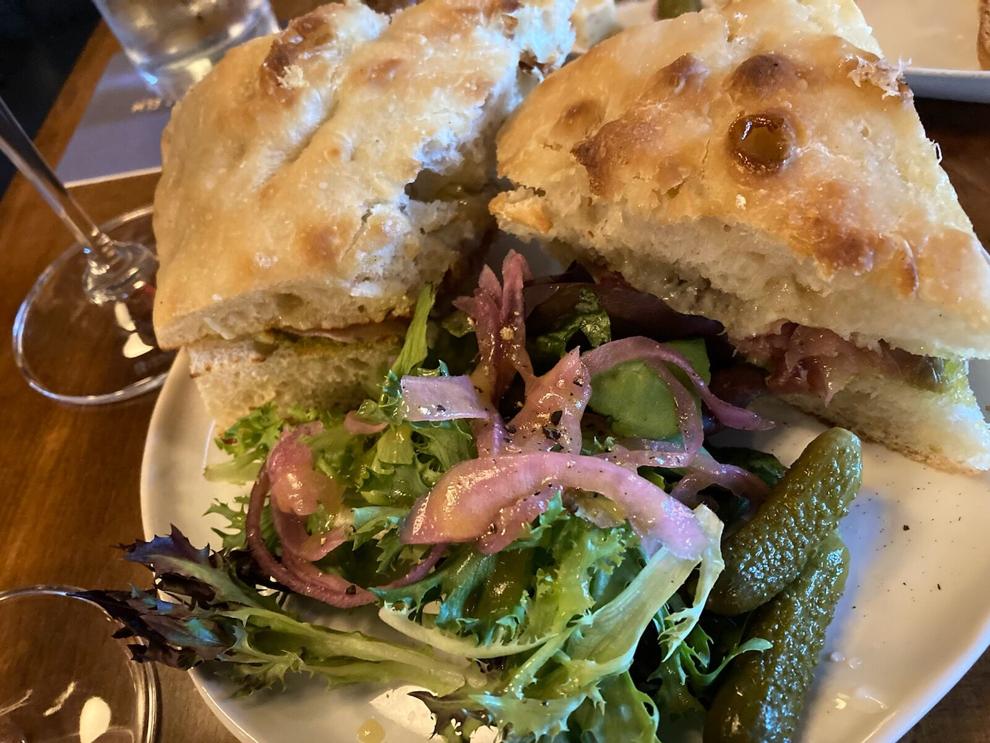 The front of the house is hosted by Alex Allred and Luke Powell. Beth Welsh helms the back of the house, and she is also the official cheesemonger. It's a solid team, delivering a comfortable but sophisticated experience.
You do not have to be a wine aficionado to enjoy a good wine bar. You don't even have to know anything about wine in order to enjoy yourself here, you can rely on servers' advice. And on the off chance that you just don't like wine, a full bar and beer can accommodate any taste. 
This is the sort of place that could become a hangout. And that's a compliment. 
John Batchelor has been writing about eating and drinking since 1981. Over a thousand of his articles have been published. He is also author of two travel/cookbooks: Chefs of the Coast: Restaurants and Recipes from the North Carolina Coast, and Chefs of the Mountains: Restaurants and Recipes from Western North Carolina. Contact him at john.e.batchelor@gmail.com or see his blog, johnbatchelordiningandtravel.blogspot.com.