This is an unusually good-looking restaurant, populated by an unusually pleasant, even entertaining, albeit well-informed staff. The look is sleek and urbane, a function of vibrant red walls and contemporary lighting. No industrial sterility here. It's kind of like you wish your den would look if you had a really good decorator and weren't afraid of color. A sofa bar in the front creates a welcome adjunct to the bar. 
Sound levels are moderate. You can actually carry on a conversation here, and I really saw people doing that, without shouting- rather a novelty in restaurants these days.
The visual impact of the food lives up to the décor's promise, and it tastes as good as it looks.
My wife and I kicked off one evening with a Wedge Salad, usually a routine if pleasant enough accompaniment. Here, the basics are in place — crisp, chilled iceberg lettuce and mellow blue cheese dressing, elevated with additional chunks of quality blue cheese, plus crisp pork belly and fried onion straws, with sliced grape tomatoes for additional color and flavor.
Smoked Bacon Crab Dip struck us as a bit of a novelty, and we were pleased to find that the addition of bacon pays off. (It usually does.) Fresh-tasting crabmeat, cream cheese, and clipped chives are blended and melted together, presented still steaming in a ramekin, with toasted baguette slices alongside for spreading. It's an original variation on a perennial favorite.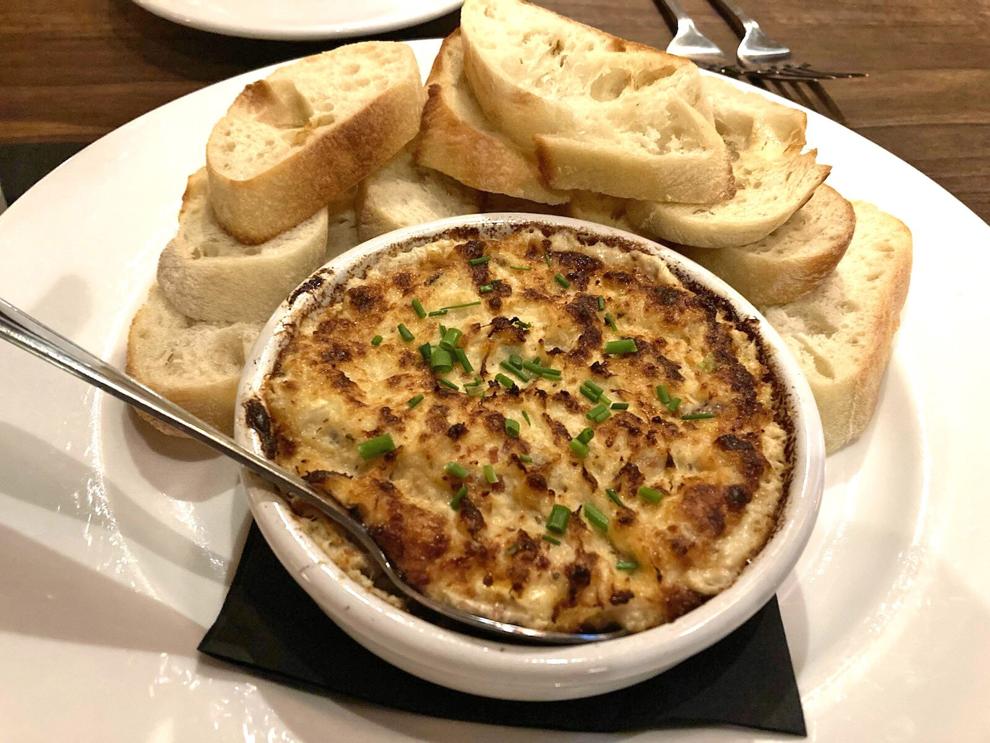 I like fried chicken, but I don't think it gets the respect from chefs that it deserves. It is gratifying, therefore, to see it on the menu in a fine dining restaurant. This kitchen's interpretation uses a large breast coated with panko breadcrumbs to yield a strikingly crisp crust, which gives way to a steamy-hot, yet tender interior. Mushroom and bacon gravy coats one side, oozing over to mashed potatoes, skin on. The vegetable on the night I had this was sliced and shredded Brussels sprouts, al dente, streaked with red bell pepper strips, also hosting two crunchy asparagus spears. Classic southern, elevated to professional standards.
The menu fish offering is Grouper, a large portion (7 ounces, according to the menu), pan-seared, presented over cheese risotto with fire-roasted tomatoes, artichokes, and capers, accented with lemon. The flavor result is akin to piccata. Al dente asparagus is the green vegetable.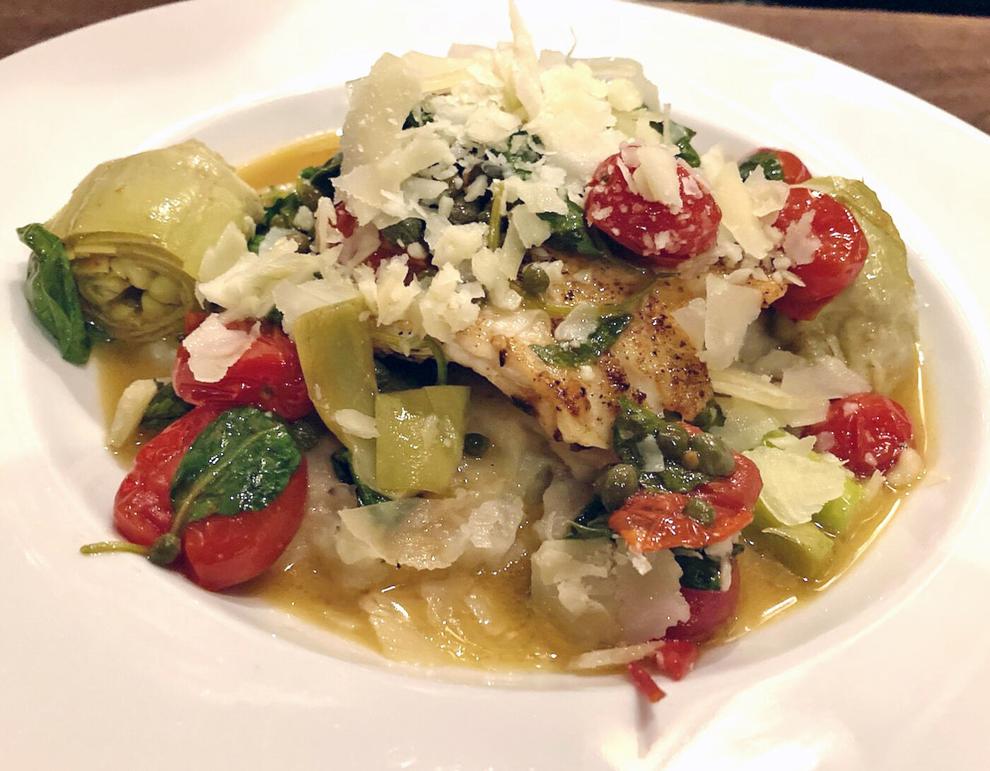 An off-menu special Salmon had been stuffed with crabmeat and Boursin cheese, the assembly resting in hollandaise sauce. This proved another winning combination, joined on the plate by asparagus and a potato pancake. The salmon itself displayed a noteworthy dark crust, but the interior was still soft and tender, as it should have been. And the potato pancake is a great food match!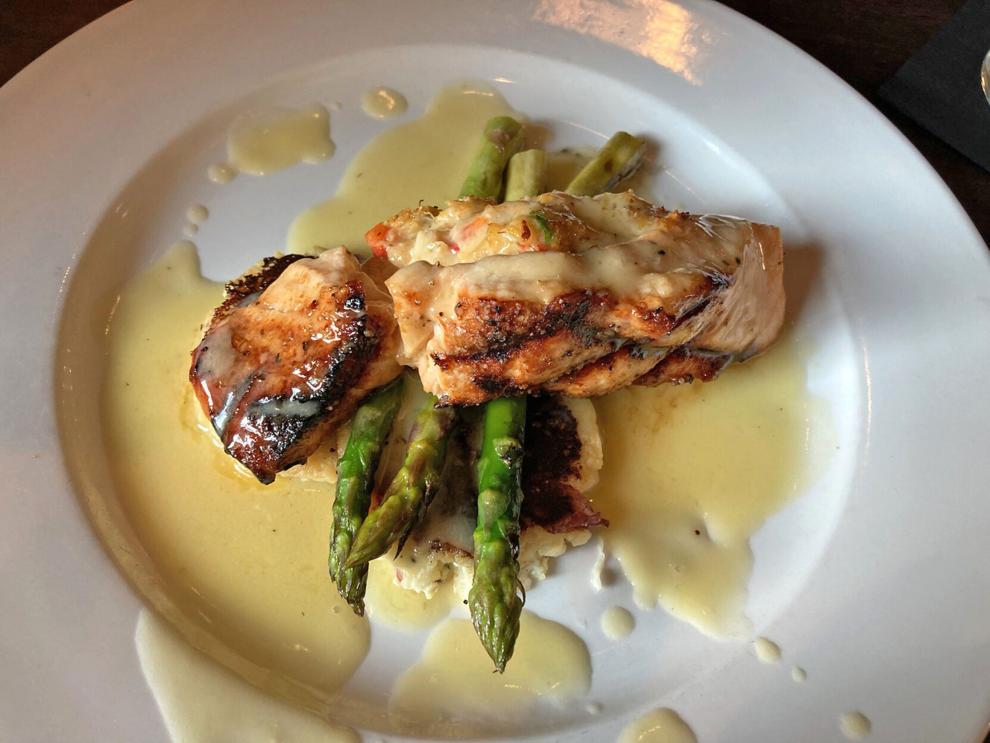 Land and Sea provides an opportunity to sample several proteins. The core element is a four-ounce beef tenderloin, tender in texture, emitting solid beef flavor, cooked precisely as ordered. Flanking the steak were several pieces of butter-poached lobster, including one intact portion of claw meat, plus four medium-sized scallops, tender and deeply flavorful. These are enhanced with béarnaise sauce. Mashed potatoes blend beautifully with that sauce. This dish repeated the sliced and shredded Brussels sprouts streaked with red bell pepper strips. Another serious winner!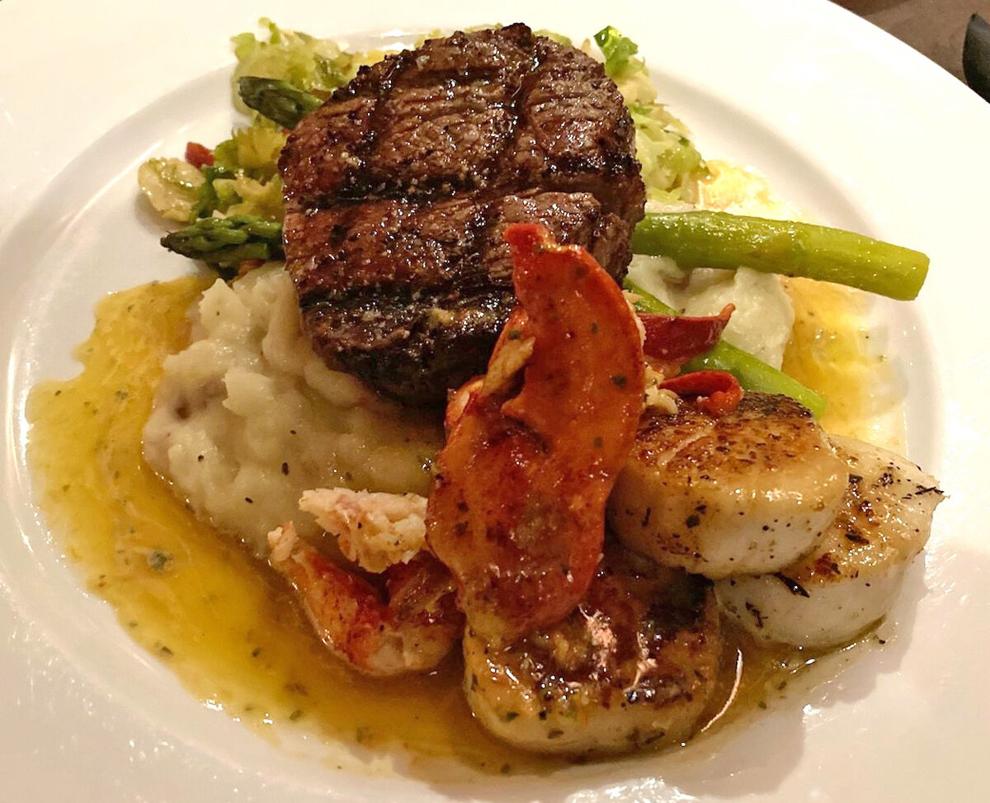 Another observation, evidenced by every dish: this kitchen knows how to get hot food to the table without overcooking. Amazing how often that is just not the case! And the use of classic sauces is particularly welcome. They became classics for good reasons.
The restaurant's nomenclature is an amalgamation of the owners' names: Jeff Bassett and Adam Andrews. They also own Young Cardinal Café (424 Fourth Street NW, (336) 448-5188) and The Trophy Room (517 North Liberty Street, (336) 955-1463). 
Will Hoffman, the Executive Chef, received his culinary training at Johnson and Wales. John Danziger is Sous Chef. He trained on the front lines. Matthew Saseen is General Manager. Helen Markovic, Director of Operations, has a bachelor's in Hospitality Management from Florida International University. Although I seldom mention floor personnel, I have to pay tribute to Ashley Sclager, bartender, who also serves some tables. I hereby designate her entertainer-in-chief.
Check the website for weeknight special pricing in the bar. I will return here for recreational, non-professional eating, and these deals make the restaurant even more attractive.  
John Batchelor has been writing about eating and drinking since 1981. Over a thousand of his articles have been published. He is also author of two travel/cookbooks: Chefs of the Coast: Restaurants and Recipes from the North Carolina Coast, and Chefs of the Mountains: Restaurants and Recipes from Western North Carolina. Contact him at john.e.batchelor@gmail.com or see his blog, johnbatchelordiningandtravel.blogspot.com.