Most recent visit: October 21
What is this place? I can remember looking at a junkyard in this location for decades, the remnants of a long-gone gas station. 
From the first word in the name, you would assume it's a bar. And it is. But not just any bar. According to the website, it's the longest bar in Greensboro, and I have seen no evidence to the contrary. True to the nomenclature, a rack overhead holds about a thousand bottles of Bourbon (OK, I did not count, but there are a lot!), and the drinks notebook- it's way too big to be called merely a list- offers the largest number of Bourbon shots I've ever seen. Wines may not be familiar to many guests, but I have had them here and elsewhere, and they are easy to recommend. You won't go wrong with any choice. Beer devotees will find happiness here, as well.
Where does the "Bowl" come from? Well, it's also a bowling alley, with six lanes in back that can be reserved in advance. Bowling and drinking. Who would have ever thought of that?
Finally, it's a restaurant, whose décor capitalizes on the historic structure, with plank walls, floor sections of tiny tiles lined with wood, and a factory-type skylight overhead. Weather permitting, there is also a really attractive outdoor seating section, flanked by a long fountain.
The food is casual in style, rather heavy in impact.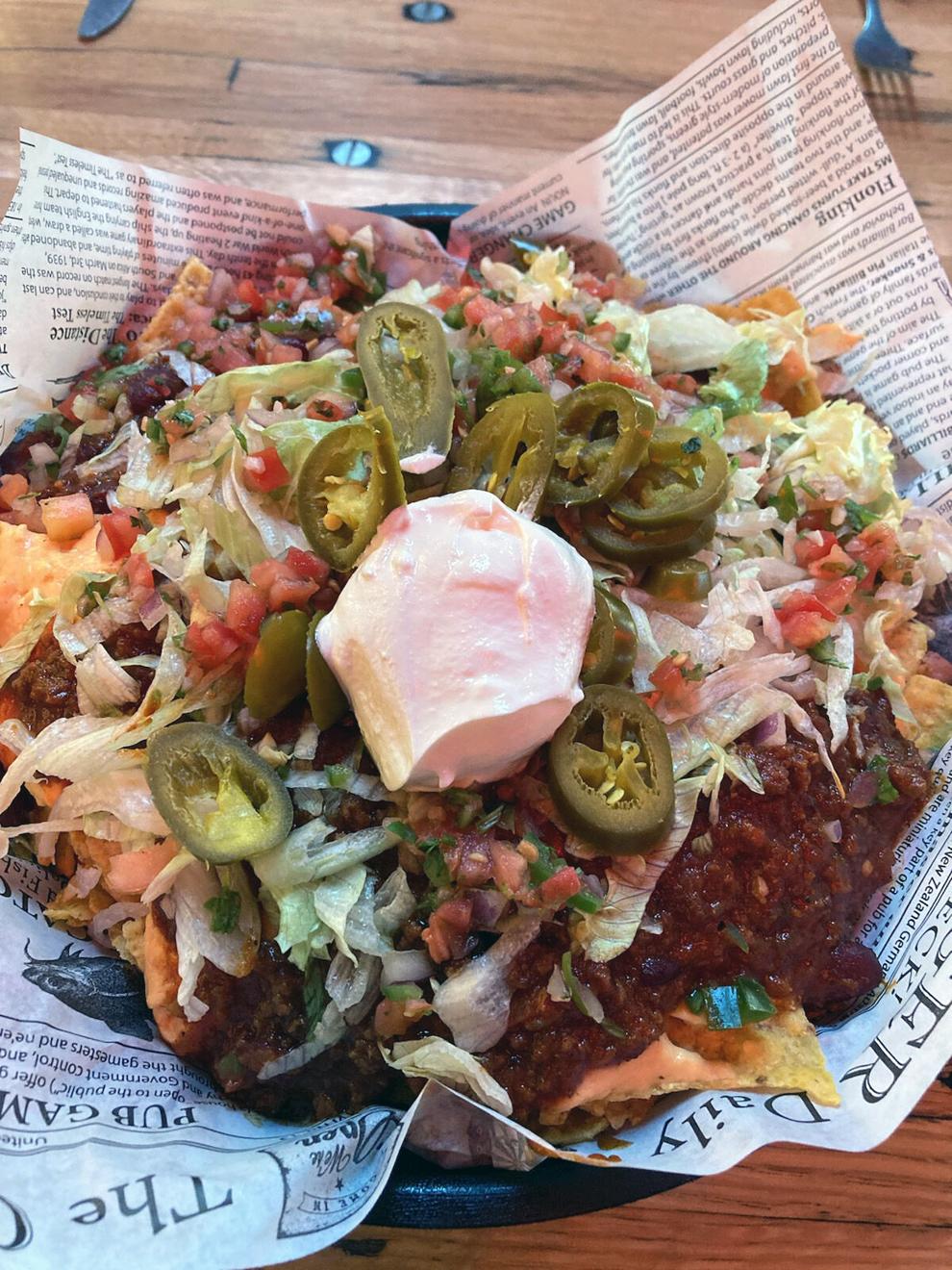 Gutter Ball Nachos capitalize on the bowling theme, piling spicy beer cheese- dense, almost but not quite liquid- and chili, with shredded iceberg lettuce and small cubes of tomato, over crisp tortilla chips. This is a huge serving, recommended for sharing.
Goat Cheese Balls are crisp on the exterior- a function of a panko crust- exuding rich goat cheese flavor from within a soft, warm interior. A Bourbon and cranberry chutney adds sweetness, followed by a mild alcohol aftertaste.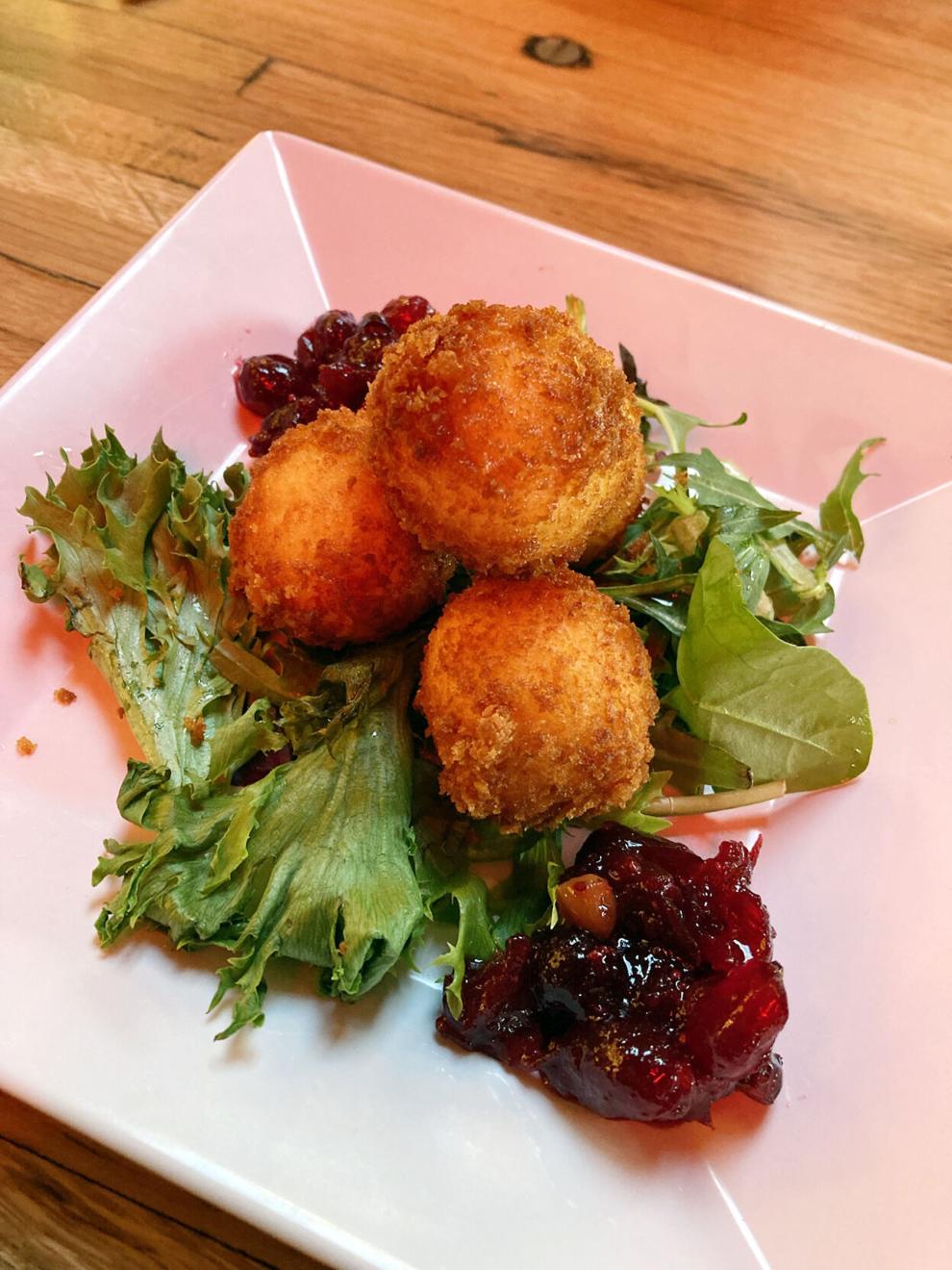 Three burgers are offered, all based, according to the menu, on a half-pound of American Wagyu beef. My wife ordered the Drunken Goat, the name a function of the goat cheese condiment. I've never had goat cheese on a burger before, but we both found it quite pleasing. The rest of this complicated assembly includes strips of very good Bourbon cured bacon, leaf lettuce, soft-sauteed onions, and Bourbon barbecue sauce. The flavor profile starts with solid depth of beef flavor, followed by mellow goat cheese, rounded off with sweetish barbecue sauce.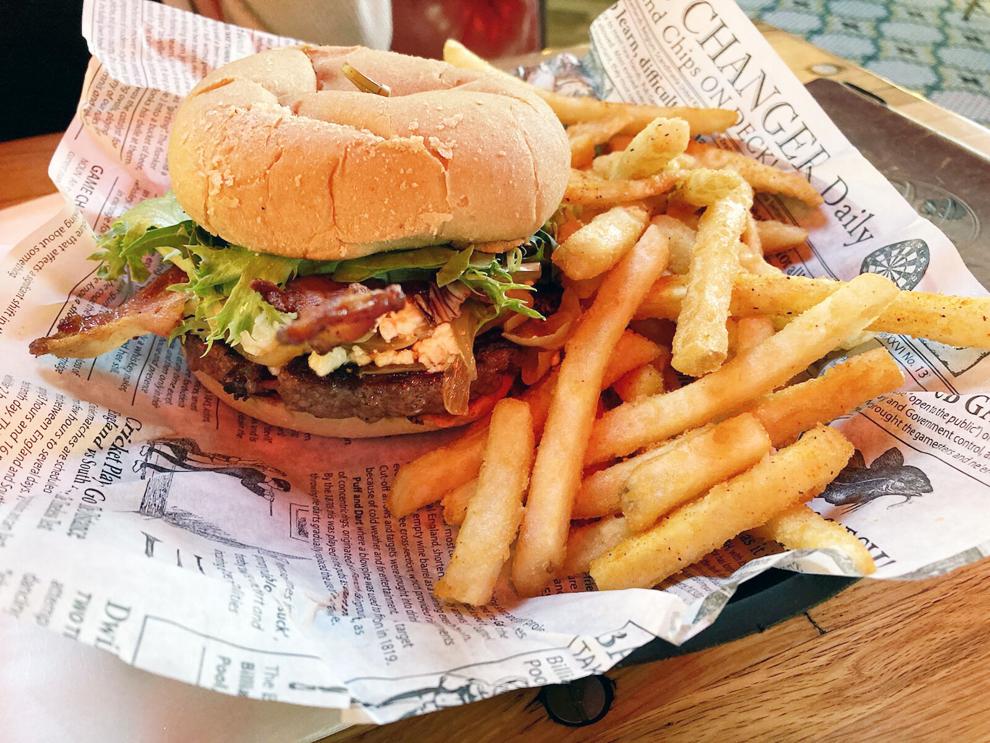 The Brisket Quesadilla folds warm grilled tortillas around sliced beef brisket spread with soft, shredded cheese, plus clipped green onions and Bourbon barbecue sauce. There is also a Beef Brisket Sandwich, with jicama slaw and pickled red onions. We liked the quesadilla better, mainly due to the additional cheese flavor.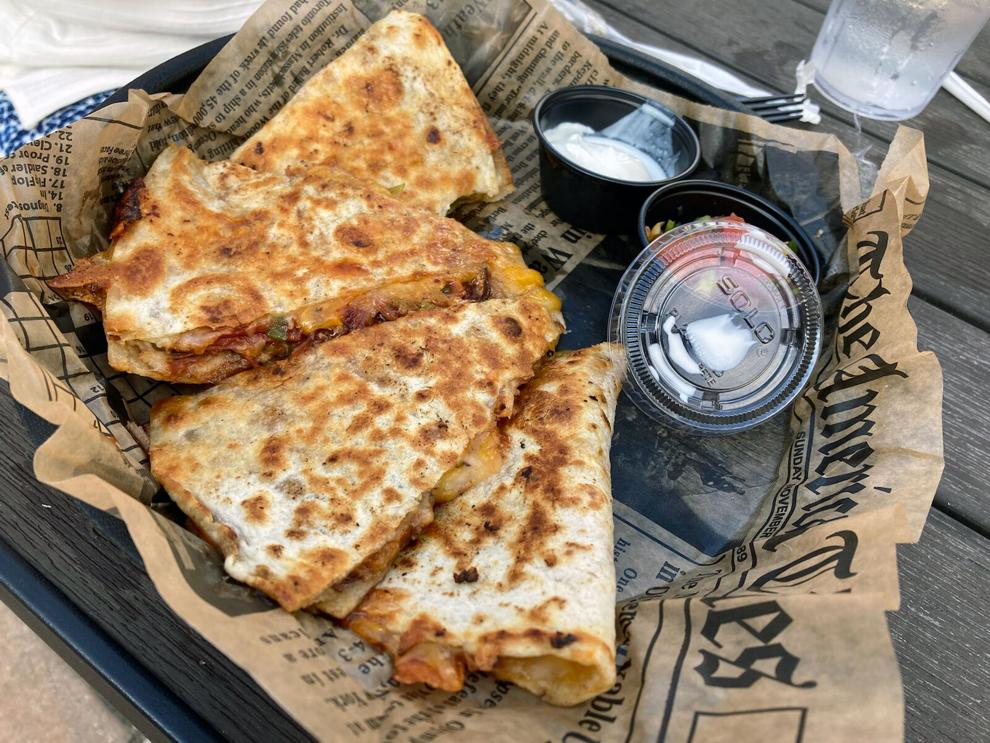 The Steak and Cheese Sandwich uses ribeye, sliced thin, joined by sauteed onions, mushrooms, and bell peppers, plus melted Provolone cheese. A crusty, toasted hoagie roll plays host, garnished with garlic mayonnaise.
Chicken Tacos use shredded meat and cheese, plus iceberg lettuce, ladled with cilantro-lime sour cream. The sour cream blend gives this a pleasant effect.
In Grilled Shrimp Skewers, the medium-sized shrimp have been deveined and cooked just-right-tender. I ordered this with garlic butter- a pleasant taste addition. (The Bourbon barbecue sauce is available as well.) Another skewer is layered with red and green bell pepper slices, plus red onions. These have also been treated with the grill's heat, but I would have found them more palatable if cooked more. As served, they were cool and crunchy, barely marked around the edges.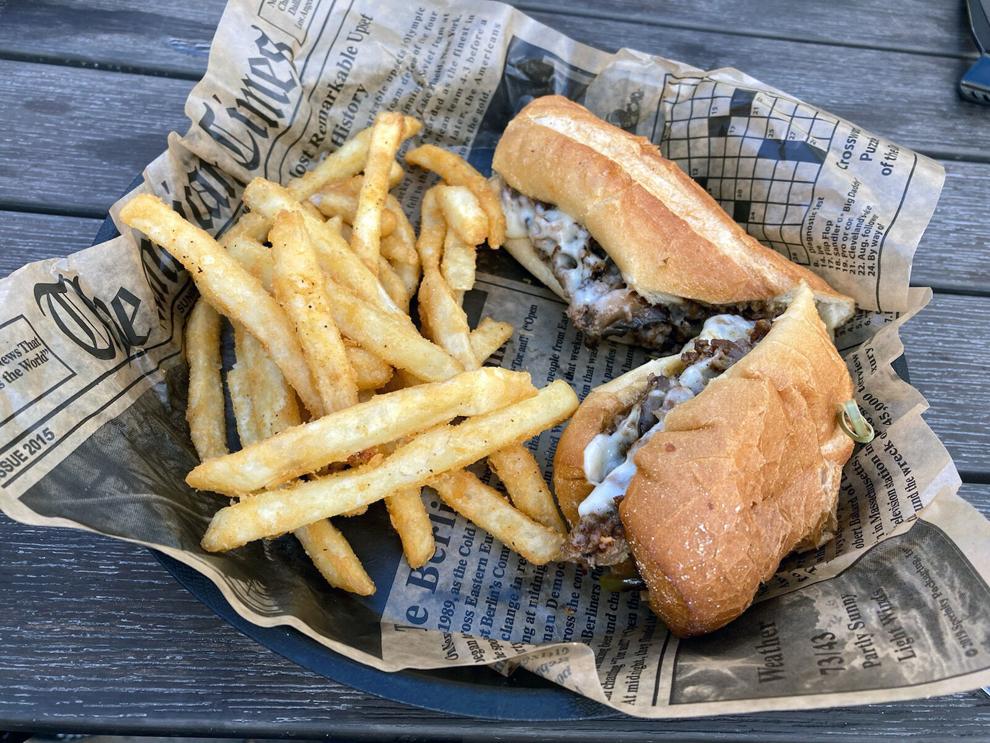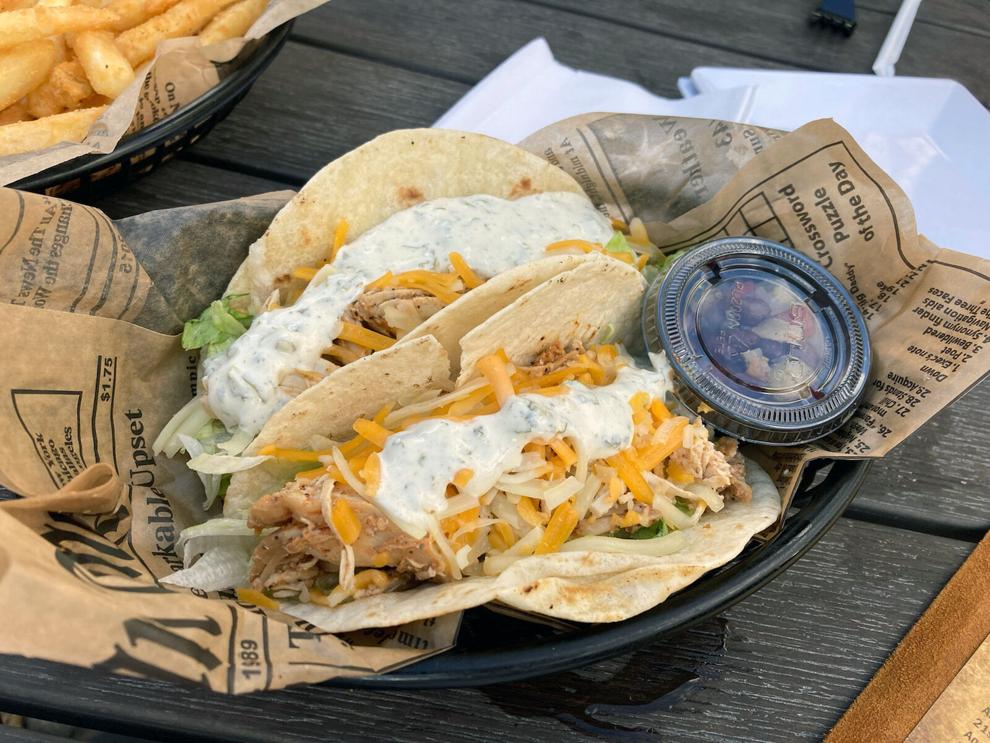 If you are seeking a balanced meal, you will have to order a salad ($2 upcharge), a fruit cup, or sauteed vegetables. In keeping with the theme and ambience of this place, however, we stuck to carbs and starch. French fries are unusually crisp, bearing moderate potato flavor; sweet potato tater tots are soft in texture, similarly moderate in flavor. Mac and Cheese ($1 upcharge) provides good cheese taste.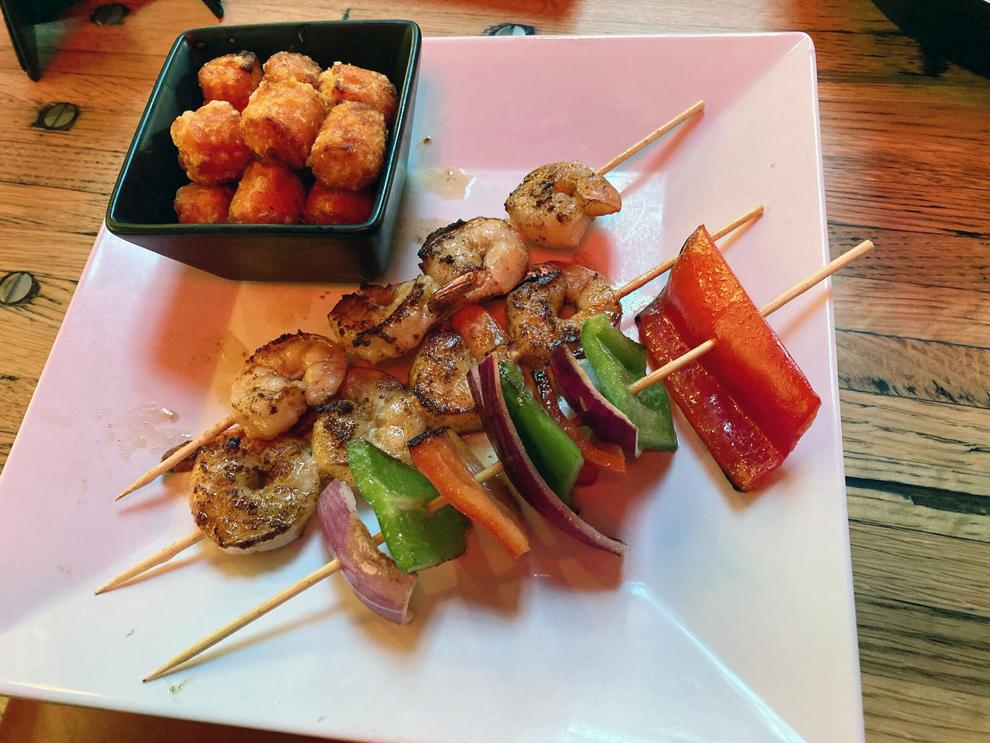 Bourbon Bowl opened in early summer 2021. It's truly gratifying to see these old properties reborn and repurposed. In this case, the concept is original and well-executed.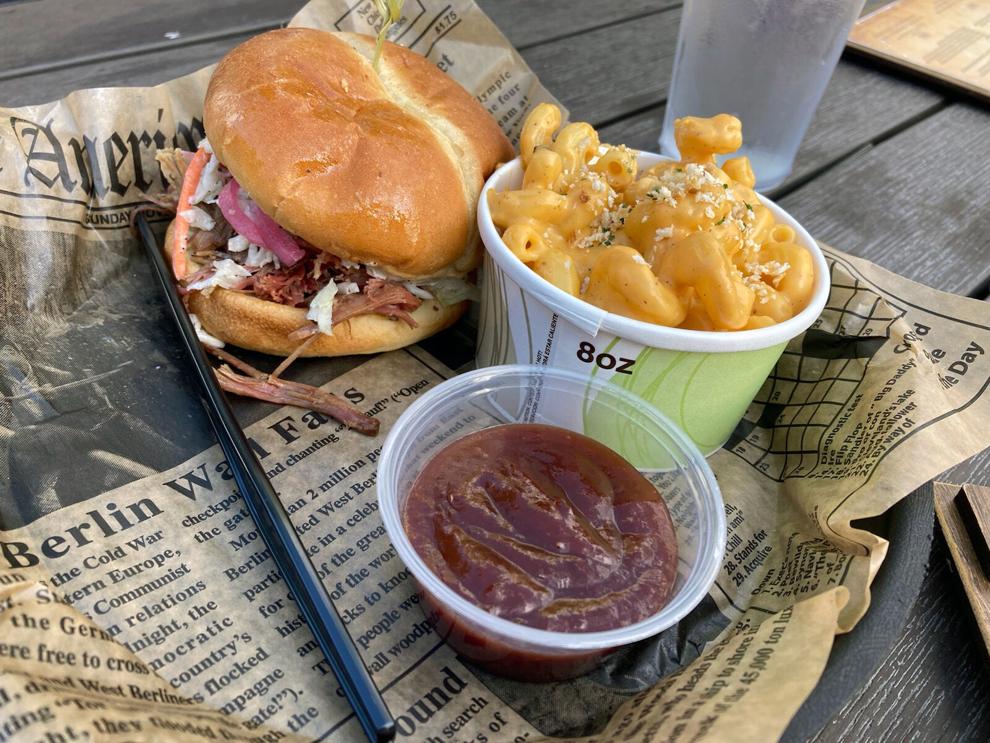 John Batchelor has been writing about eating and drinking since 1981. Over a thousand of his articles have been published. He is also author of two travel/cookbooks: Chefs of the Coast: Restaurants and Recipes from the North Carolina Coast, and Chefs of the Mountains: Restaurants and Recipes from Western North Carolina. Contact him at john.e.batchelor@gmail.com or see his blog, johnbatchelordiningandtravel.blogspot.com.
Bourbon Bowl is located at 535 S. Elm Street, Greensboro 27406
Phone: 336-617-3038
Website: bourbonbowl.com
Hours: Monday-Friday 4 p.m.-2 a.m, Saturday & Sunday 11 a.m.-2 a.m.
Appetizers: $9-$28
Salads: $8-$13
Soups: $6
Burgers and Sandwiches: $9-$16
Entrees: $12-$15
Desserts: $8