Sunday Afternoon, October 17, at Brookstown and South Marshall
Winston-Salem, NC (September 24, 2021) --  ByGood Coffee and Arts Council of Winston-Salem & Forsyth County will celebrate all things fall with their final Art Pop Up of the year on Sunday, October 17 at 301 Brookstown Ave in Winston-Salem. The event will be held from 12:00 – 4:00 p.m.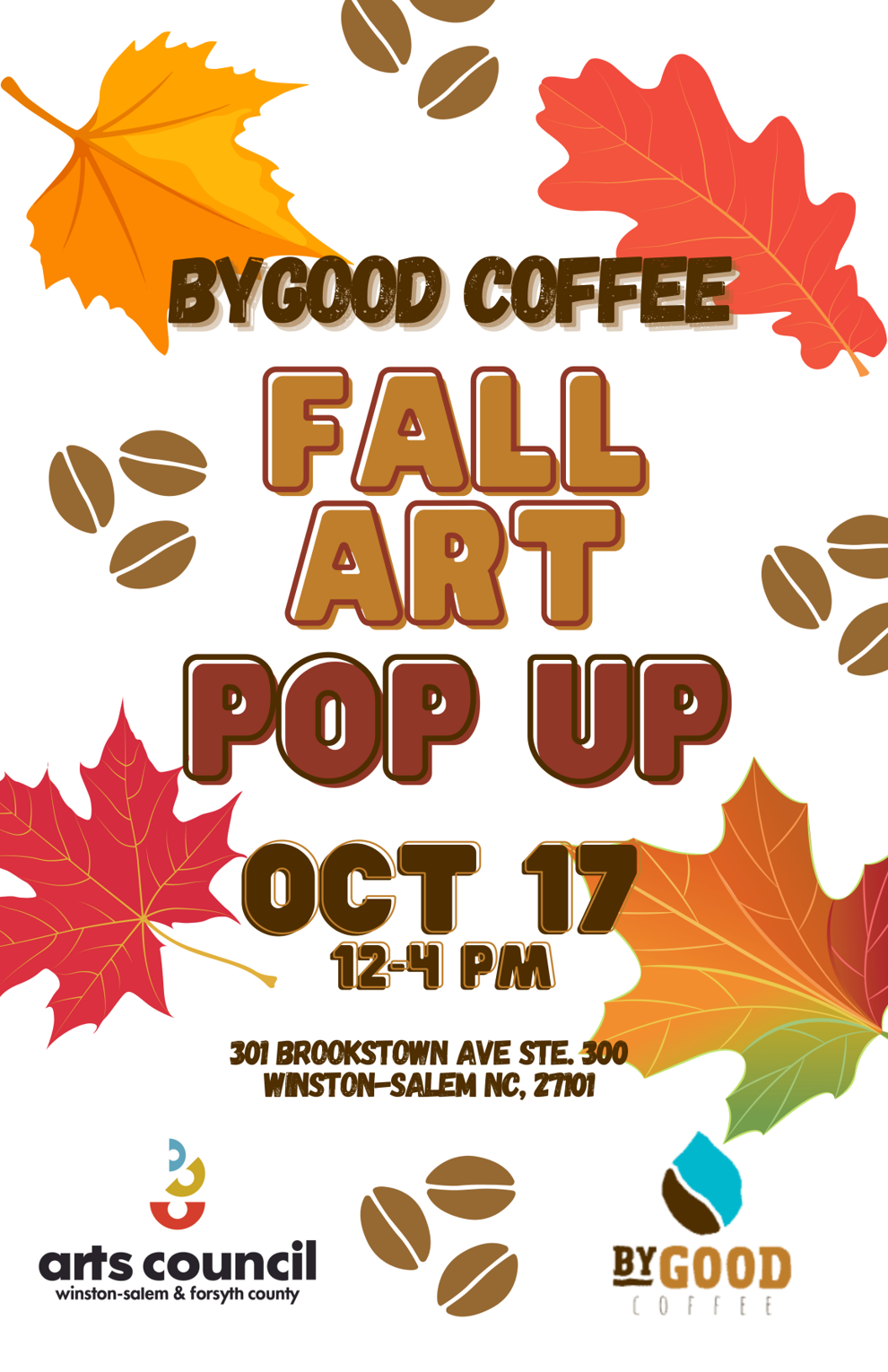 This year, ByGood Coffee and Arts Council have partnered on two Art Pop Ups in February and May to increase opportunities for local artists to display and sell their work during COVID-19. The October 17 Fall Art Pop Up will have a mix of media including art on canvas, handmade jewelry and accessories, leather goods, woodworking crafts, textiles and fiber arts. In addition, there will be live performances from local musicians and fun art activities for the kids. 
"Working with local entities like ByGood Coffee and creating spaces in our community for local artists to present their work is a top priority for Arts Council," said Chase Law, Arts Council President and CEO. "Our organization is committed to providing relief, recovery and revitalization to our arts and cultural sectors. We recognize the long-term impact the pandemic has had and will continue have on artists in our community and are grateful to have an opportunity to safely gather with our outdoor Art Pop Up."
ByGood Coffee is located at the corner of Brookstown Avenue and South Marshall Street and roasts its beans in house. They offer a variety of baked goods that complement their fall menu of coffee and tea lattes such as Gingerbread Man, Red Velvet, and Pumpkin Spice Puer. Hours: 7 a.m.-5 p.m. Monday-Friday, 8 a.m.-5 p.m. Saturday, and 8 a.m.-1 p.m. Sunday.
 Arts Council is the chief advocate of the arts and cultural sector in Winston-Salem and Forsyth County. Arts Council's goal is to serve as a leader in lifting up, creating awareness and providing support to grow and sustain the arts and cultural offerings throughout our region, ultimately bringing our community together and making it a great place to live, work and play.