RYE FIDELITY 6-YEAR BOTTLED IN BOND
The long wait is now over. Broad Branch Distillery's in-house rye distillate is six-years old and ready to be bottled! To celebrate this significant milestone, Broad Branch would like to introduce Rye Fidelity 6-year Bottled in Bond Small Batch (BiB or Bonded).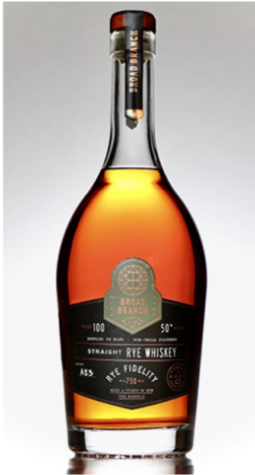 Bottled in Bond Rye Fidelity offers everything Broad Branch fans have come to love about our Rye along with the bold qualities and bonafides that OG whiskey nerds will appreciate. The higher proof point provides whiskey connoisseurs a robust drinking experience highlighted by the rich concentration of toffee, rye spice, and green apple notes, while extending an already long finish with elements of coffee and dark chocolate. When we talk about whiskey without compromise, this is exactly what we mean.
Each batch of Rye Fidelity 6yr BiB will consist of 5 barrels of 6-year Rye that meet the Bottled in Bond standard. Whiskey drinkers can identify each batch using the three-digit batch designator on the front label. The letter at the beginning of the code corresponds to the actual batch order within a given year, while the following two numerals identify the year itself. So, A23 would represent the first batch of 2023. Pretty simple.
The "Bonded" standard was created in 1897 by Congress and made American Whiskey one of the first federally regulated consumables. A whiskey that is bottled in bond has been aged at least four years and bottled at precisely 100 proof (50% ABV). It must be made by one distiller at a single distillery in one season, then aged in a federally bonded warehouse. This high standard is a mark of quality and transparency throughout the spirits industry. Broad Branch views it as a baseline for our whiskies.
Rye Fidelity 6yr BiB will hit shelves in February with a suggested retail price of $69.95. Rye Fidelity Bonded can be purchased in North Carolina ABC stores or at our tasting room in downtown Winston-Salem, which is located at 756 N. Trade St.
Your friends at Broad Branch remind you to give a damn about what goes inside your glass and to enjoy it responsibly.