Broad Branch Distillery Earns Double Gold Medal

Each year, the San Francisco World Spirits Competition brings the most respected spirit evaluators together to taste and judge over 5500 spirit entries from across the globe to determine the top examples within each category. Founded by the Tasting Alliance in 2000, the SFWSC is the oldest and largest competition of its kind. Broad Branch is proud to announce that both of its submissions to the 2023 competition were awarded medals. Their Wood Exploration Series Barrel 21 earned a Bronze medal, while Rye Fidelity 6-year Bottled in Bond won the coveted Double Gold medal.
For nearly a decade, the small team at Broad Branch has poured their passion for spirits into every cook, fermentation, and run of the still. A shared belief that spirits should age on their own timeline, not a distillery's is why head distiller Don Jenkins still insists on using only 53-gallon barrels at Broad Branch. It's just one reason the distillery is able to produce what is now being recognized as some of the best whiskey in the world.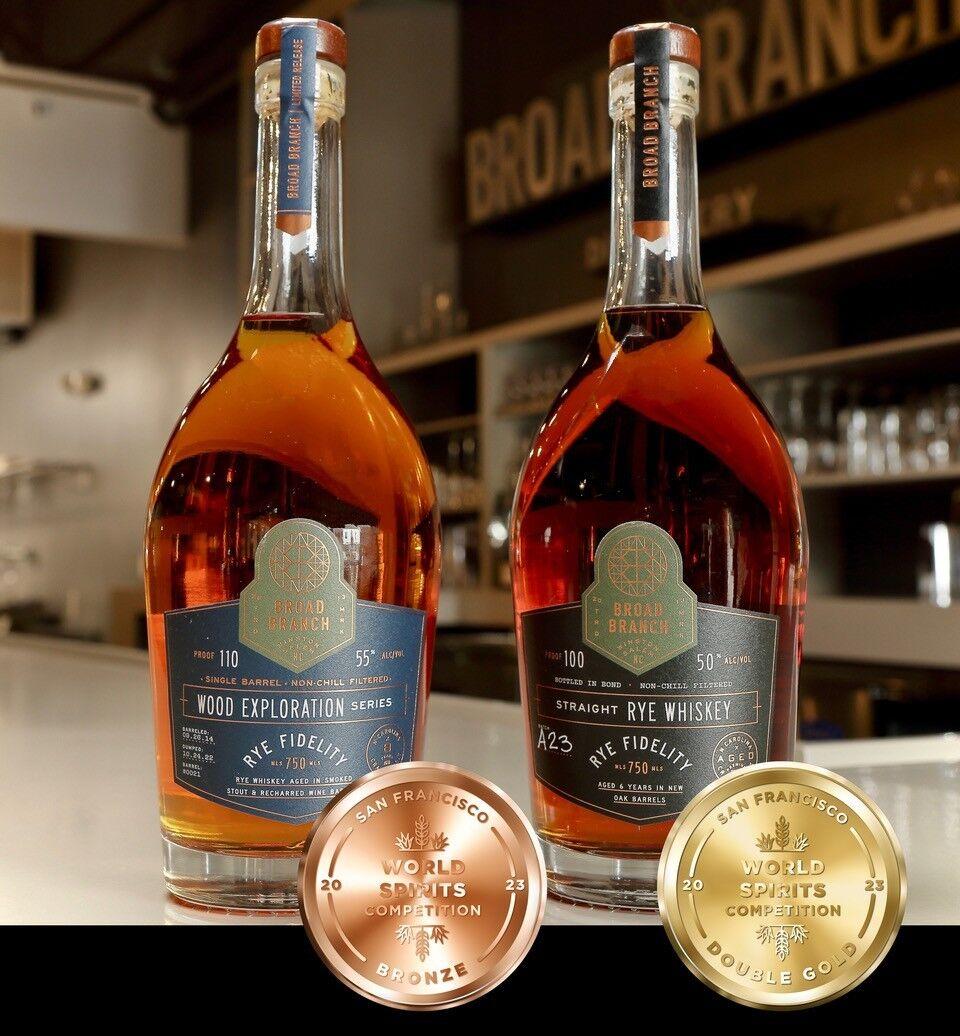 Bottled in Bond Rye Fidelity offers everything Broad Branch fans have come to love about our flagship Rye along with the bold qualities and bonafides that OG whiskey nerds will appreciate. The higher proof point provides a robust drinking experience for connoisseurs highlighted by a rich concentration of toffee, rye spice, and green apple notes, while extending an already ample finish with coffee and dark chocolate elements. When we talk about whiskey without compromise, this is exactly what we mean.
Wood Exploration Series Barrel 21 begins a four-year vertical series of whiskeys, each aged six months in a smoked stout barrel before transfer into shaved, toasted, and re-charred (STR) red wine barrels for primary maturation. In this standout 8-year-old Rye, the unique influences from each barrel type enhance, rather than overpower, the natural sweetness of the base Rye distillate. The whiskey opens with aromas of cherry compote and ginger snaps before giving way to semi-sweet chocolate and pipe tobacco. Upon first sip, you're hit with Black Forest cake and Baklava notes. Further investigation reveals subtle notes of sugar cookies, drying leather, and sweet tobacco. The long finish is filled with flavors of dark chocolate-covered cherries, black coffee and cola.
These award-winning whiskies are available in North Carolina ABC stores or inside the Broad Branch tasting room at Big Winston Warehouse in downtown Winston-Salem, located at 756 N. Trade St.