Ben & Jerry's Partners with United Way for Free Cone Day April 3
Event at Friendly Center in Greensboro will promote United Way of Greater Greensboro's efforts to end local poverty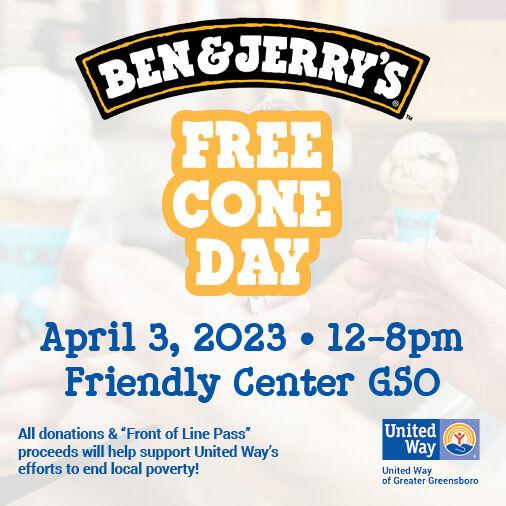 Greensboro, NC (March 31, 2023) – Ben & Jerry's Friendly Center and United Way of Greater Greensboro (UWGG) are excited to invite the public to enjoy a free scoop of ice cream at this year's Ben & Jerry's Free Cone Day, Monday, April 3, 12 to 8 p.m. at 3332 W. Friendly Avenue, Greensboro.
Ben & Jerry's celebrates Free Cone Day globally every year as a thank you to its customers. Local stores often select a nonprofit to promote during the event, and this year marks the fourth time UWGG has been selected. Hundreds of people are expected to attend and participants who wish to skip the line can make a donation to United Way to receive a "Front of Line" pass. All proceeds will support UWGG's efforts to end local poverty.
"Ben & Jerry's is extremely dedicated to making a difference in their local communities and we are so grateful for their partnership. Our staff and volunteers love helping out during Free Cone Day. This annual event provides us with a fun opportunity to raise awareness around our efforts to end local poverty, and we look forward to serving as many people as possible," says Michael Cottingham, Chief Marketing Officer, UWGG.